Part 2:  Scoring big in Belize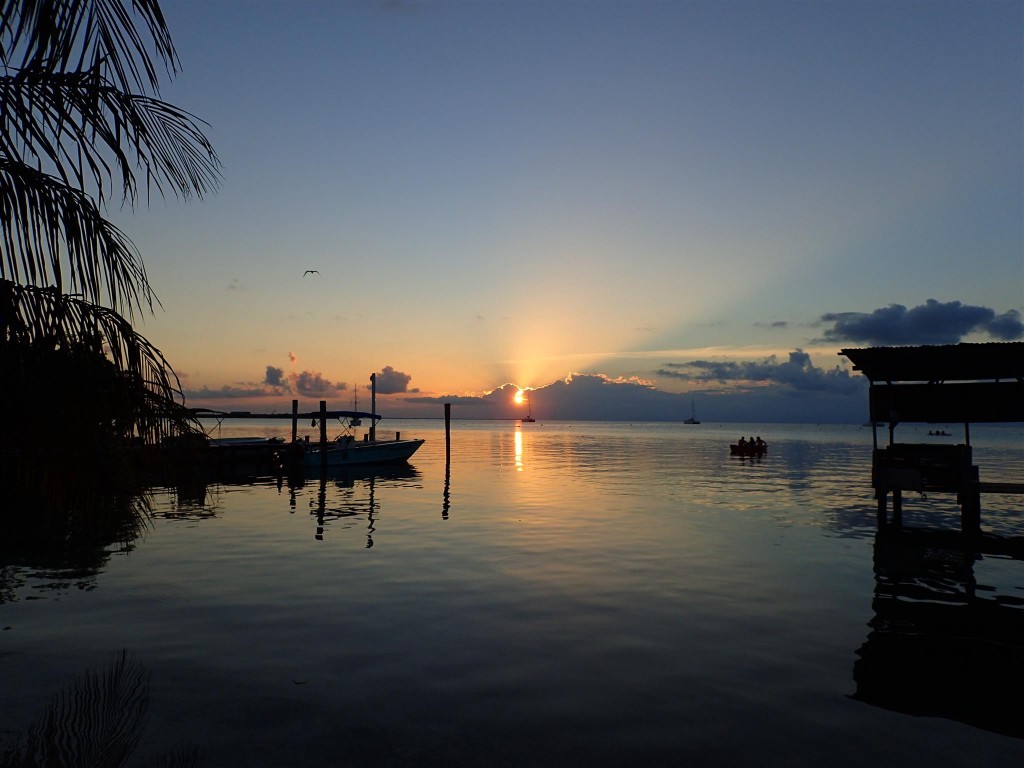 I stood at the luggage carousel with prying eyes. Bag after bag was unloaded and none of which were my own. Checking with the desk staff, apparently my bag was still in Miami. My Floridian bad lack hadn't completely disappeared yet, but it would.  And here I thought I was going to be battling some tarpon tonight.
Getting off the water taxi, I was giddy with amazement at the small island I found myself on. It was everything you see in the commercials and movies. Rickety homes and shops on packed-sand streets and golf carts as the primary mode of transportation.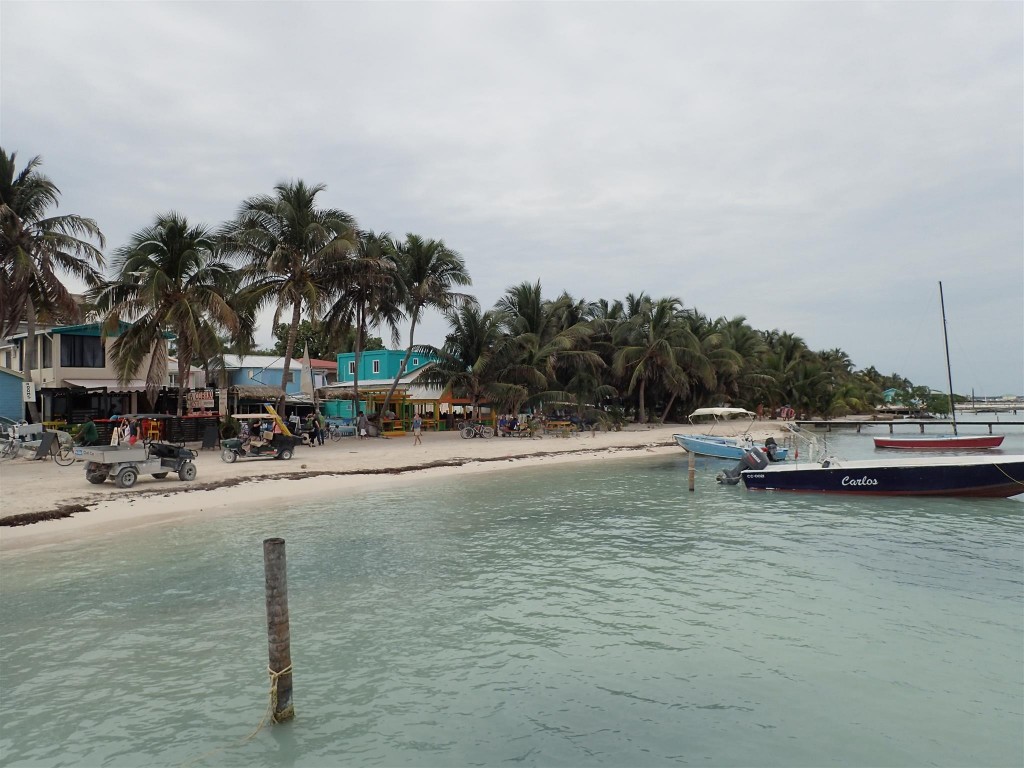 After checking in with the hostel, I followed up on my bags. They would not be arriving today. Off I went to the dive shop to book some diving.
That evening I took a small walk and found the tarpon I would eventually be facing off against. Small, but manageable, and hopefully naïve enough to take one of my offerings, unlike Florida's picky buggers that had refused everything in the sink, err bucket.
In a souvenir shop I found a quirky hat that clearly had the wrong species of fish embroidered…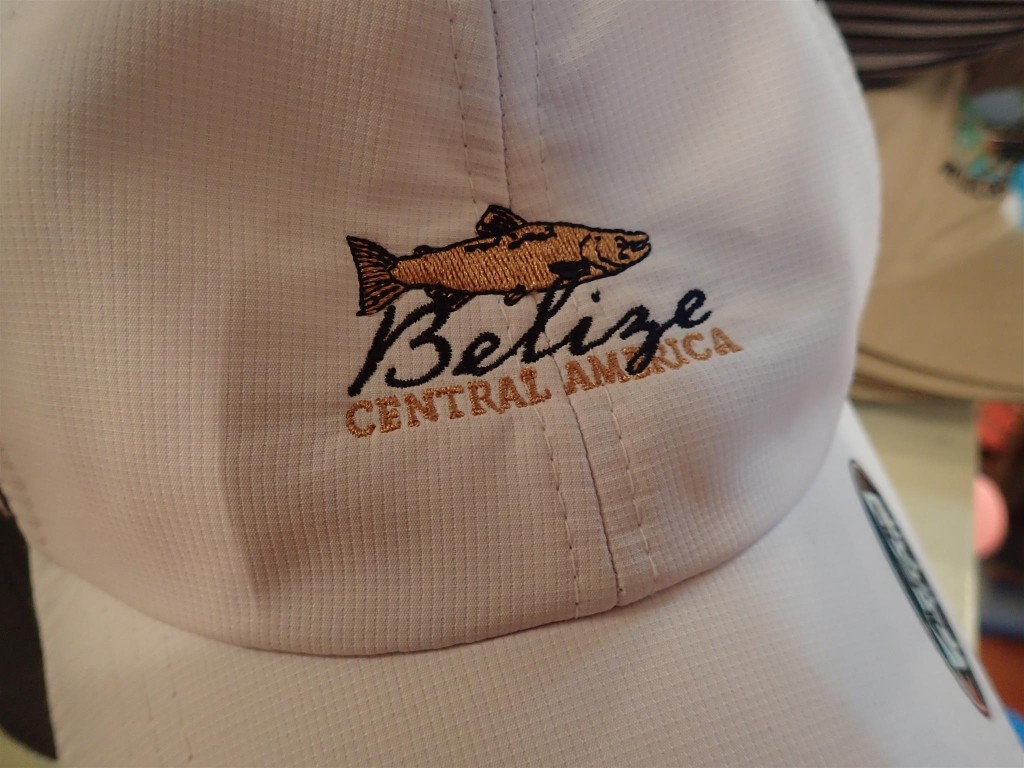 Diving the next day was highlighted by some eagle ray sightings and a small sea turtle that swam around with us. From the sky down to the water, everything in Belize was so blue, but I wasn't.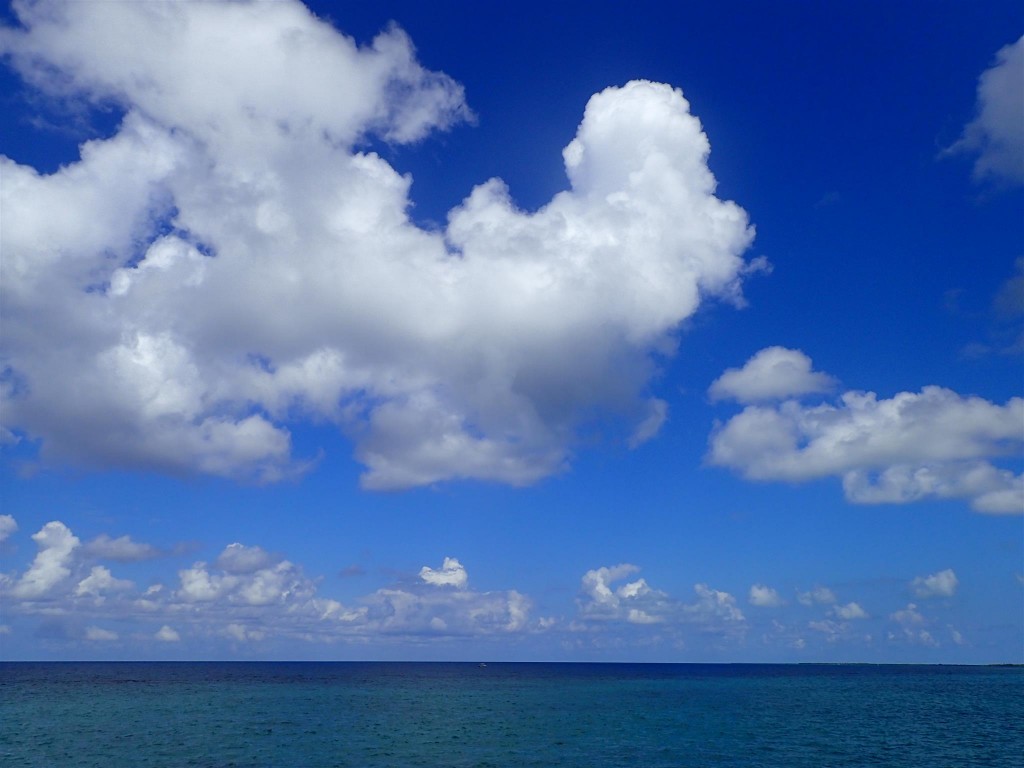 After the diving, I checked in with my fishing guide who would be taking me out the next day and then went back to my hostel expecting to find my luggage. It was not there. The lady at the desk said maybe it was still at the local airport and , luckily, I had just enough time to chase down a taxi and hoof it to freshly locked glass doors to see my luggage immediately behind them. After some frantic arm waving and monetary encouragement my luggage was in my hands. A blessing to be.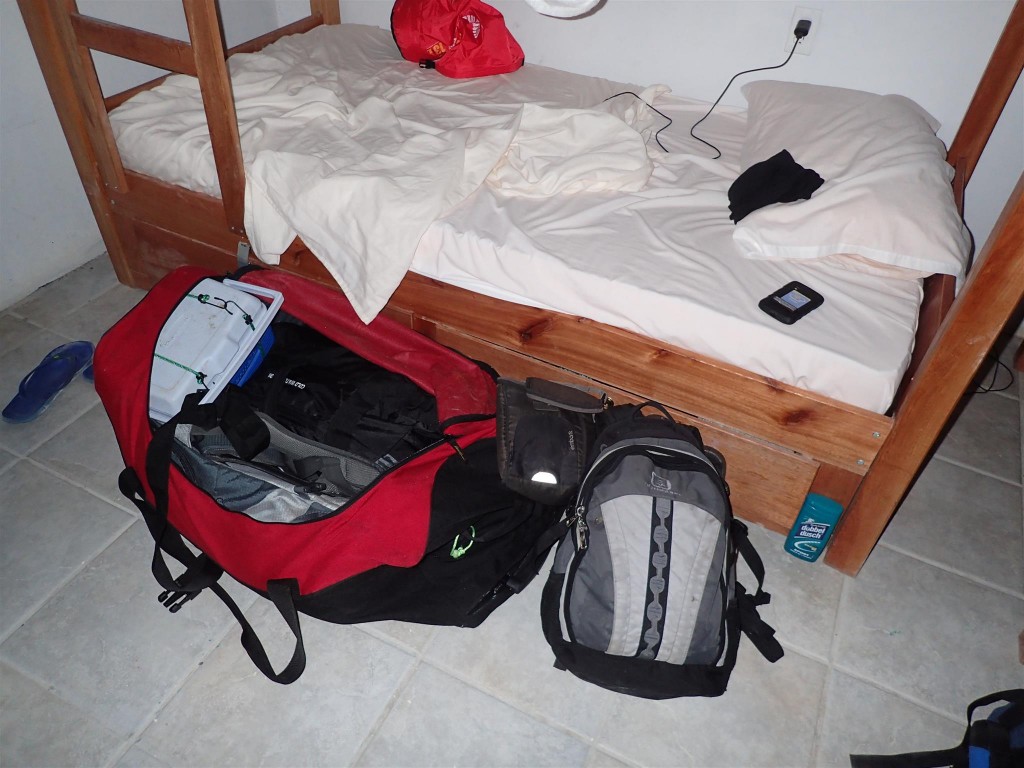 I had my luggage, how could the day get any better? I immediately rigged up my rods and headed down to where I had spotted tarpon the previous night. Much to my dismay, the gates to the area had been locked and a local suggested another spot to try for some tarpon. That other spot seemed fairly empty so I returned to try and fish from a different angle. I tried for a few minutes to catch some bait but did not find anything appropriate.
Then I remembered I had those stupid-looking hoagies from Florida! On went a 3/0 Owner hook and I threaded the nose of a black shapeless lump of plastic onto it. On the second cast I felt a thu-thunk and I reeled tight. The fish ran into the dock, but I was able to stop it on 20lb line. It jumped and revealed itself as a perfectly manageable tarpon. A few jumps later I had it by shore and I grabbed its lip.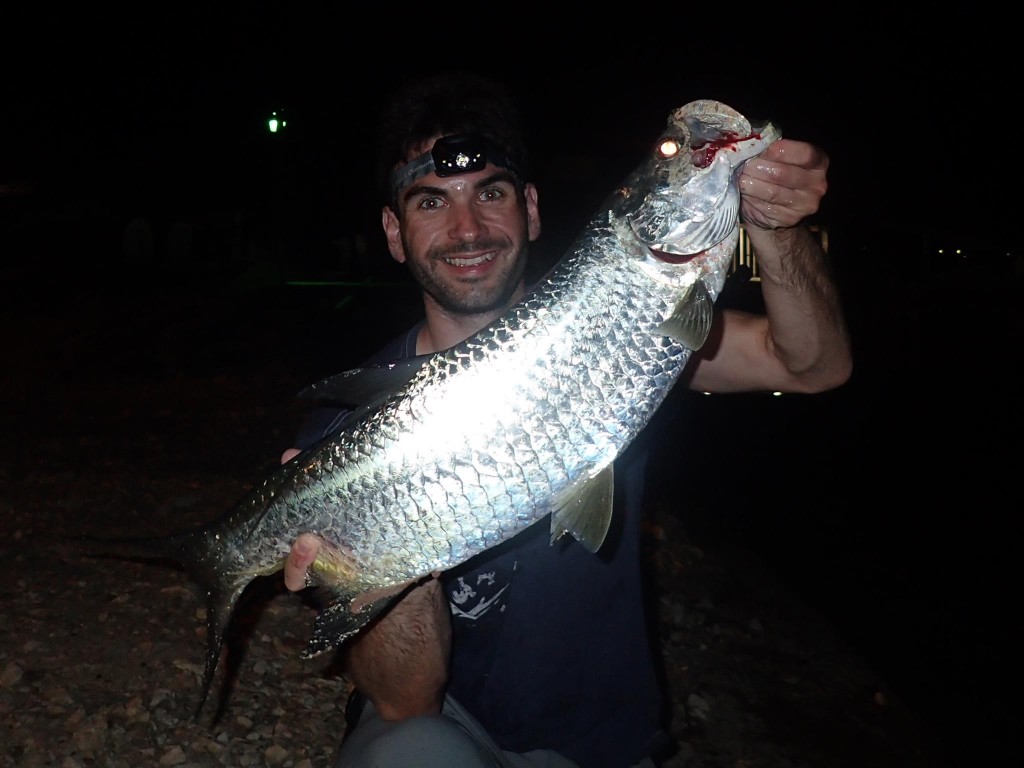 I knew that I was going to Belize to try and catch a tarpon. What I never expected was landing the first one I hooked and on on my second cast to boot! Suddenly the hundreds of casts I had made to them in Florida seemed so silly, here I was with my first tarpon!
It was a truly transcendental experience.
I continued to fish the silly lump of a hoagie but it seemed the tarpon had either wisened up to them or had spooked. I moved on to another spot with current to find a feeding frenzy of tarpon, jacks, and jumping spotted eagle rays.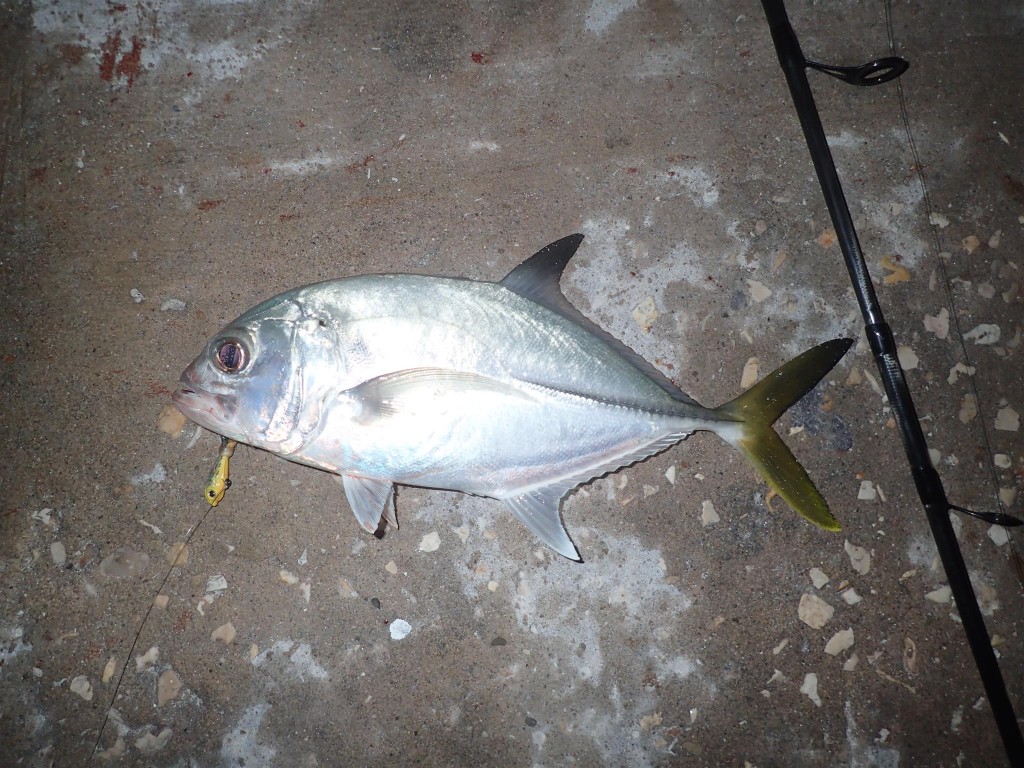 I tried again to catch bait but didn't find any sardines. The tarpon there didn't want the hoagie either so I packed it up for the night.  I had a fishing guide booked for the next day.
I had gotten my tarpon, how could things get any better?
The next day my guide, Kennan from Chasin' Tail, had live blue crabs ready to go. After a quick stop for the sardines I wished I had had last night we were off to the flats.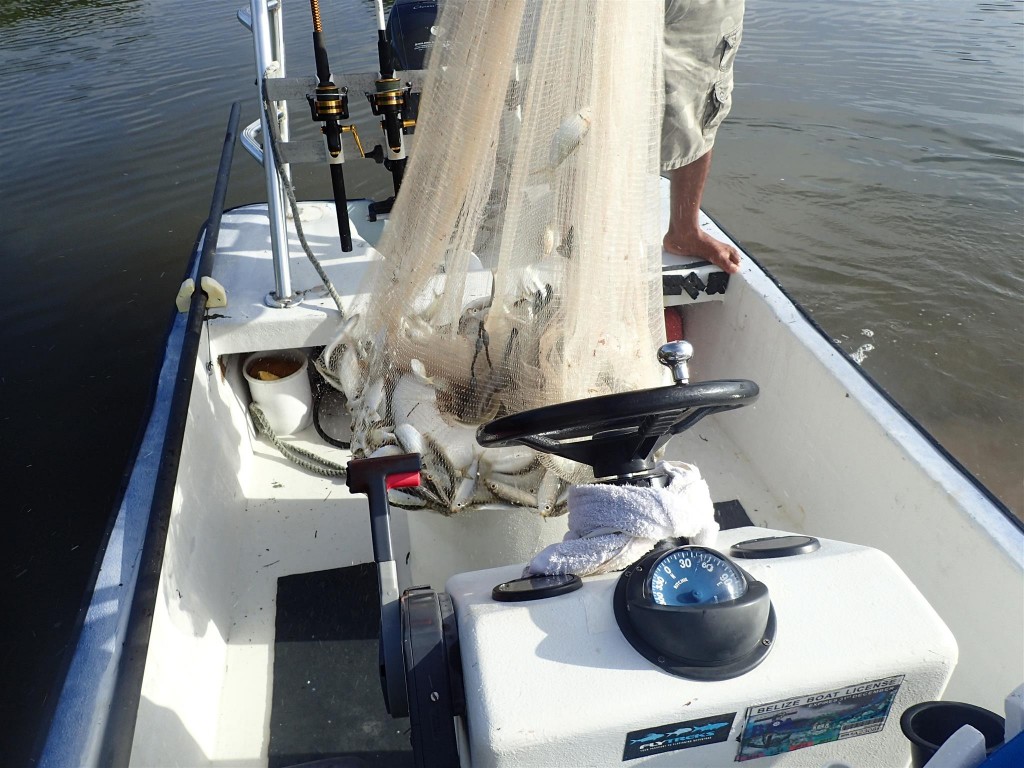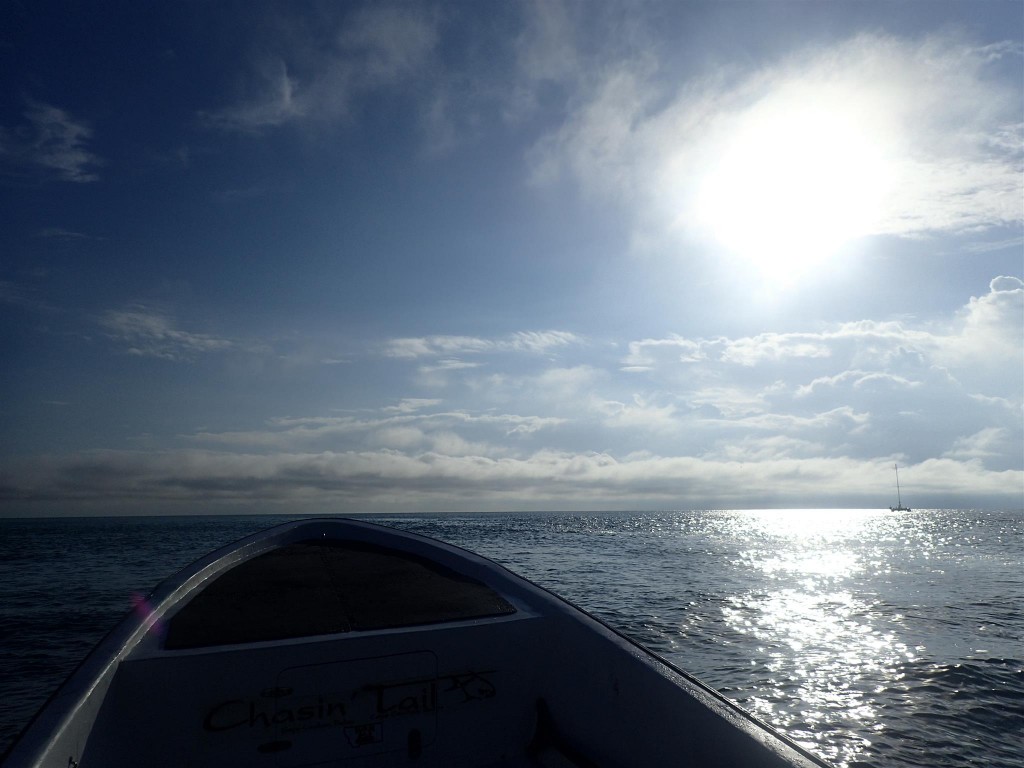 It was then that I realized Kennan was a legend in his ability to spot fish and what he called "nervous water" which was surface water that looked ever slightly different and indicated the presence of fish.  A master of his craft.
The bright sun and calm water was perfect for sight fishing. He would call out tarpon that were cruising the flats and instruct me where and how far to cast. After many, many botched attempts I finally had one take the sardine, but as I opened the bail to feed it line it felt some pressure and jumped off.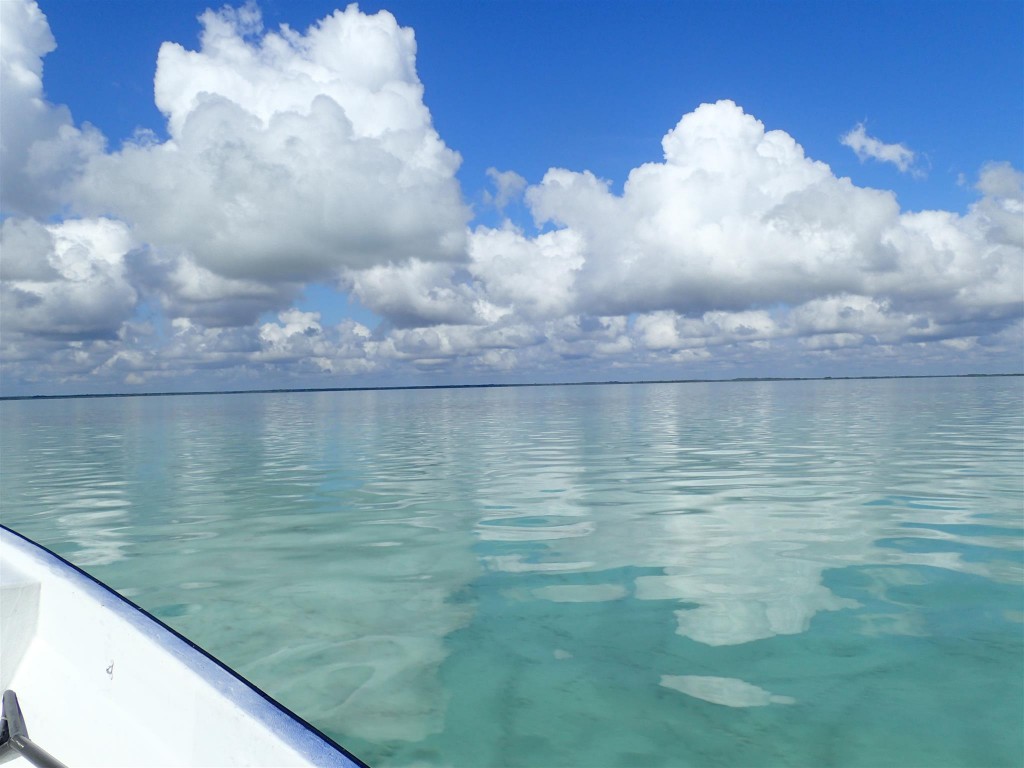 We tried a bit more for the tarpon, but then stopped at a school of bonefish. He instructed me to tie on a shrimp jig and I proceeded to have a hoot with these unbelievably strong fighters.  A new species to boot!
Bonefish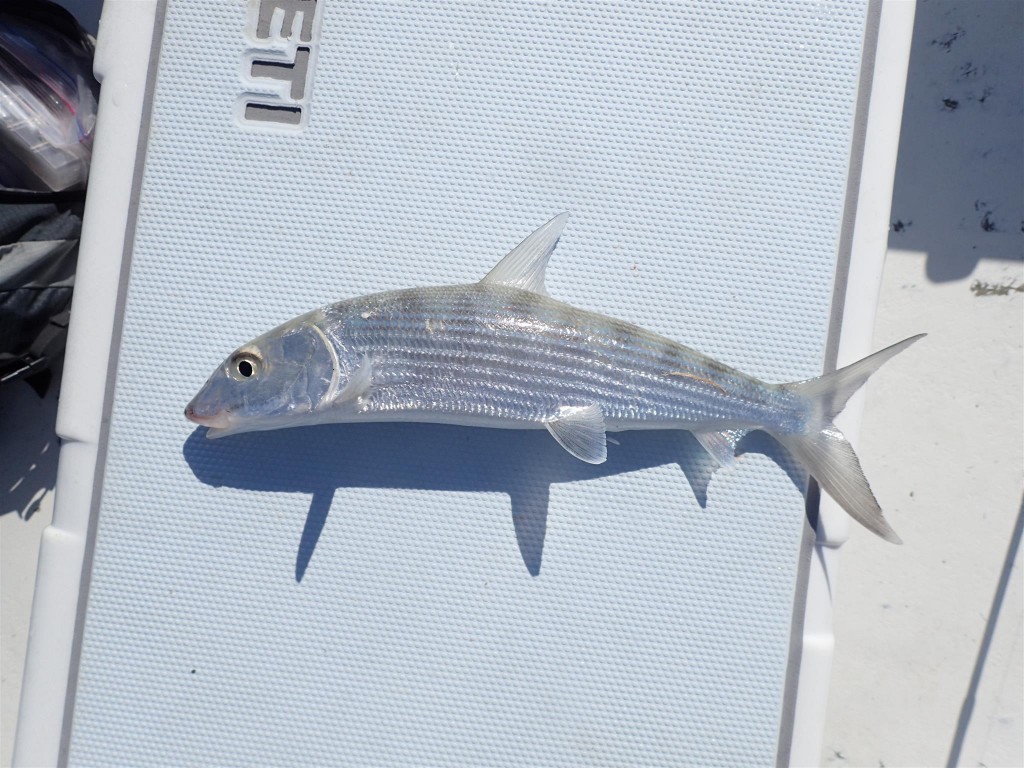 Kennan referred to some clouds in the distance and said it was best if we motored along to an area for permit before the weather turned.  Conditions remained calm and were almost perfect for Kennan's style of fishing albeit for the few clouds.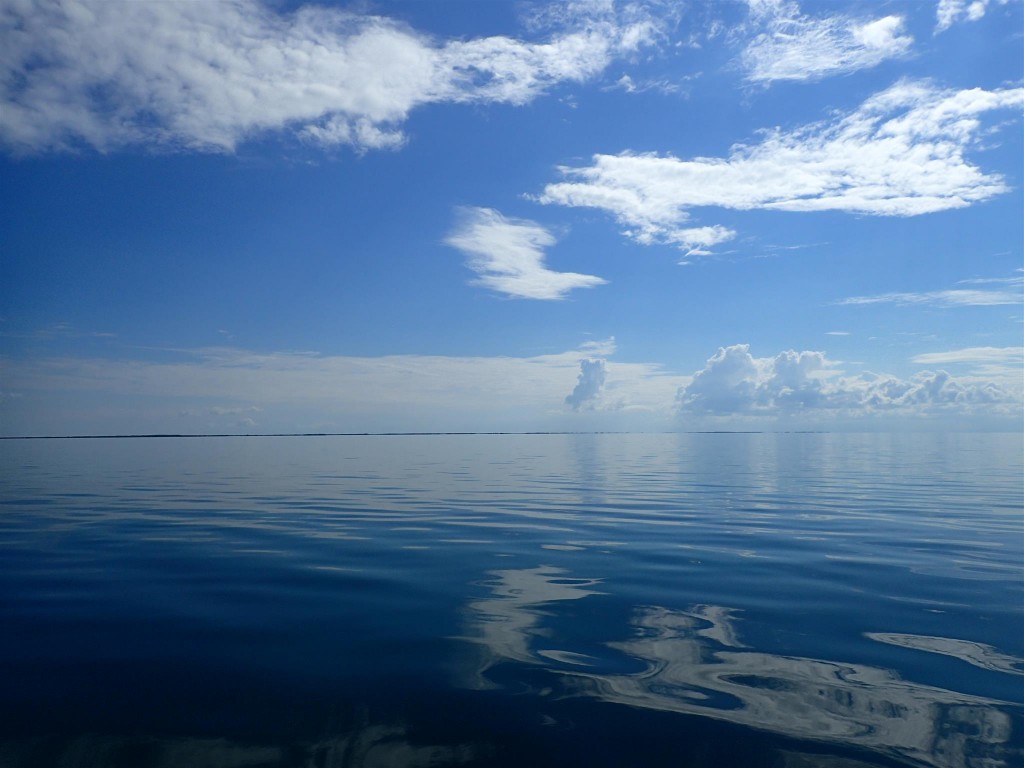 At this new spot Kennan instructed me to rig up a live blue crab and get ready. After some paddling about, he spotted some tails breaking the surface and instructed me to cast at them. The crab hit the spot and within seconds I felt a take and jerked back. The fish was off. Kennan instructed me to relax a bit and not try and set the hook as it would rip the hook out. On the second go, I let the fish take line before gradually lifting the rod tip. I was into a permit!
After a long struggle on my light rod, we had my first permit in the boat.
Permit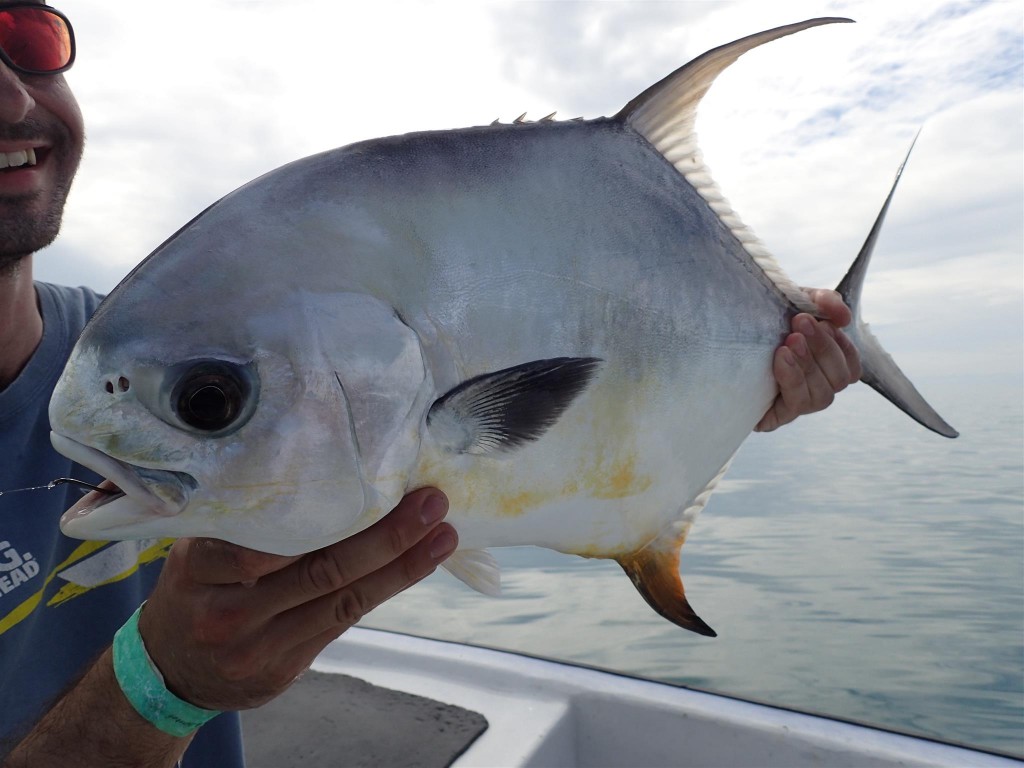 Within the past 24 hours, I had gotten my luggage and my first tarpon, bonefish, and permit. A truly magnificent surprise! Overwhelmed didn't quite describe my feeling of excitement.  I thanked Kennan profusely and off we went to catch some more permit!
Kennan spotted some jacks and helped me rig up a sardine for them. After one broke off, I opted to use one of Kennan's rods rigged with heavier line. We got one in the boat and then it was back to permit.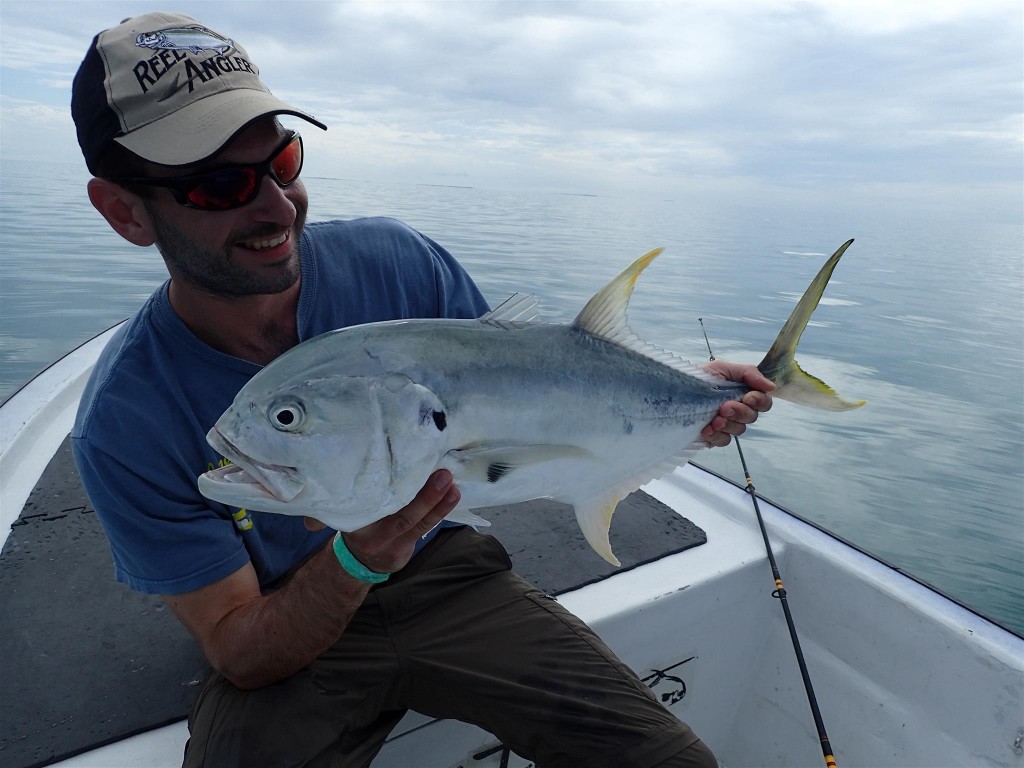 After a few more permit catches, a boat motored right through our spot and spooked the permit away. We tried a few more spots, but aside from the odd Tarpon we did not spot any fish.
The master at work…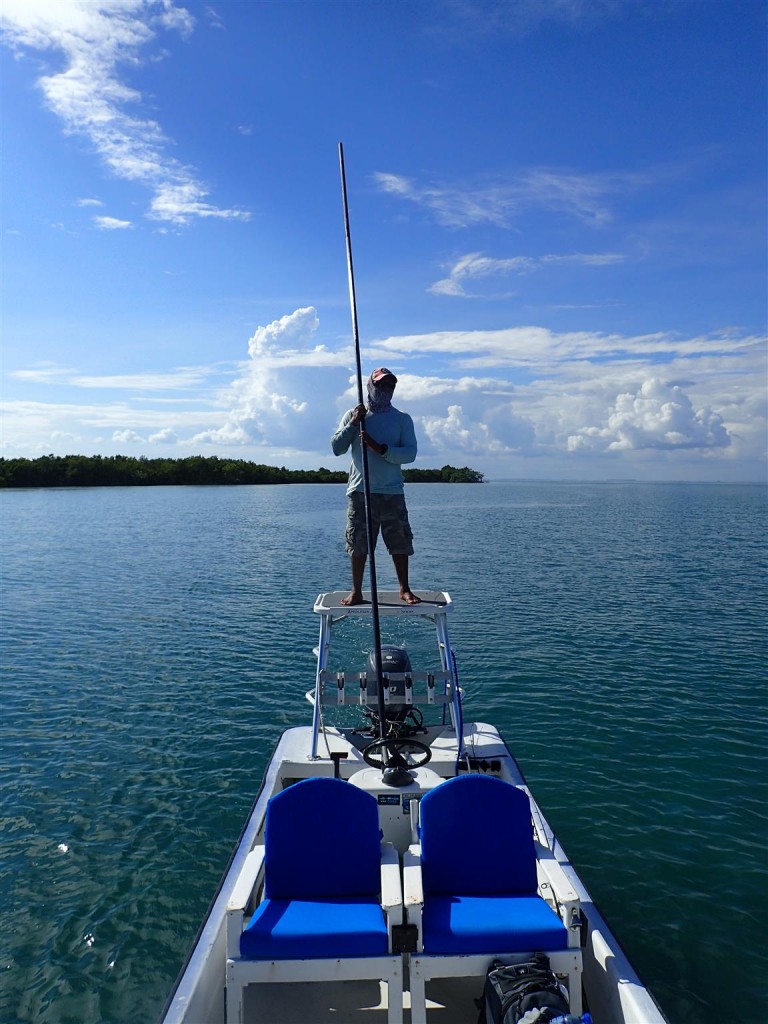 We tried one last spot before the day's end and after a long paddle about in search of our targets, Kennan spotted some nervous water. I made a spot-on cast and was quickly into a fish that didn't really realize it was hooked. It was swimming side to side instead of taking drag.  I had a good feeling about that and then, after about a minute, the drag started peeling. We both realized this was no ordinary permit!
After a long struggle I was quite happy to be using Kennan's outfit with 50lb braid instead of my own with 20lb braid. The fish came boatside and Kennan tailed it aboard. He said that it, being close to 30 lbs, was one of the biggest ones he had ever boated!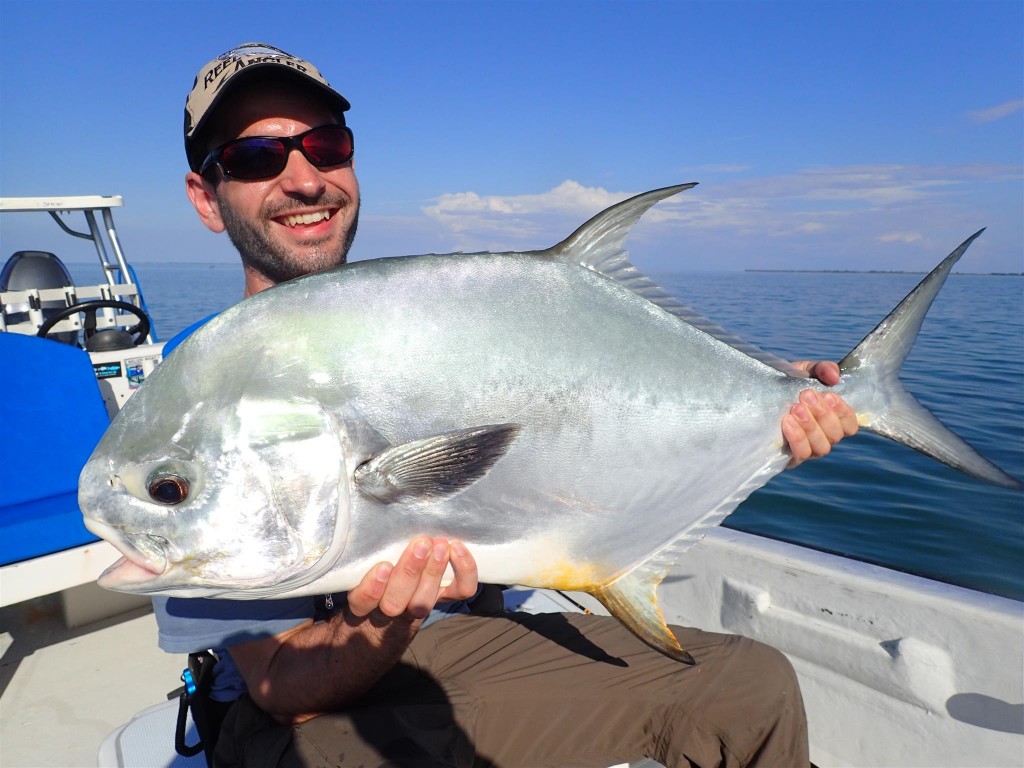 We caught one more after that, but this was the fish to end the day. The cherry on top of a truly magical 24 hours.