The next day I wished my hermit crab buddy a good morning before setting him free.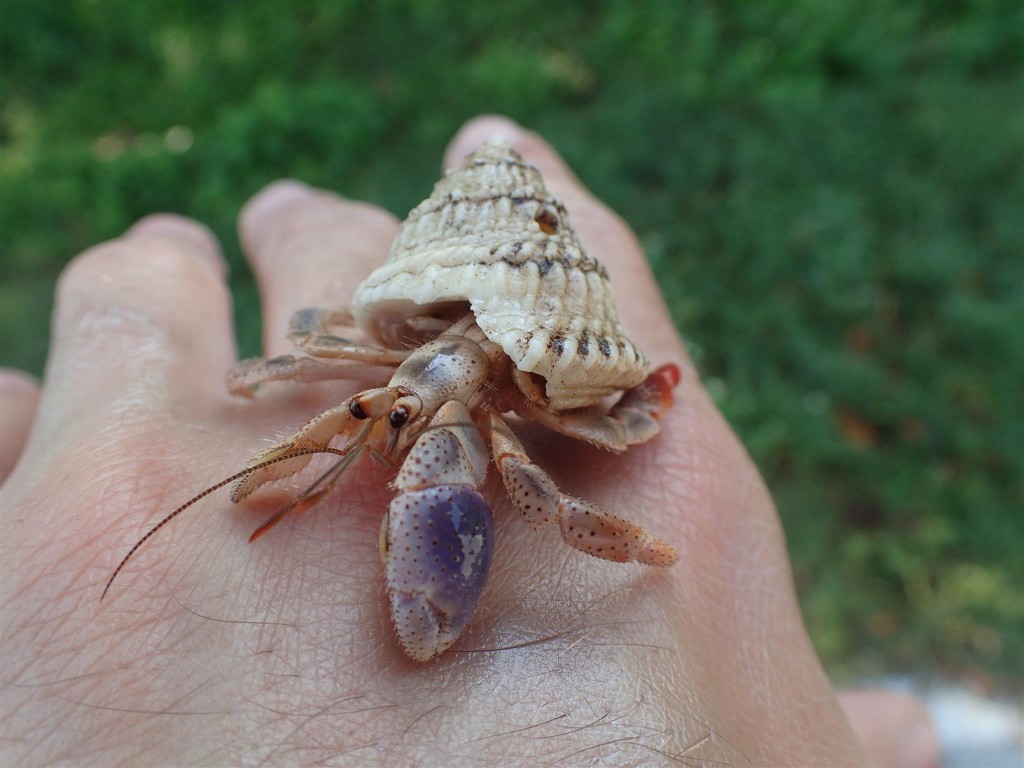 Using trusty Mcdonald's Wi-Fi, I armed myself with some new knowledge about the shark spot I had fished on my own the previous day.  I arrived at slack tide to find the whole area infested by yellow jacks.  Perfect bait, they will get bit "for sure", I told myself.
The first fish I caught looked a bit different, and it was a new species to me!
Bar jack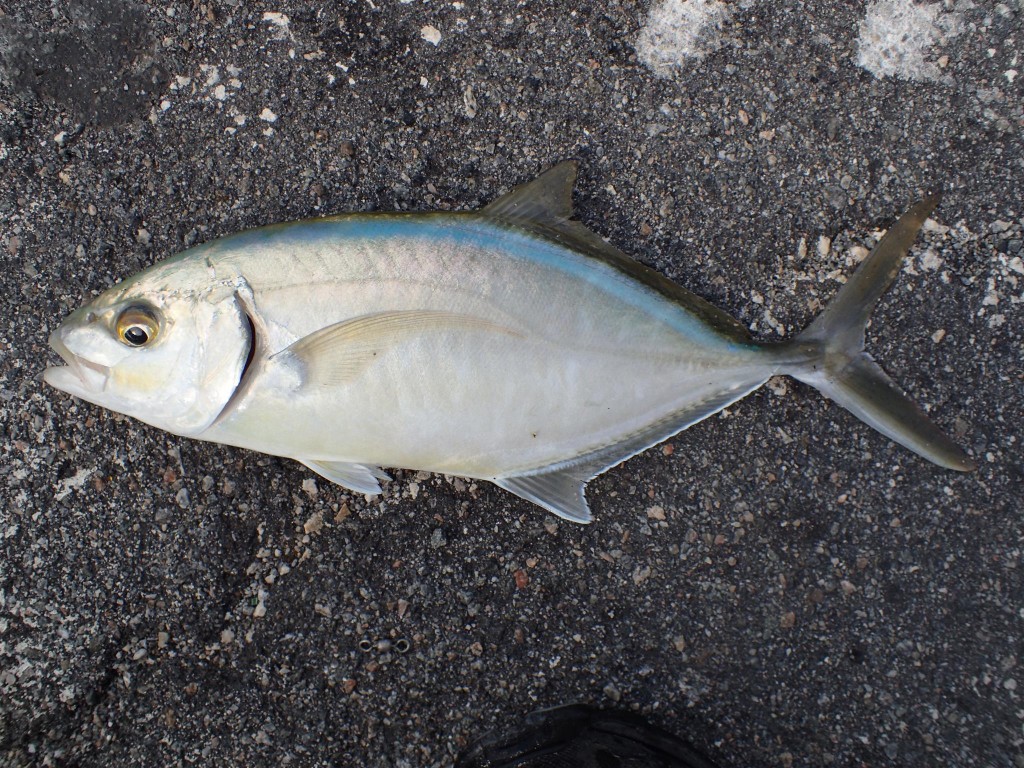 I proceeded to have a MUCH needed rod bending extravganza by ripping sabiki rigs and bucktail jigs at the jacks.  What a blast these pretty little things are!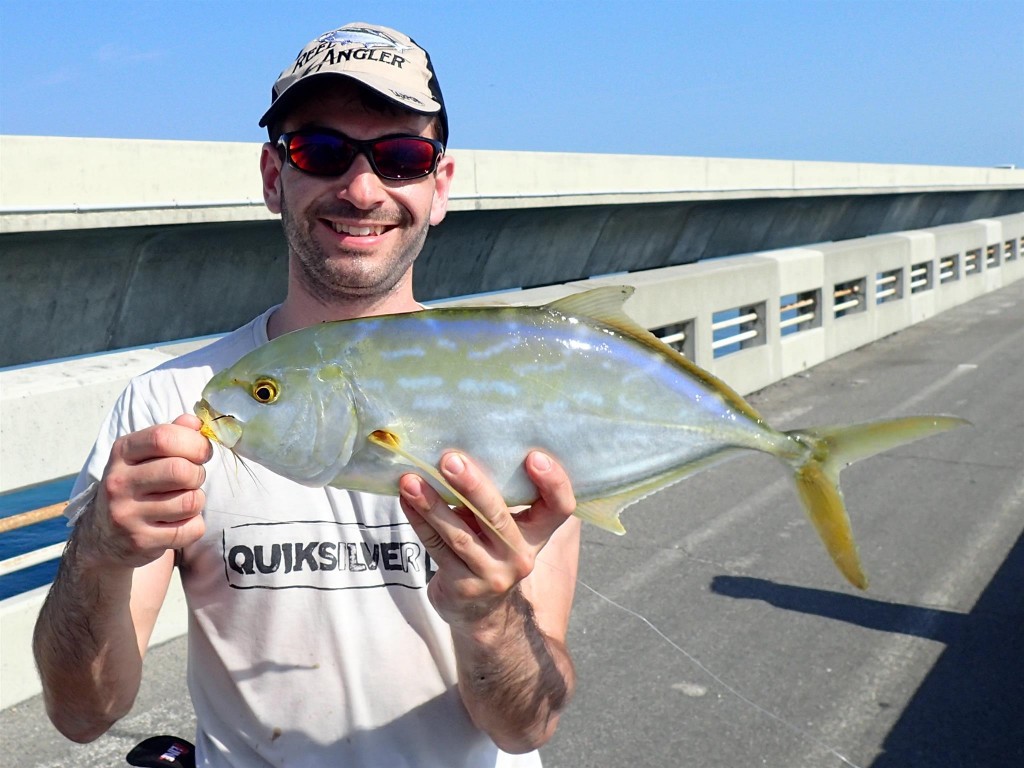 In the calm tide, the houndfish were also on the prowl!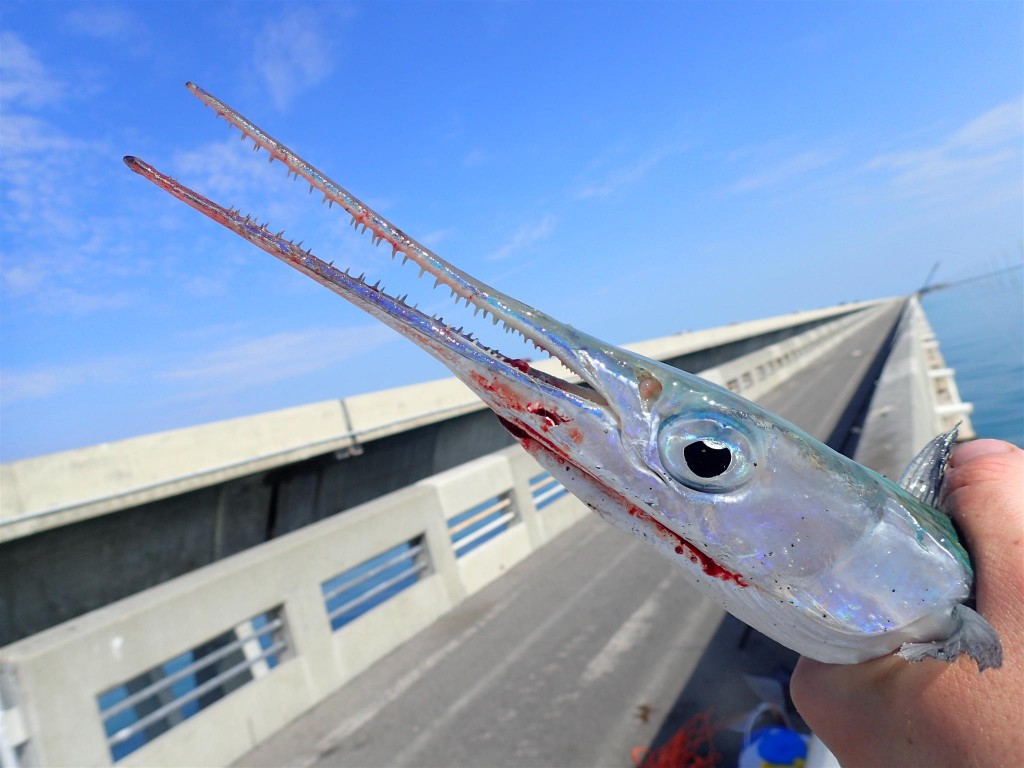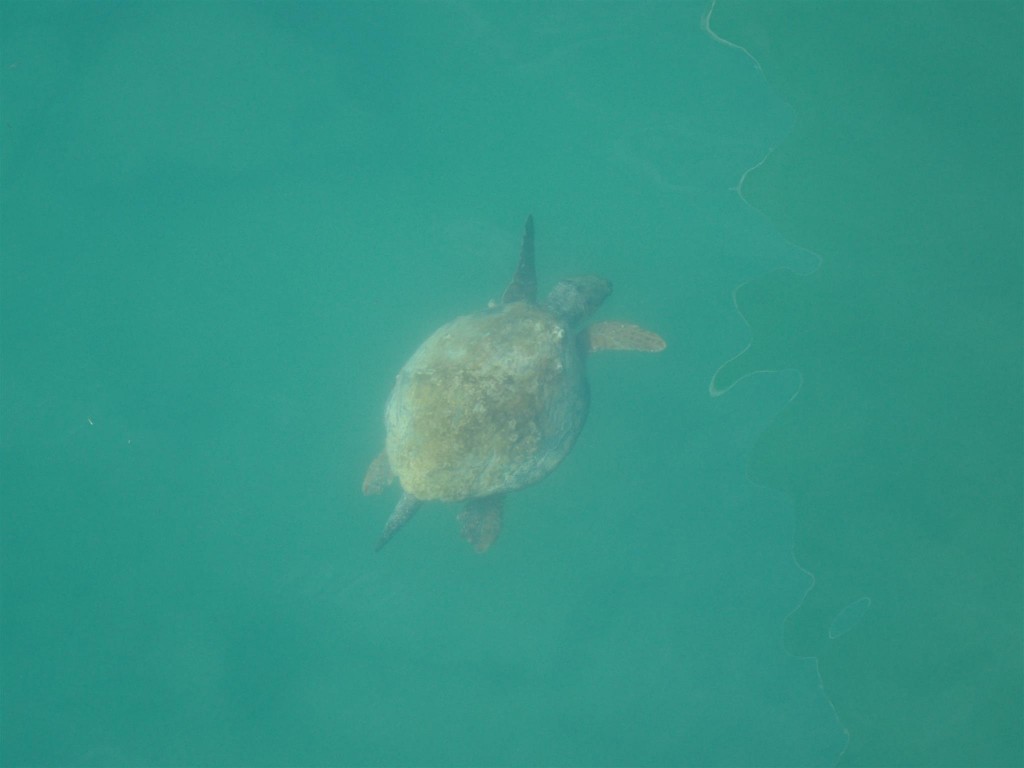 I drifted the yellow jacks bleeding and kicking under a balloon in hopes of replicating yesterday's "for sure" moment.  Of course… they didn't get a scratch.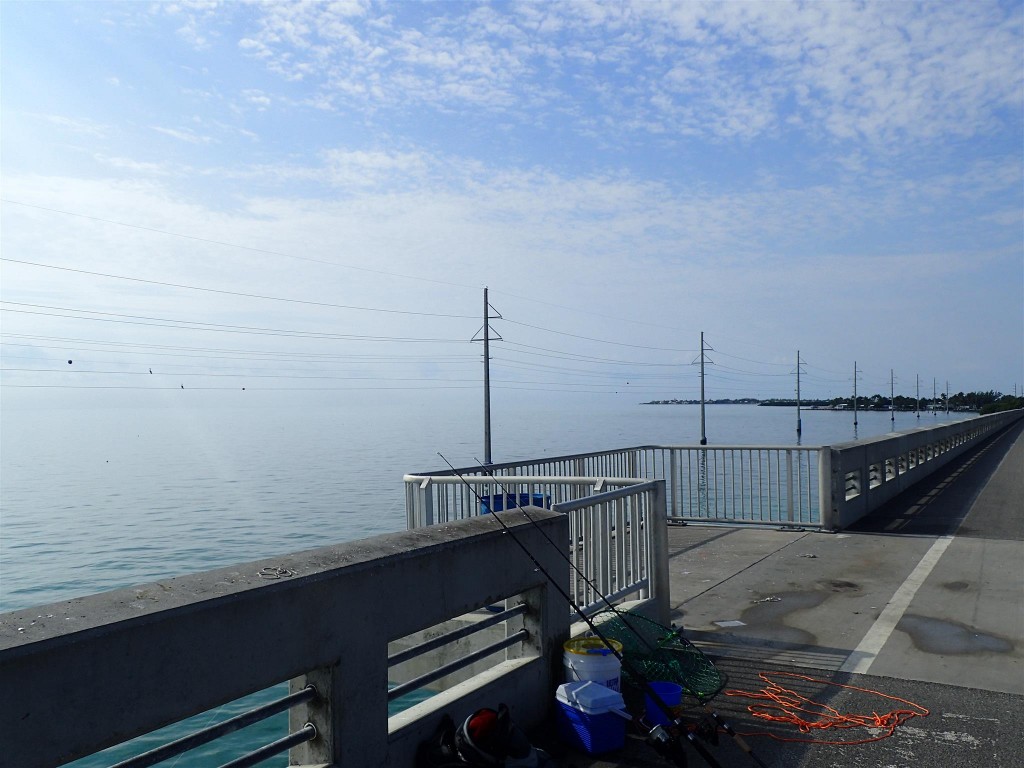 As the current picked up I switched to bottom fishing because my baits were planing on the surface.  Come it think of it, they must have unnaturally been cartwheeling on the bottom too. Nevertheless, shark fishing remains a mystery to me.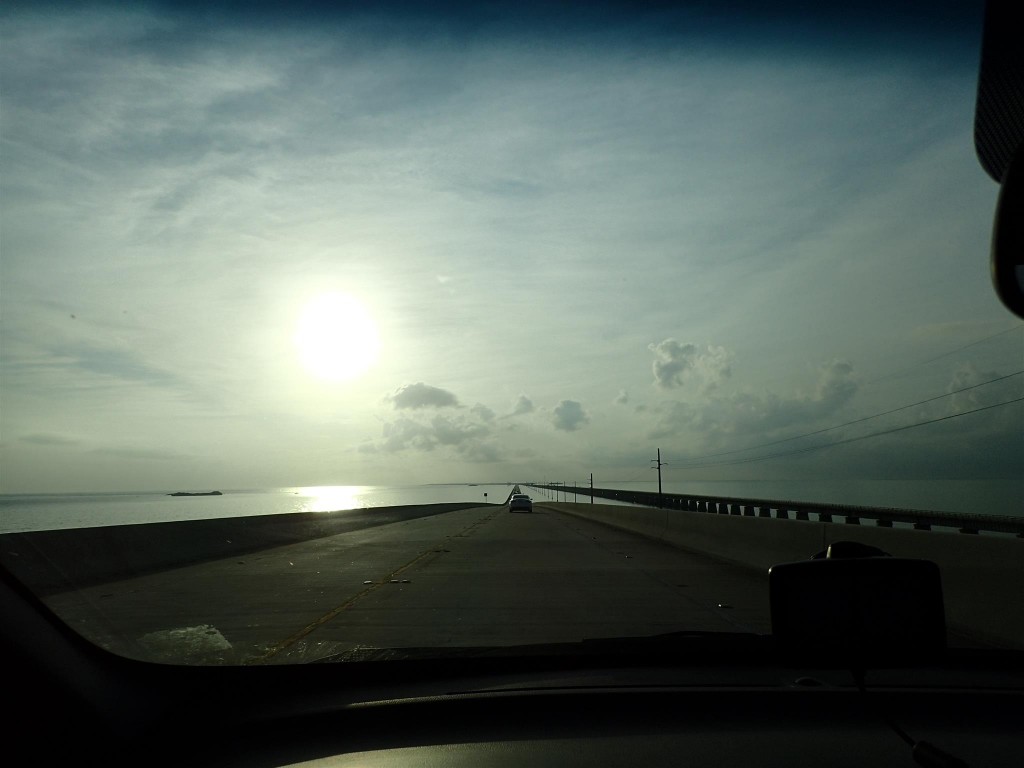 I still had a spot to try for longnose killifish, which would be another cool new species for me.  This was much deeper in the Keys so, as the current picked up, I packed up and headed out.
Parking lot iguana doing his head bobbing thing…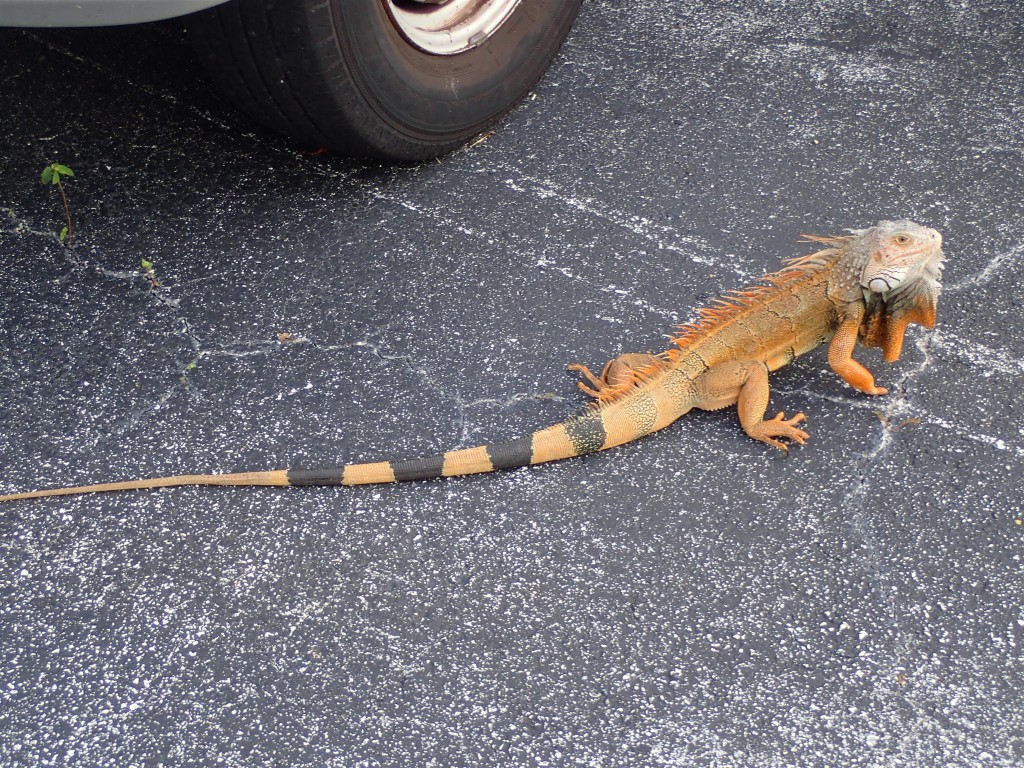 On the way, I stopped by a tackle shop to ask about live bait I could try for the finicky tarpon.  Clearly the shrimp were not working so I was open to suggestions.  Instead, they suggested the silliest-looking plastic baits called "hoagies".  At least, that was my first impression.  They said they worked and the plastics were just stupid-looking enough for me to believe it.
Little did I know… little did I know.  In a few days these little "hoagies" would make my trip.
Before I continued my drive, some wild chickens cheered me on.
Armed with a new bait for later and losing sunlight, I motored along.
I did not find the longnose killifish I was looking for, but instead a different new species and a plethora of blue crabs ripe for the picking.
Goldspotted killifish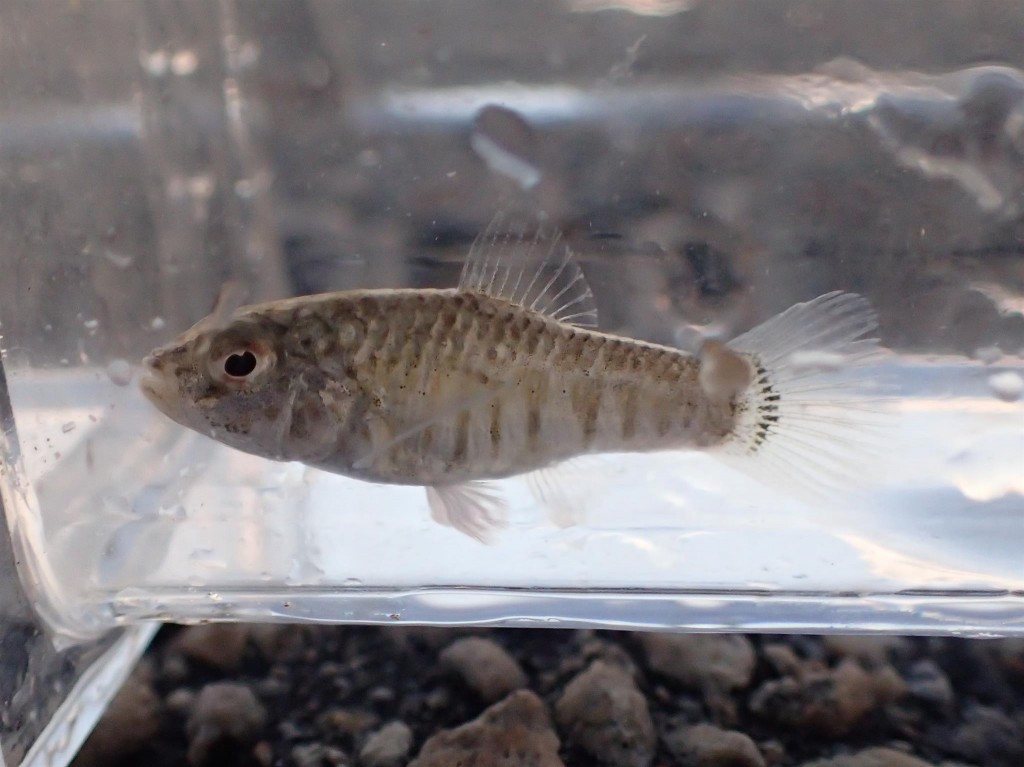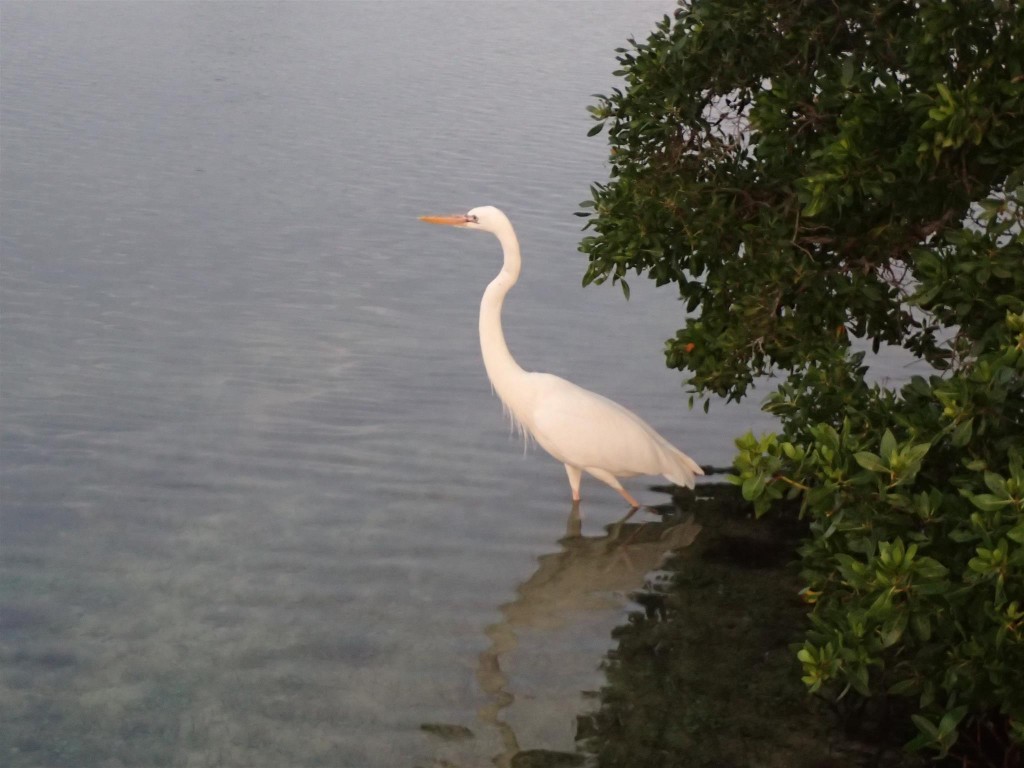 Out came a flimsy Walmart crab net I never thought I'd use.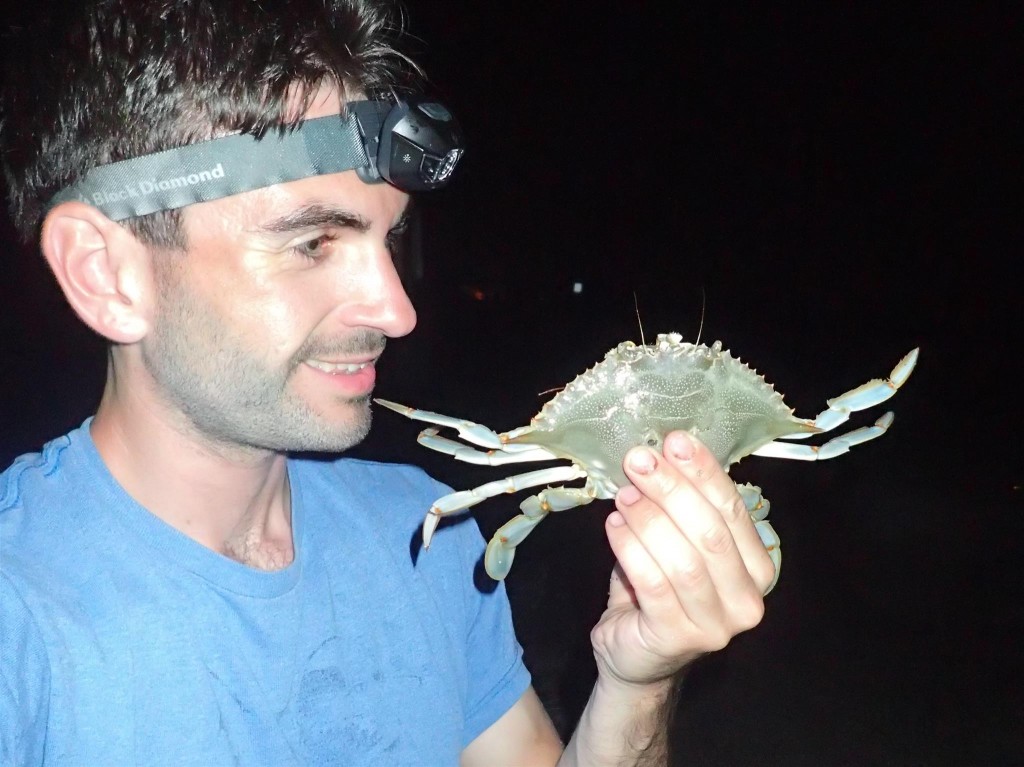 After catching some crabs in the dark, I headed to a grassy area in search of pinfish to use as bait the next day on a party boat.  Except for two nibbles, the area was devoid of fish.  Scanning the grassy shallows with my headlamp revealed two pairs of glowing eyes belonging to small sharks, one of which was a bonnethead.  Oh, and the key deer were out in force.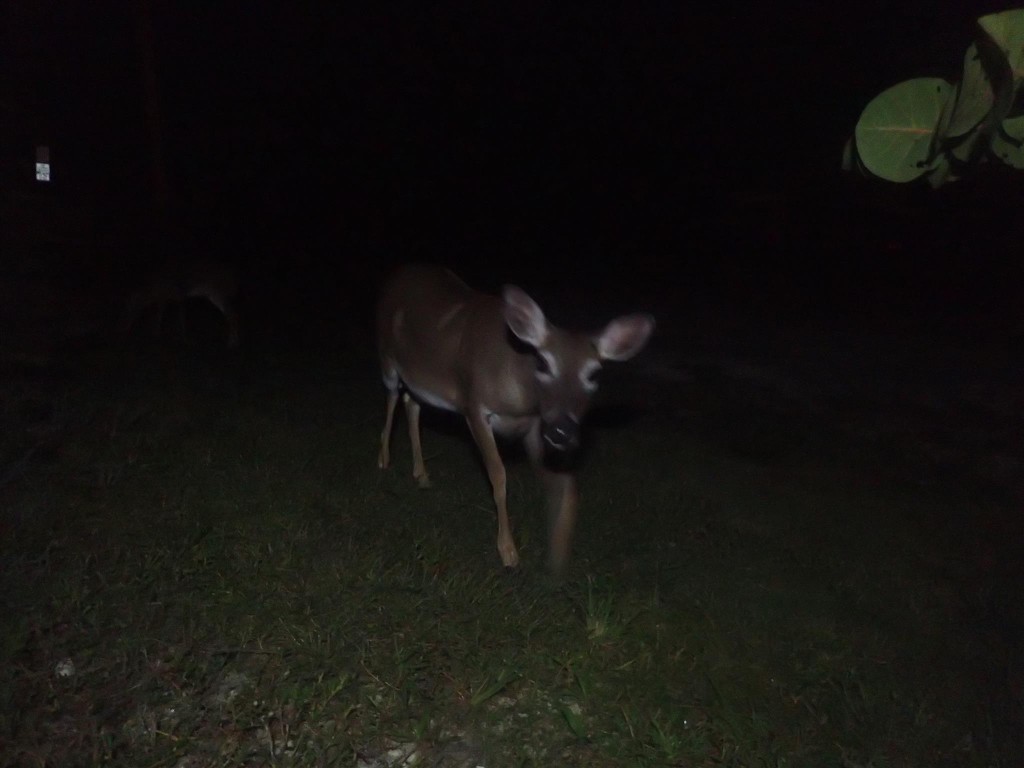 It was tarpon tide time so I headed over to see if they wanted any of the crabs or hoagies.  Surprise!  They didn't…
I moved on to the other spot infested with tarpon and again they wanted nothing I could offer.  Nothing in this bucket worked.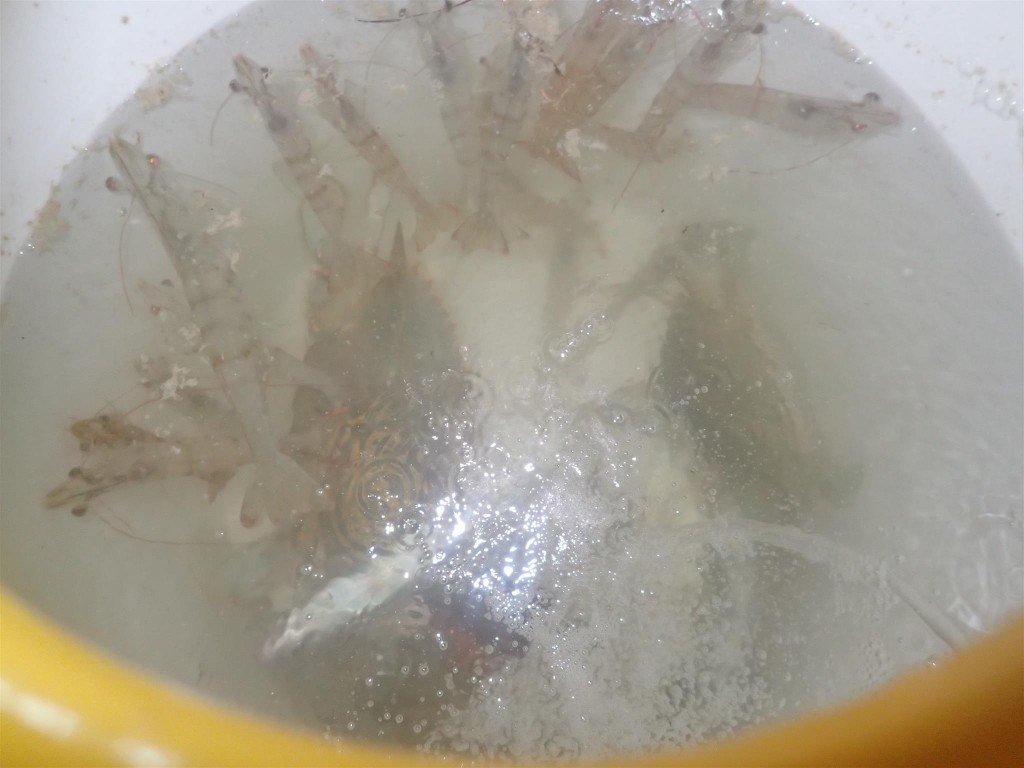 I was hopeful that something deep would be interested in a crab the next day on the party boat. What proceeded was the grand catch of two grunts, a broken tiptop guide after a deck hand smashed my Gotcha plug into it, and watching others catch a few bonita and cero/spanish mackerel.  Nothing wanted live pinfish either.  I threw my hands up.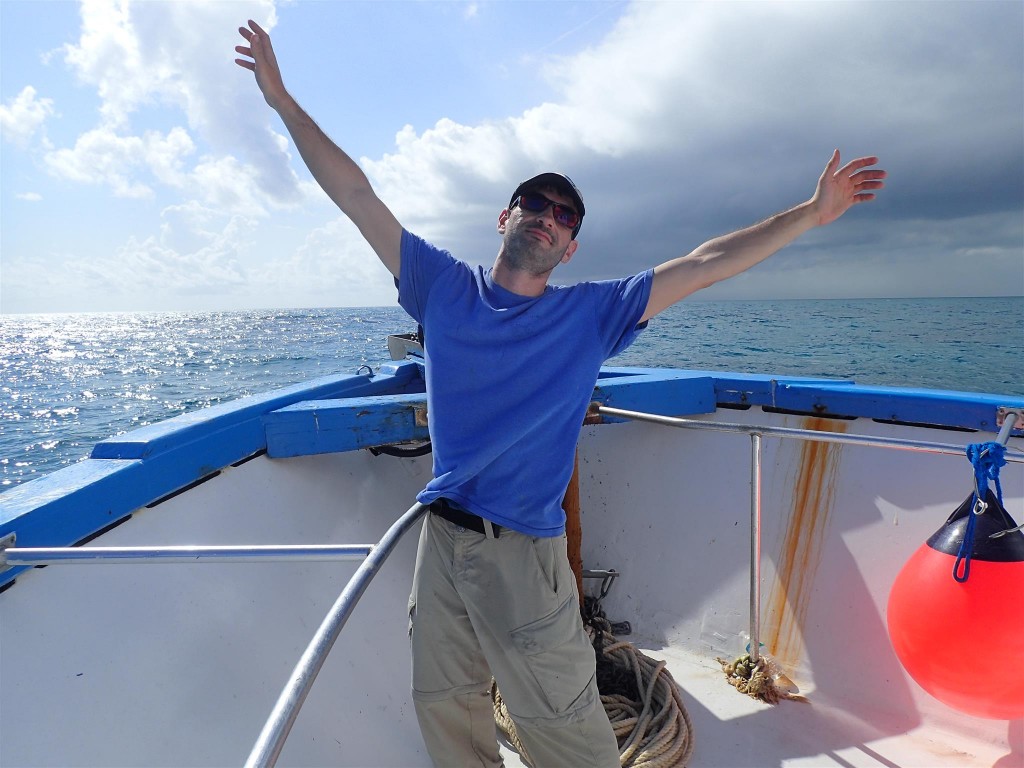 I was flying out to Belize the next morning and had planned to fish a pier nearby the airport, but instead I opted to deliver the pier net to Ken's family so we could save it for a future trip.  It just so happened that their neighborhood was nearby some prime cobra sneakhead water and I had heard stories of them being caught on bait at night.
So, armed with the most unnatural snakehead forage of leftover pinfish and live shrimp, I hit the nearby canal.  After a couple of hours and a lot of fresh baits, no invasive snakehead were intercepted.
However, there was no shortage of these dog-like ducks that wagged their tales at me… definitely one of my favourite Florida invaders.  Very much unlike the elusive snakehead, I thought to myself.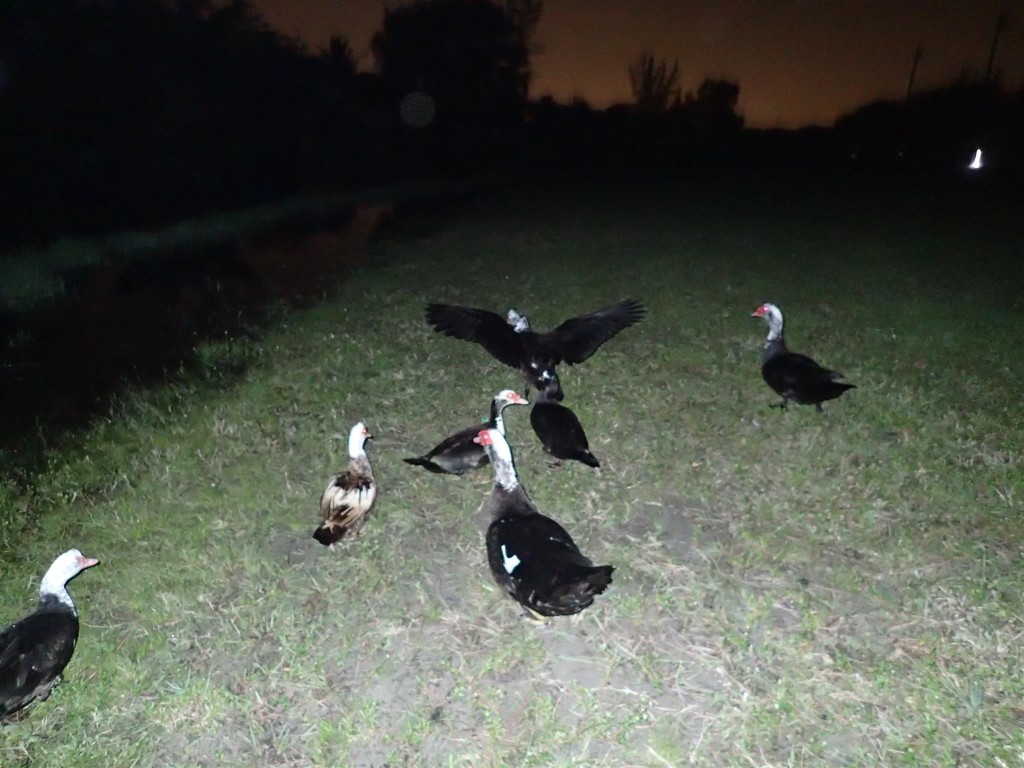 In a last ditch effort, I reeled in one of the baited rods and tied on a topwater frog. As I worked the shoreline, I spooked something and shone my light to reveal a small snakehead!
Not five minutes later, a spotted a wake behind my frog as I crept it along the shoreline.  I made a quick second cast past where I spotted the  wake and my frog was slurped up.  Remembering this was when hooks were missed as they have on me in the past, I made sure to drop my rod tip and let the fish gulp in the frog for a moment.
When I set the hook, the squirming little snakehead was dragged right up the bank and I was filled with relief.  At long last, cobra snakehead was mine!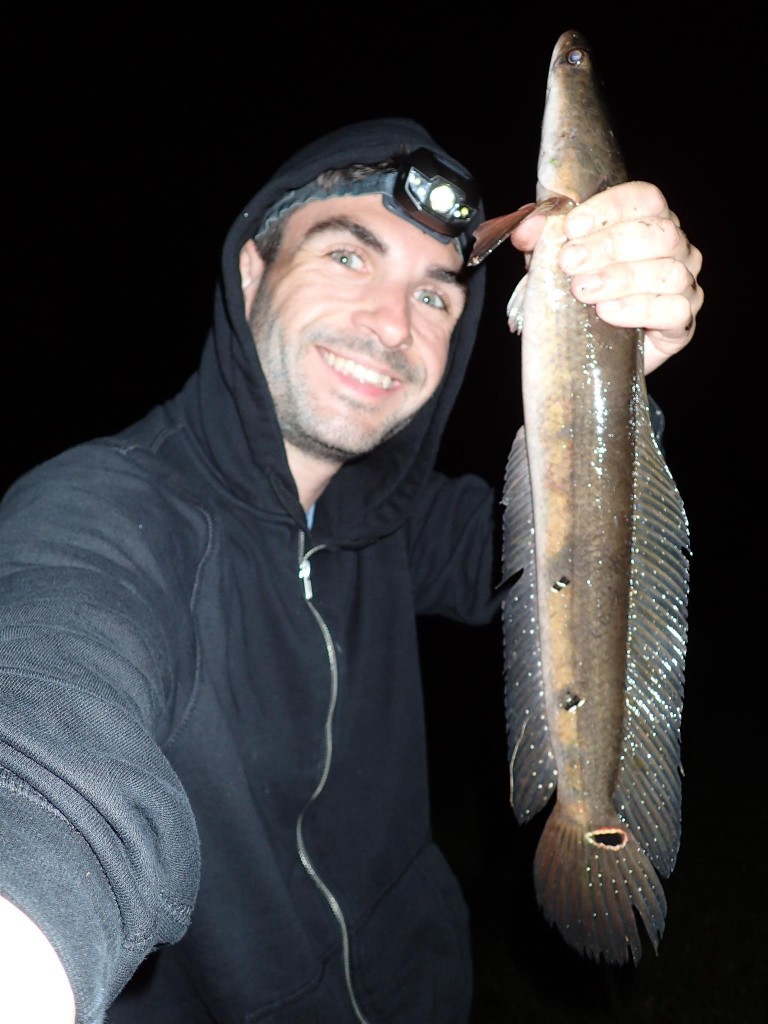 Cobra snakehead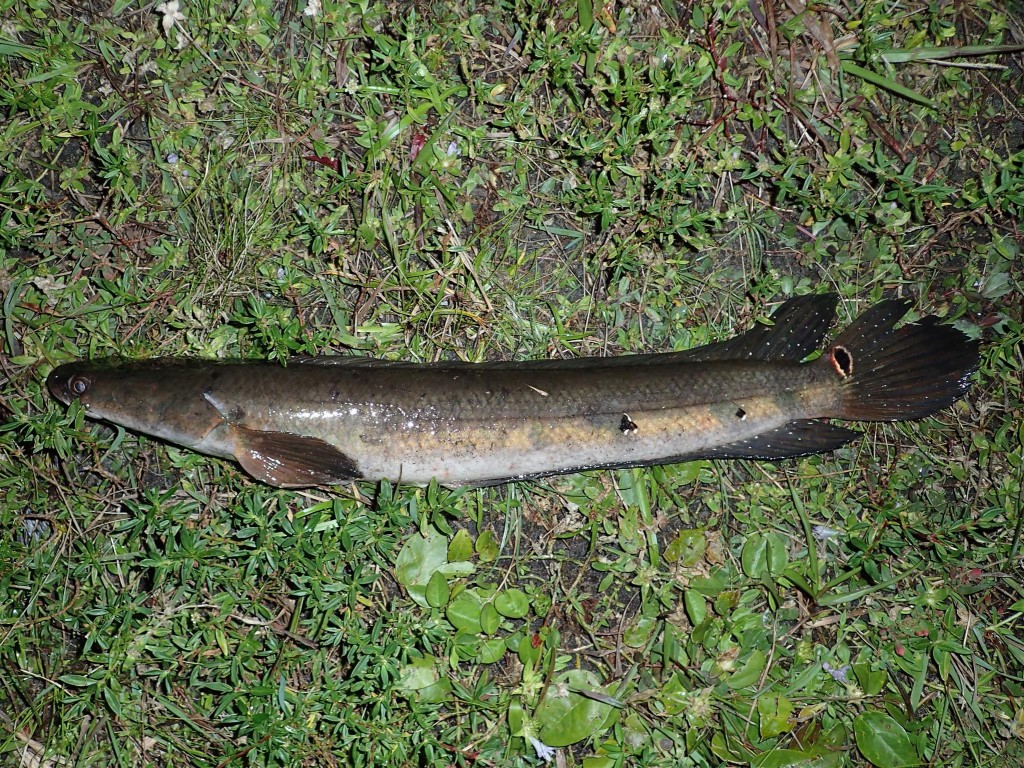 And it was on this night that my luck began to change.  As I would venture to Belize my good luck would continue.  I was in for the ride of my life.
My luck didn't change completely however, as locking myself out of my rental car the next morning almost resulted in a missed flight.  Regardless, off I was to Belize!
I had a long quarrel to finish with a tarpon…