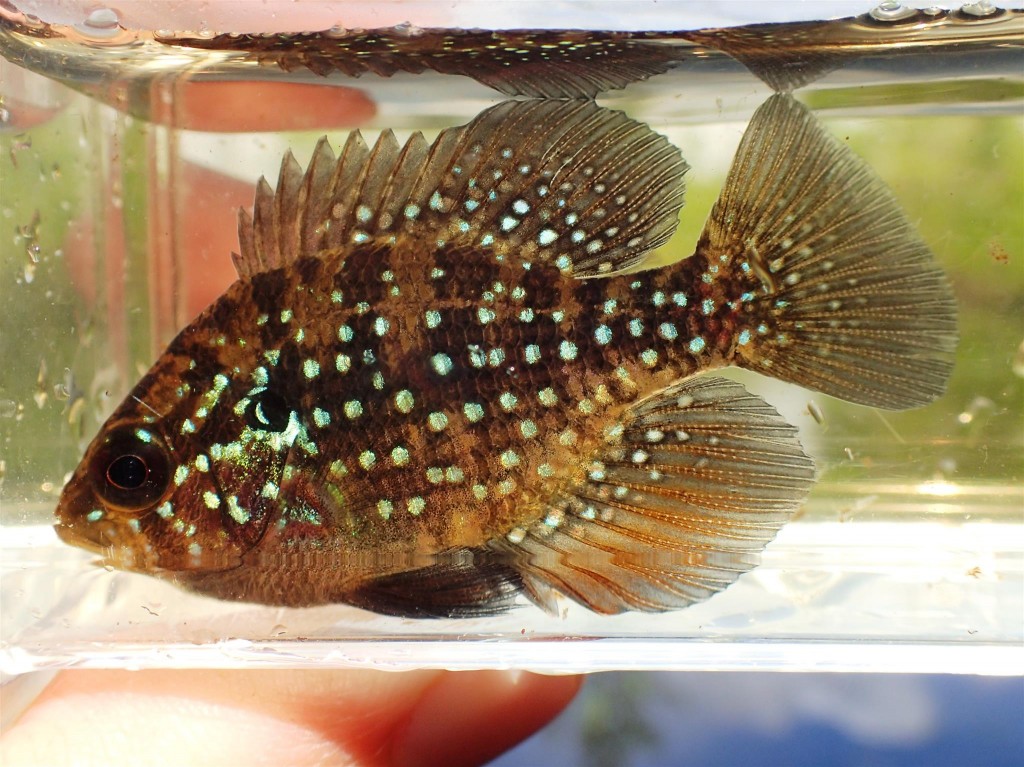 Springtime in Virginia brings with it the allure of Northern snakehead and a shad run into the Potomac River.  On my last trip, I had failed at finding these snakehead and, while catching hickory shad, hadn't found any blueback herring.  Back I went in pursuit of this unfinished business.
Ken was a huge help to George and I in planning this trip, but unfortunately wasn't able to join us.  Pat's local expertise and benevolence in sharing his species locations was a huge part of this trip's success!  Ben had also planned to visit Pat this weekend so it was set to be quite the species hunt.
After a night-long drive, George pulled us up to the mighty Potomac river.  Several days of heavy rain had turned the normally clear water an opaque muddy brown.  Water levels were much higher than normal.  Things did not look good for shad fishing, the river was a mess!
As we watched the surging river from the bridge, we spotted some fish skirting around the shallows.  As we trained our eyes, we saw hundreds of fish holding in calm areas near shore!  Excited, we decided to head down to check it out.
As we neared the river, there was a flooded shoreline area that was absolutely packed with fish.  Unfortunately, a blanket of surface debris rendered them unfishable.  As we reached the river, we found thousands of gizzard shad crammed along the banks to escape the mighty current!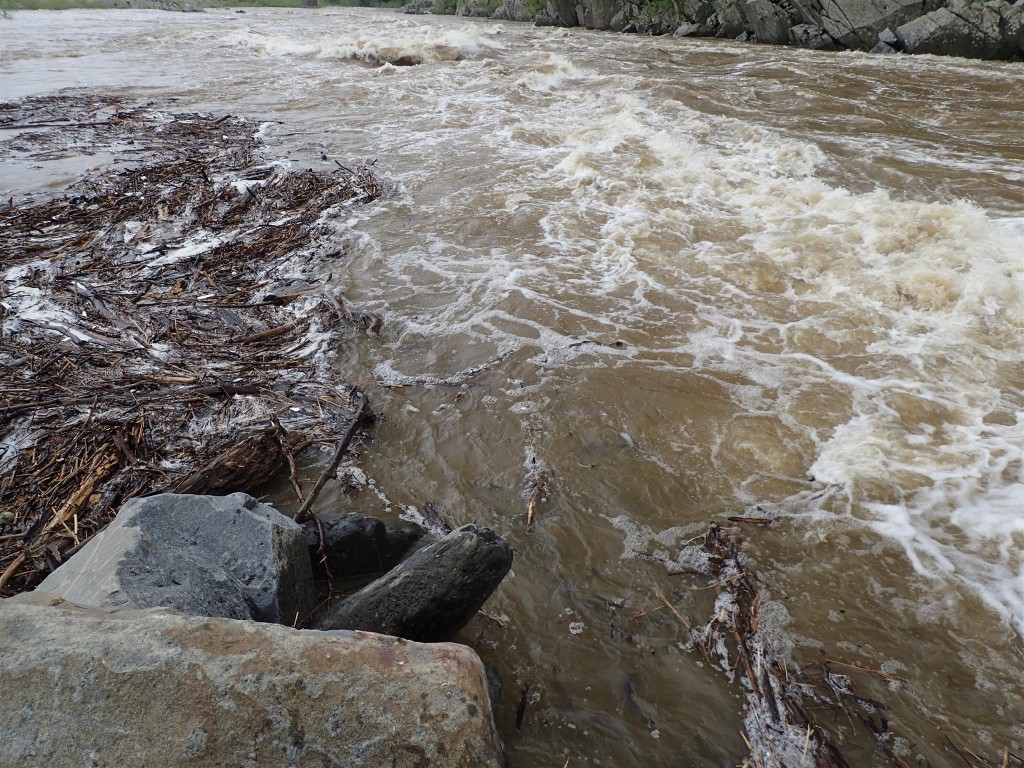 I had never seen a river stuffed with this many fish before.  George and I tried to catch them, but there was no way to cast in without snagging one on the back… that's how many there were!  A few snagged gizzard shad later, we moved on to another spot at low tide.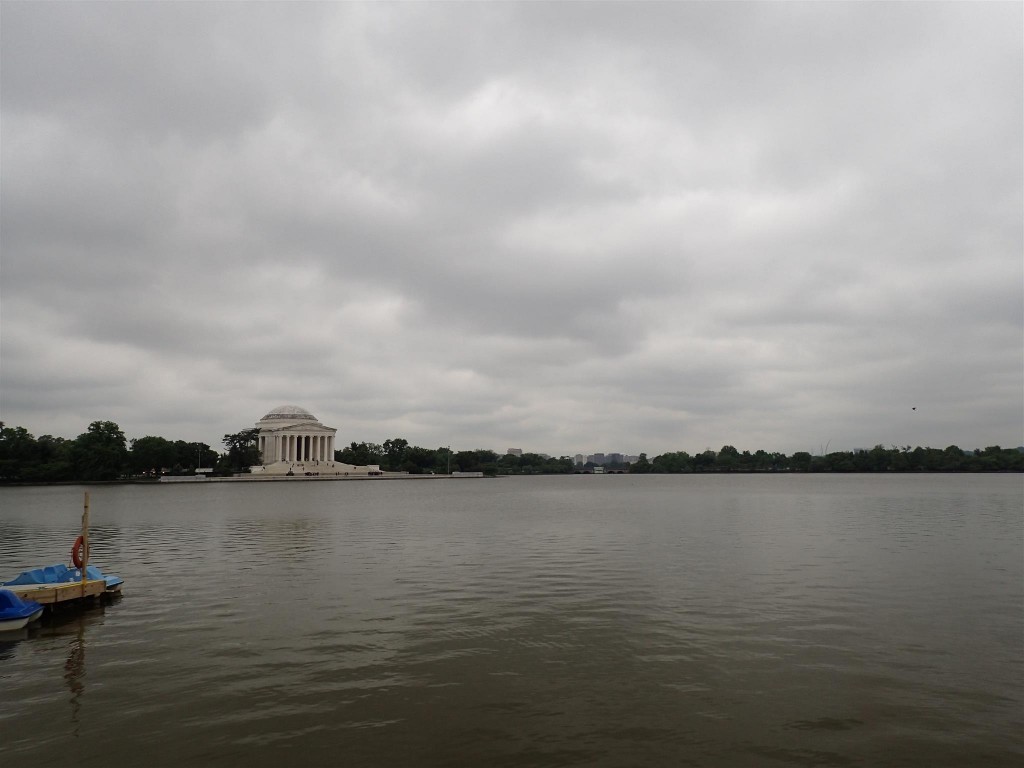 While we were in search of snakehead, there was yet another amalgamation of fish in the shallows.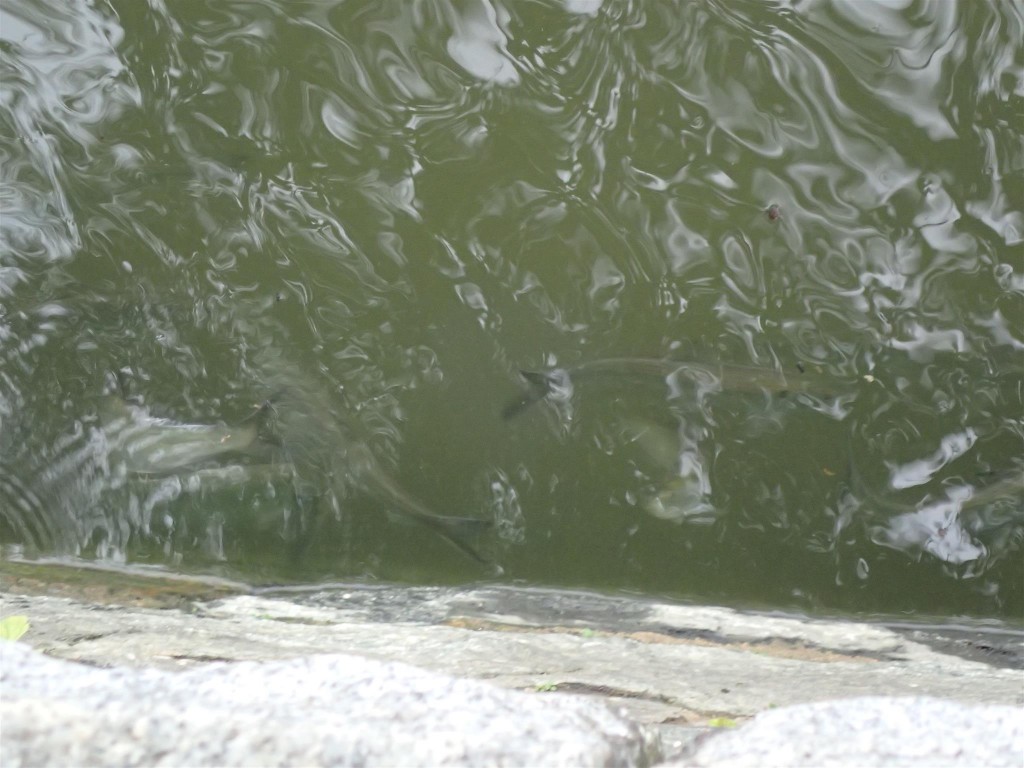 They looked like herring, and I was in search of blueback.  After seeing the muddy, unfishable state of the Potomac river I had already dismissed my hopes of catching one of these.  Here I was, standing on a pile of them!
I tried some jigs unsuccessfully and then I switched to a sabiki rig that seemed to garner their attention.  I tied up two bare hooks and the herring loved them!
Blueback herring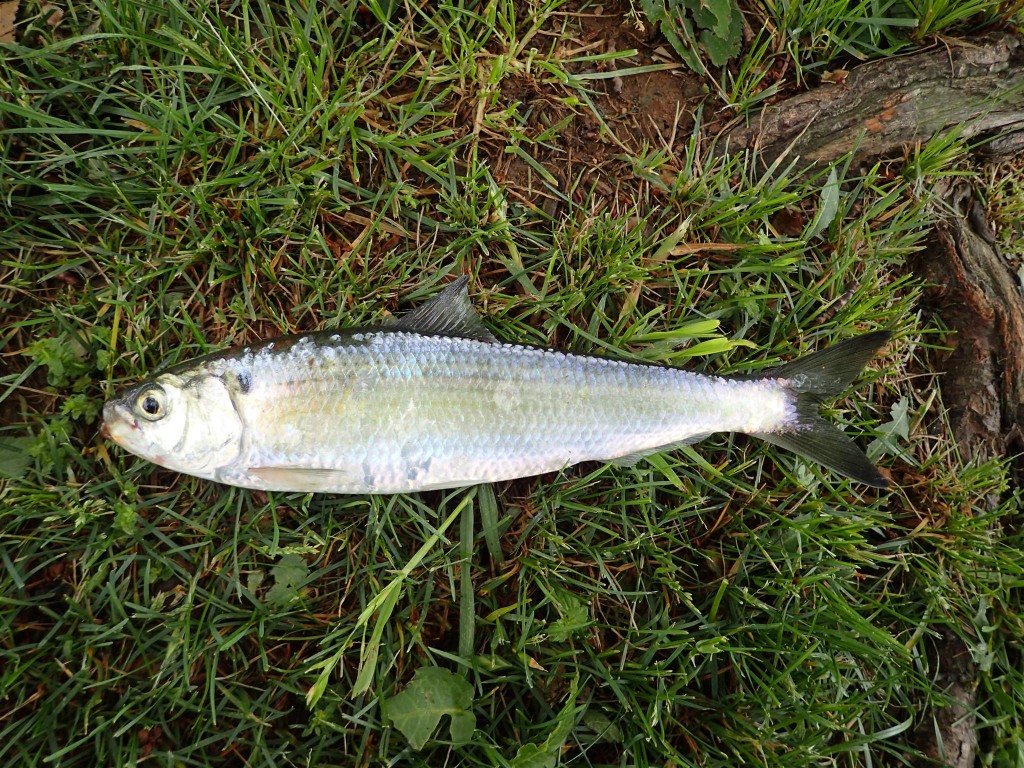 The weather was rainy, cold, and grey.  Nevertheless, there were signs of spring.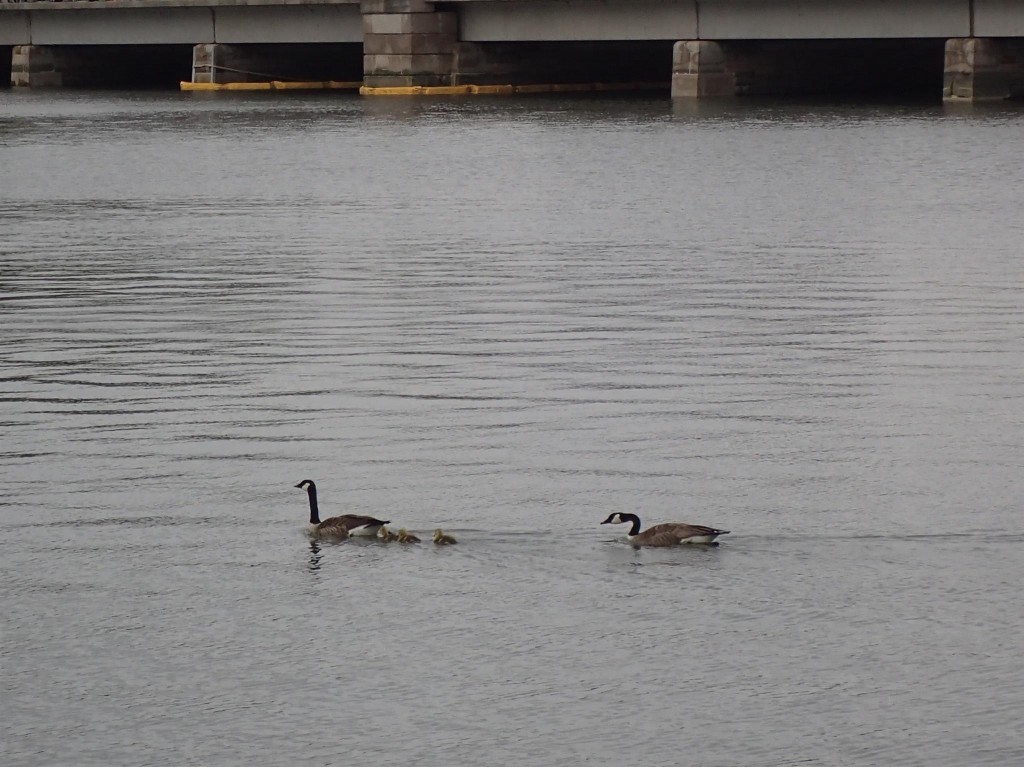 As evening approached, George and I soaked worms to try and catch a rare species of bullhead, the white catfish.  The most excitement this provided was something steeling my bait.
While we didn't find anything else at this spot, I was pretty thrilled about the unexpected blueback herring since it was one of my two major targets for this trip.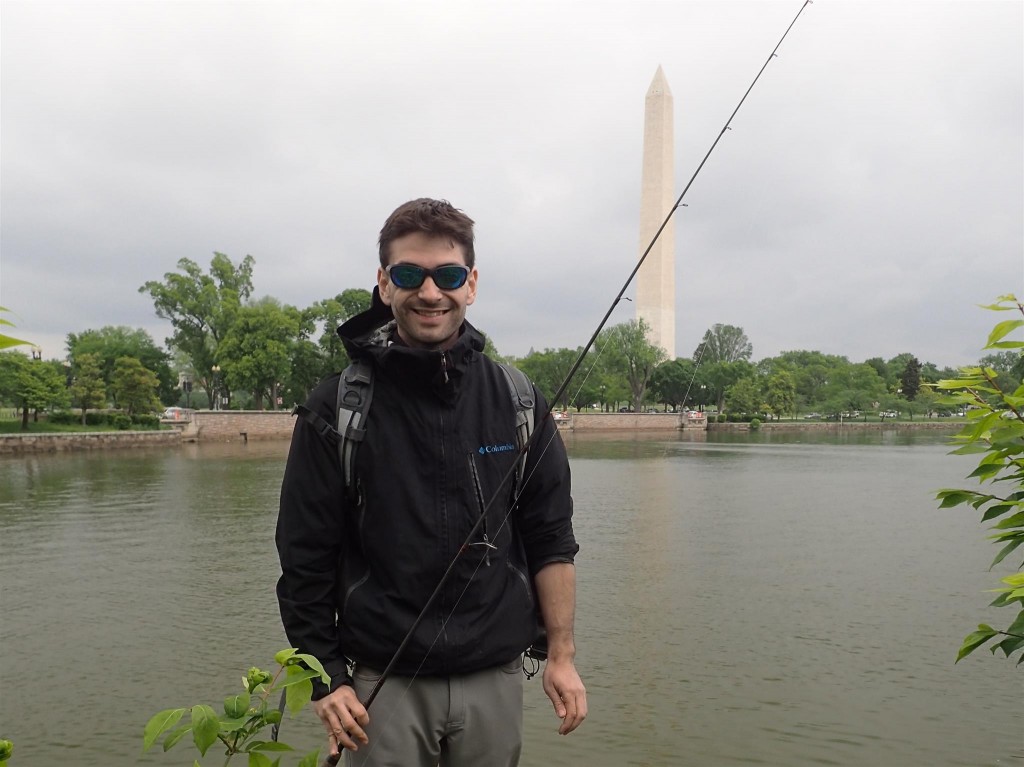 Pat met up with us and fished the area with a small jig to yield perch and panfish.  After George and I left he sent me a picture of a striped bass he had just caught, a species I hadn't yet.  What a guy.  He'd redeem himself though.
The next morning it rained and poured.  George and I decided to catch up on sleep instead of fishing.  We joked about how awesome it would be to catch a snakehead today, but neither of us had much hope given the weather.
When the rain began to slow, we headed out in search of new species of shiners that we could hopefully use as bait in our afternoon snakehead hunt.  We figured they might be more inclined to bite on live bait given the cold weather.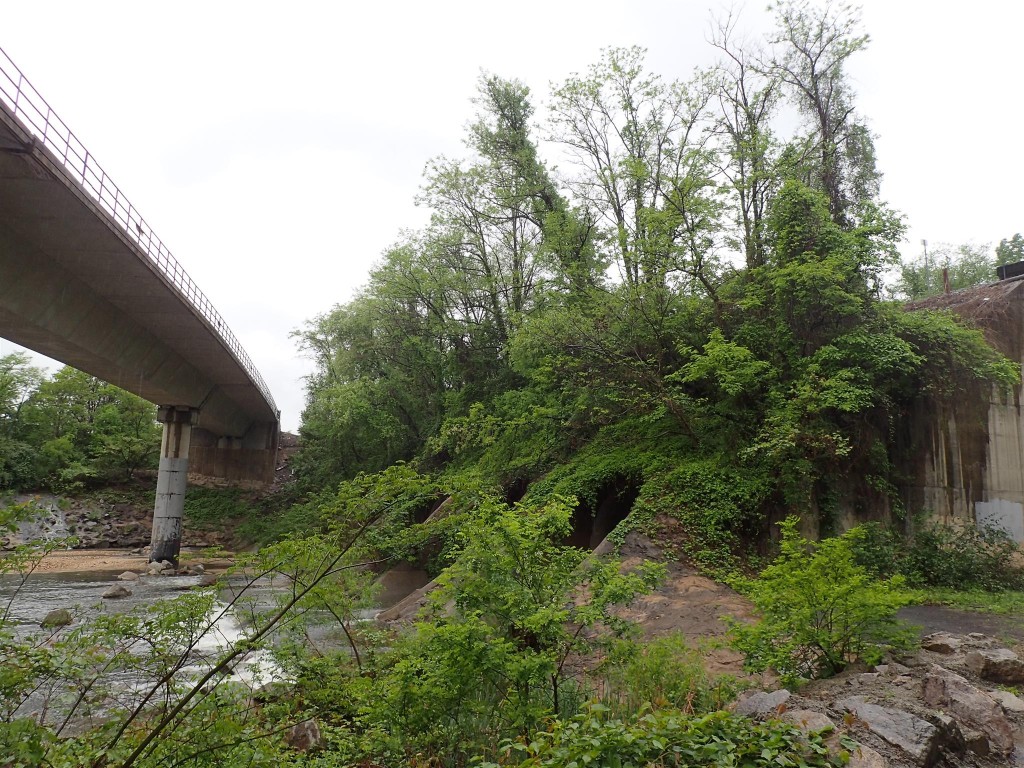 The creek was high and dirty from all that rain and the shiners were nowhere to be found.  Finally, George caught a gorgeous satinfin shiner in spawning colouration.  I didn't find a thing so we moved on to snakehead water.
As we worked our next spot for snakehead, it became clearer that the odds were definitely against us.  The rain had further muddied the already dirty water and there were no snakehead to be seen.
Following Pat's advice, we kept working further into area.  I thought I would have to fight this nesting goose, but we came to a compromise and she let me by.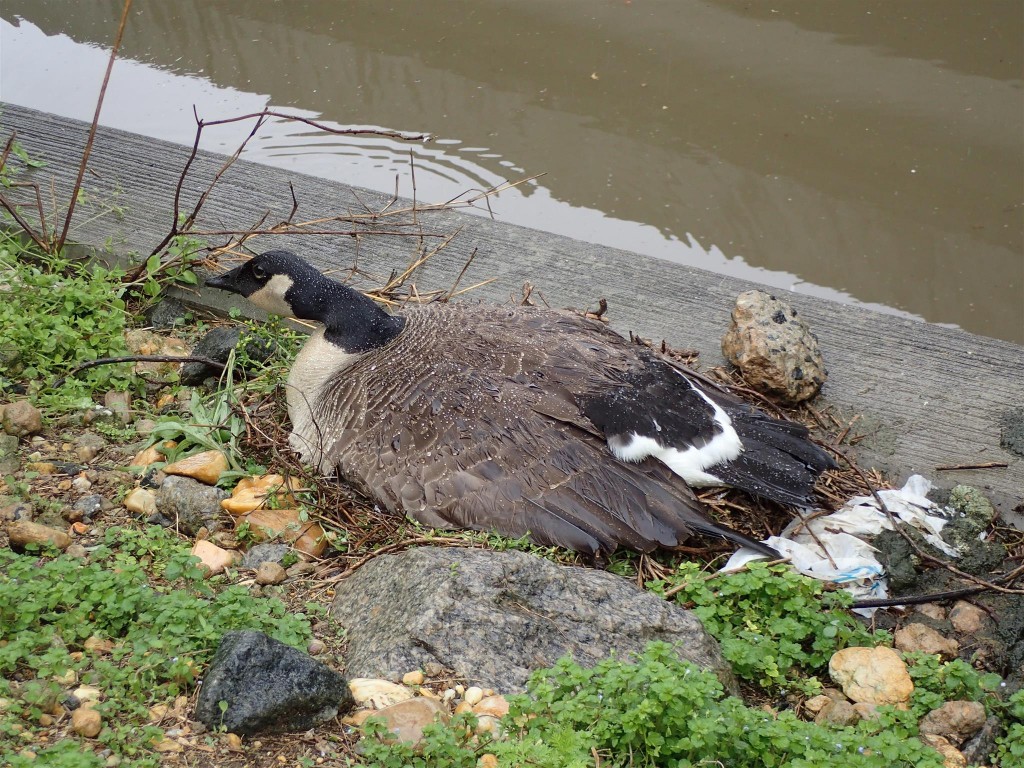 I finally reached a patch of clear water and saw a large, brown fish that I thought was a snakehead.  I had never seen one in the water before so I wasn't really sure what to look for!  In hindsight, it was probably a bowfin.
George caught up with me and made a few blind casts around the area.  About ten casts later, he caught a snakehead!
Excited, George let me take his spot and it wasn't long until I caught one of my own!
Northern snakehead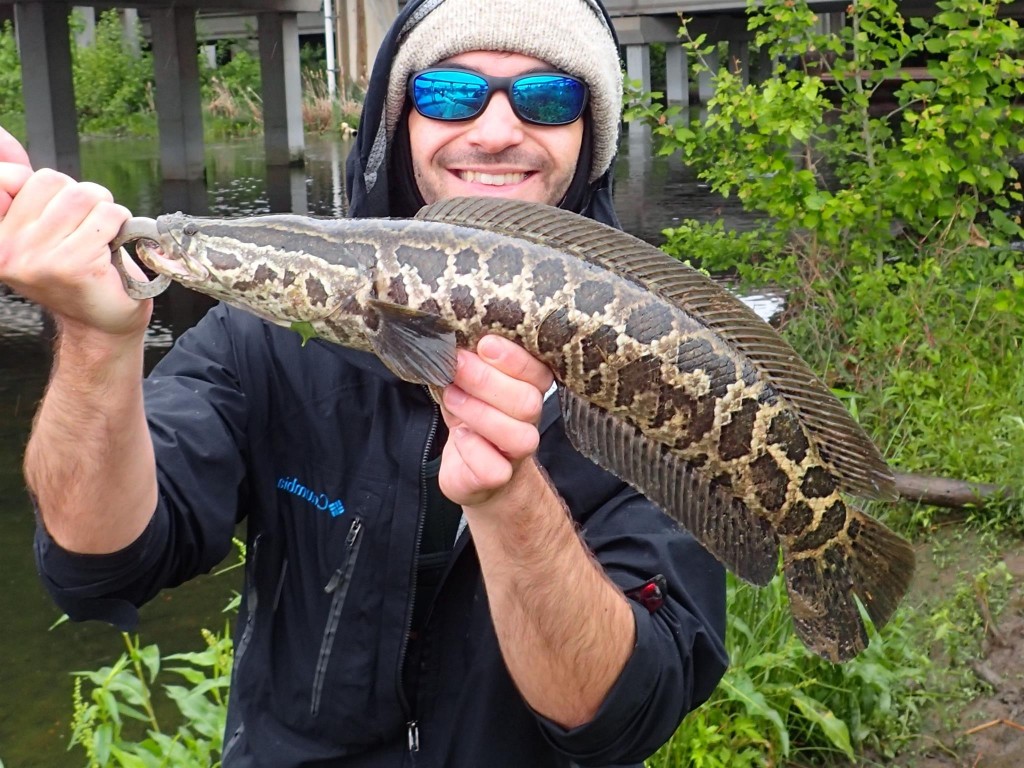 We were in disbelief!  The weather was cold and rainy and the water was muddy.  Despite all this, we had both caught our species targets!  The rest of the trip would be a bonus.
It wasn't long until George caught another, larger one and I accidentally snagged a huge one in the back.  I looked around and could spot the odd snakehead here and there.  I had one chase my lure as I hopped it along the bottom.  We had found them!    Unfortunately, it was time to go.
It was high tide and we returned to the spot we had fished yesterday at low tide. Surprisingly, all the blueback herring had left the area!  George fished around for shad and I poked a jig around in hopes of the striped bass Pat had taunted me with yesterday.   I also cast for snakehead, but didn't see any.
As night approached, I poked a worm around the shallows and found an endless supply of bluegill and white perch.