Part 4:  Jingle all the way… back down to the Keys
It was Christmas morning and I woke up early, but not to look for presents under the tree.  I had some fun hooking and loosing two tarpon where I shouldn't have been.  I was on Santa's naughty list.
I went to another spot that was slightly less immoral and caught my first jack crevalle on an improbably tiny sabiki rig! I kept him for bait and fresh breakfast.
Jack cravalle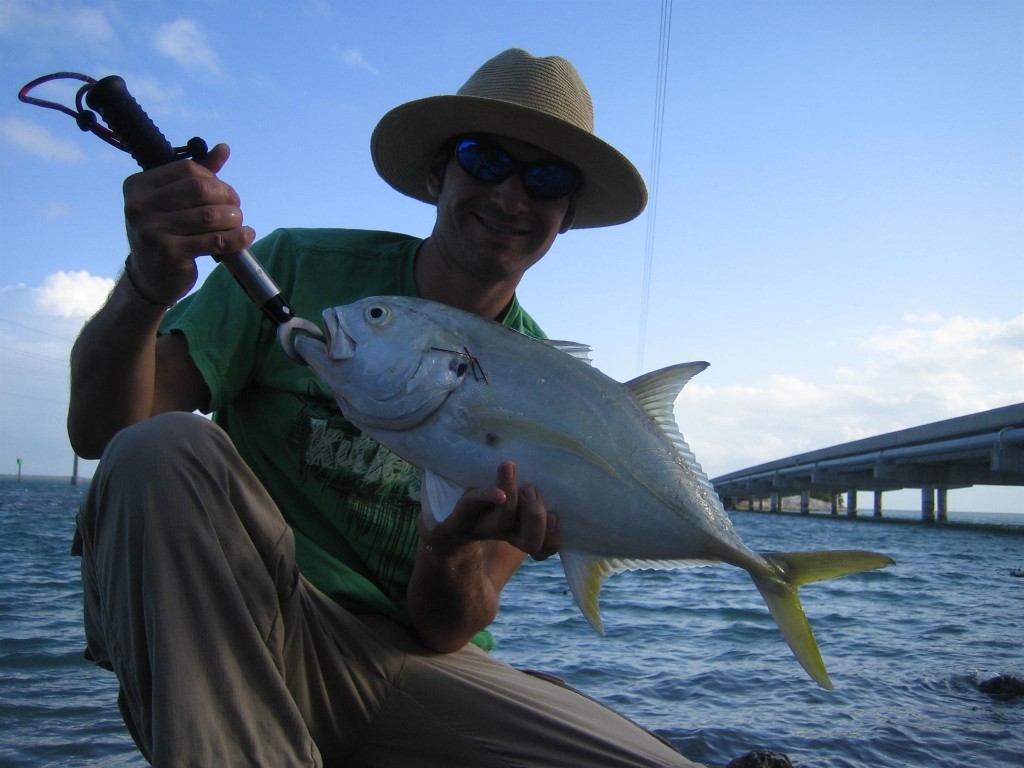 I can't exactly remember what I did with the rest of my day.  There was some event-less shark fishing and some sight-seeing.
The next morning I awoke early again.  My naughty Christmas spots were no longer fish-able and so I revisited the pier from our nurse shark adventure.
I caught a porgy that we were never able to identify.  Next time I need to photograph the teeth for an easier ID.
Edit May 10, 2016:  Deferring to a porgy master, this fish has been identified as a jolthead porgy.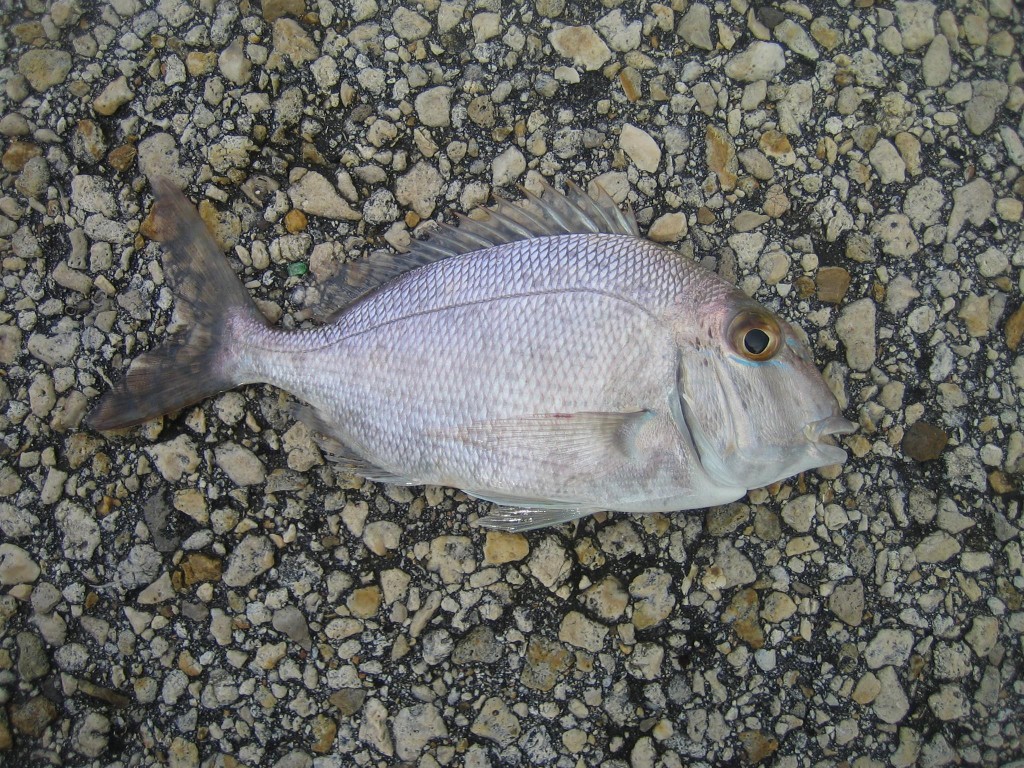 One of my bigger rods received a quick rip and then stopped.  I remembered Ken's theory that these were groupers.  When I pulled on my line, it was snagged.  Instead of breaking it off I applied pressure and waited.  And waited… and waited.  It was probably a few minutes of waiting, but the fish eventually swam free and I gave him the bad news!
It was another beautiful black grouper.  I had quite an interesting time trying to hold my rod and use the pier net simultaneously. It is possible!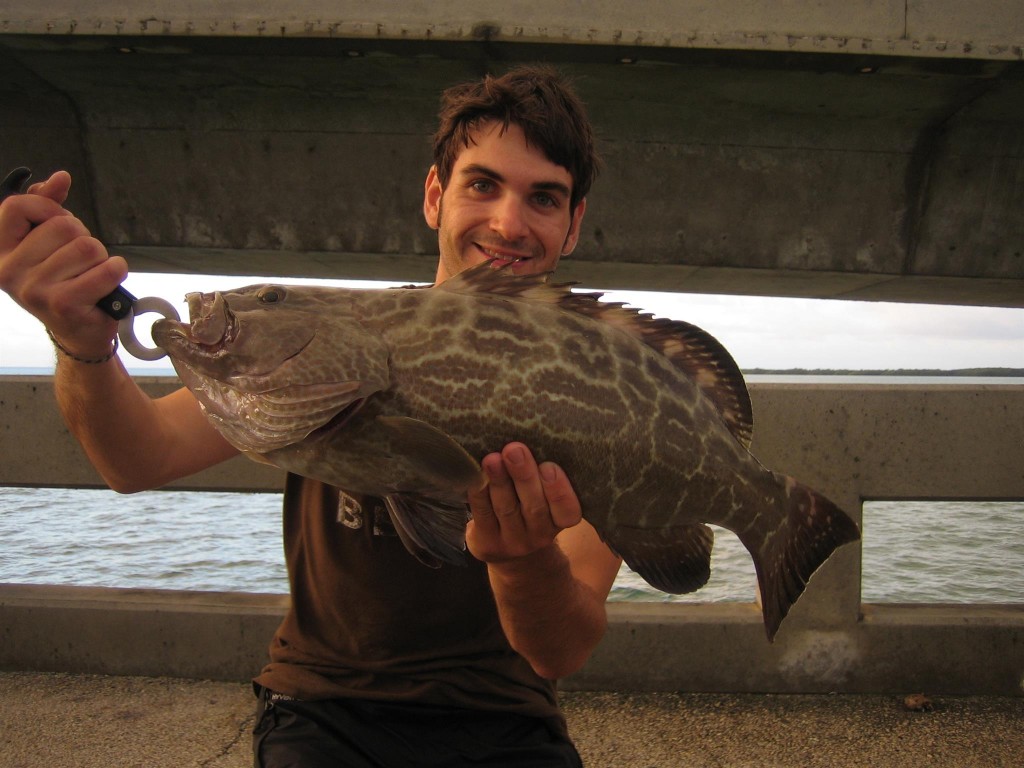 That day I did some more sightseeing.  It's incredible how some tucked-away areas of the Keys have such a wild feel.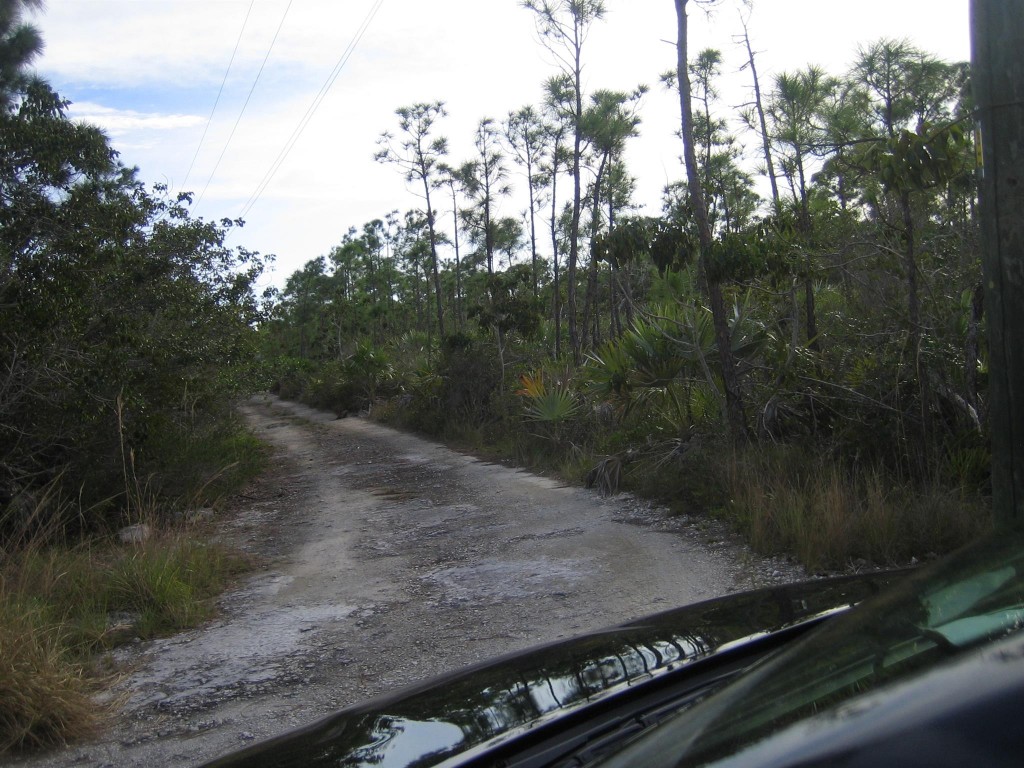 And numerous Key deer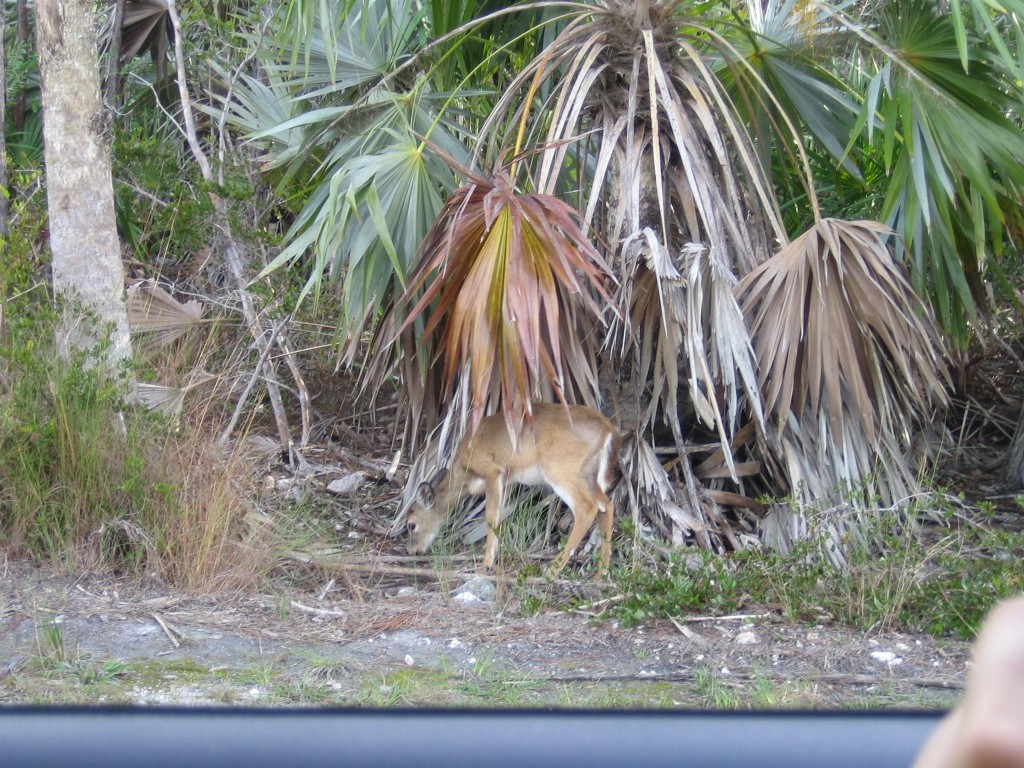 That afternoon I returned my rental car and Ken picked me up from there.
Around our campground there was a fish cleaning station that attracted a wide variety of cool fish.  Ken spotted a gulf toadfish for me, but it shockingly didn't take the bait.
The next morning Ken and I fished the pier again.  It was windy as usual and the water was a bit murky, but  I saw a few large barracuda around and had one pick up and drop my bait, which was heart-wrenching.  My hooks just didn't set.  There were also quite a few tarpon around, but they didn't want anything I had to offer.
That afternoon I had a diving trip booked.  The seas were rough, I got seasick, but I got to see a lot of really cool squirrelfish, a beautiful moray eel, and our guide kill an invasive lionfish.
After the diving, Ken and I tried our hand at shark fishing again, but didn't get at single tap on our big rods.  After all the excitement from our previous jaunt here, I was a little bummed that nothing was going on.
The next day we checked out some more sheltered areas to try and get away from the wind. Our last stop was an area with a lot of seagrass that looked like it could hold some interesting fish and we spotted a large dead shark in the shallows.  Perhaps someone had caught it and it did not survive.
Before long, I had a small shark take my bait and try and run under the bridge.  It was easy to stop on 60lb line and Ken was ready with the pier net.
Unfortunately, a local riding his bike butted right into our operation.  He got bit and threw the shark back into the water before we could take any decent pictures to identify it!  I was really upset.  It didn't feel fair to put in all those hours trying to catch a shark only to have someone stroll by and intervene like that.
Nonetheless, it hadn't taken long to catch this shark.  Ken and I saw this as promising news, but unfortunately that was it shark-wise for the rest of the day.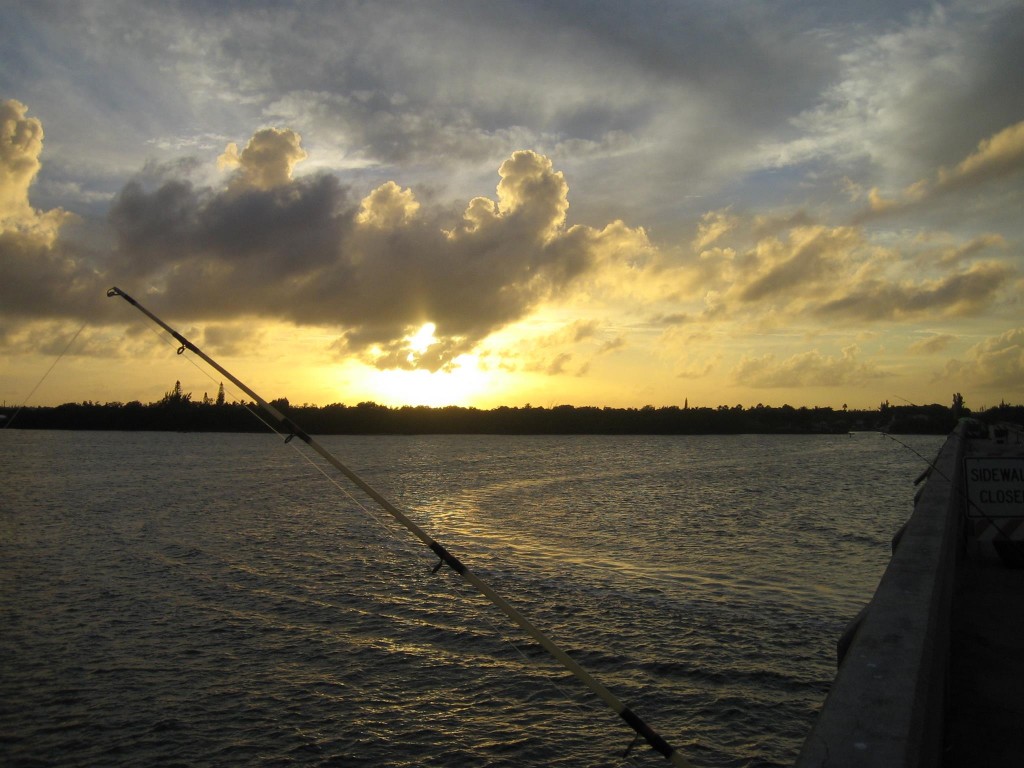 Just as the sun was setting, Ken noticed someone had caught a lookdown by one of the pilings.  I got really lucky and found another one by the same piling.
Lookdown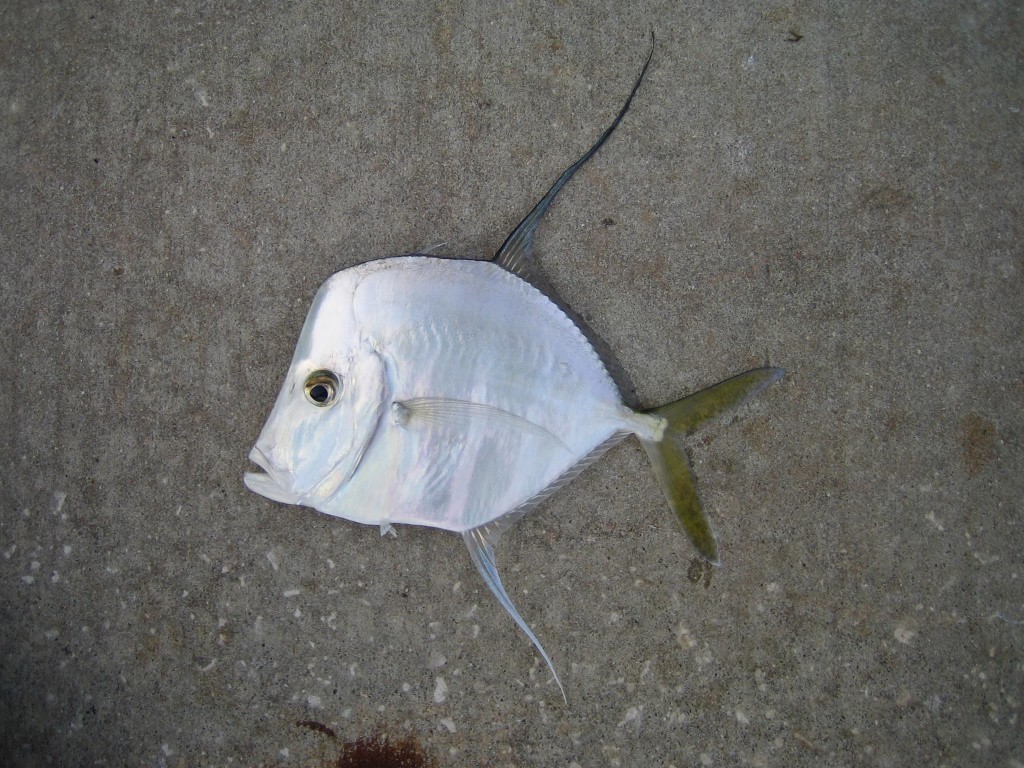 They are a special-looking fish to say the least…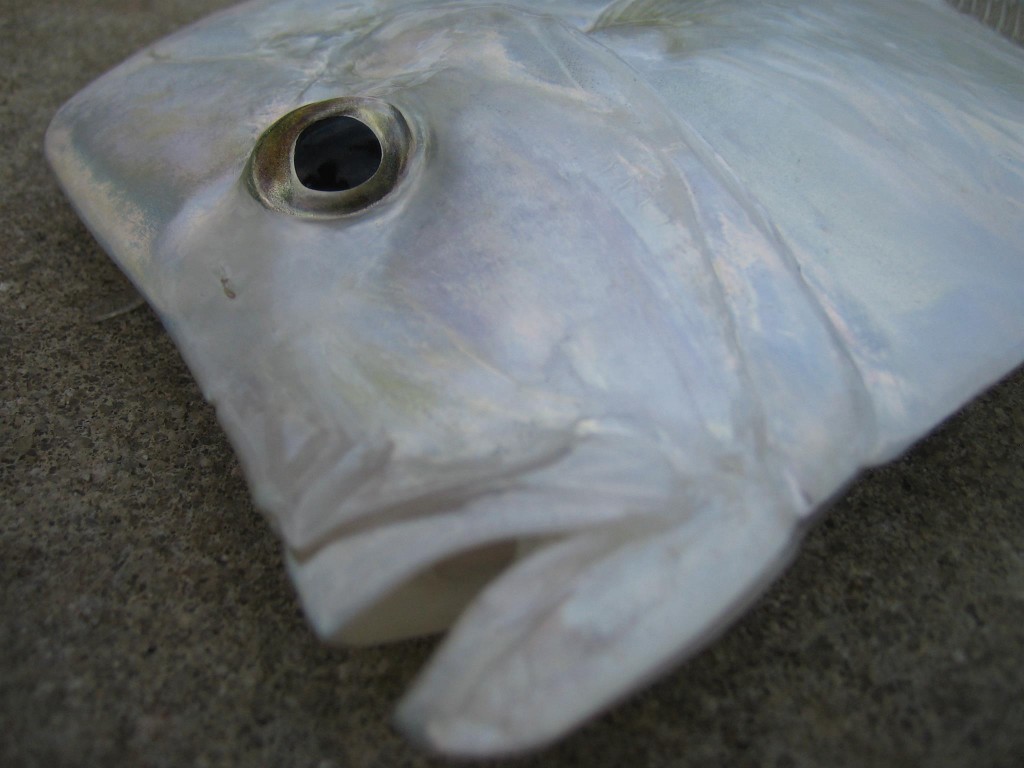 Back at the campsite Ken worked his magic with the fillet knife once again and we feasted on some deliciously fresh grunts.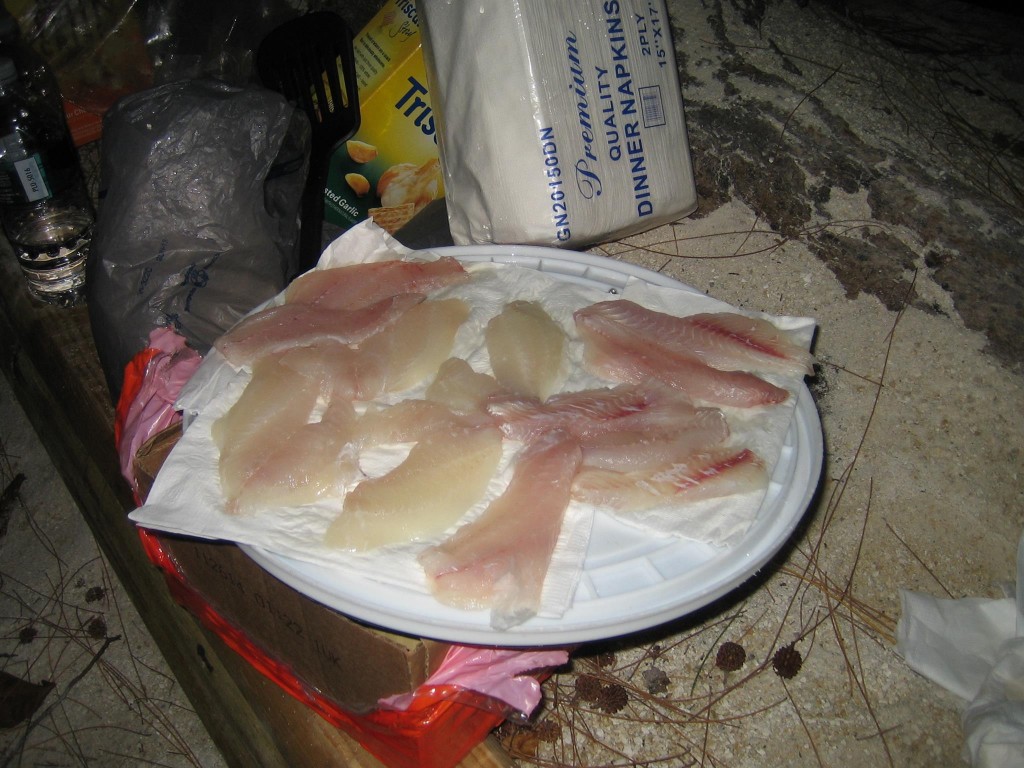 The next morning I slept in while Ken tried fishing near the fish cleaning station.  There was a lot of cool stuff there and we hoped to return on our next trip.  For now, it was time to pack the car and begin our drive north.