Oahu:  The final days
After an early flight back to Oahu,  we spent the afternoon fishing a park near Pearl Harbour.  Our baits were continuously stripped by crabs and we noticed a few children trying to catch some in the shallows.  I found some old, tangled braided fishing line strewn about and devised my own crab tangling device!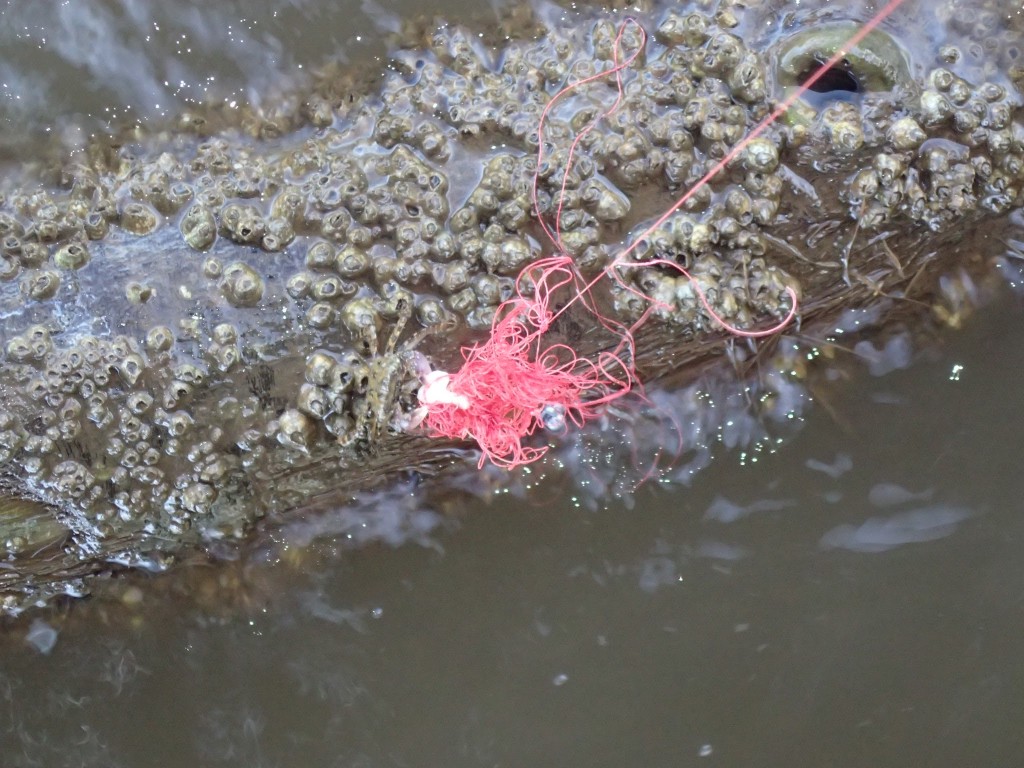 It worked to catch us a few crabs… and it was fun!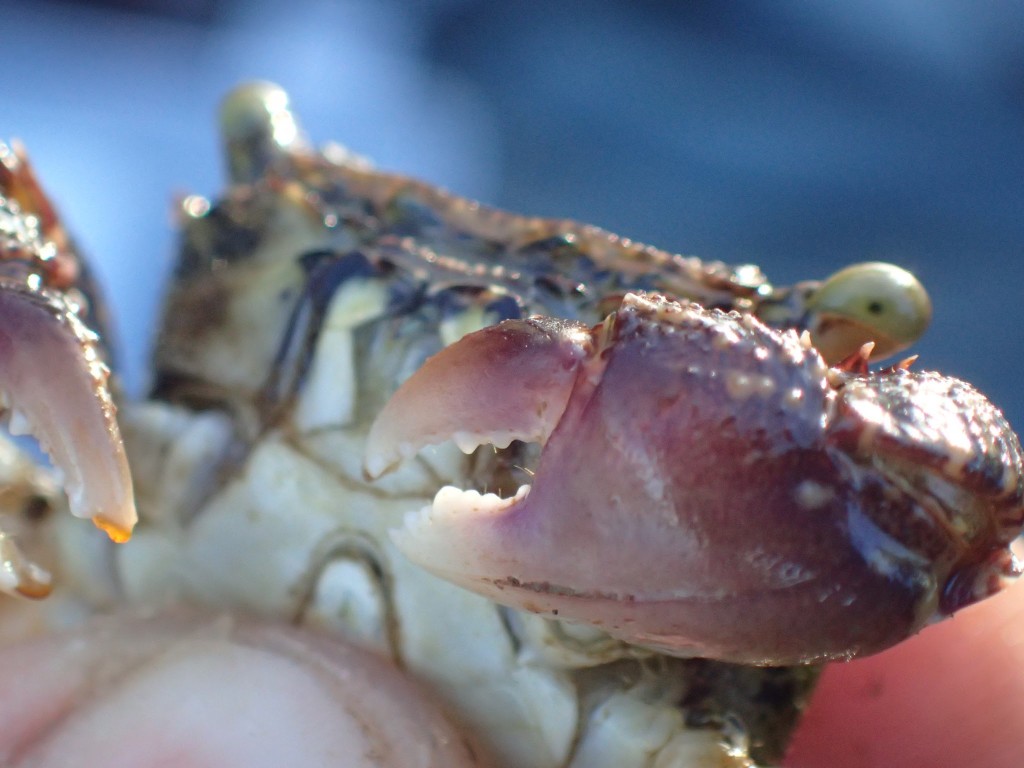 We sent them out as bait, but nothing was around to want them.  There were some jacks busting around and in process of casting for them I caught a huge old crab net complete with two crabs inside!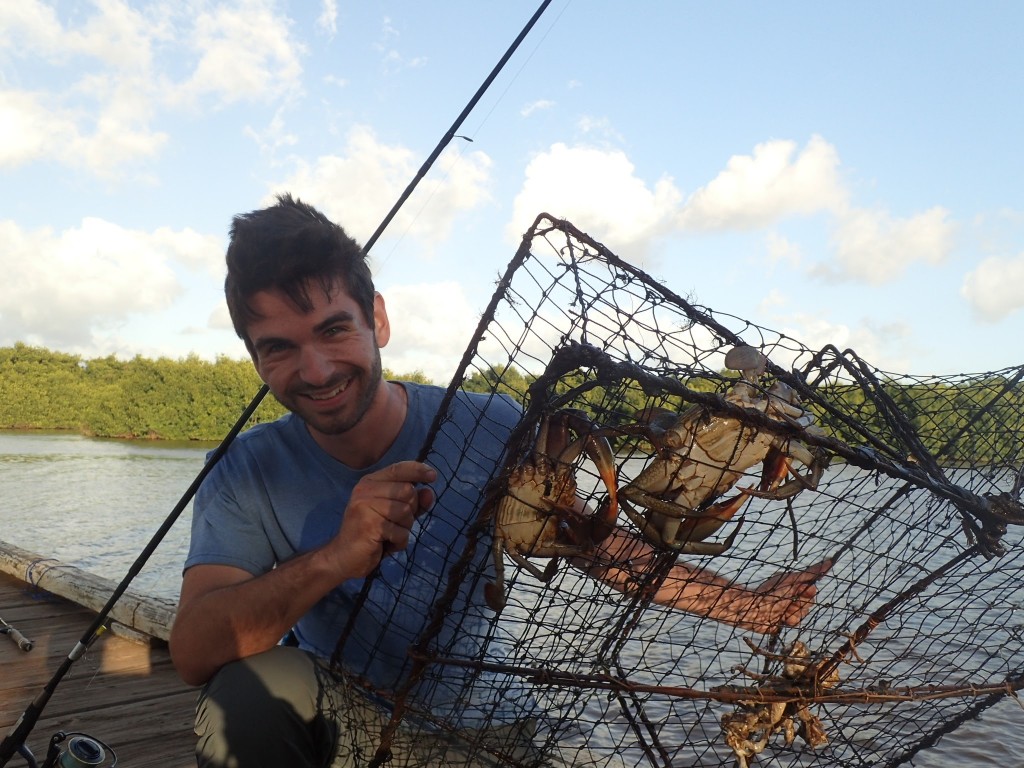 Even though we got skunked today I never thought I'd ever have so much fun with crabs…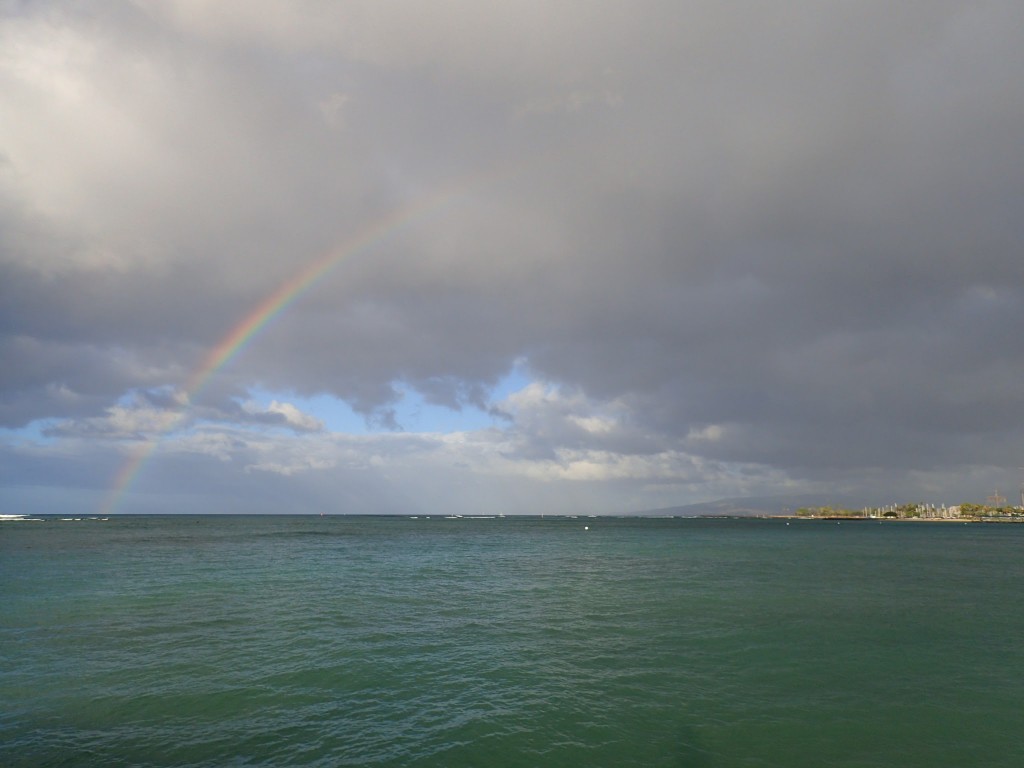 The next day I woke up early to try a spot near my hostel that Elijah had recommended.  It was a tiny spot and thankfully I was the first one there.  Not shortly after a local man set up shop next to me and proceeded to catch a really cool snowflake moray!  I sent out a heavier rod and caught some kind of burfish or porcupinefish, but it came off as I was lifting it up.
I fished a dropper rig around the rock patches.  Some bigger travelly cruised by and I had one break me off.  By the time I was retied they had left.  I did manage a cool new species though.
White-spotted puffer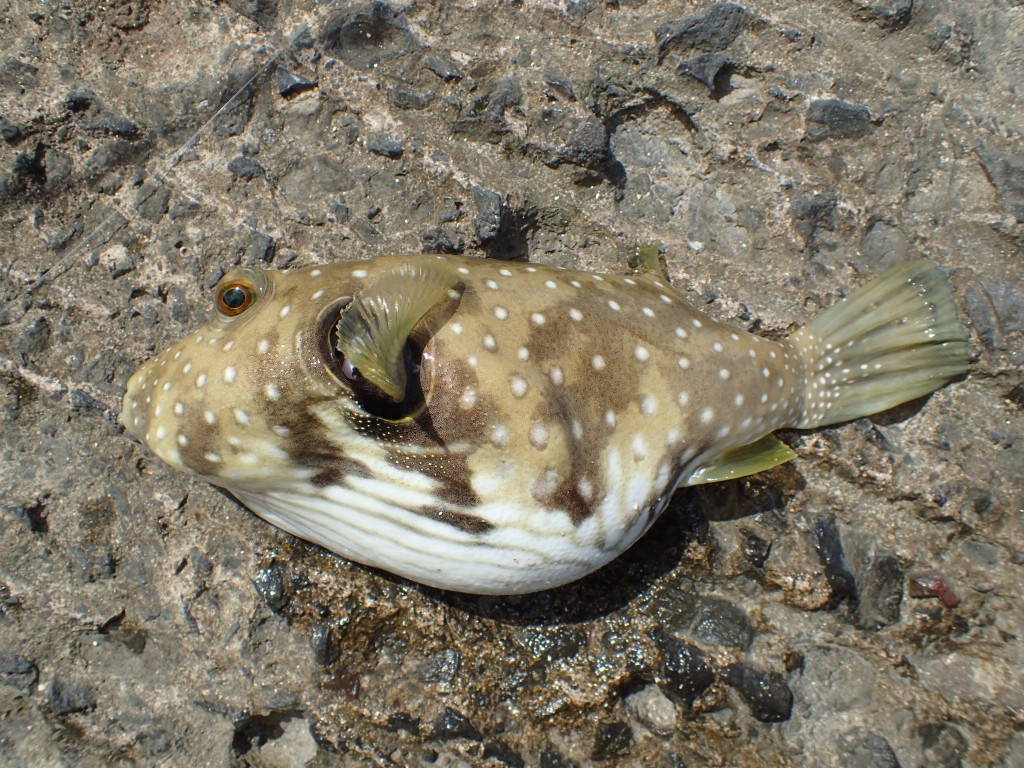 Ken joined me and as I fished in close for the boxfish that I had yet to catch he casted around the sandy flats for lizardfish.  I continued to fail at catching a boxfish.
Spider-eyed puffer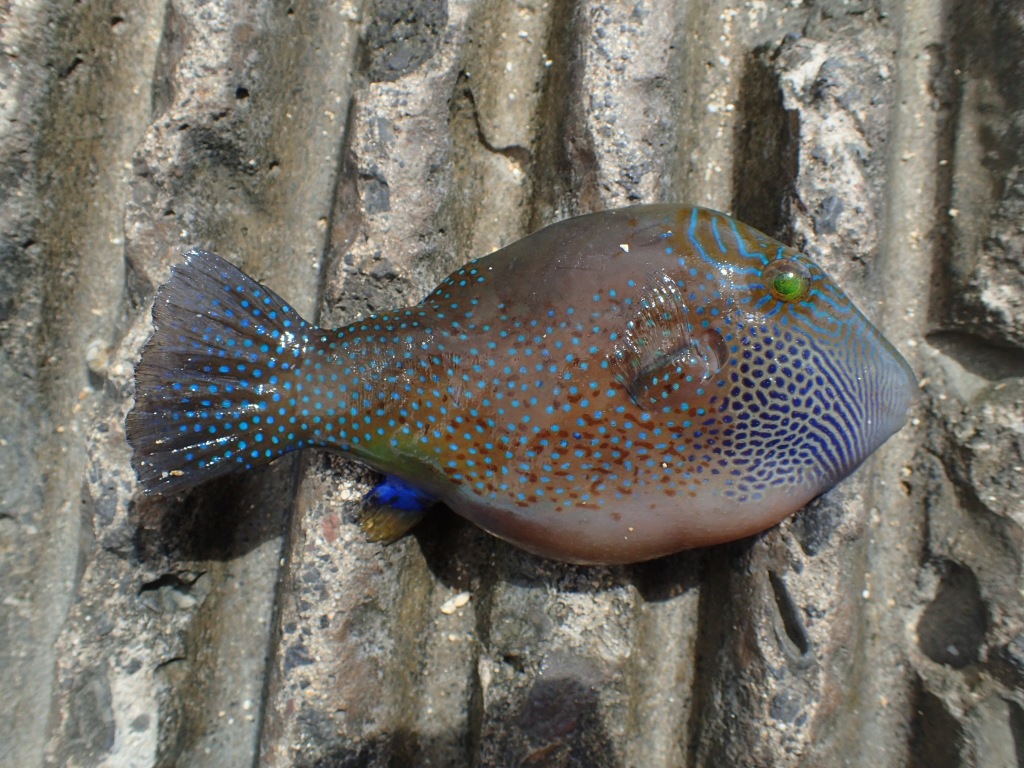 Ken was successful in capturing a lizard fish so I joined in the pursuit.
Unfortunately, the clouded and gracile lizardfish are indestinguishable except for a count of scale rows between the pectoral fin tip and dorsal fin.  So this one will remain unidentified.
(*unsure of this identification)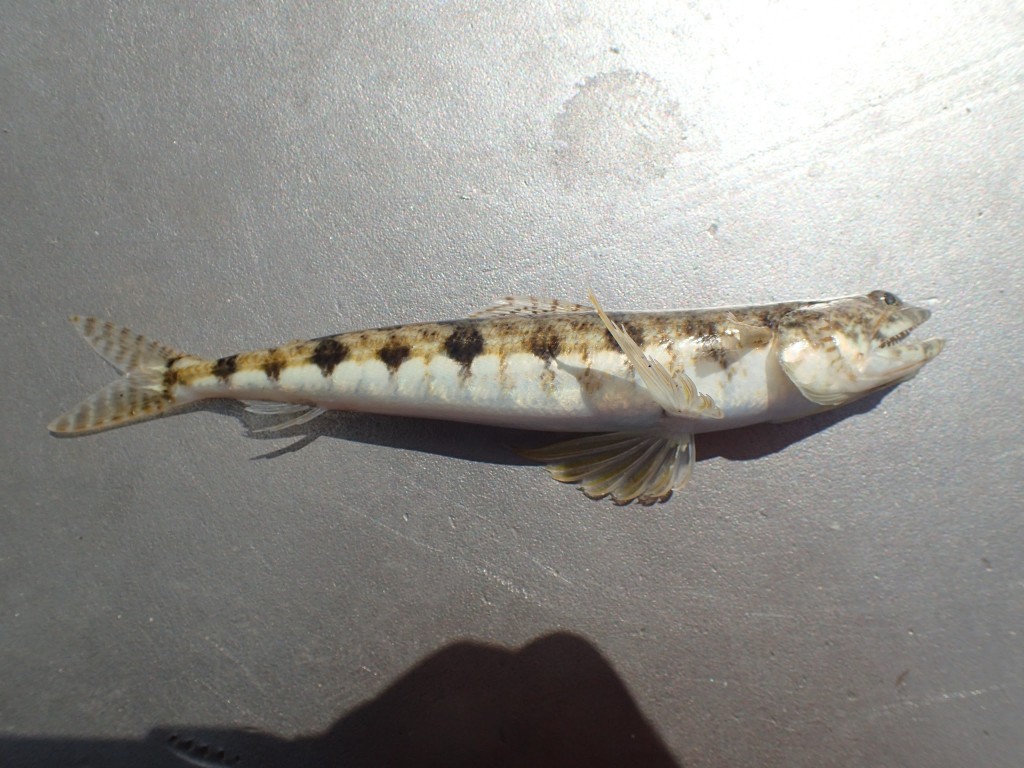 I also caught another chub, but this identification is also too tough to call.  It appears to be either a blue sea chub or a hawaiian chub.
(*unsure of this identification)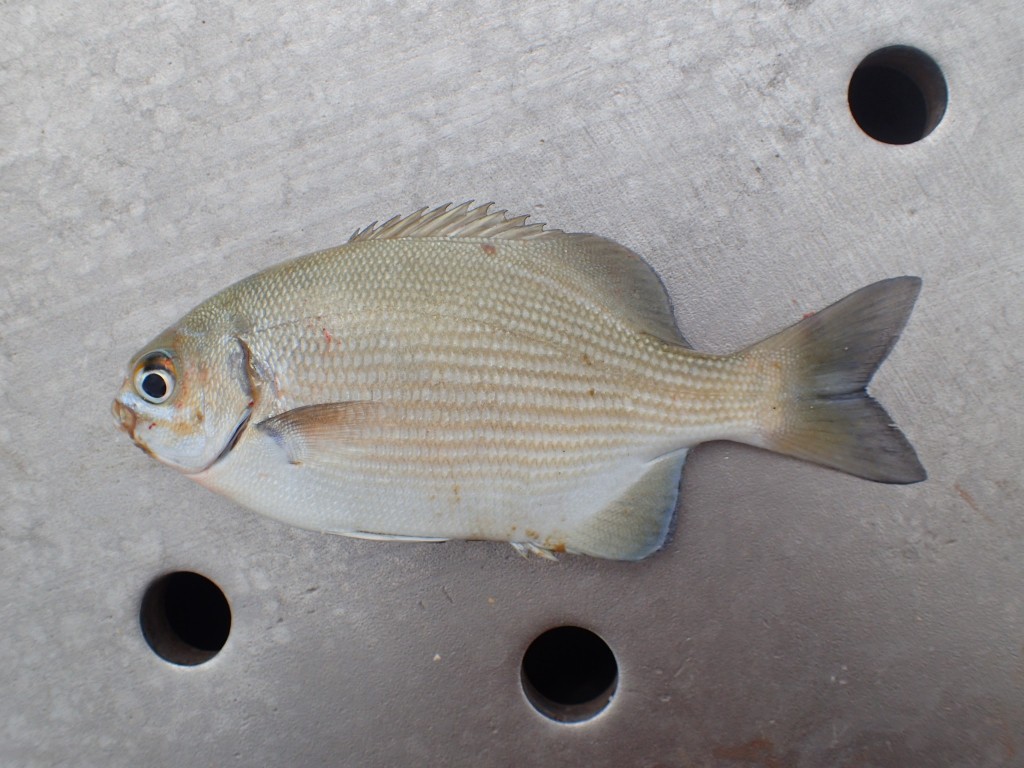 We had our bigger rods out with larger baits, but they remained untouched, following suit with the eel pattern.  It started to rain so we packed up.
I spent the rest of the day indulging in much-needed sleep and poke.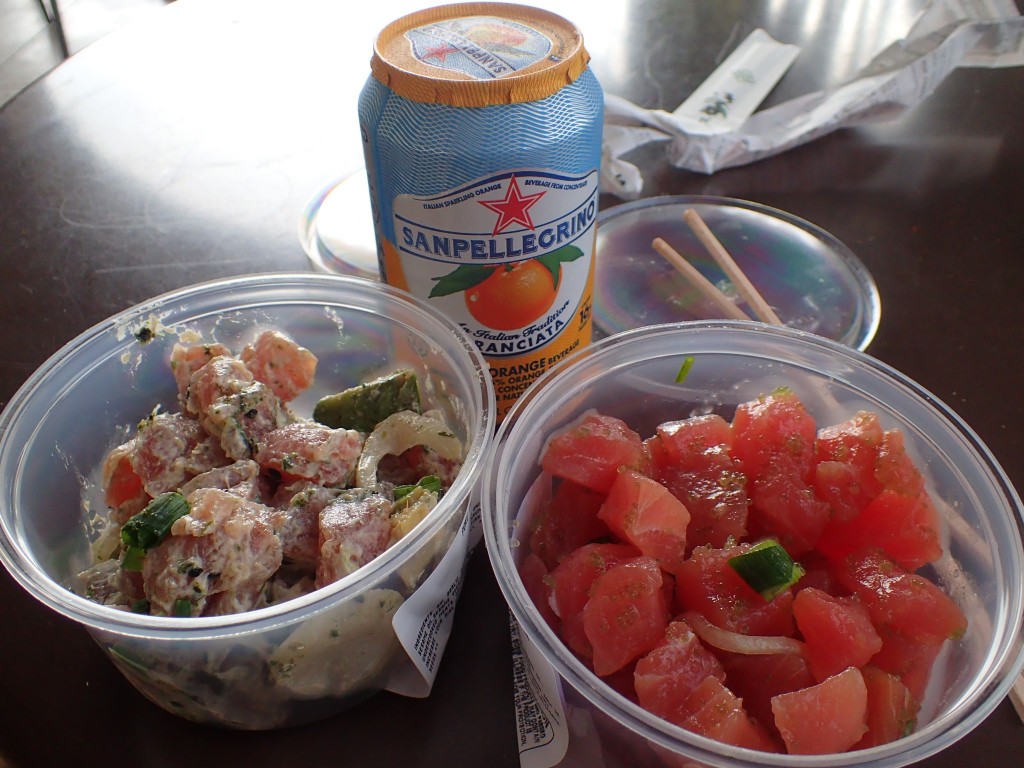 Despite two ambiguous catches, I still managed 2 new species today!
The next day we had planned to fish on a boat to target deeper reef fish.  Ken's friend Todd had graciously offered to take us out on his boat.  Unfortunately, mechanical issues forced us to turn back.
I opted to spend the rest of the afternoon catching up on sleep.  I met up with Ken and Jason after sunset at a downtown Honolulu park.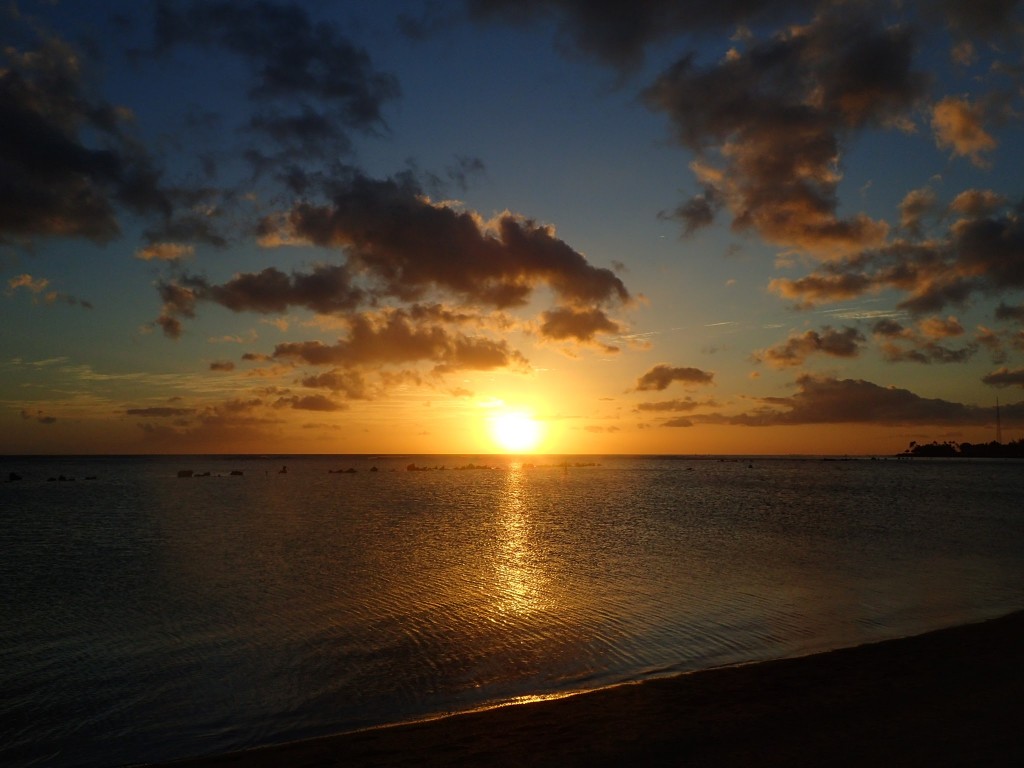 We were targetting glasseyes, but unfortunately didn't connect.  Instead I got a brick soldierfish and flagtail.
Jason advised me I had a better chance to catch one if I fished another spot early in the morning.  So on our final day on Oahu, I gave it one final horah!
I arrived at the spot a hour or two before sunrise.  I casted around for glasseyes, but didn't find any.  When the sun rose the spot came to life!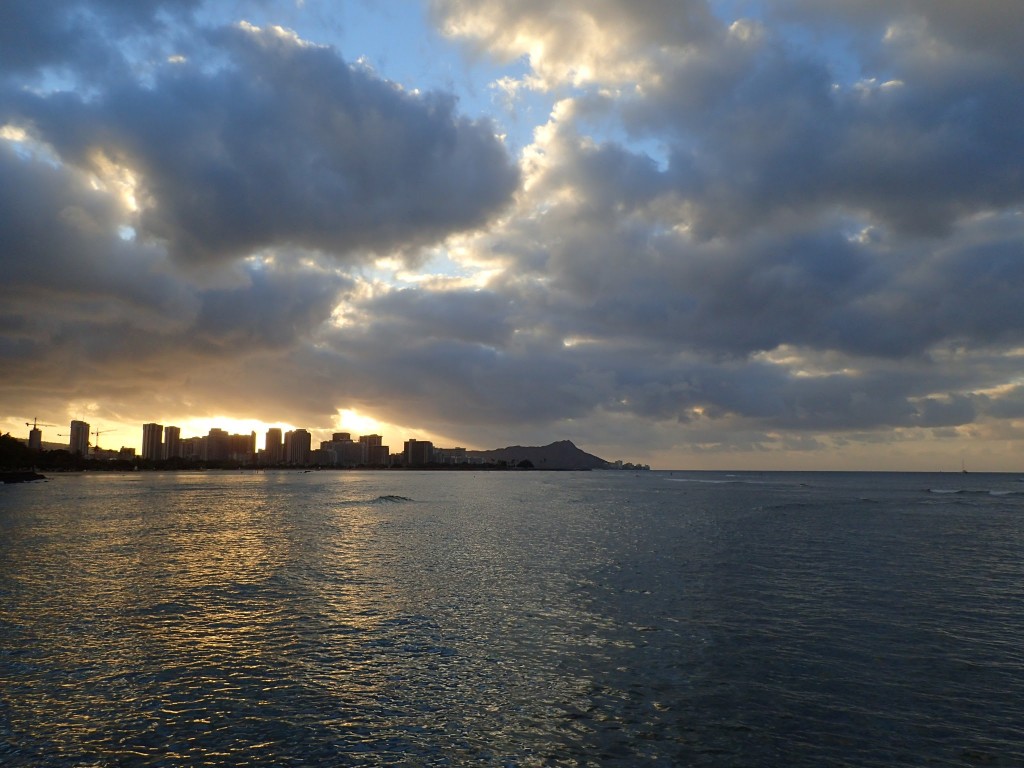 I noticed a tight school of reddish-coloured goatfish in the shallows.  I alternated between trying for them and tending to my eel rod, which had been toyed with a few times.  Eventually, I hooked one in a way that my hook didn't pull free… thankfully!  Success!
Yellowfin goatfish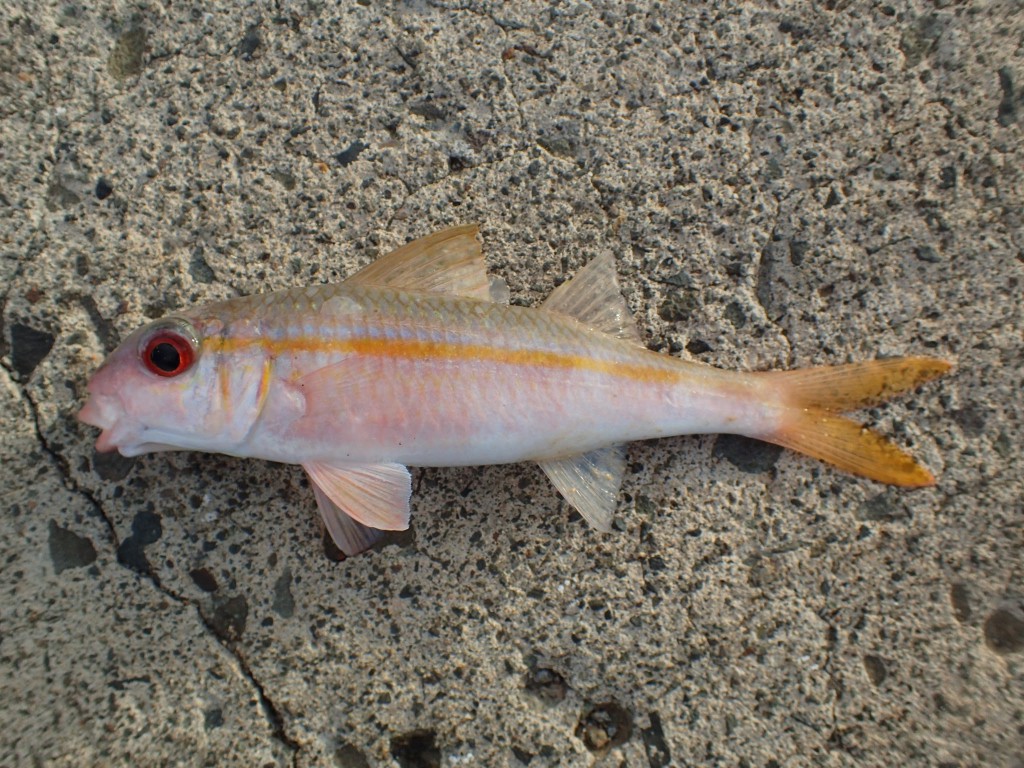 Unfortunately I couldn't say the same for the boxfish… the zebra doves mocked me.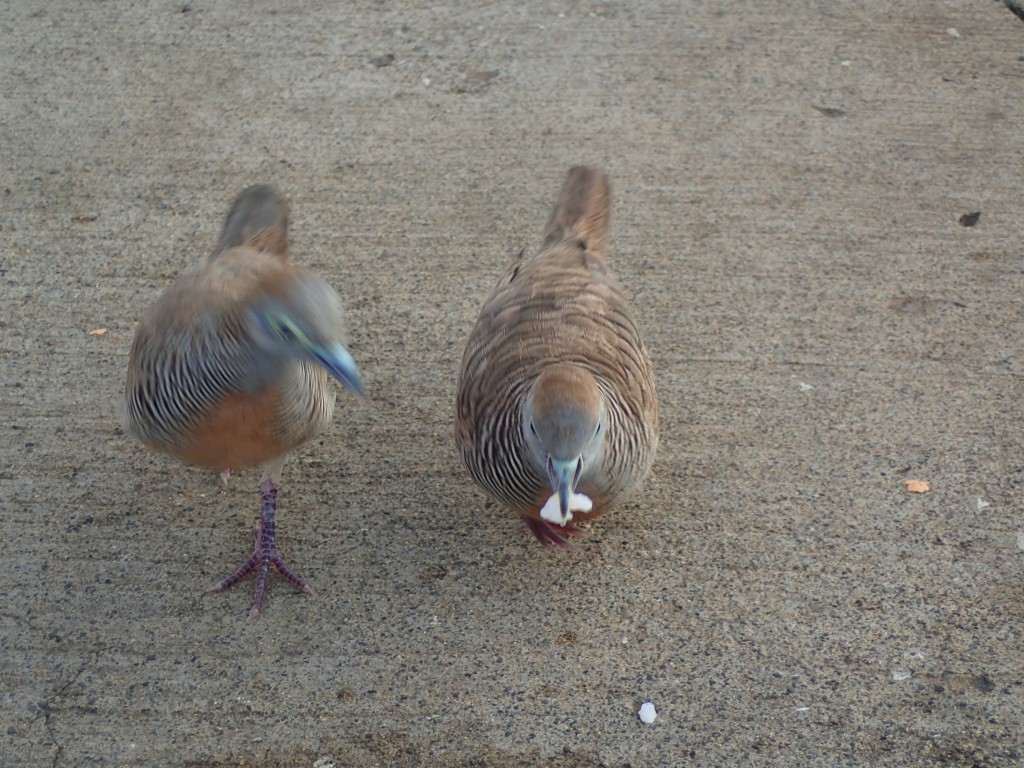 And cuttlefish gave their condolences…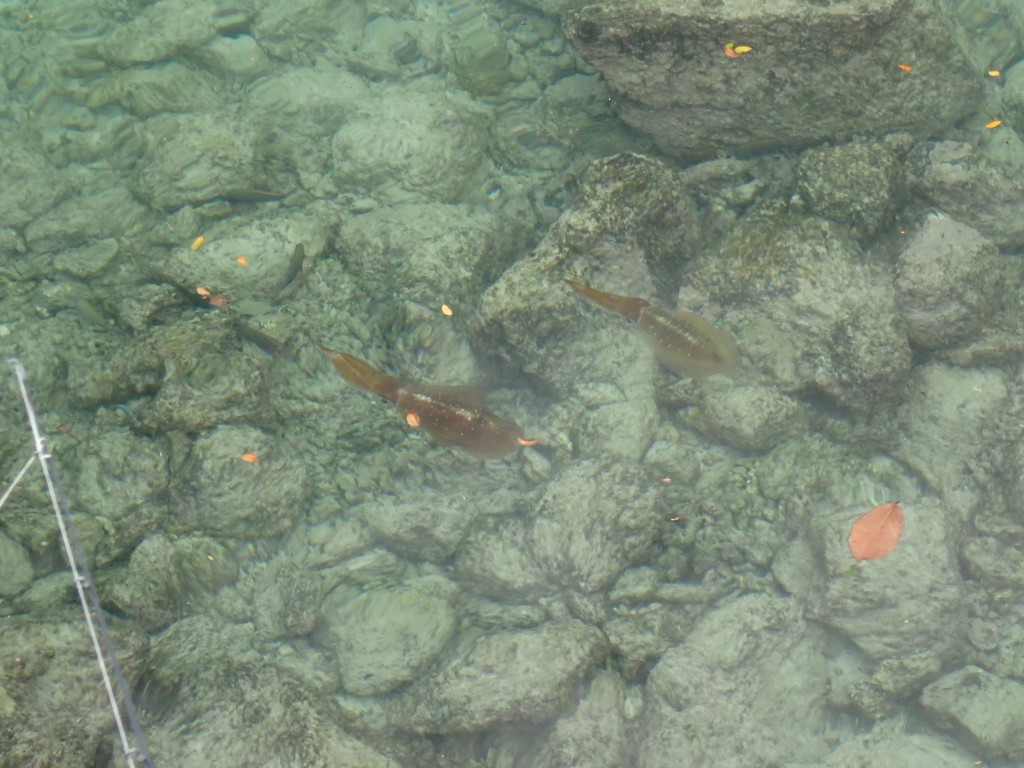 My eel rod received a solid thunk and I eased this huge undulated moray out of the rocks.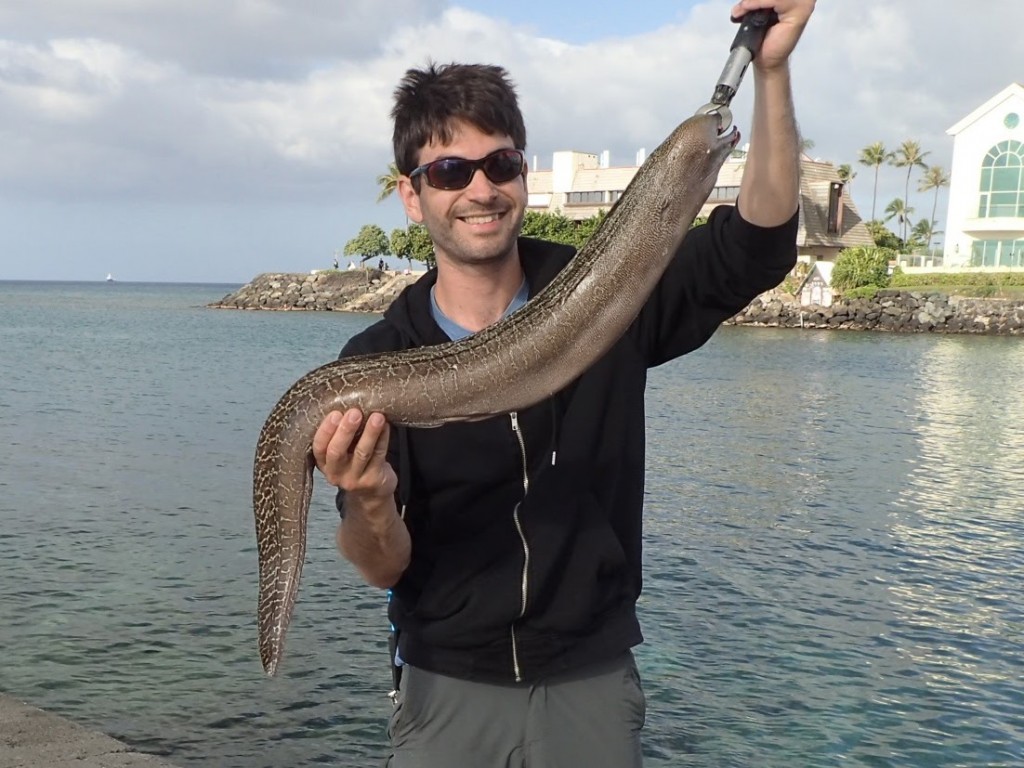 Soon after, I lost another eel-like bite to the steep underwater ledge in front of me.  Ken and I had our flight home that night and I had to check out of my hostel, but I didn't want to leave this spot!  I called my hostel and was thankfully granted my wish for a late checkout.  I fished on…
I tried and tried to reconnect with the strong eel that broke me off, but it did not return.  I moved the eel rod around and in the process of trying to find fresh bait I caught not one, but two brighteye damselfish!  These guys had been ignoring my baits all trip long.
Brighteye damselfish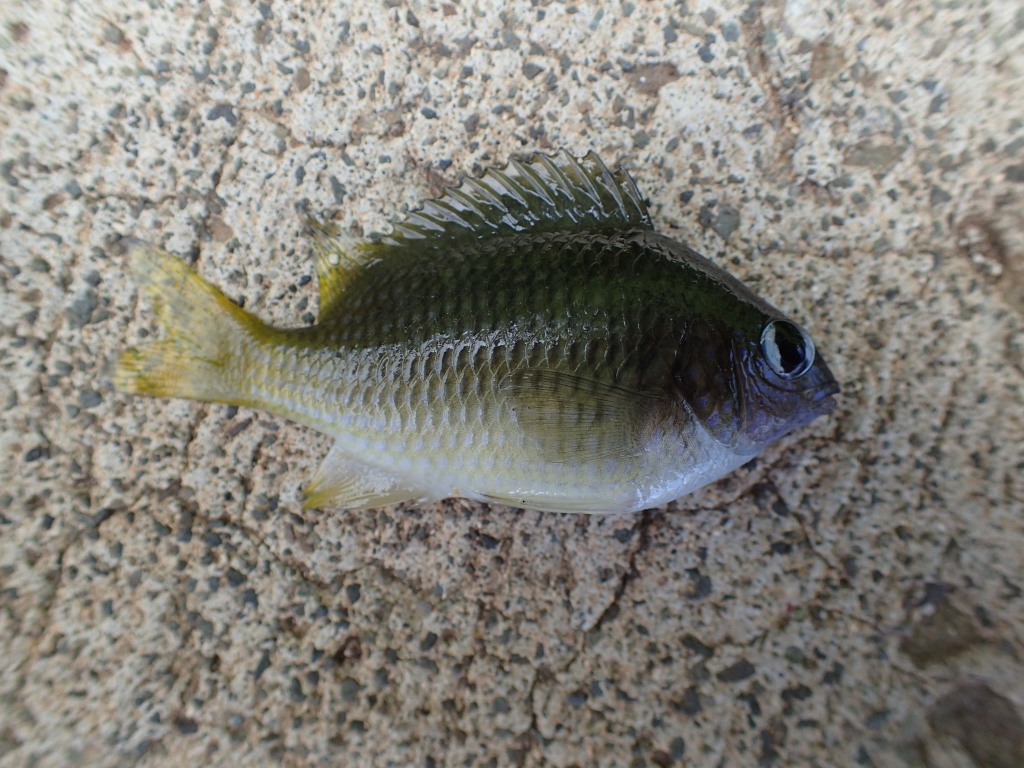 With that, I packed down all my travel rods and wrapped my reels back into my backpack.
After 67 new species of fish, it was time to go home.
After 21 days of the most delicious poke and taro foods I will ever have, after 21 days being graced by some of the most beautiful sunsets, mountains, and vistas this world has to offer, after swimming with manta rays and to the call of whales, after the failures and resulting successes of eel fishing, after re-baiting my hooks for hours upon end to appease finicky reef fish, after all this it was over and time to go home.  Hawaii, and its beauty in many forms, will not be forgotten.