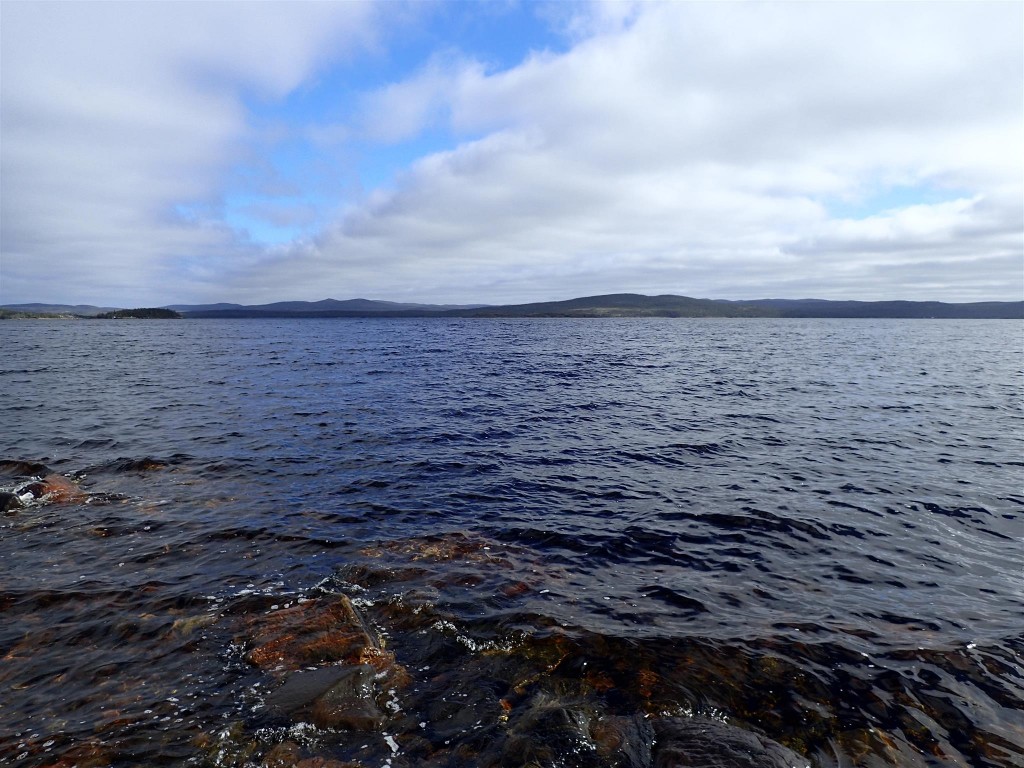 At 7am the next morning I gave my contact a call, but he was still sleeping.  Luckily, he helped me out, asking "Where you to?" which I assumed meant "Where are you?" and so he gave me directions to the spot to fish.  It was a two minute walk away from the payphone.  I simply cannot understand how things worked out this way on this trip, it is beyond me.
I started working the shoreline rocks with a small, bronze spinner in search of char.  I soon had a fish on, but it fought like a log and I wasn't too surprised to see another Greenland cod on the other end.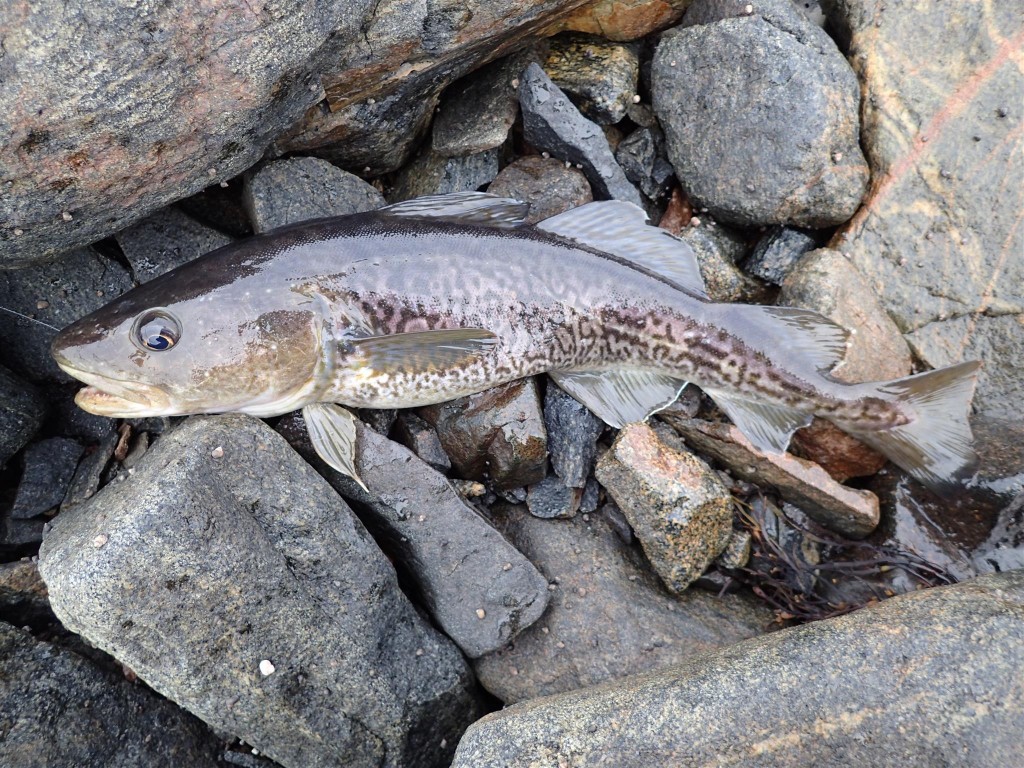 Another cod or two later, my bronze spinner snagged up on bottom and I broke it off.  I tied on a silver spinner and everything changed!  I hadn't moved areas, I was working the same spot, but suddenly I caught two trout back-to-back.  I was disappointed to see spots and markings on their tails, characteristic of brook trout.  Artic char have clear fins devoid of markings.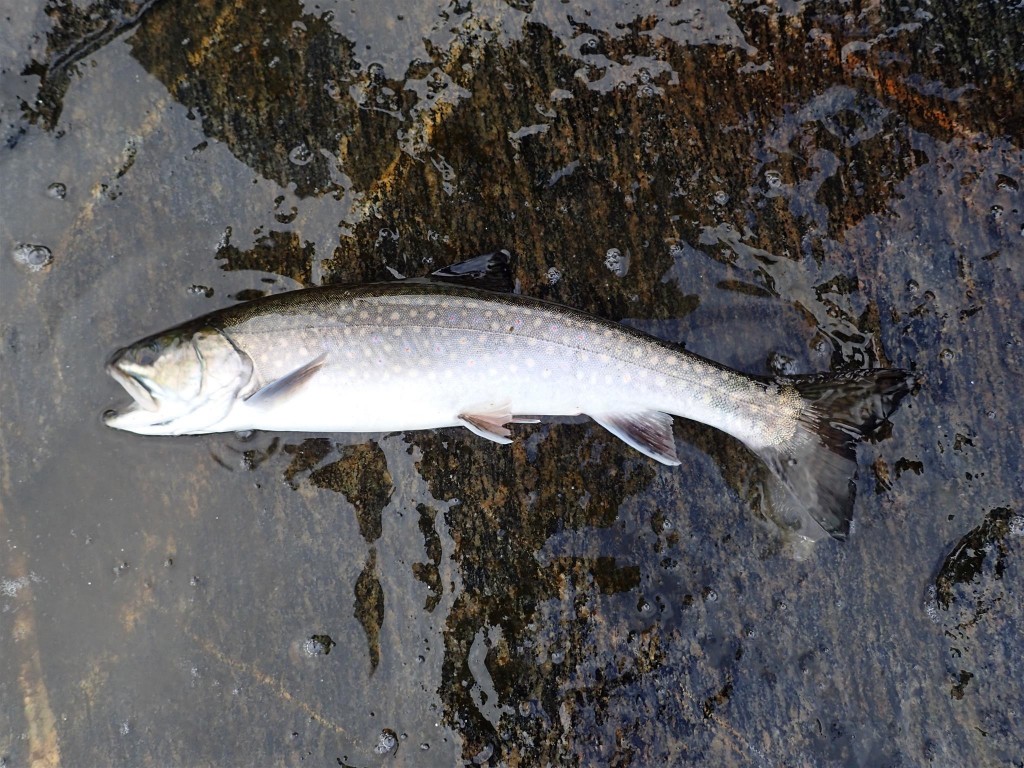 I never imagined being disappointed at catching brook trout, but alas I was.
Then, I snagged my silver spinner and tied on another bronze one.  Like clockwork, I caught cod after cod.  When that one snagged I went back to silver and more trout started biting!  I've never experienced such species specificity in lure color.  I've never been more worried to only have one more silver spinner in my tackle box…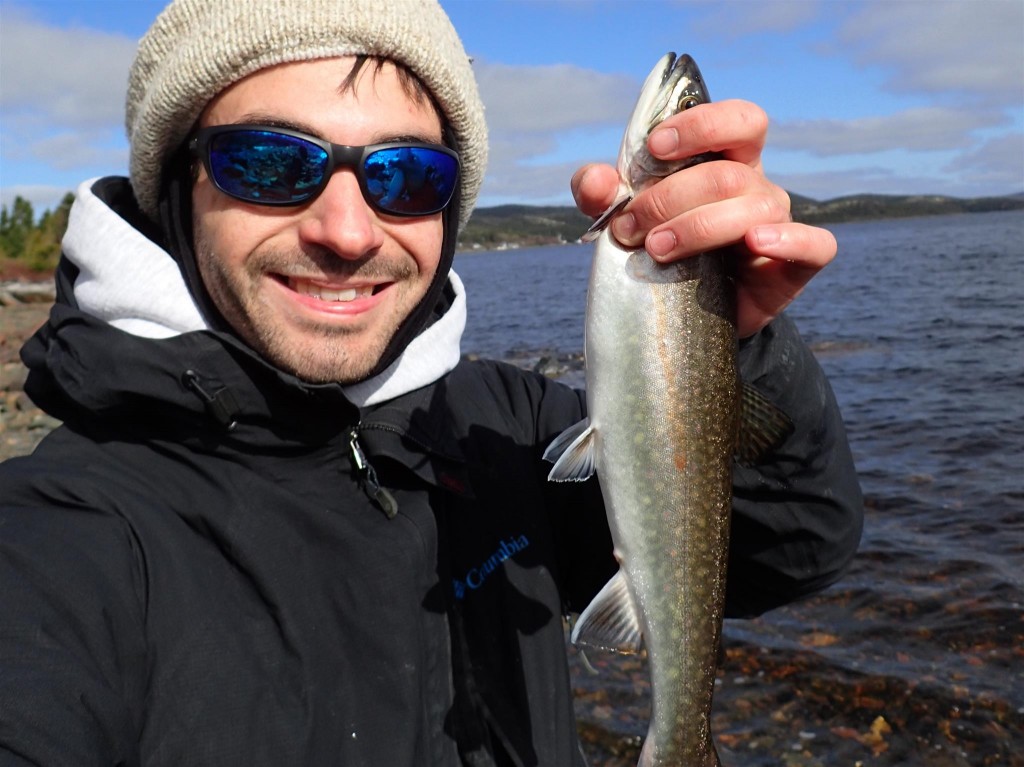 Many trout later I started to lose hope.  Without a boat to get out of the bay, I was going to catch a lot of brook trout.  My contact met me and we started chatting to confirm this fear, he mostly ever caught sea-run trout from this spot.  He'd see if he could find his buddy later to get me out on a boat, you see nobody here uses cell phones because there's no reception!
We fished on and caught a lot of trout.  I was using a spinner and he was using a dry fly that imitated a shrimp.  As the sun climbed in the sky, the clouds burned away and the wind calmed.  The water became glass-like and we could see big schools of trout swimming just a few yards off of the shore and chasing our lures right to our feet.  It was unforgettable.
Still, I kept checking tails and seeing markings.  Ugh… so many brook trout.  What a problem to have…
My new friend suggested I fish a different rocky point adjacent to us that ran along some shallower water.  A few casts later I had another tail to check for markings…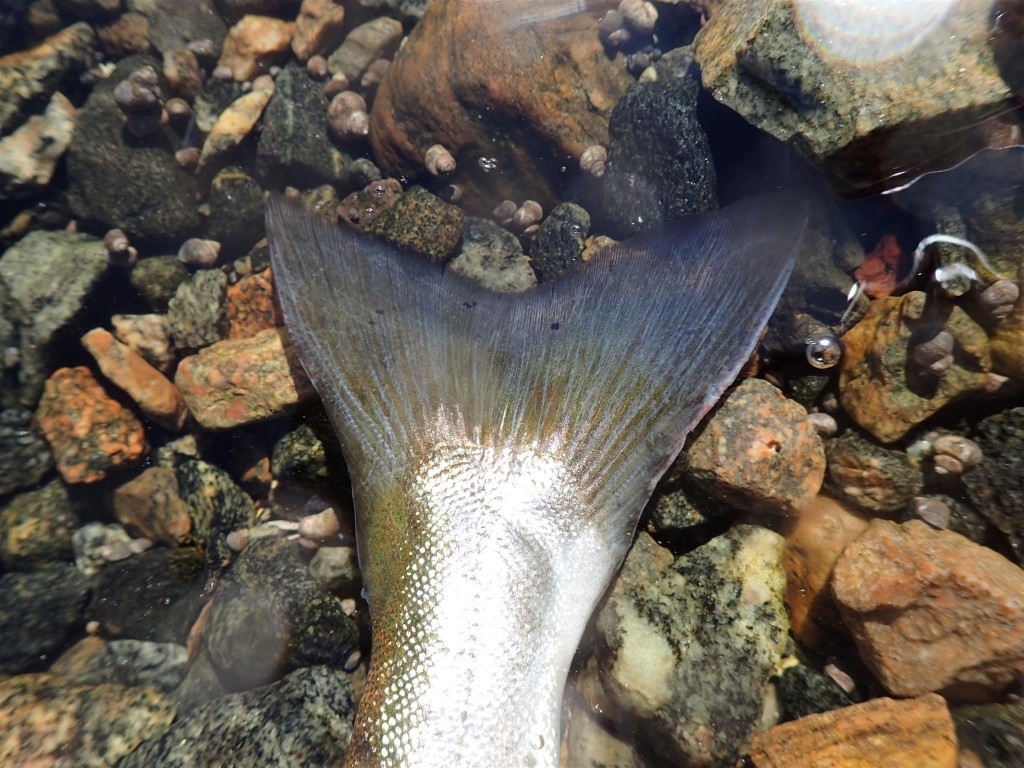 I don't think words can explain the rush of emotions I felt when I saw that clear membrane… and then that caudal fork… and then the clear dorsal fin of an…
Arctic char!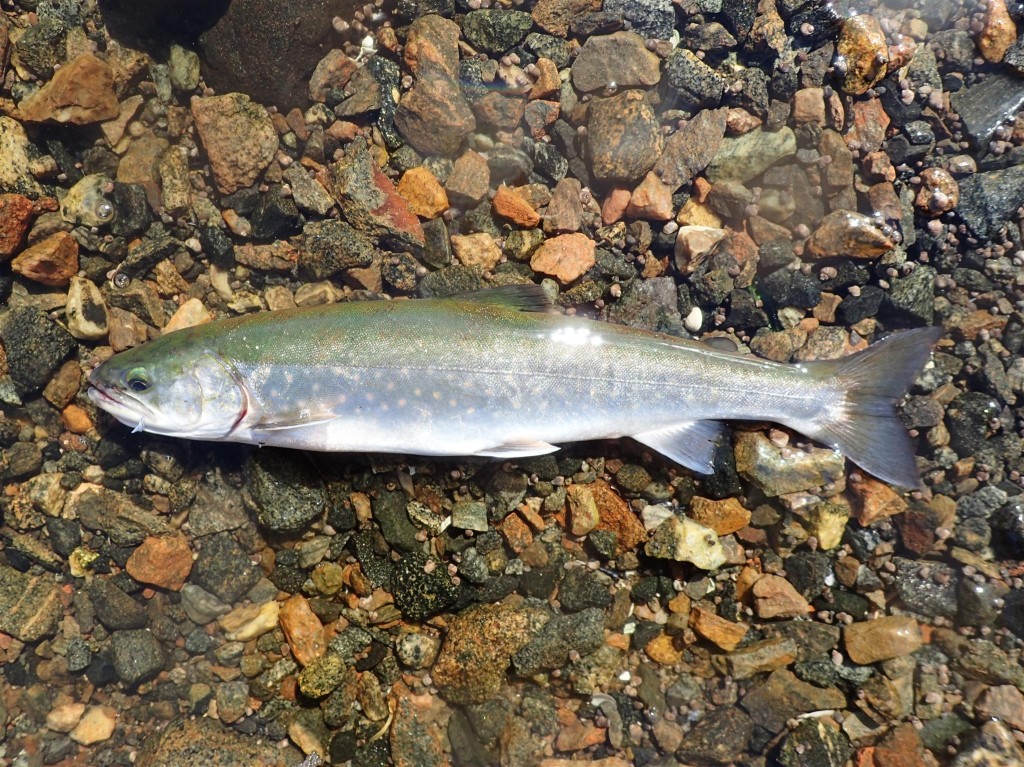 I ran over and thanked me new friend profusely.  I could not believe the turn of events that had led me to this fish.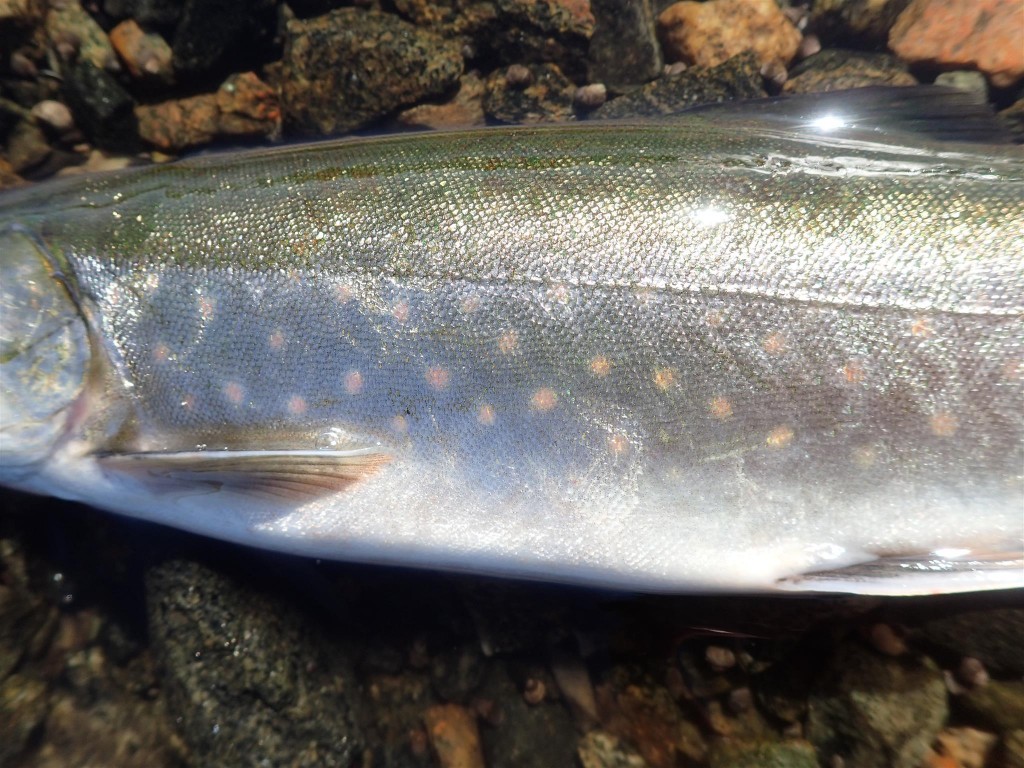 We fished on for trout and changed lures around to try and entice them.  Having only one silver spinner left, I put on a big silver crankbait and got a trout on its first cast.  Then a sculpin got really aggressive.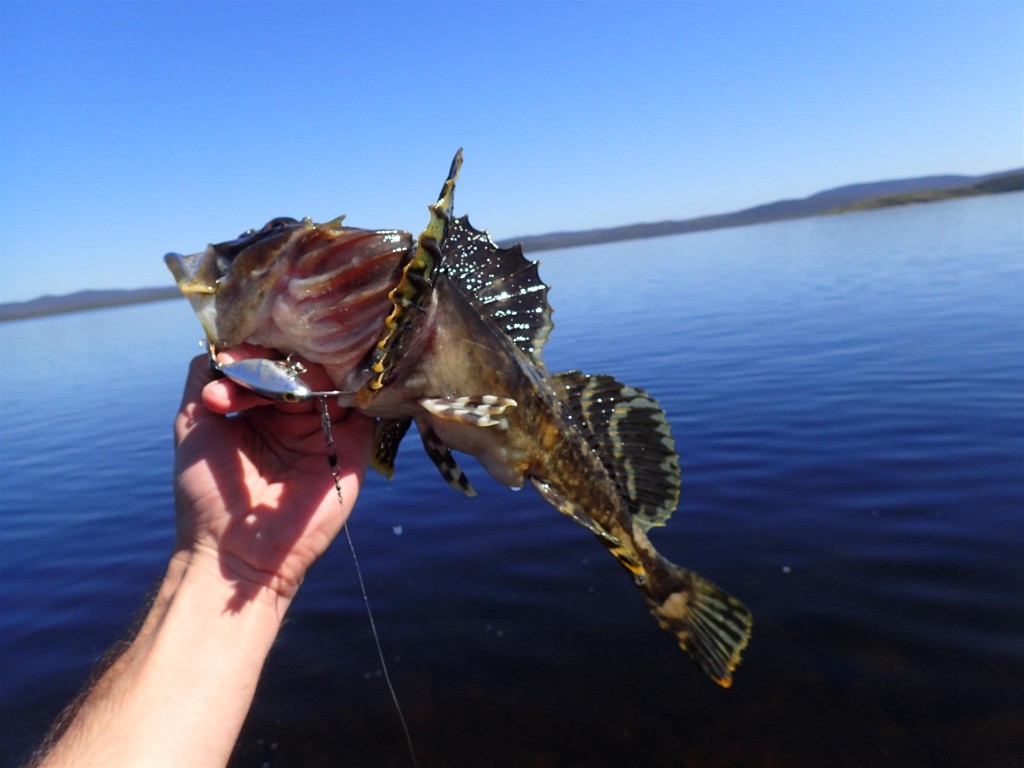 In the clear water, I spotted a flatfish and pitched some shrimp at it.  It turned out to be another winter flounder (scales between the eyes).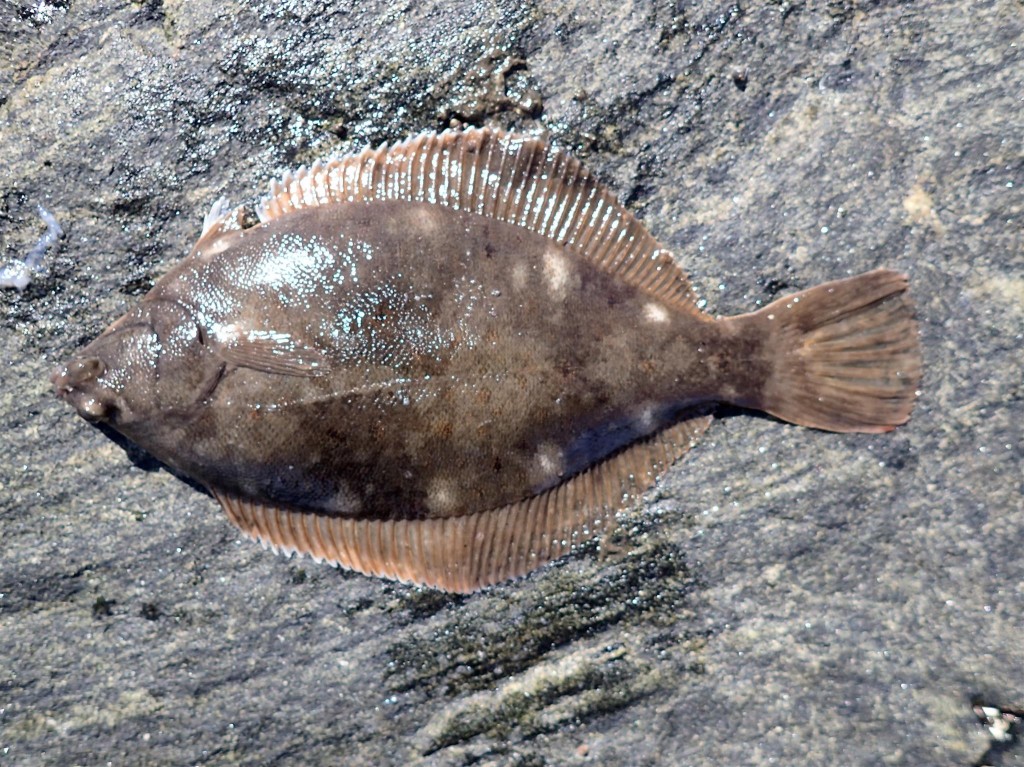 My friend yelled out that a big trout had swiped at his fly.  We kept casting in that area and eventually I had a strong take on the last silver spinner which turned out to be my new personal best brook trout.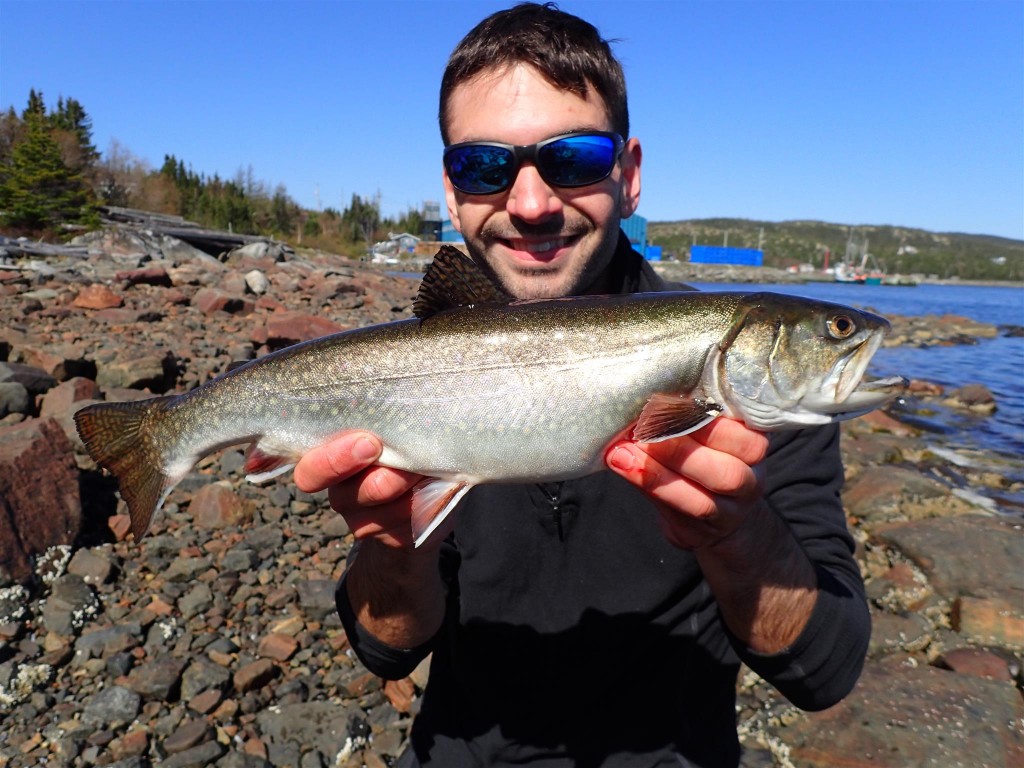 Completely satisfied with the morning fishing, we took a drive around town in search of more silver spinners. Then, I was invited over to my new friend's house to cook up these trout!  I couldn't believe the difference in flesh colour that these sea-run rout can exhibit.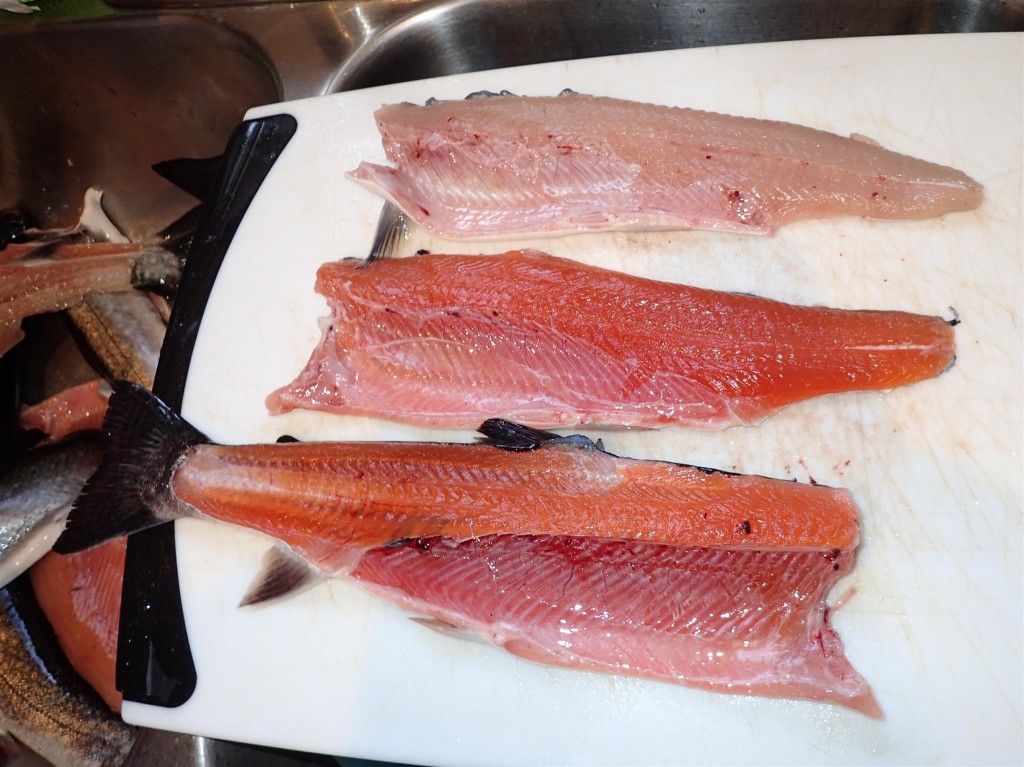 The pink flesh tasted like shrimp… absolutely delicious.
After a good chat and meeting of the family, we headed out again in search of more trout.  The winds had picked up again, but we caught a few more before the bite died down.  I asked my friend and his son who was also fishing with us if they had seen any more char.  I seemed that I had caught the only one.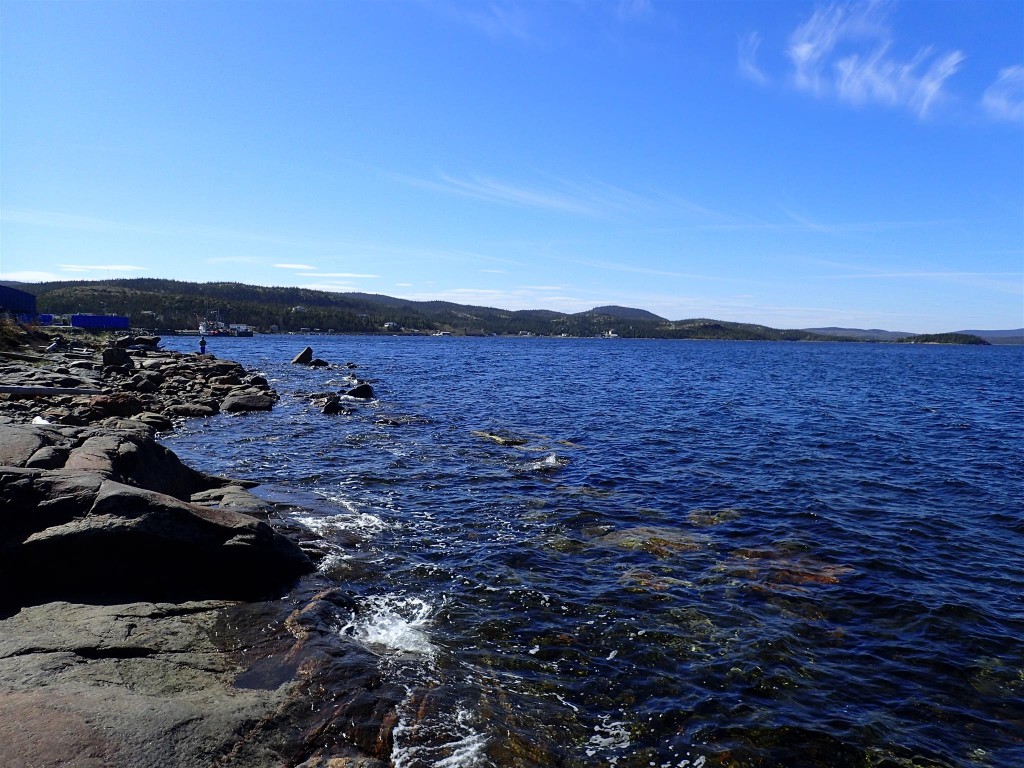 I took a drive through town with my friend's son in order to thank his grandpa, the elderly gentleman I had initially spoken to while I was on the ferry.  He told some amazing stories of growing up hunting and trapping in the Big Land, which was another name for Labrador.
With that, it was time for me to bid farewell to a stranger who had just treated me like family.  I had a long drive ahead of me to catch my ferry at 8am the next morning.
Even with the long drive ahead, I couldn't help but explore the surrounding area for an hour or two more…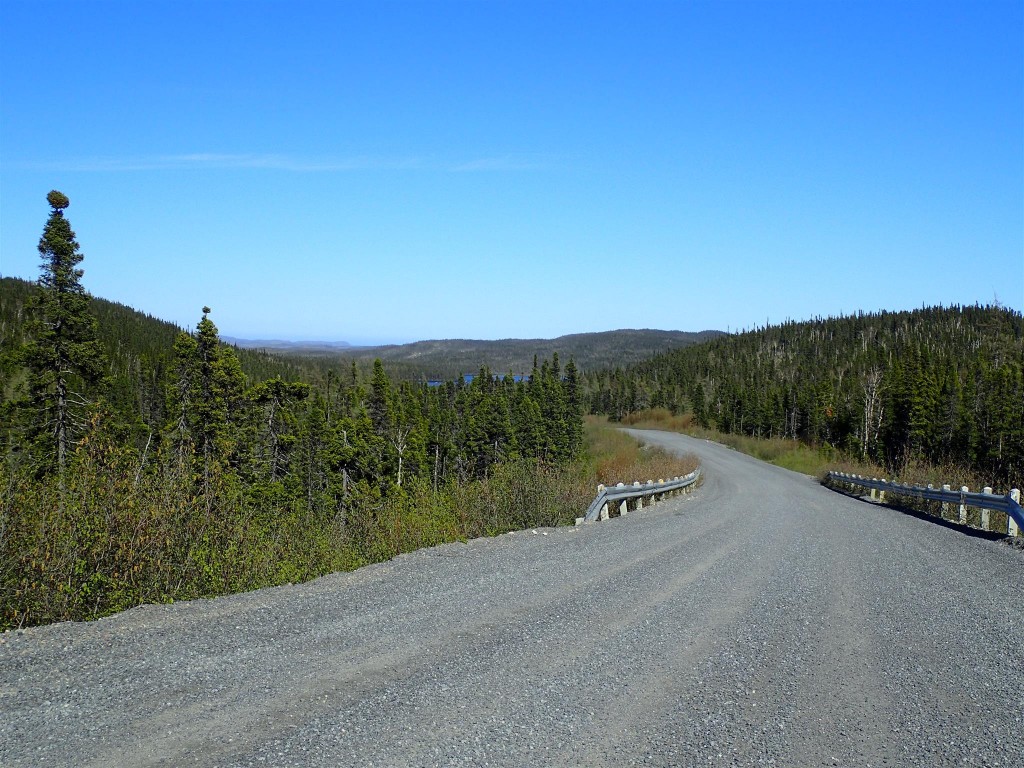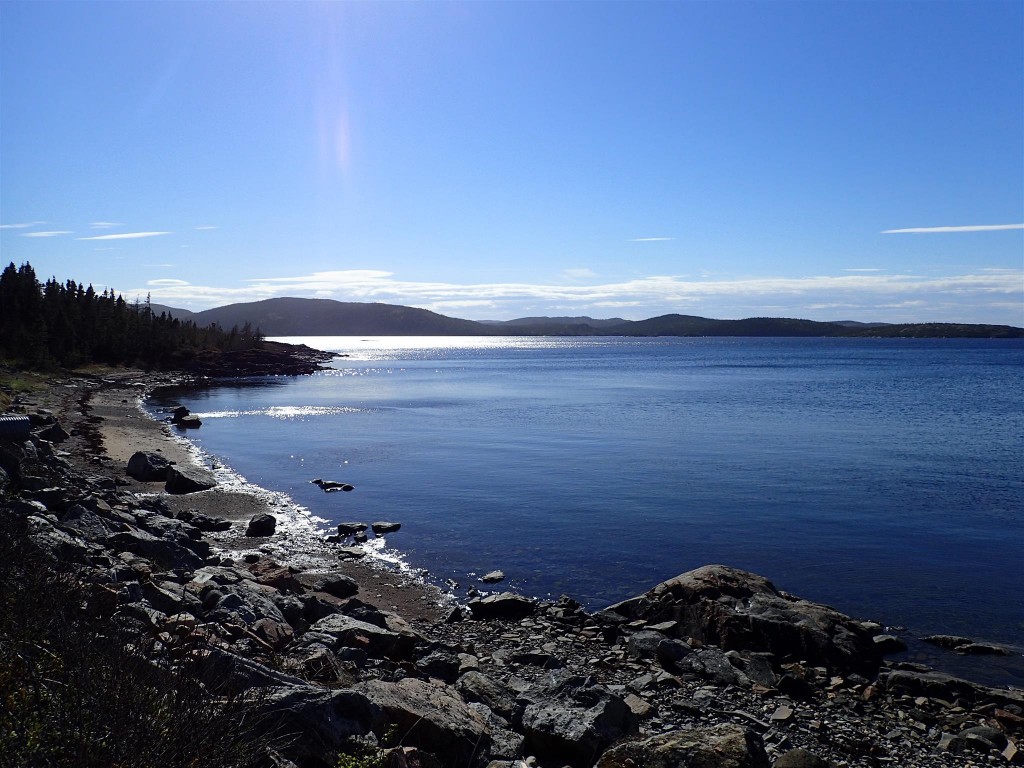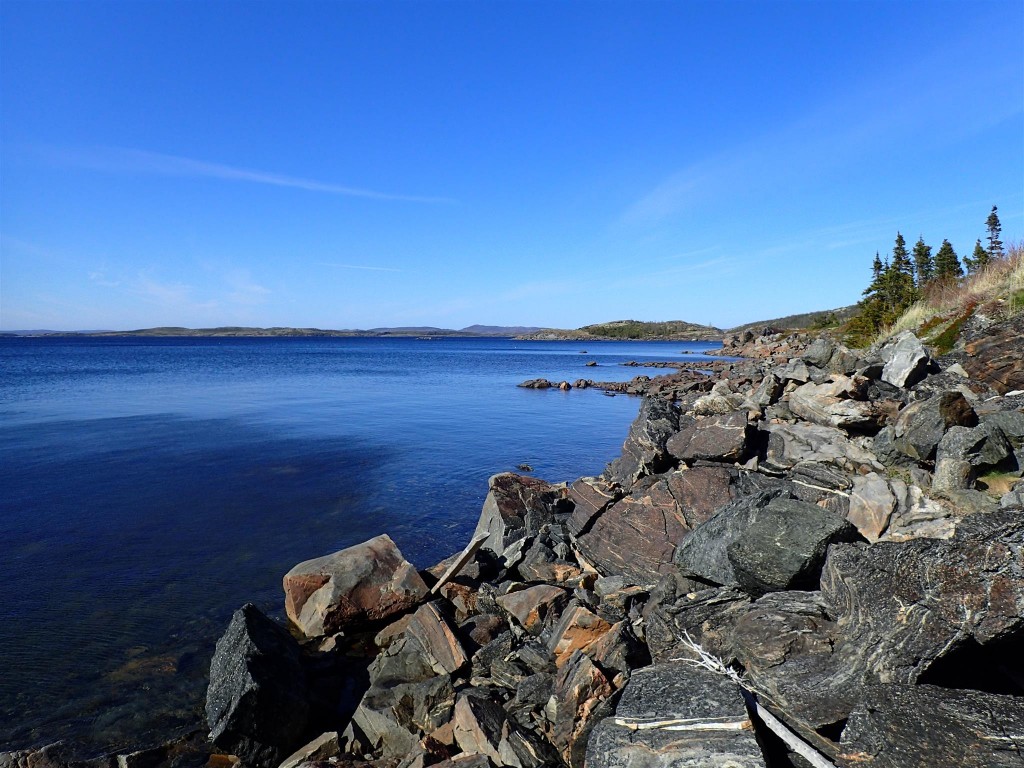 I stopped at another small town that was further out on the bay.  Naturally, some icebergs were found.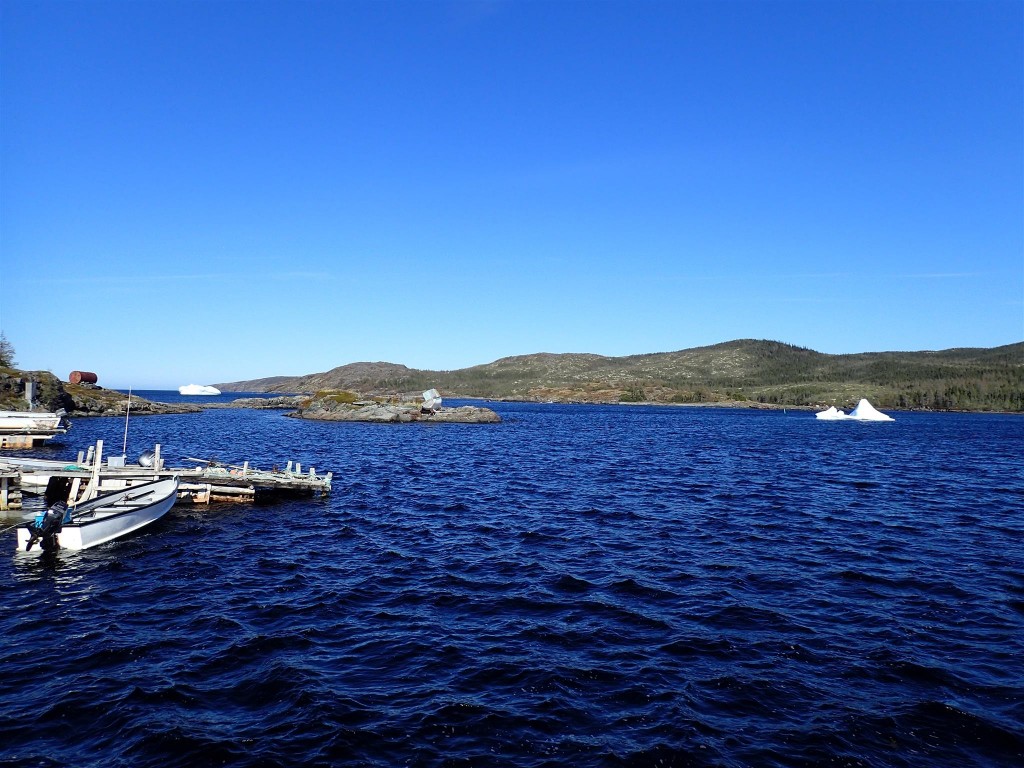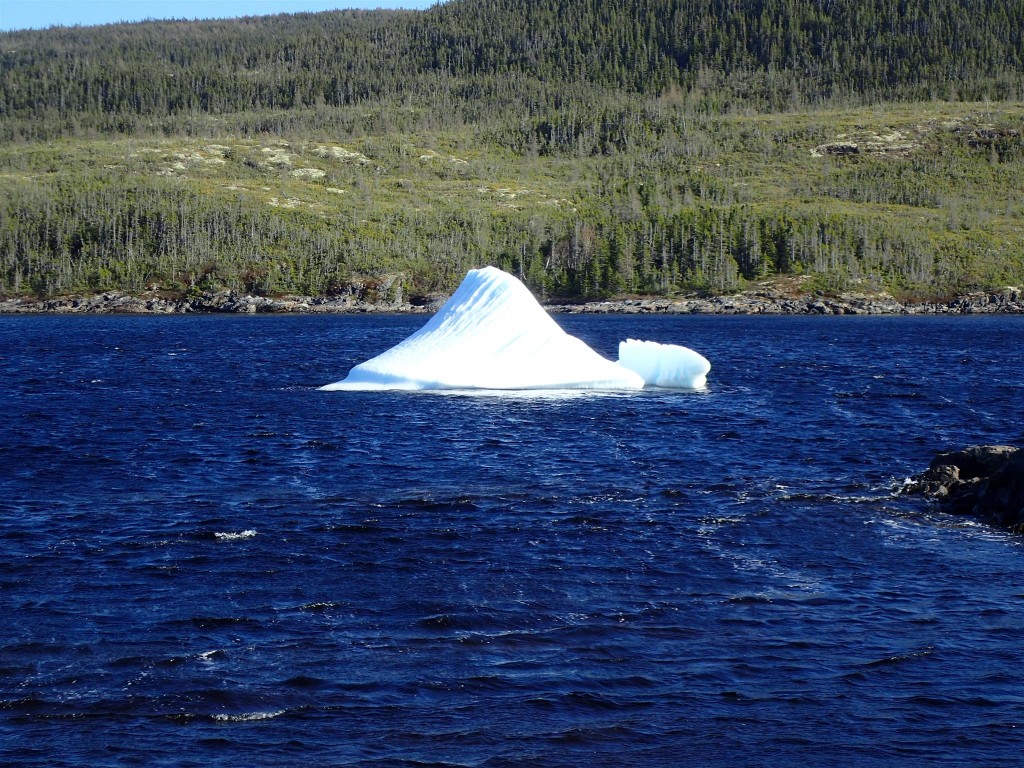 I fished around hoping to intercept another char, with this spot being much closer to the sea, but I only caught one sculpin.
As I drove back to civilization, I stopped by the odd creek culvert and was treated to more brook trout.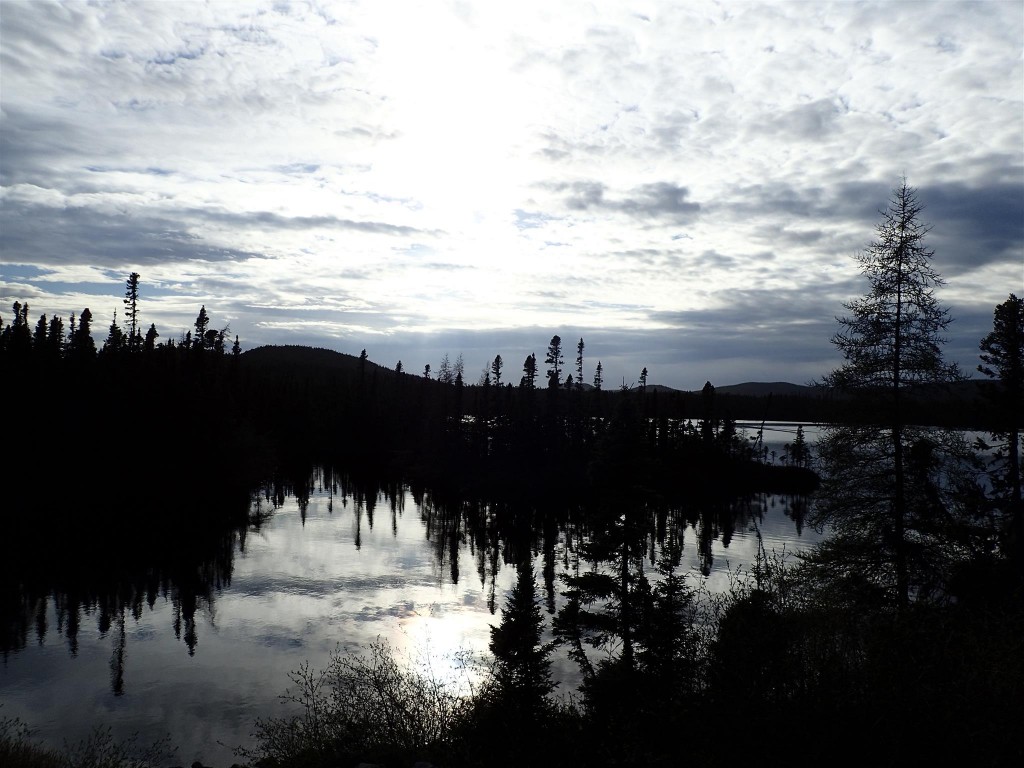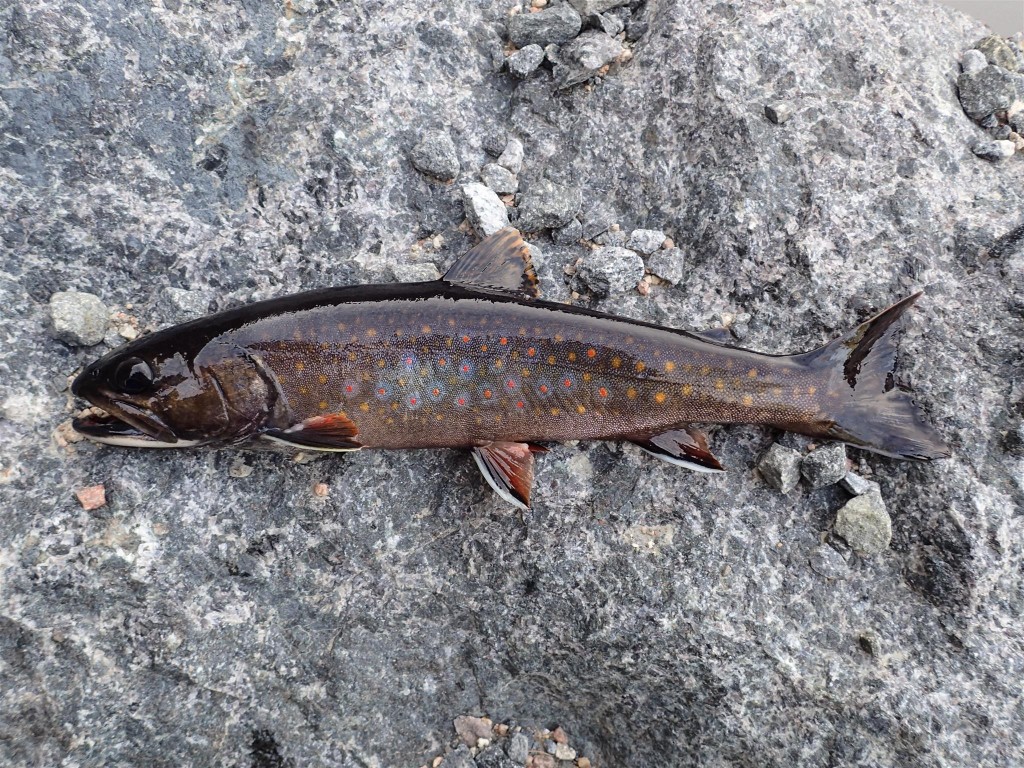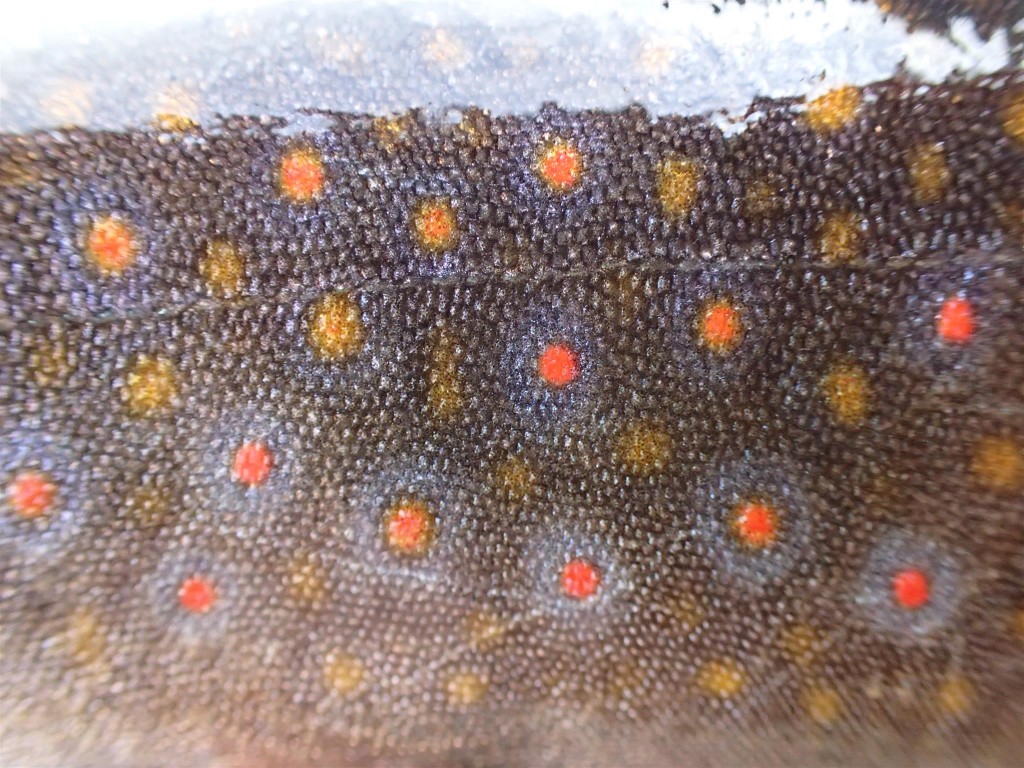 At a rest area, a flock of birds tried to invade my car…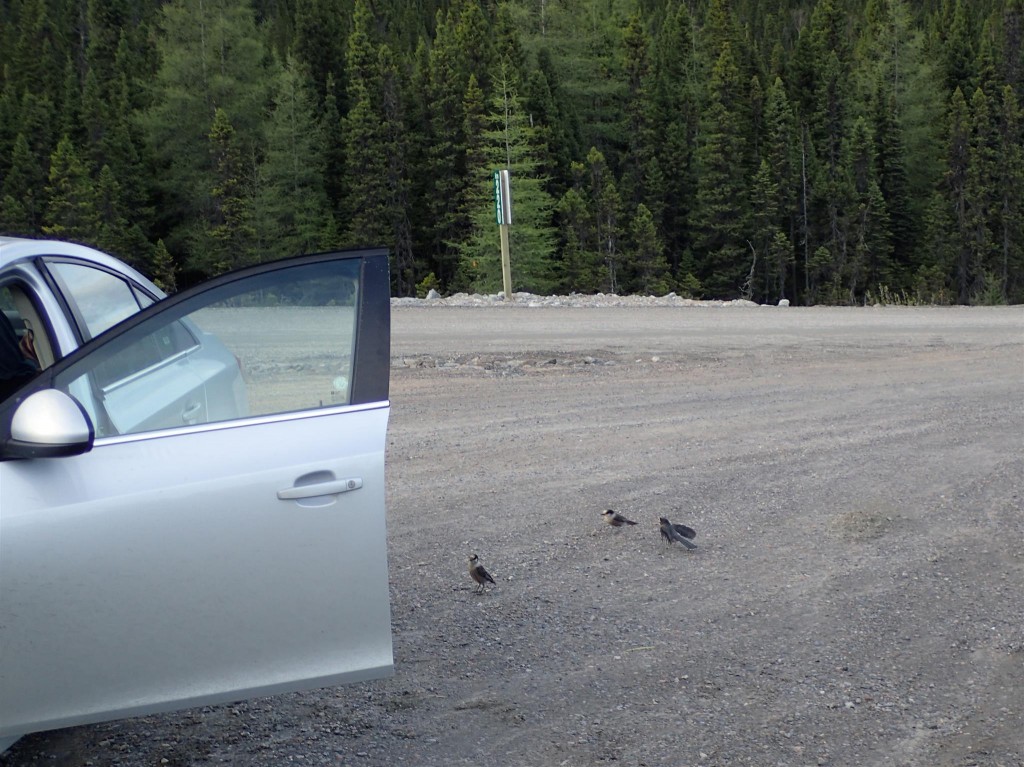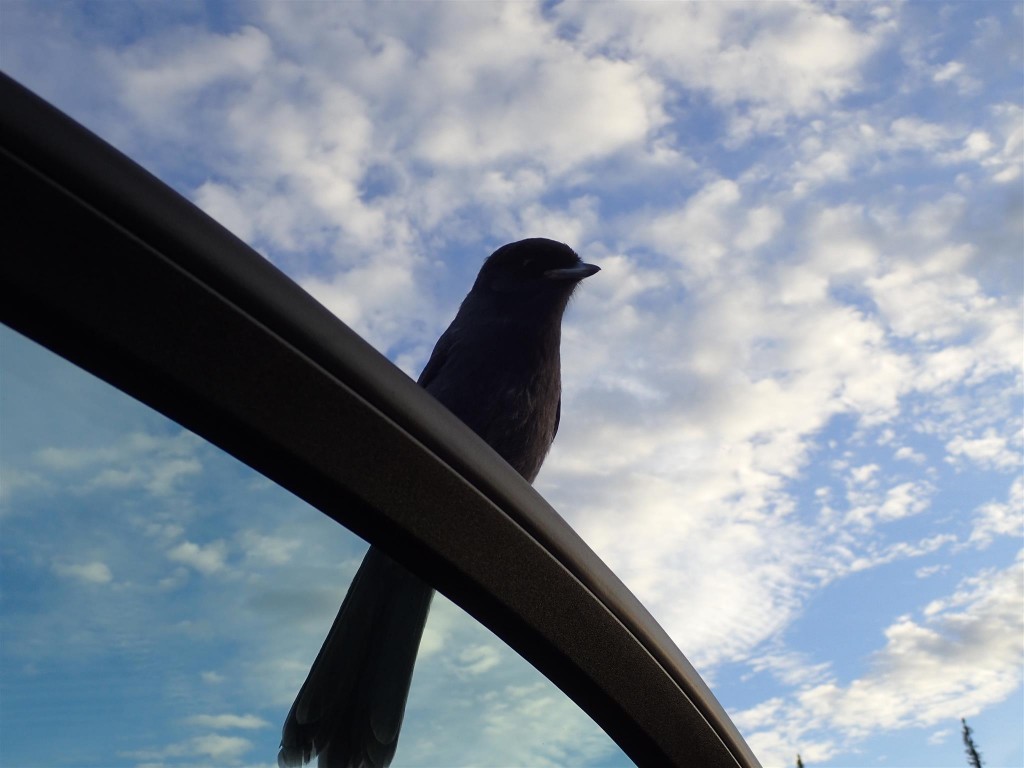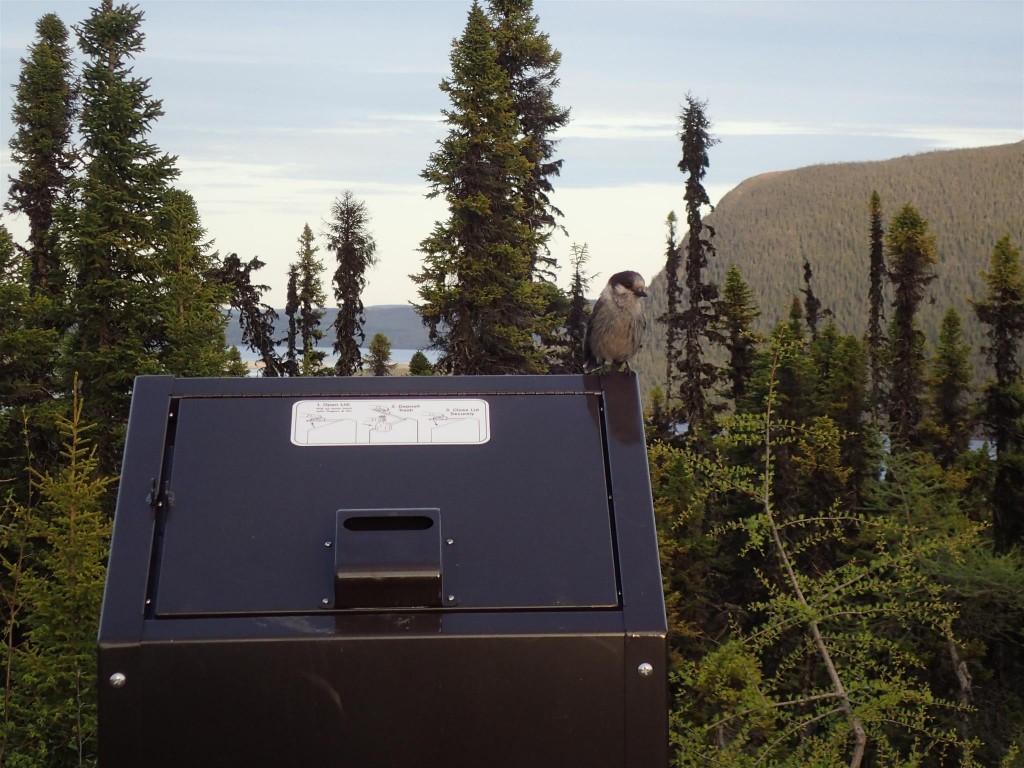 I drove along, thinking to myself how much I would miss the rugged beauty of Labrador.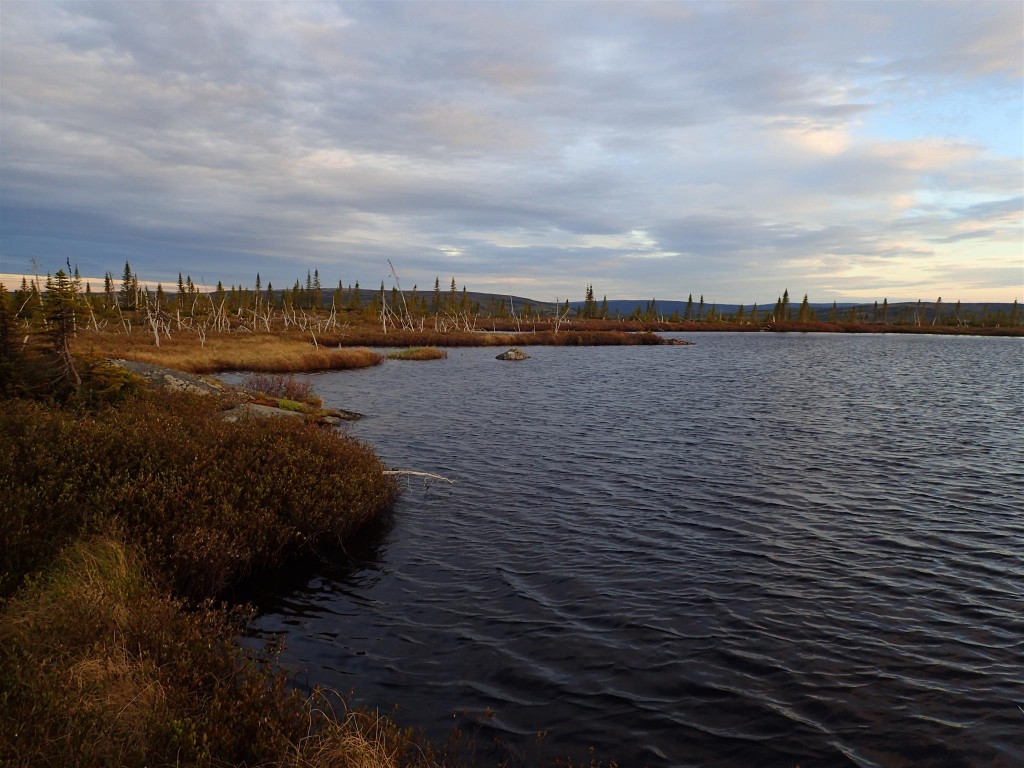 As sun set, I cast a small spinner at some more rising brook trout.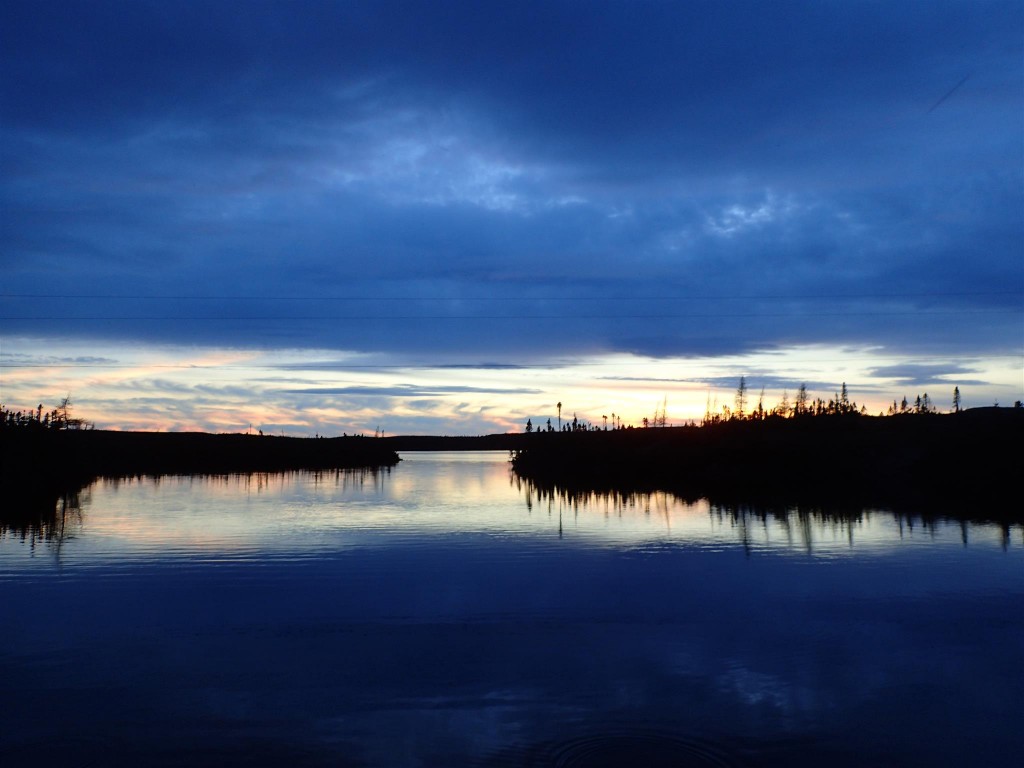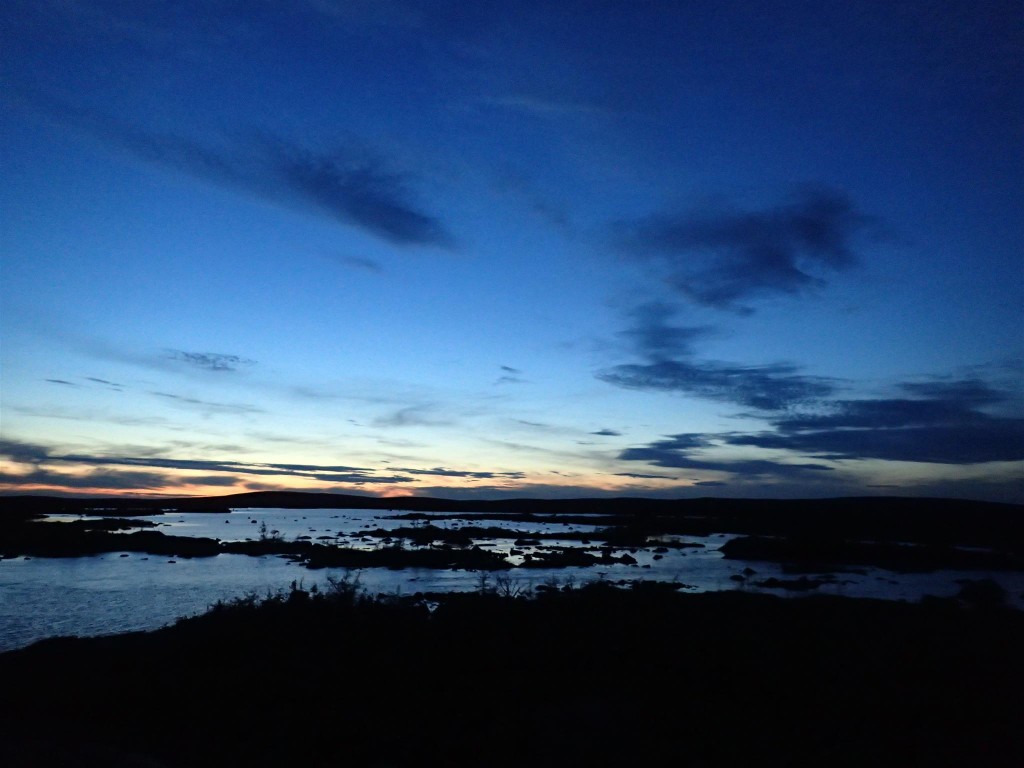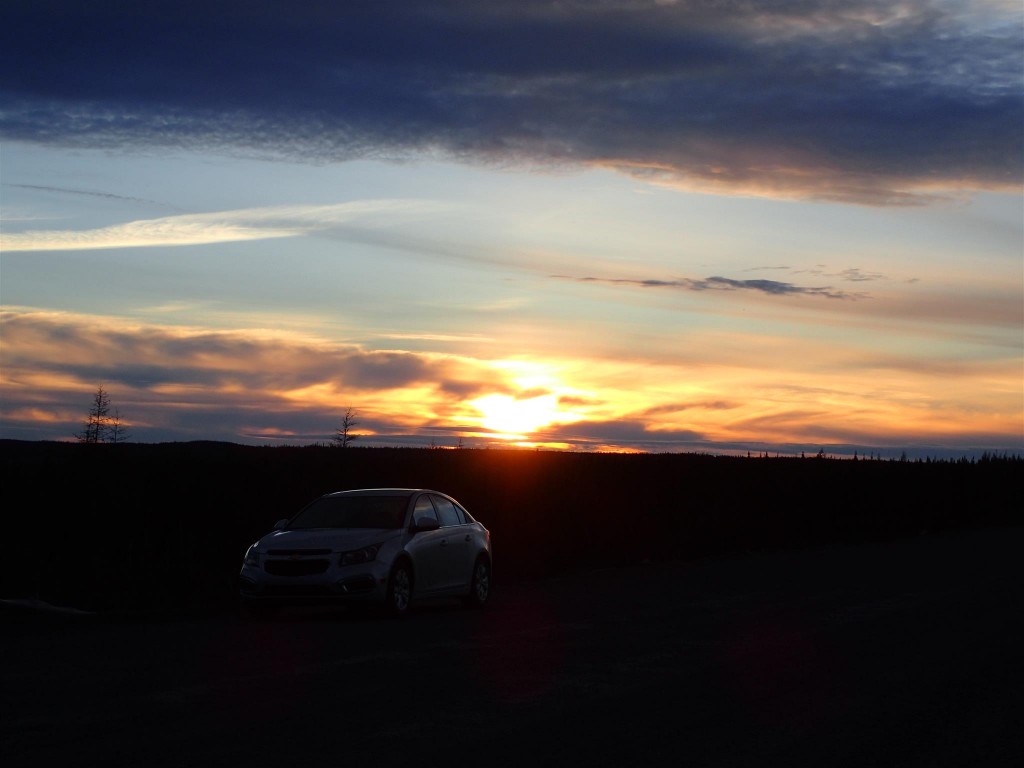 And finally, the full moon took hold.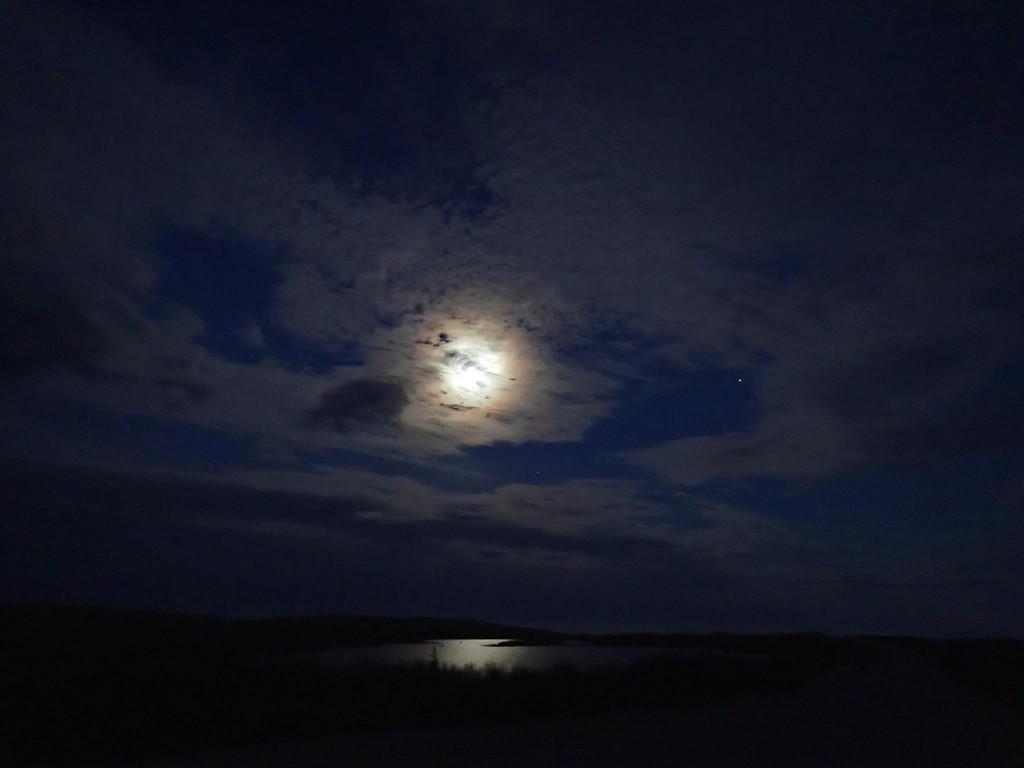 As I reached Red Bay, I was pretty happy to see the pavement again, so much so that I took a picture of the transition.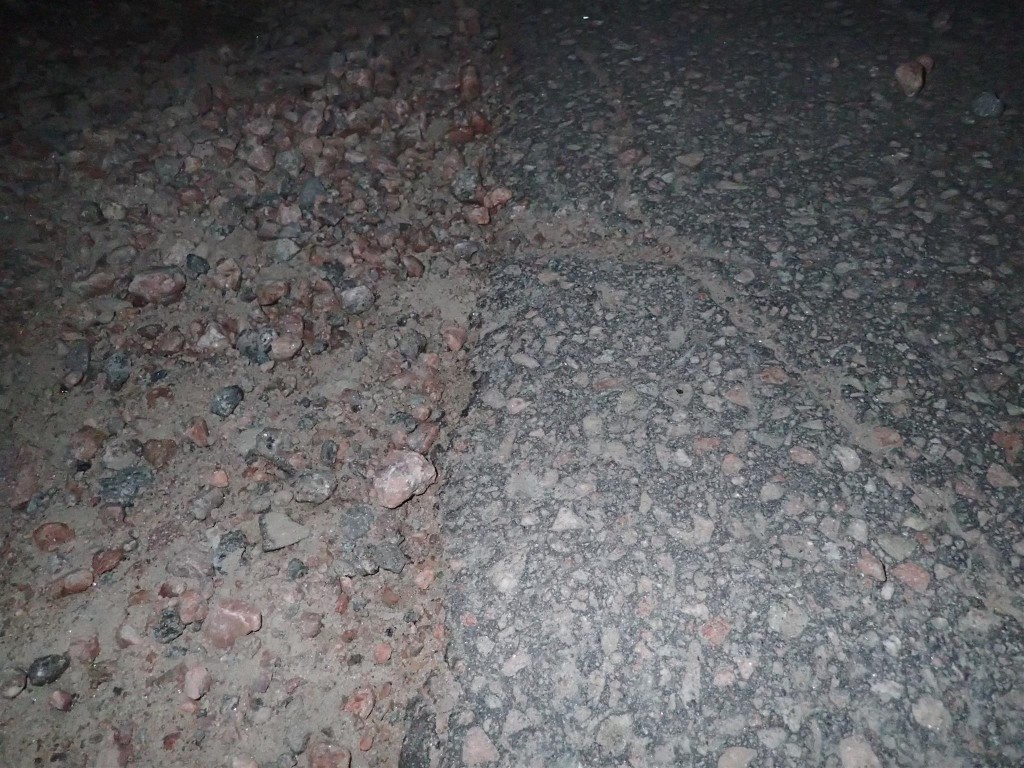 Full moon on Red Bay: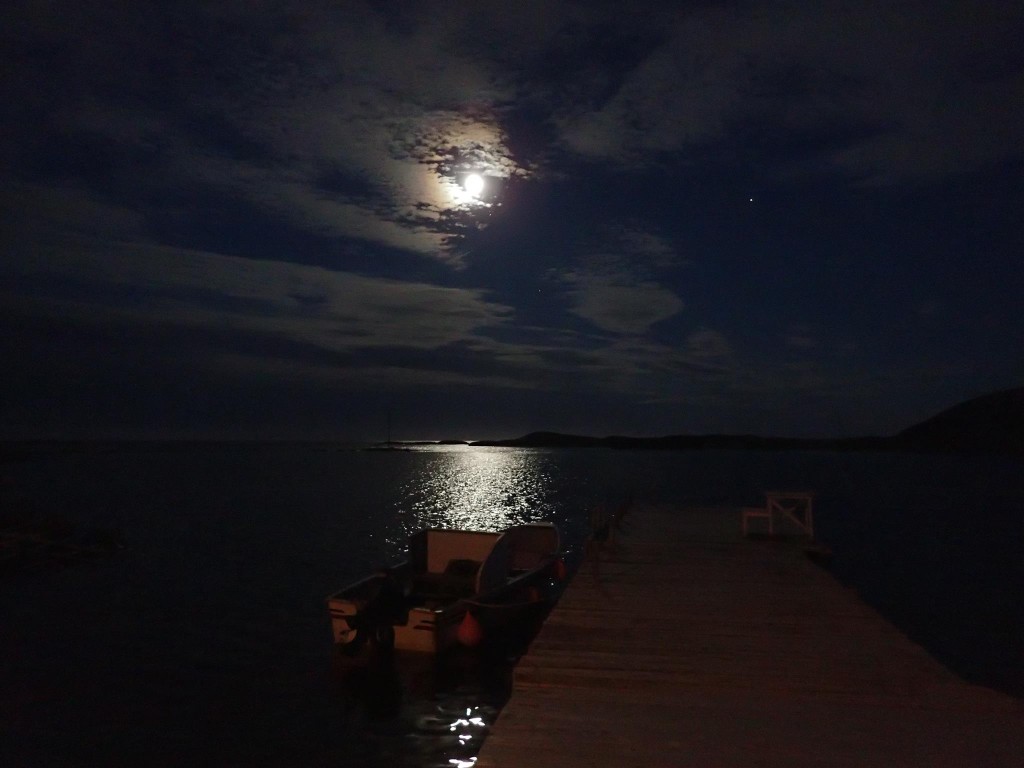 As I neared the ferry dock, my ticket to civilization, this popped up: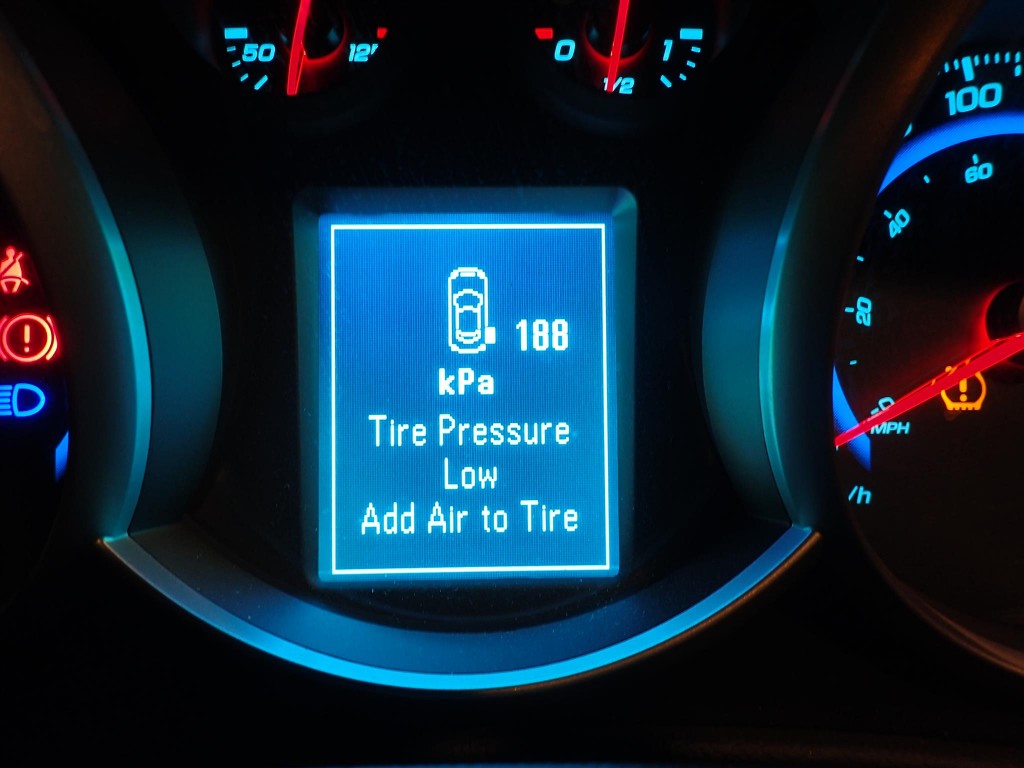 This car had impeccable timing and, unbeknownst to me, this was just the start of another turn of events.