I'd take honey over corn syrup any day, but, for this season at least, corn syrup will do. What's a corn syrup hole? Well it's a spot that will give you a slow trickle of semi-active fish. It won't skunk you, but it won't be a trans-formative, transcendental experience.
I wanted to beat the snowstorm today, so I was on the lake before sunrise. I figured I'd try for some trout since I was here so early. I set up in 60 fow and watched a blank screen. As the sun rose, I got tired of watching the picket line of inactive fish that had set up across my screen. Time to start the day at an Old Faithful destination.
It wasn't until 9am that I hooked the first fish. I reached into the hole for the grab and the jigging rap lodged in the fish's mouth lodged another of its hooks into my hand.
With one final head shake, the whitefish had hooked me. I hooked the whitefish and the whitefish had now hooked me. Our fates collided as we both desperately squirmed to free ourselves from the ambitious jigging rap. Whitefish tossed his head, I waved my hand. The endless struggle in an icy ring of pain.
Finally, I lifted Whitefish out of the hole and he was first to shake the hook, leaving me to determine my own fate. I've never hooked myself past the barb before, but I did watch quite of few videos of how to free oneself from this predicament.
Unluckily for me, the hook was embedded in the squishy flap of skin between my thumb and index finger and my attempts to do the simple unhooking procedure were thwarted by the flappiness of my skin. After some yelling I was able to free myslef without damage to the jigging rap.
Onwards and upwards. Before the clock struck 12, I had gone 3/3 on whitefish.
If there was ONE picture to sum up my 2014 Simcoe ice fishing season, this would be the one. The Madman and his Whitefish: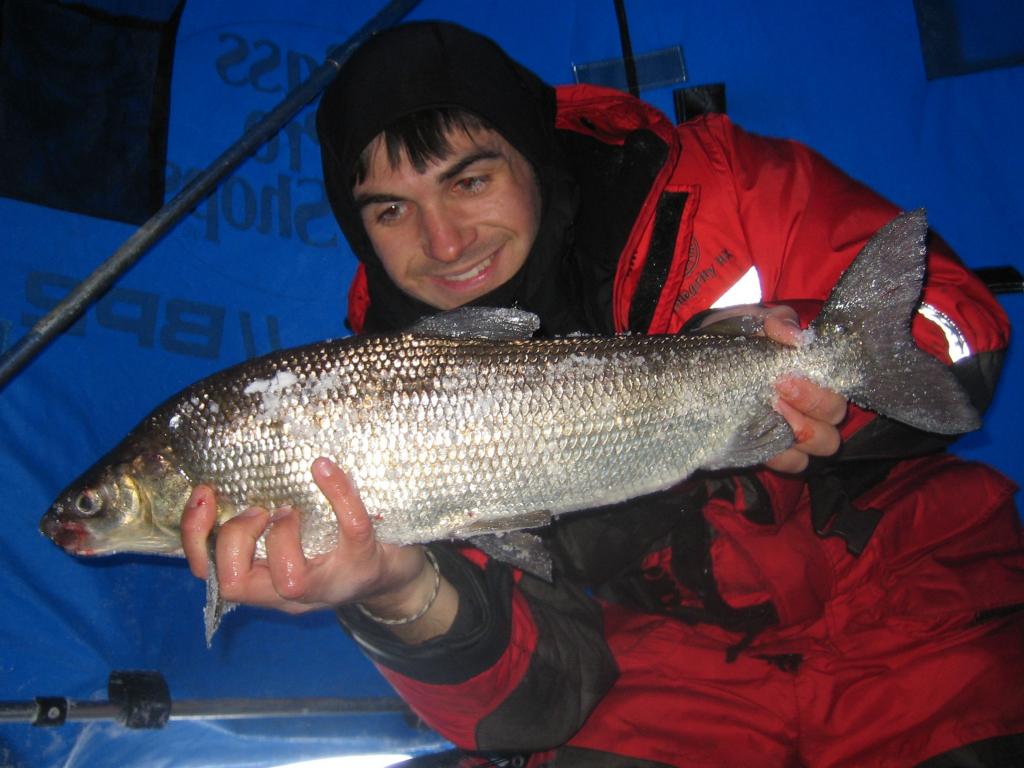 More whitefish: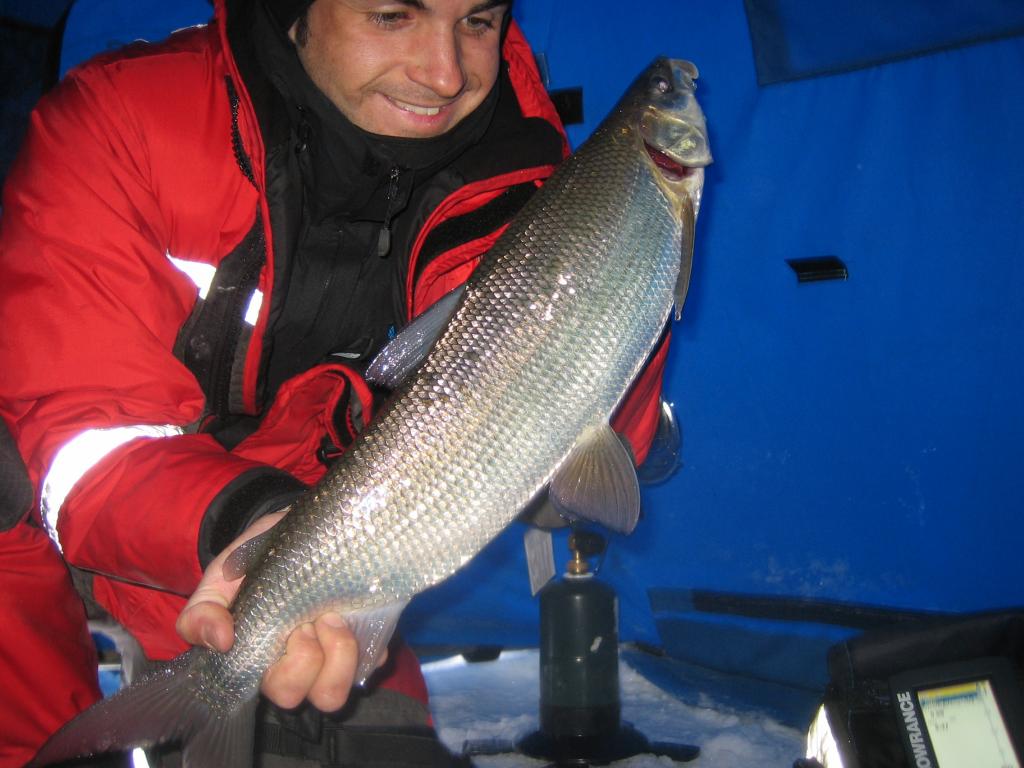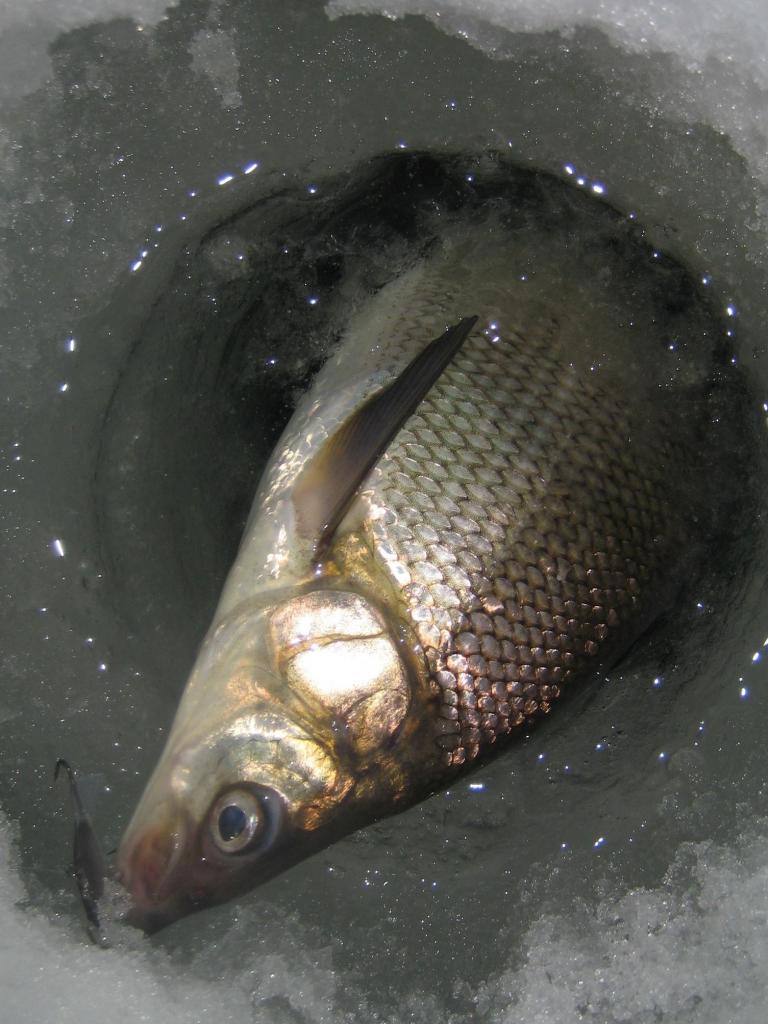 After that, things slowed down. I was still marking fish, but they either preferred to hug bottom or to watch the show as I ran through my assortment of jigging tricks. Most fish seemed to rise up to the still jigging rap. I would jig and rip for attention, and seemingly nothing would be interested until I just let the jig sit there… and sit there. It was a long grind today, but I had faith in the location. There were periods of 30-40 minutes between marks, but I stayed put.
One more whitefish, a few missed hits, and three lost fish brought my day's tally to 4/7. The Corn Syrup Hole has yet to let me down.
Whitefish attempting to travel through time (didn't work):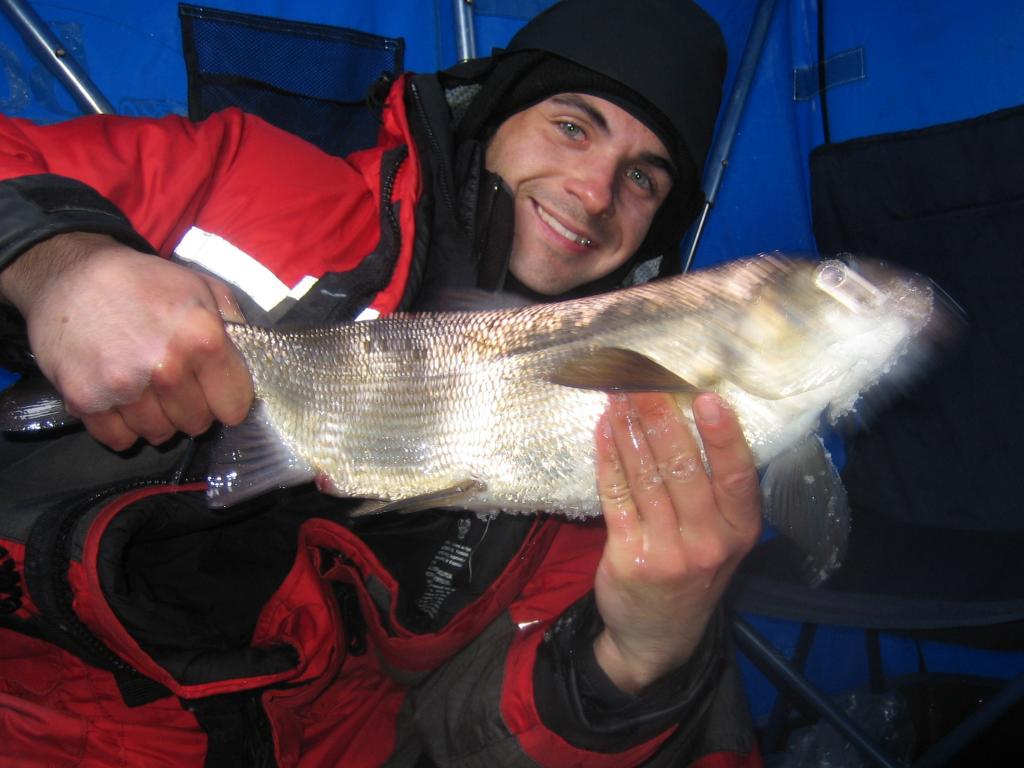 They have REALLY cool mouths, if only they used them more!