It's been a different kind of April. Last year I spent the spring looking for steelhead, suckers, and carp in Lake O's tiny tributaries. This year I spent quite a bit of time zipping up the dry suit and paddling along Lake Ontario's bland shoreline.
A lot of learning and observing was done on my part. I was eventually able to get some brown trout, but most of the time I watched everyone else catch them.
March 31
Aside from the brown trout, a water discharge on Lake Ontario holds an abundance of massive carp and freshwater drum. I'm talking 20+ lb carp and double digit freshwater drum. The drum have been fairly easy to catch, casting a heavy spoon was my ticket to them last year. The carp… well they've taken quite a bit of experimentation. I wasn't able to figure them out last year, but I may be starting to understand what they want.
At first, I tried sight-fishing them on the flat areas they would swim up to. That method did not work one bit, as any movement I would make would tip them off and they would leave the area. When I sat completely still, the current would slowly push me out of position.
One thing that Ken has taught me when fish are spooky is to fish for the deep ones that are out of sight. After a few drops with the minnow, I hooked into something monstrous. It pulled me right out into the main flow and it ran against the current as I was pushed away by it. I was loosing my spool and risked having the fish run around a boulder, or worse. I made the choice to put the rod in the rod holder and paddle back to my eddie to continue the fight. This cycle repeated itself thrice before the hook finally pulled.
Luckily I was able to hook the smaller carp and actually land them instead of playing tug of war in the current.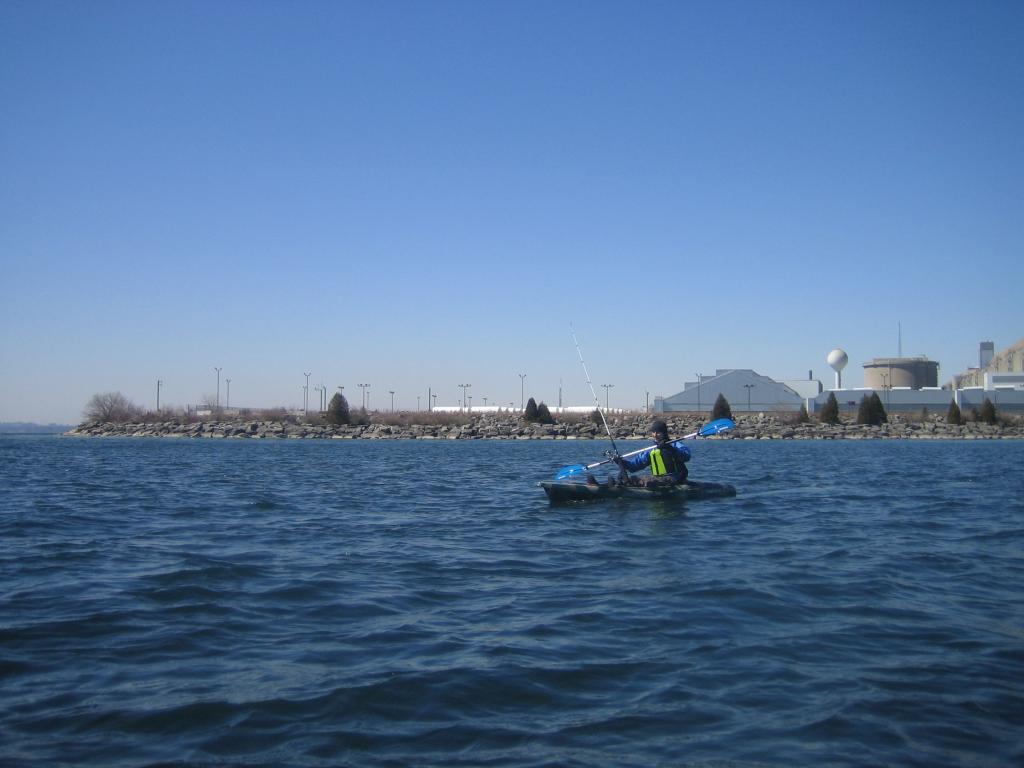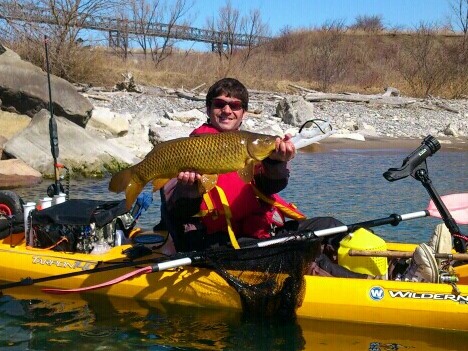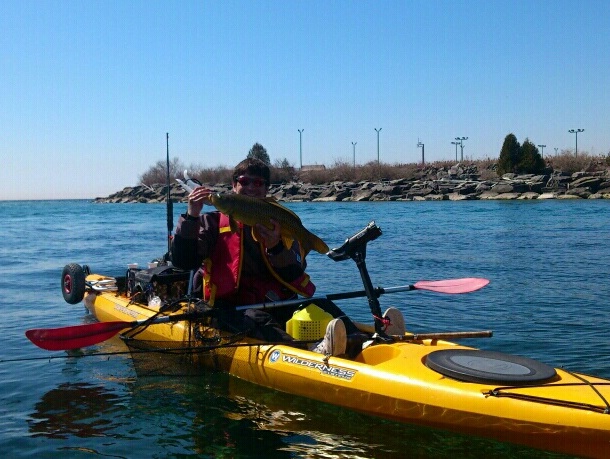 April 2
Hit the water with a kayaking buddy. Travel to the discharge was fairly rough with a West wind in our faces. Upon arrival, I noticed conditions were completely different from my last trip. Instead of gin-clear water, I was looking at opaque brown. Another boat was already going to town on the carp, browns, and drum by bottom-bouncing minnows. My kayaking buddy was able to produce some nice fish by trolling the area.
There were quite a few gizzard shad busting on the surface, so I cast a light little cleo spoon over a shallow, rocky flat to try and get one. I ended up snagging two, and could feel hits on my line every retrieve. Eventually, something grabbed my spoon and it ended up being an brown which I did not have the chance to measure.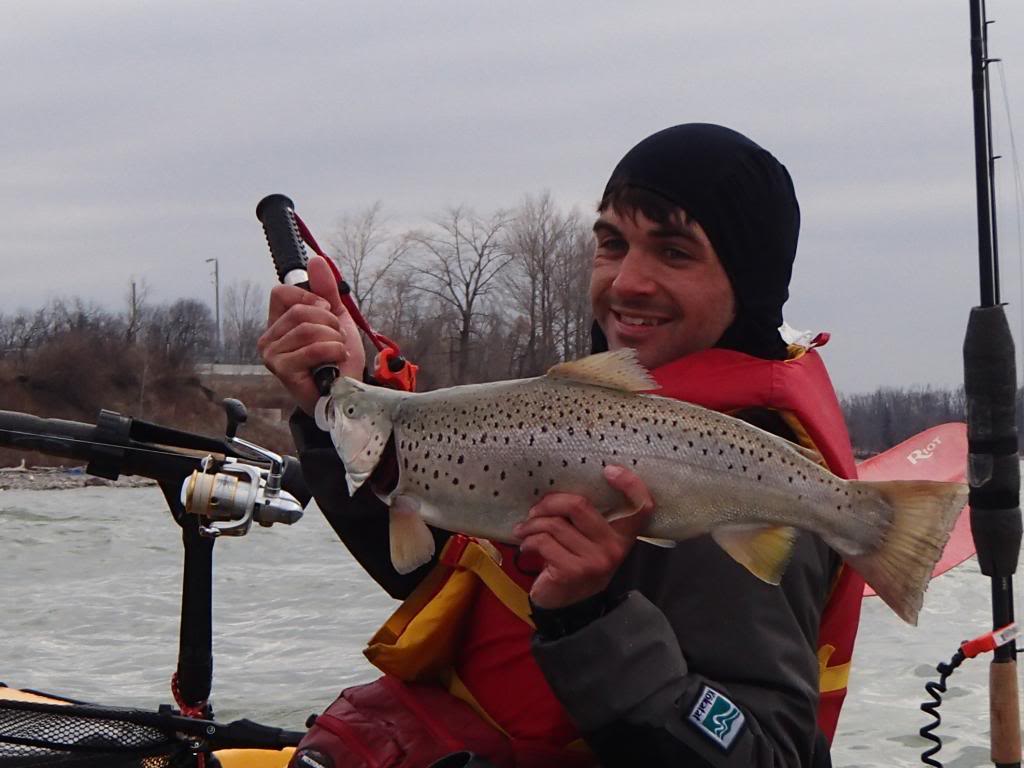 Things died down and we tried to bottom-bounce the outflow but it was clear that the boat had already cleaned up most of the fish. I was hoping to have some fun with the carp I had encountered late March, but they did not cooperate. I hooked and lost what I thought was a carp.
April 3
Headed to the discharge solo in calm water. Water had a nice green colour to it and wasn't clear. Tried casting a larger spoon over the dropoff to the rocky flat and had a strong hit that came off after a second. Not shortly after it was grabbed by something feisty. The fish jumped and I caught a glimpse of what I thought was a steelhead. In the net, it looked different so I called up Ken for some identification advice.I was pretty happy about this 18.25″ Atlantic salmon. Not very many are caught around here, and I was thrilled to see some kind of success in the Ministry's stocking program. I had previously caught smolt in a nearby tributary, but never seen a full-grown specimen before. Definitely a fish I won't forget about.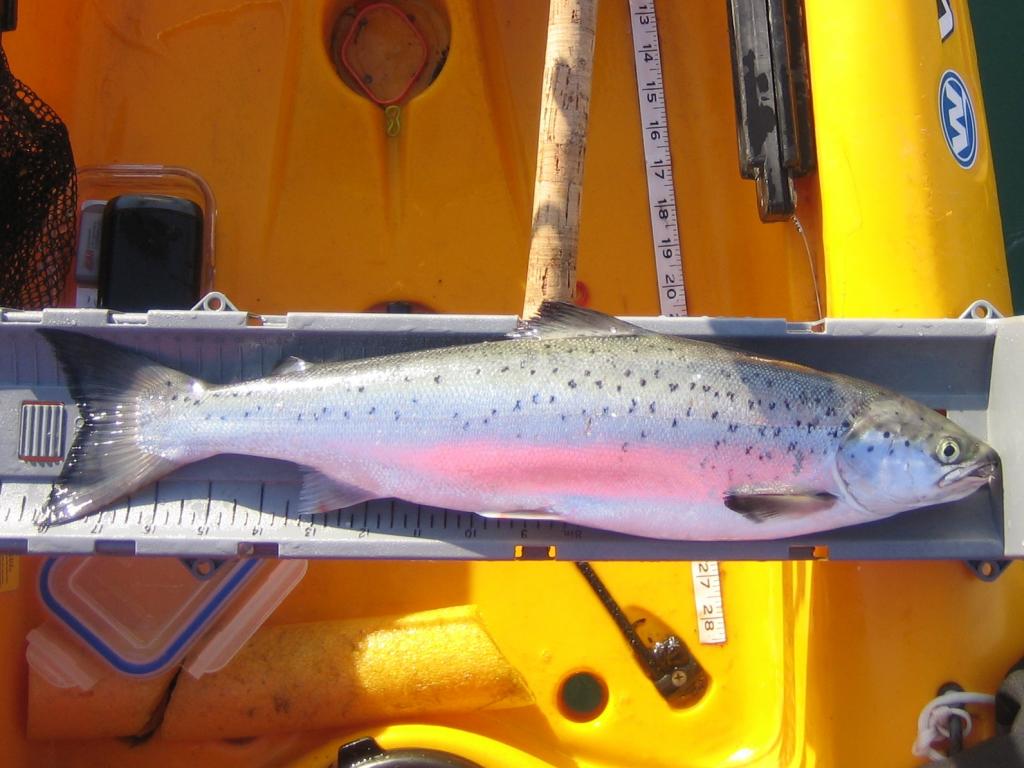 Without any more action on the spoon, I ventured closer to the discharge to try bottom-bouncing minnows. I managed two big white bass and one strong drum.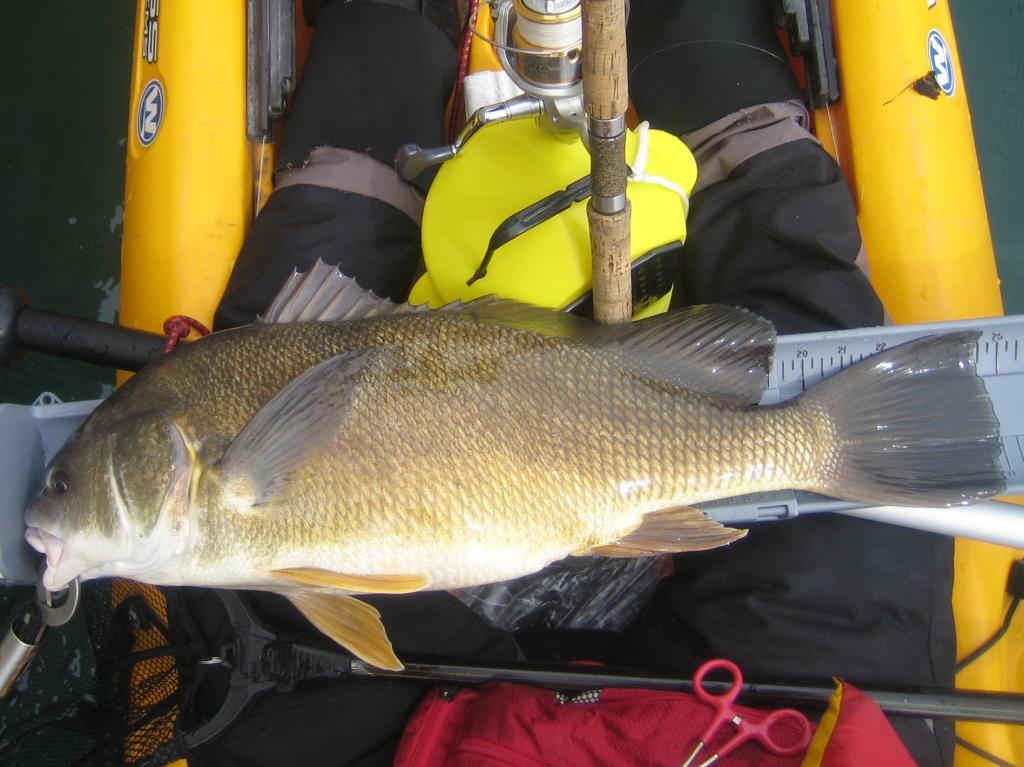 I hooked a carp that waited until it was boatside to start running. It ran around the central pillar and put me in hot pursuit, dragging me all the way back out to the (now choppy) lake before pulling the hook while it was in sight.
I returned to the outflow and bounced a few more minnows and worms. I had a carp pick up a worm and once again the hook pulled. Very frustrating fish!
The same boat from the previous day was back. It was able to position itself in the faster current and was getting quite a few little browns from there.
April 9
Another calm day at the outflow with some tricky fish. My kayaking buddy was able to once again win the trolling game by producing some nice trout. I managed all of one white bass in the morning casting a spoon. I began drifting minnows and hooked into a nice carp on the first drift that I was actually able to land. The hook magically stayed put long enough to land this 30.25″ carp. Likely my PB carp but I did not get a weight.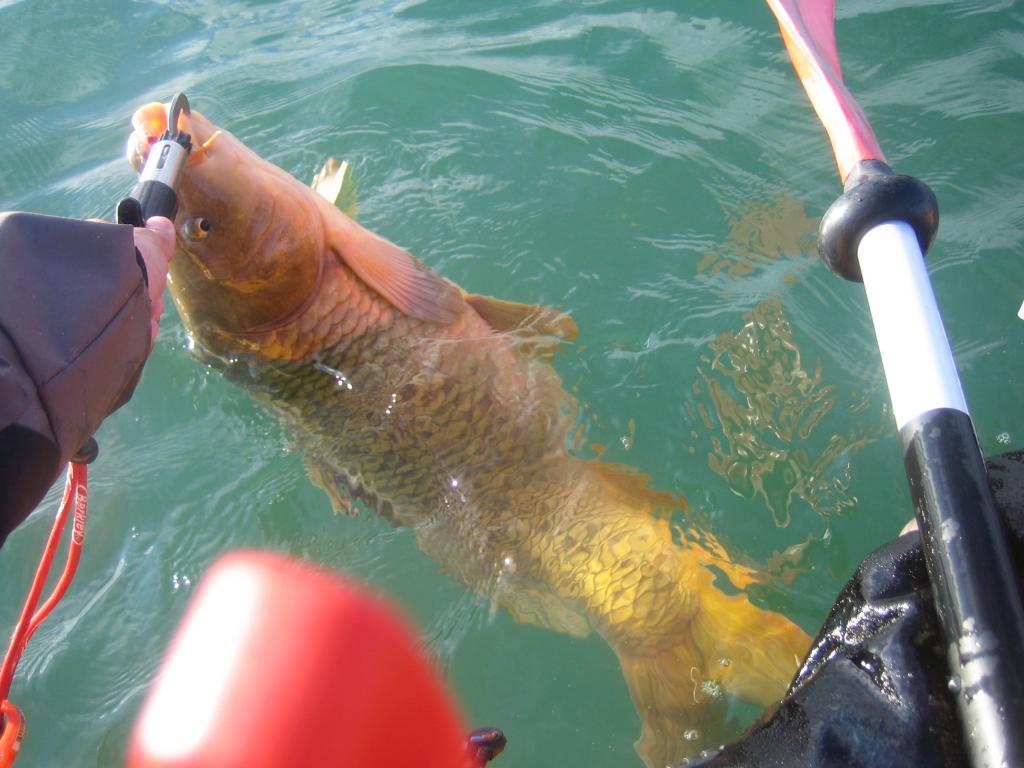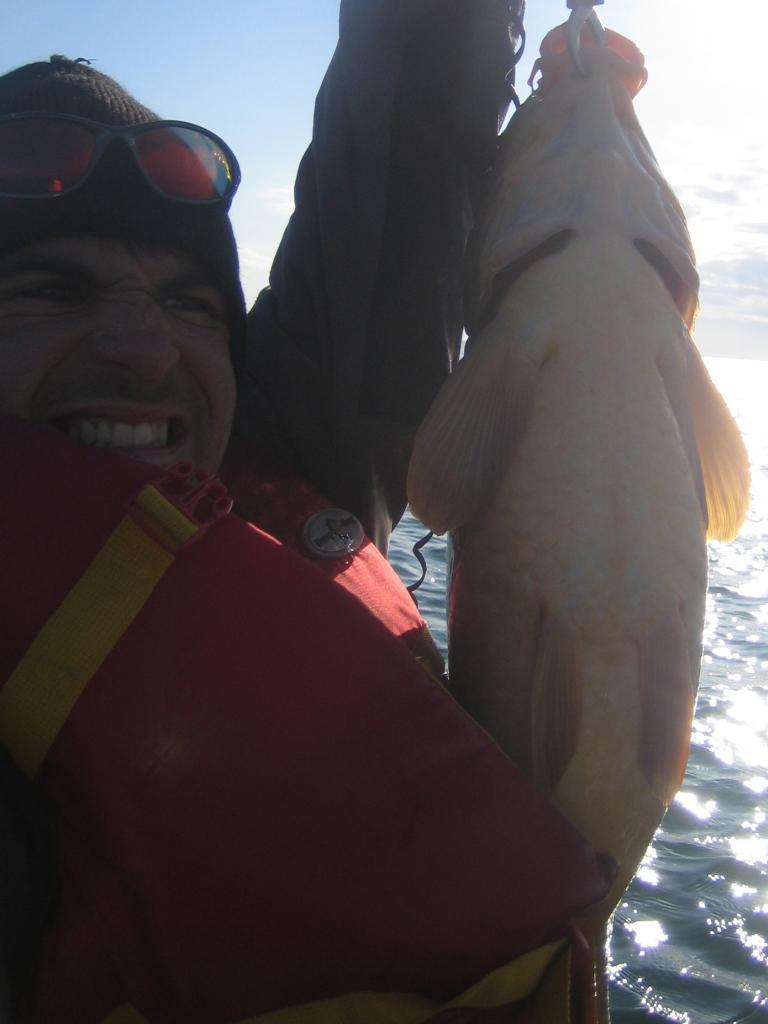 After that it was another white bass and a strong south wind that signaled the time to return to the launch.
April 11
Time to change things up so I headed to the south shore for what was supposed to be shallow water trolling. Upon arrival, the shallows were a nasty opaque brown so we headed deeper to find the right water. Many many hours trolling finally produced this 27.5″ lake trout over 31 fow.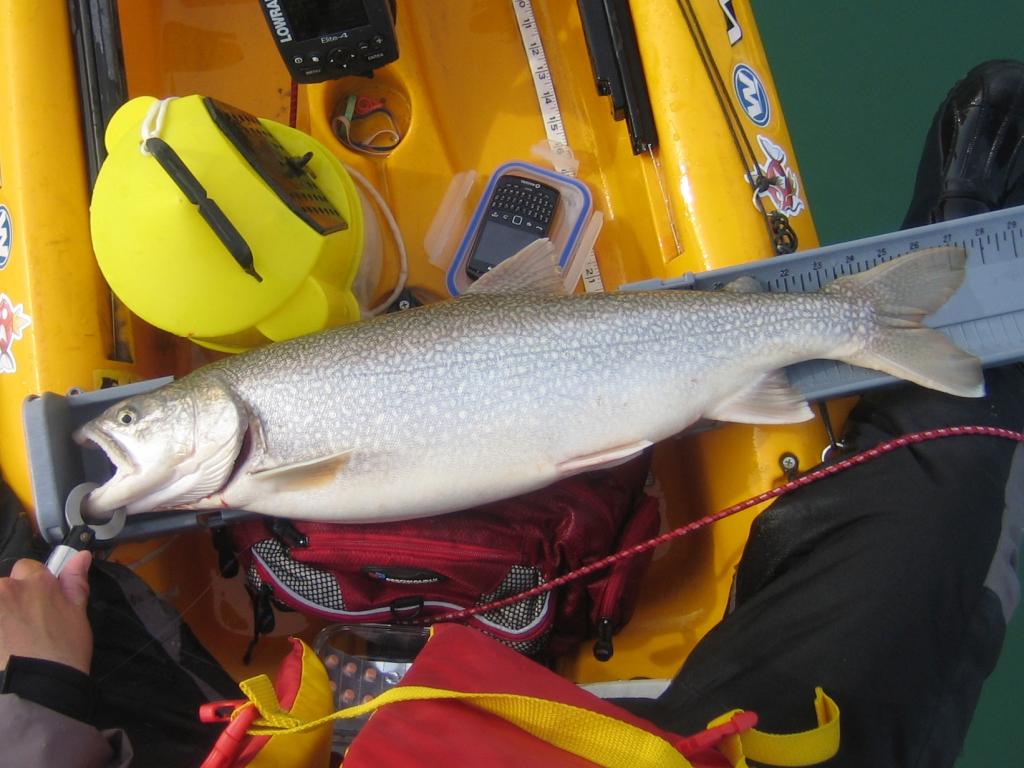 Did not fight, just came in like a bucket of grease haha.
April 16
Back to the discharge in some choppy water. Finally got into this trolling game my kayaking buddy had been schooling me on. Light lines and long leaders finally got me a slice of the pie with two browns in the morning. One brown at about 17.85″ and another at 21.75″.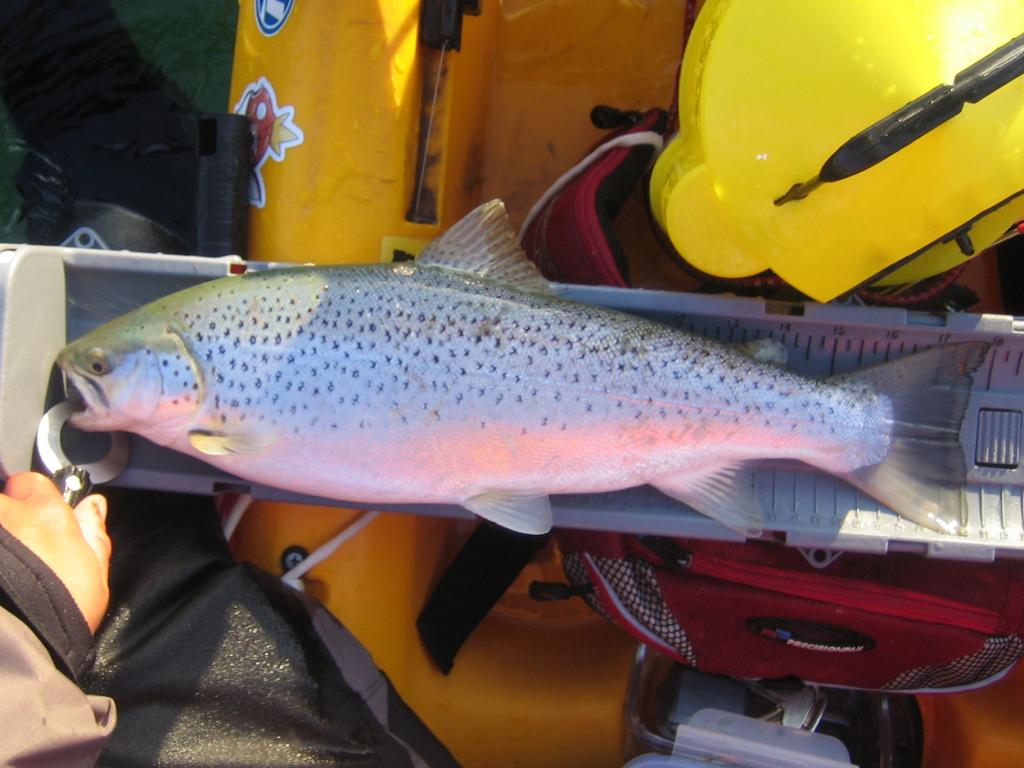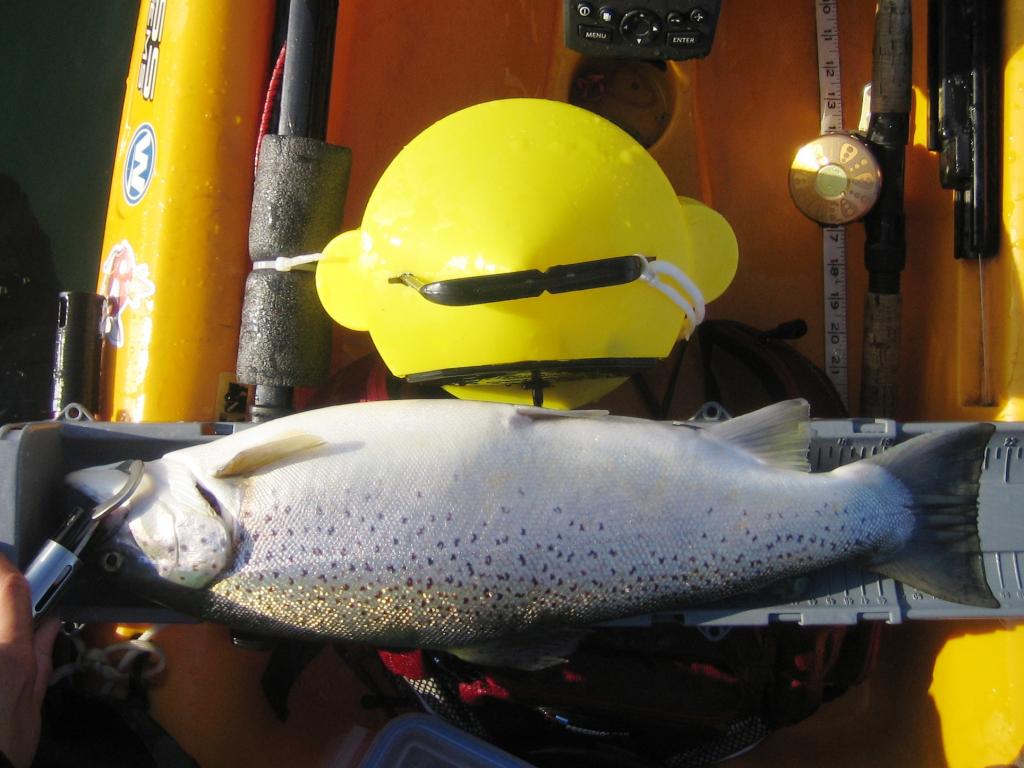 I had lost two other fish. One felt small, but the other would not turn around. After pulling out 100 feet of line it snapped me off right at or near my snap swivel. Disheartening because it felt like a salmon. Either its teeth cut through my 9lb line or the sheer amount of line in the water created enough drag for my line to break.
Kayaking buddy had similar results, getting some trout and being broken off by something big.
I was then able to pick up another big drum by bottom-bouncing in the outflow, but that was it for the day.
April 18
I thought I'd capitalize on the trolling by arriving at the discharge for sun-up. Unfortunately, conditions did not cooperate. I found myself uncomfortably trolling through big swells and opaque, muddy water. I remained fish-less for about two hours before throwing in the towel and heading in to bottom-bounce the outflow. I found myself into a complete mess of freshwater drum. I landed over 10 drum that day, with the biggest being over 10, 10, and 11 pounds. The muddy water must have done something to these fish.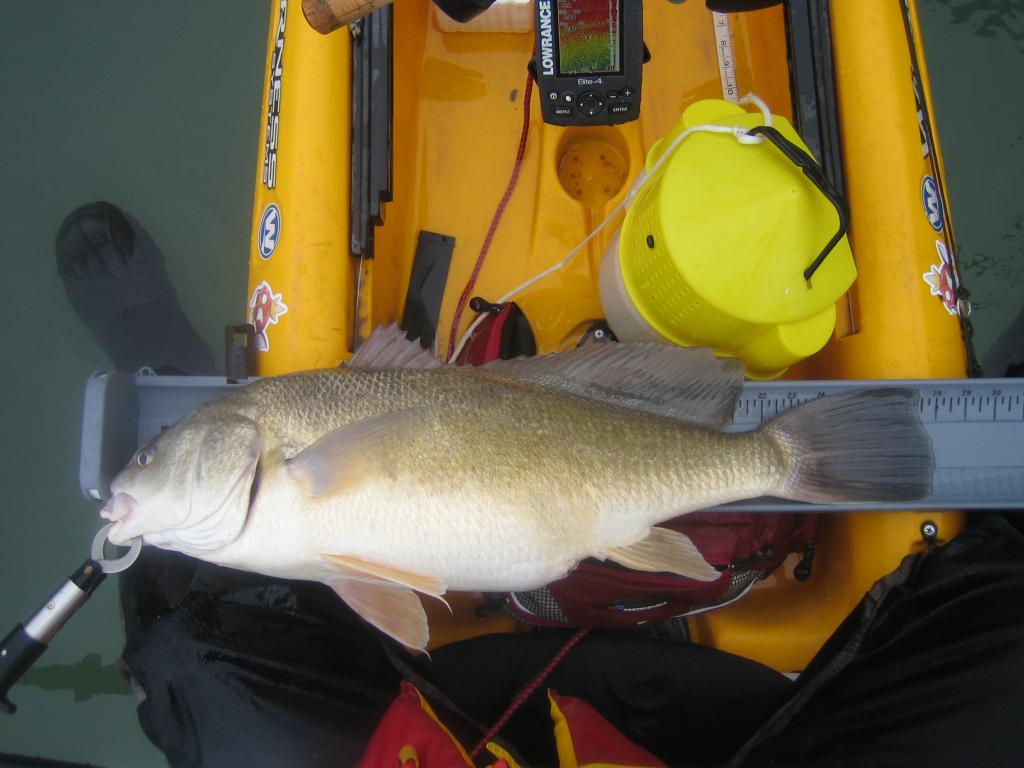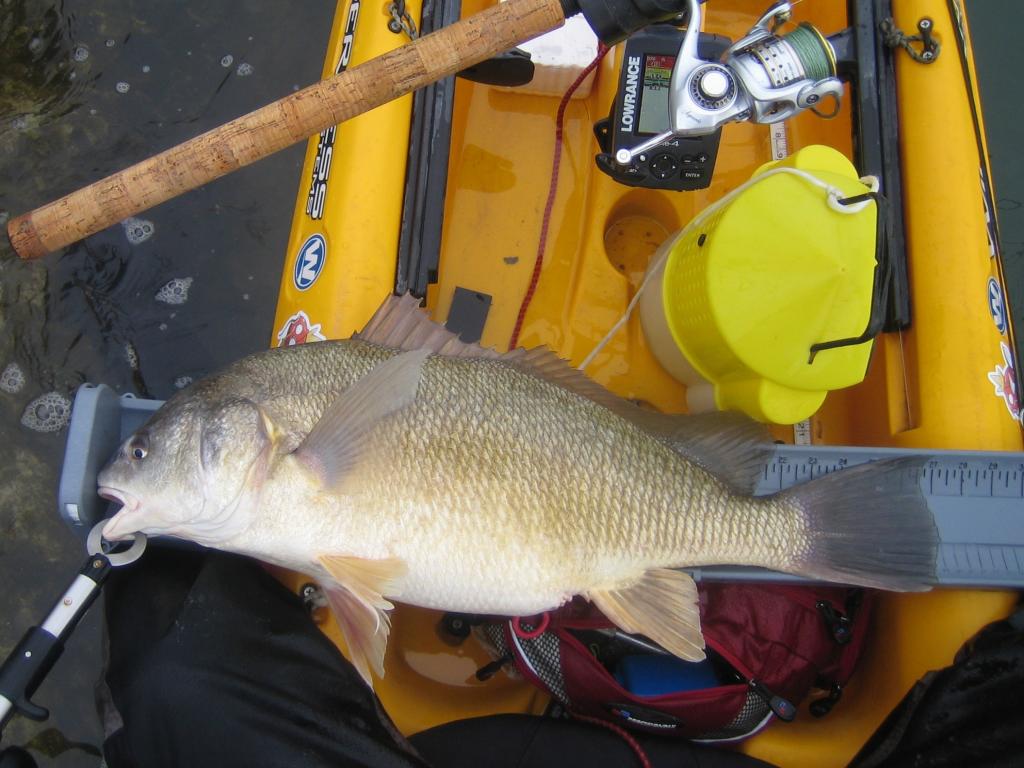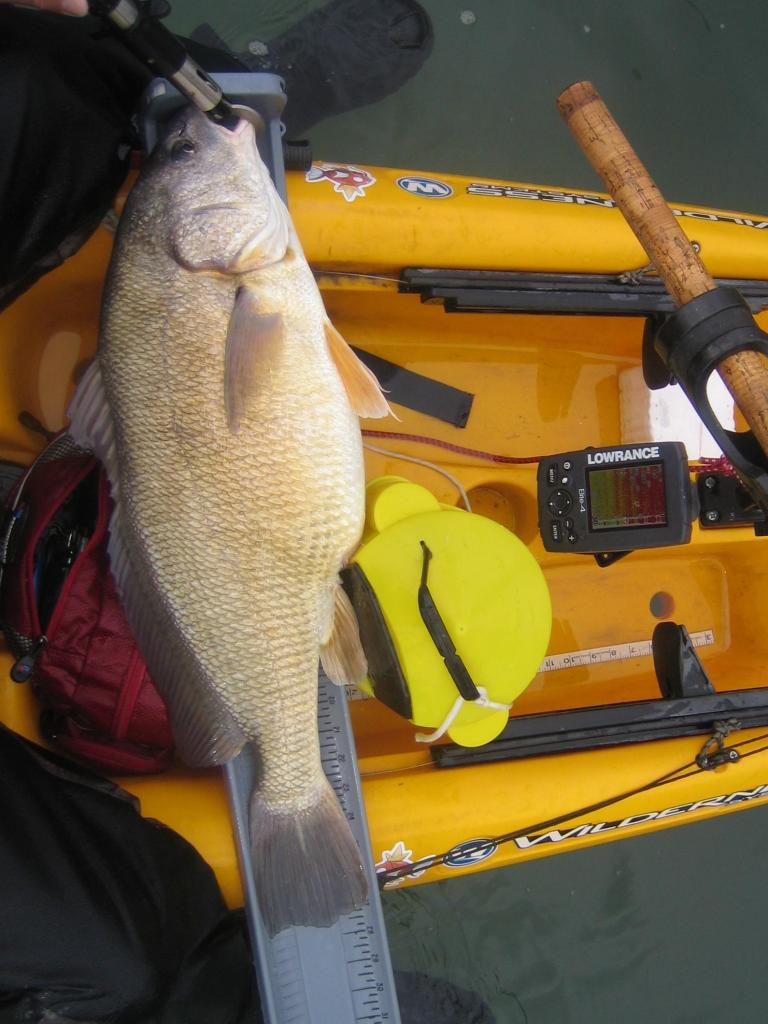 Rod in the holder, chasing down one of those drum.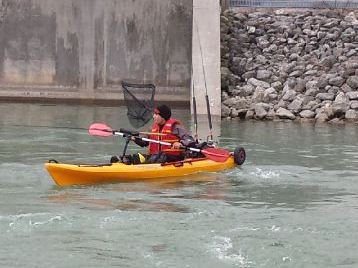 And last but not least, a monstrous 16″+ white bass!! My PB by a longshot.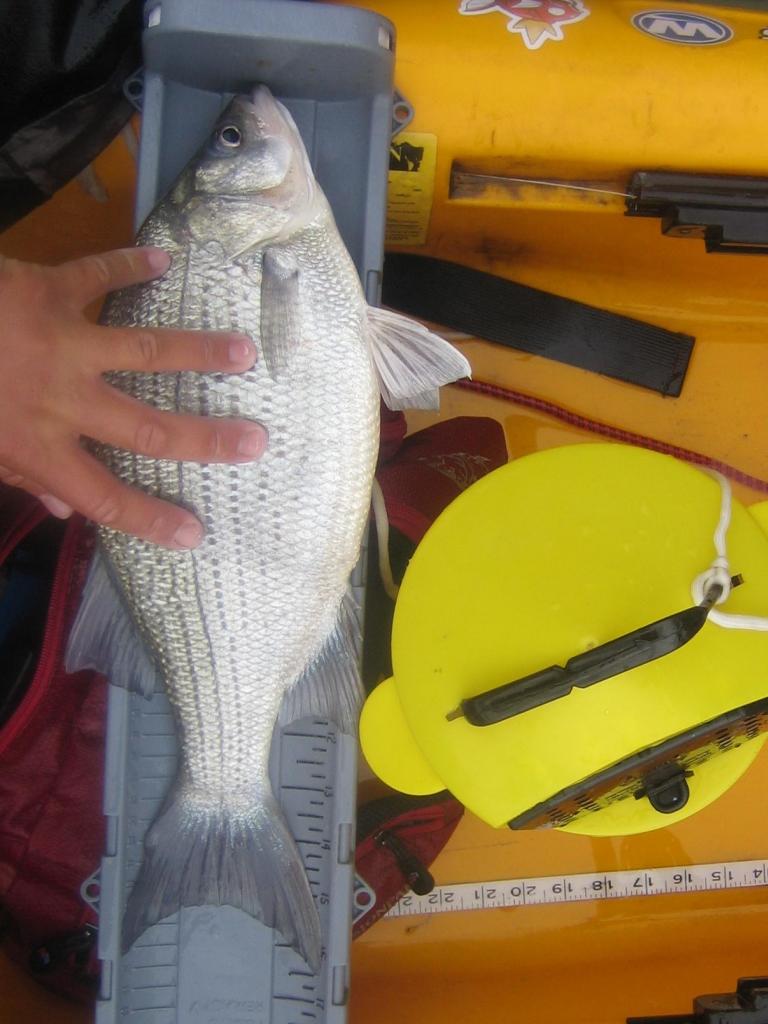 April 20
Back to the south shore for some pre-easter trolling. Boats around me reported getting a chinook here and there, but I was unable to figure them out. I was marking fish in 10-15 fow over 30-35 fow. Perhaps my lures were running too deep to pique the interest of the suspended fish. I tried jigging for them and had one or two lookers, but not a hit all day on any technique. Skunkidy skunkidy doo!
April 24
Once again, I thought I'd get the jump on trolling by arriving at the discharge early. Conditions were calm and the water was gin-clear. Clearly, the fish did not like this clear water or were keen at seeing my 9lb leader. Not one hit after two hours of trolling, so I headed into the outflow to make the most of the day.
Shortly after dropping a dead minnow down, I was in to a big drum that came to hand after a good tussle.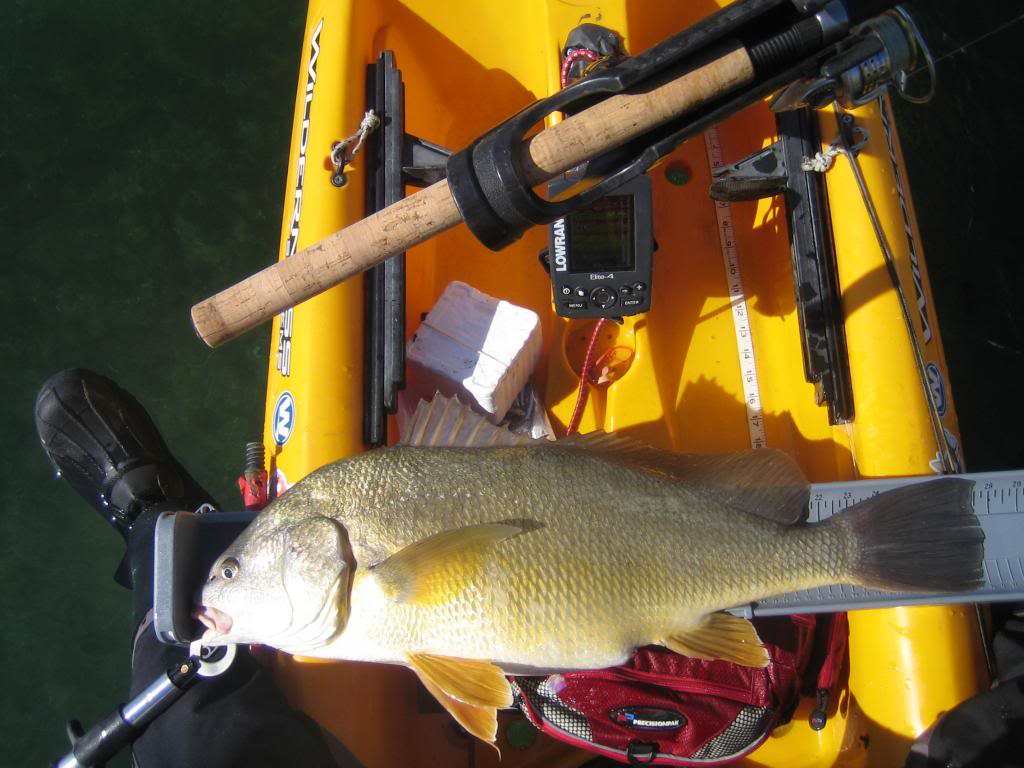 A few minutes later a carp picked up my worm and pulled the hook after a mighty run. Here we go again with carp and pulled hooks… grrr!
I headed a bit further out and tried my hand at a thick school of gizzard shad. I could not get them to hit even though they were surfacing and jumping all around me. The water was black with gizzard shad.
A pod of carp started following me around to boot…
…perhaps they thought I was a giant piece of corn.
I've been back with Ken and a friend of ours for some more double digit drum and assorted species. Always a blast and looking forward to getting back out there!