Georgian Bay is quite the destination here in Ontario. It's a massive bay of Lake Huron with swiss-cheese-like shorelines studded with countless islands, shoals and channels. It could take well over a lifetime to explore the limitless bays and back bays of this geographical marvel.
It was time for some alone time, so I made some plans last Thursday night and by Friday evening I found myself on the shores of Georgian Bay with my Hobie.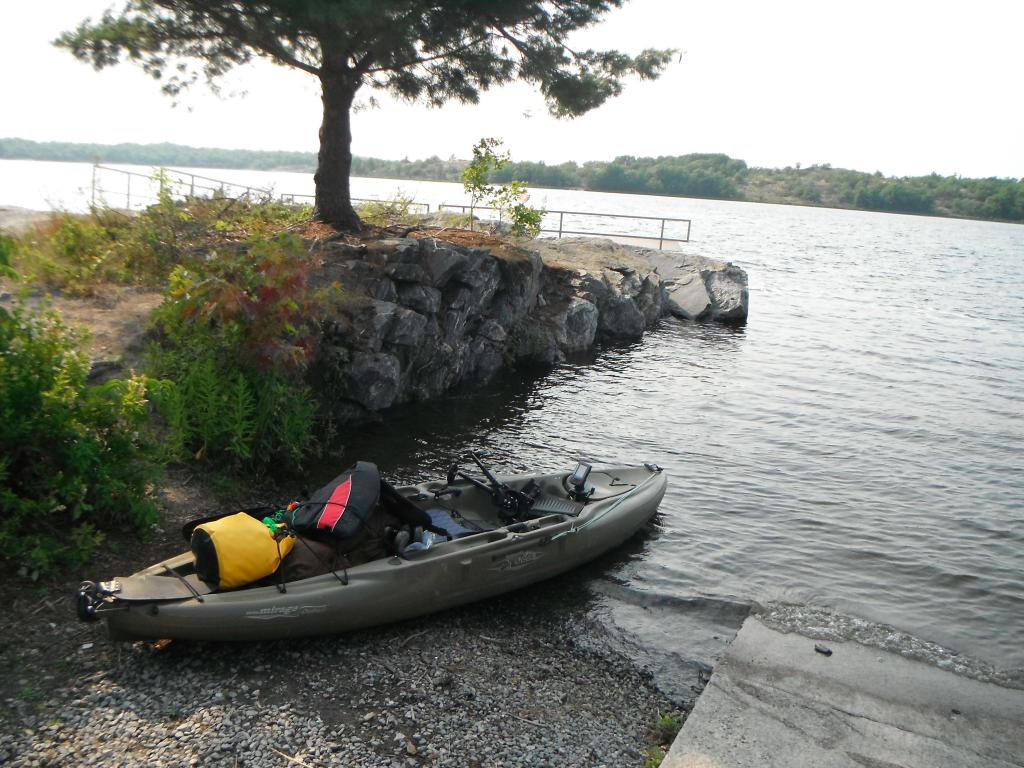 Yup, it's all in there, rods too! Gotta love the immense storage capacity these Outbacks offer. I'm impressed. The only gripe I have is that water enters the rear bungee area due to the weight back there, and things get wet. I pack all my stuff in eVent sacks so it doesn't set me back, but in the future I'll be sticking scupper plugs back there while I'm hauling a load.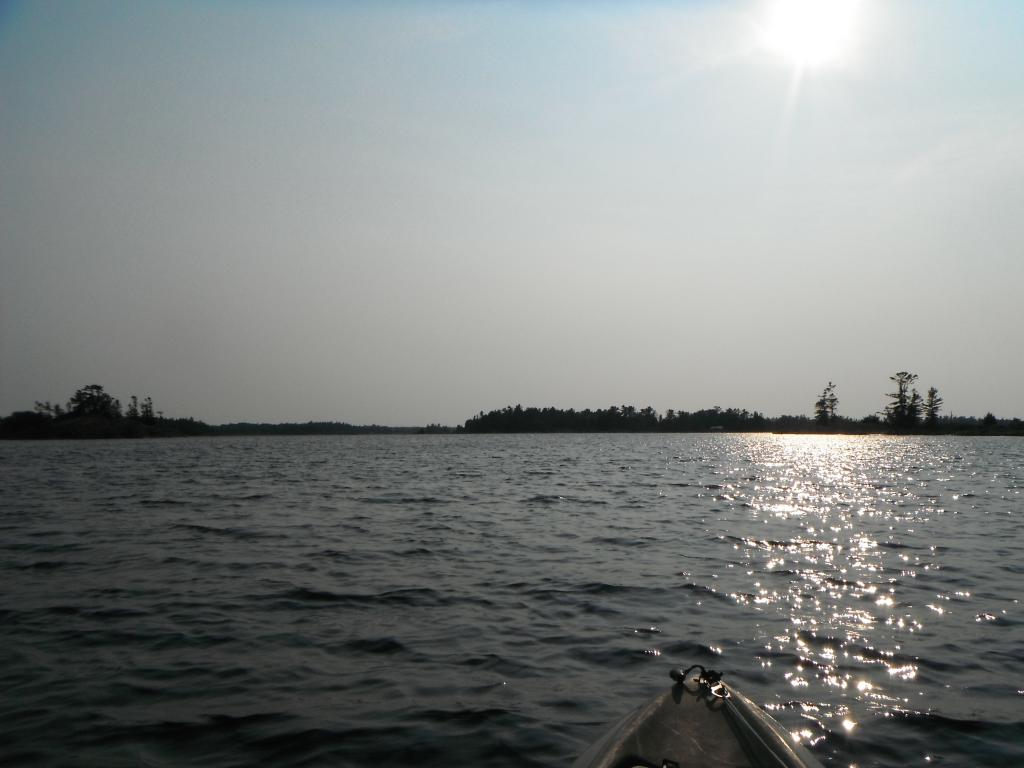 The pedal in was going smoothly until a motor boat decided to plough right next to me, getting me a bit wet from breaking their wake. It was clear I wasn't going to be getting much "alone" time on this busy weekend, but I felt a bit safer knowing that somebody would be there to hear my screams in case things in bear and rattlesnake country went awry haha.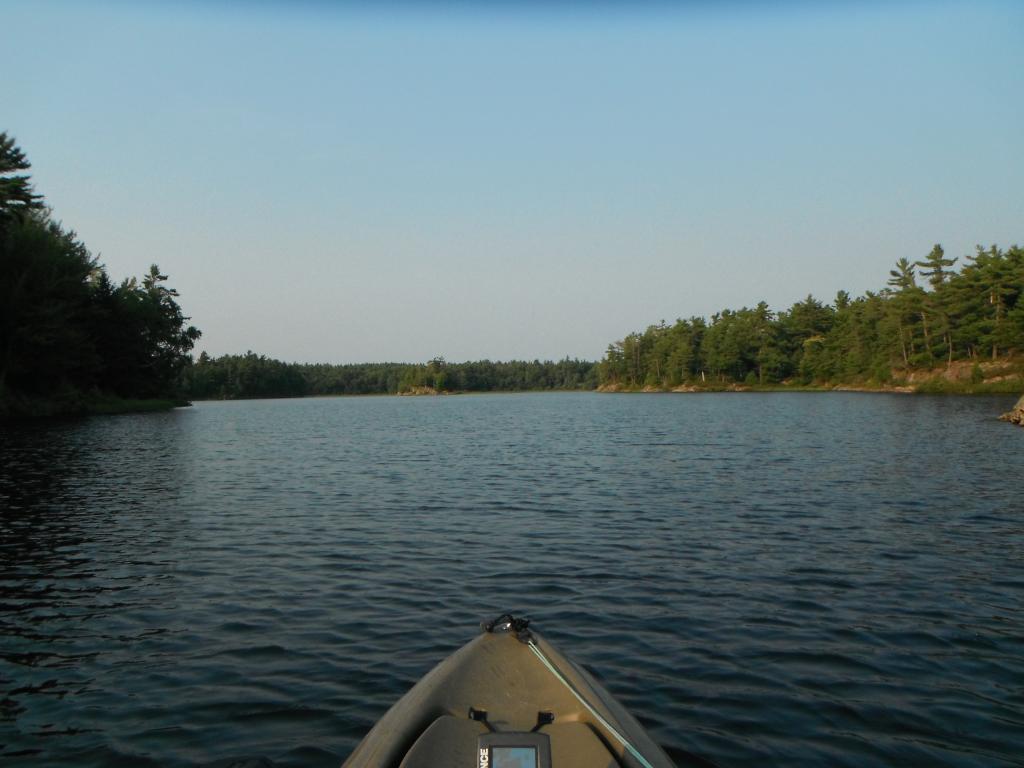 Once I set up camp, hung food, and unpacked my rods, it was time to get to work! On went the trusty white swammer on a 5/0, 1/4 oz hook and I started plugging away at weedy shorelines. I have little to no experience fishing Georgian Bay, so it was all learning from here. About twenty minutes in a decent bass followed me in, short striking, from a sandy bay with a weed bed nestled just outside of it. I kept moving along and evening set in.
It doesn't get any better than this: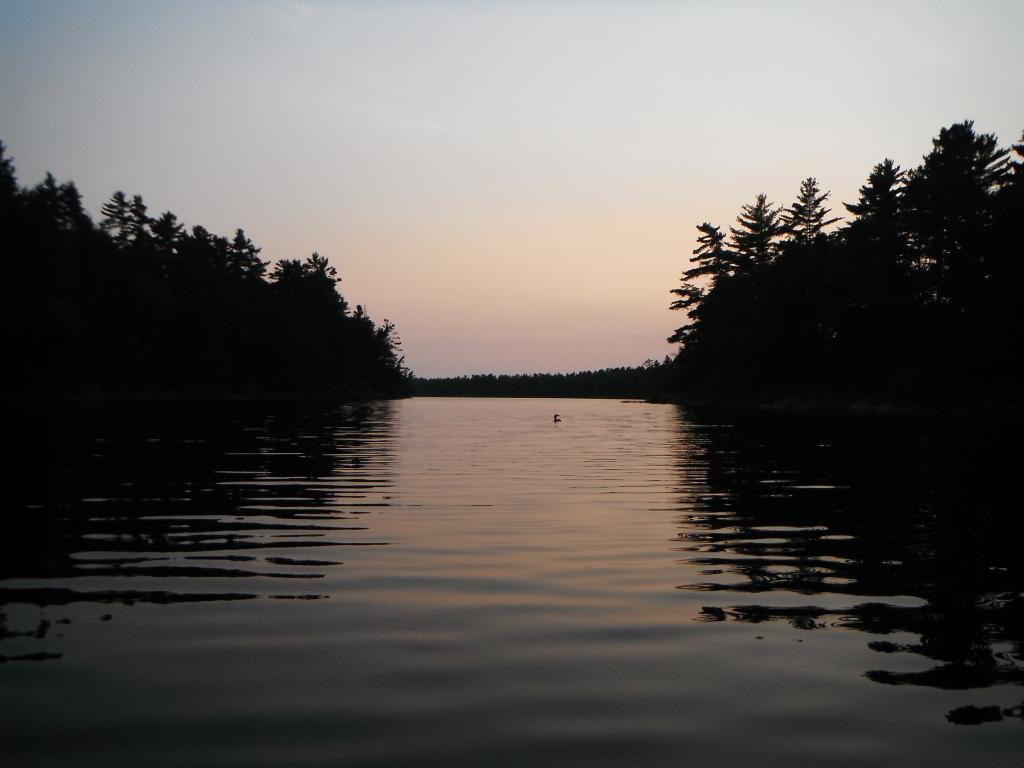 I found a little bay with some lily pads and I threw on a white rage tail toad. How could the fish resist… or so I thought. A few casts in around the pads, I had a bust behind the lure halfway back to the yak. I looked back to the water to see the starkly pointed fins of a small 20″ class muskie high tailing out of the area.
I found more pads deeper into the bay, but what was looking especially fishy to me was not fishy at all. I wasn't getting any action at all. Looking back, I may have been fishing too shallow with water in the 3-4 foot range once I reached the end of the bay. I'm just not sure. I did manage one small bass at the end of this bay on the rage toad.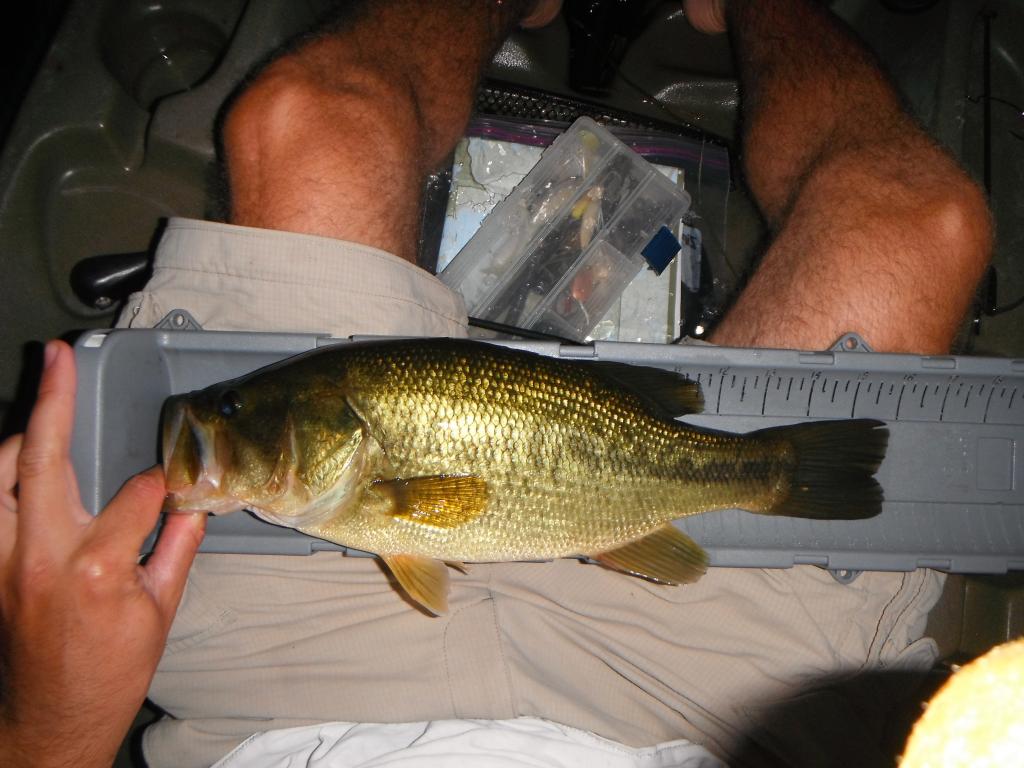 It was dark now, but the moon was out in full force. I kept plugging away with the rage toad, but moved to an island directly opposite my camp. I was throwing parallel to a rocky cliff shoreline that dropped to 10 or 11 fow when this little smallie hooked up.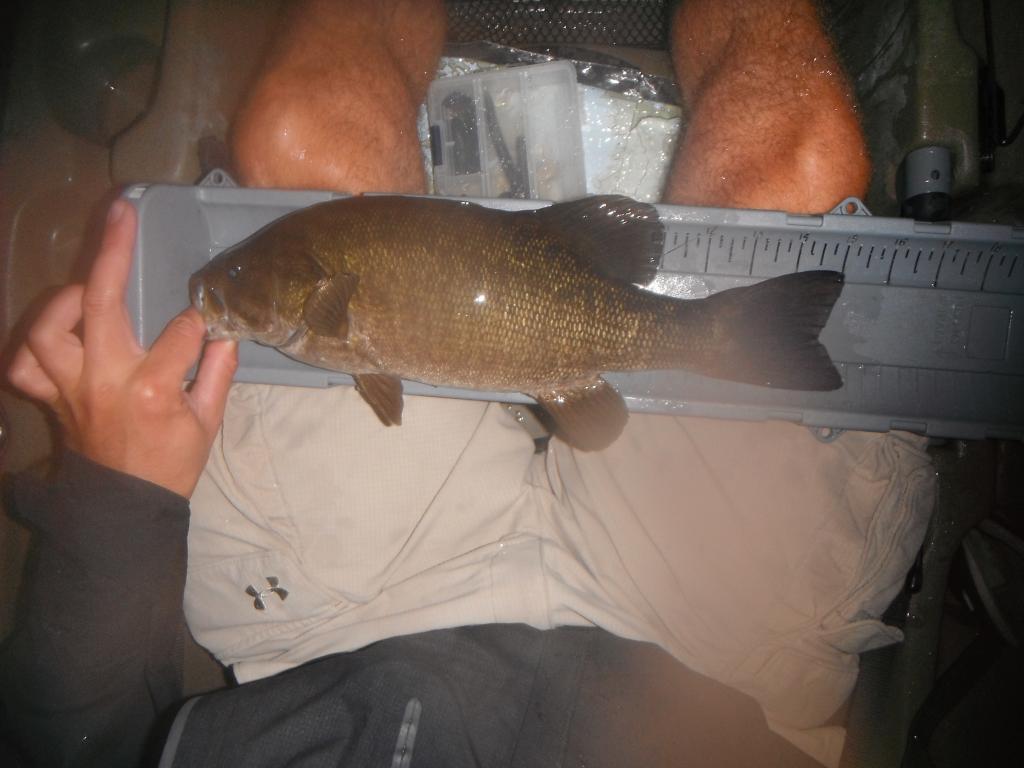 I was getting neither the size nor numbers I was expecting, so the next morning I explored some different bays.
I stuck to the white swammer on the 1/4oz hook and focused on pad-rimmed, sparsely-weeded bays I found in 6-10 fow. Hammerhandle pike weren't uncommon, and I had a good number of strikes and follows from these little guys.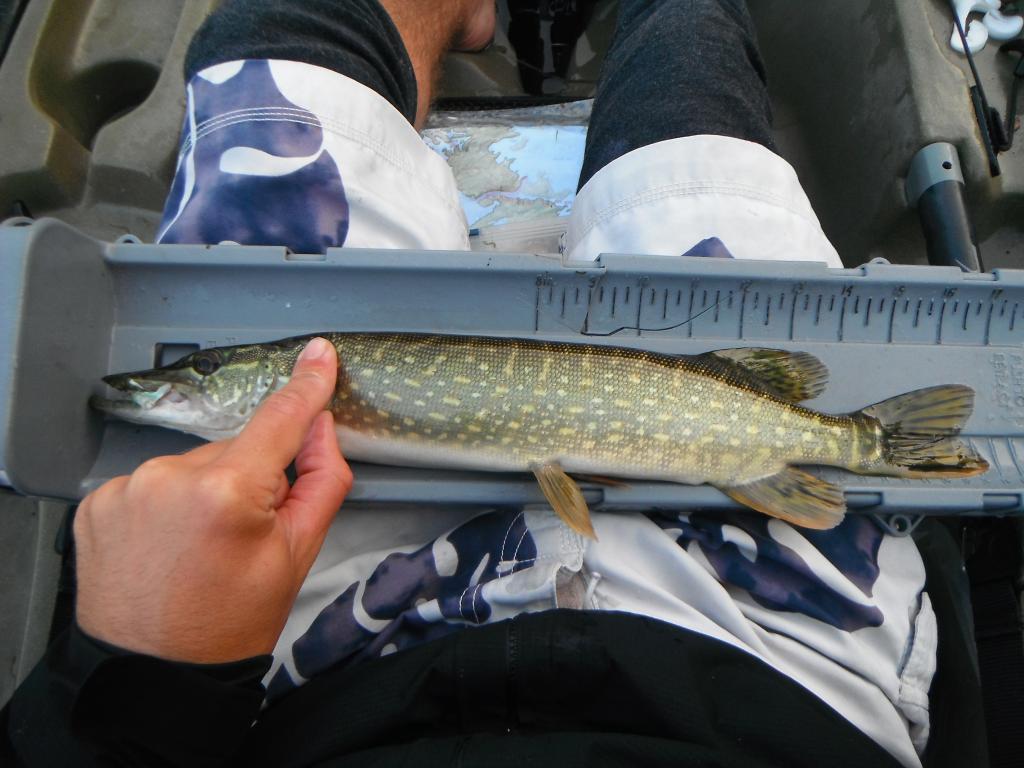 I still wasn't getting what I was after. I was looking for the big bass known to haunt Georgian Bay. A bit confused and disheartened, I returned to camp for some lunch.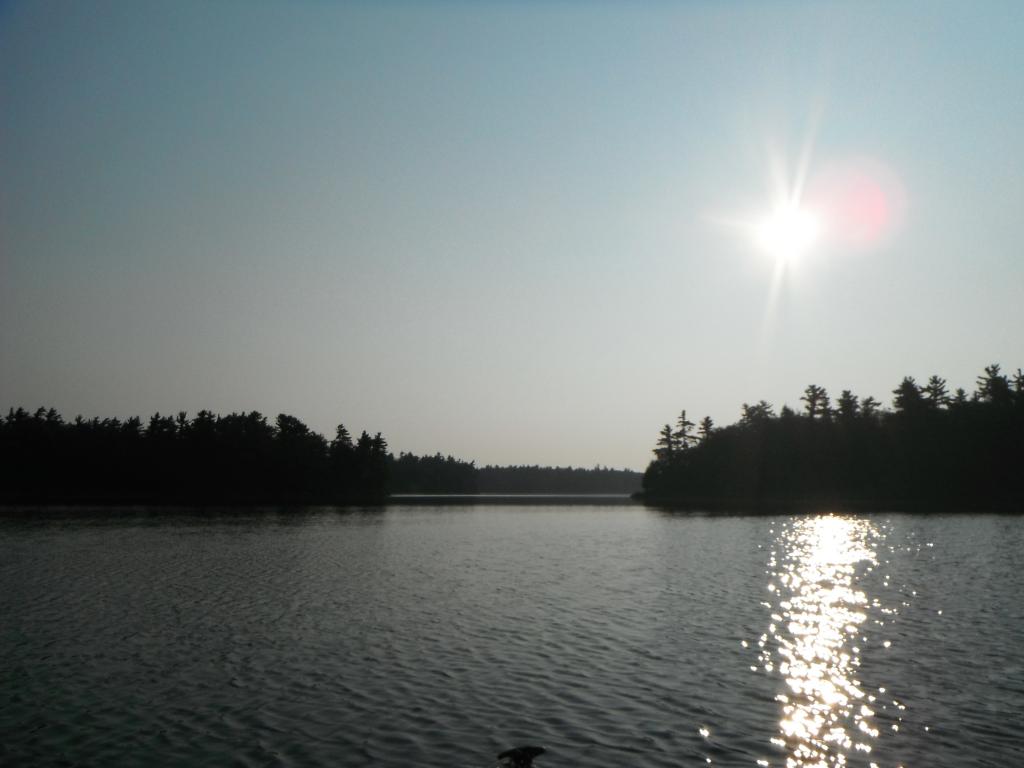 These bluntnose minnows were frequenting the shores of my campsite and I had some fun catching them on the tiniest of hooks.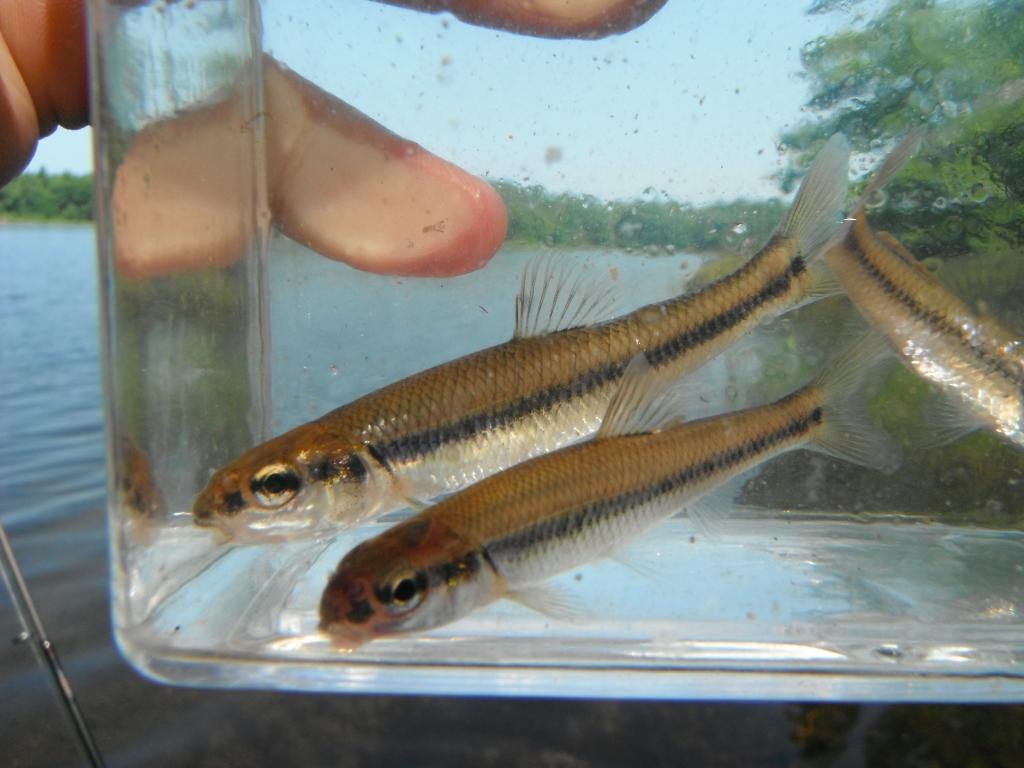 I used some for bait, and they caught me some small bass.
With a senko, I explored a new bay that was covered in lily pads.
I focused first on the deeper pads adjacent to 6 fow before moving in to the pads in 3ish fow. A landed a small pike and lost a decent largie, perhaps in the 2 or 3 pound range. The bass was in the shallow part of the bay, in about 3 fow.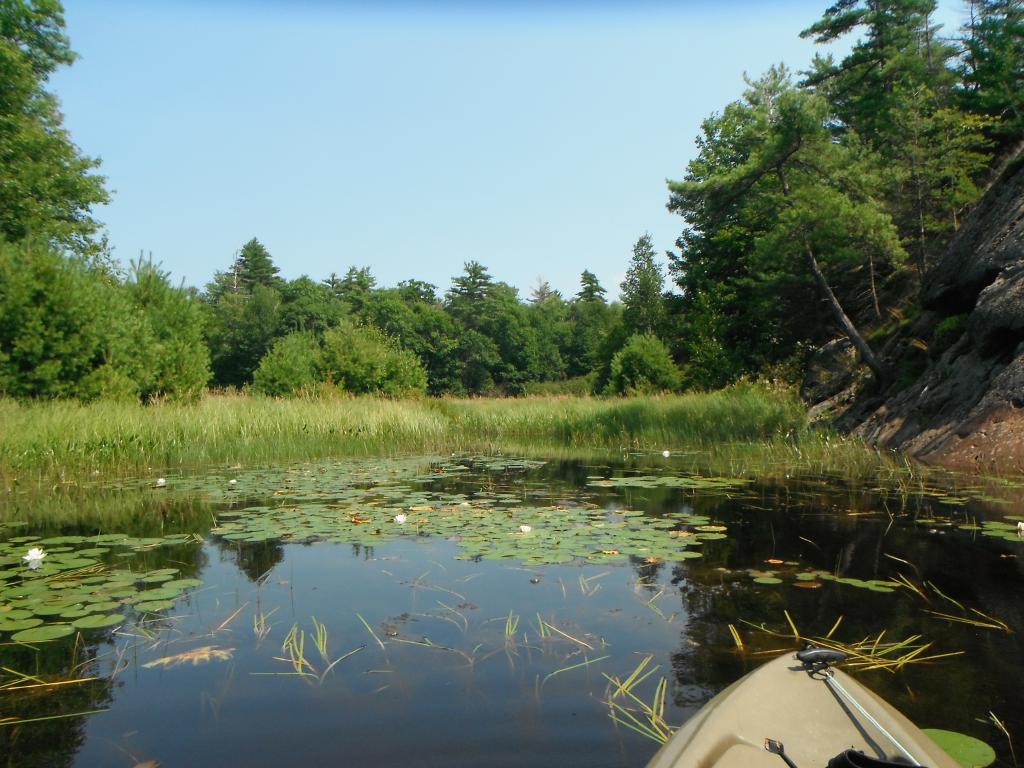 I moved out of the bay on to another. I figured I'd switch my technique up yet again, since things weren't going so well. On went a brown tube, about 3 or 4″, on a gammy stand-up jighead. This bay looked perfect to me, deep water of about 7 feet rimmed with small groupings of lily pads. I casted the tube to the groups of pads, let it sink, then crawled it back to the yak.
I heard a big splash nearby, and saw what I thought was a bowfin but didn't think much of it. I kept plugging away at the pads and the tube was picked up on the drop by something heavy. I saw the outline of the fish and my initial reaction was that it was a muskie due to the colouration and profile. Well, it was actually a bowfin, perhaps the one I had seen!
In the net, this fish was bananas. I had to wrestle my tube free from its clenched jaws, studded with pointy teeth. Then it started rolling and going nuts! I jumped out of the yak to get it properly measured and weighed. 9.6 lbs and 29″ gave me a new Kayak Wars record for Canada. I was stoked!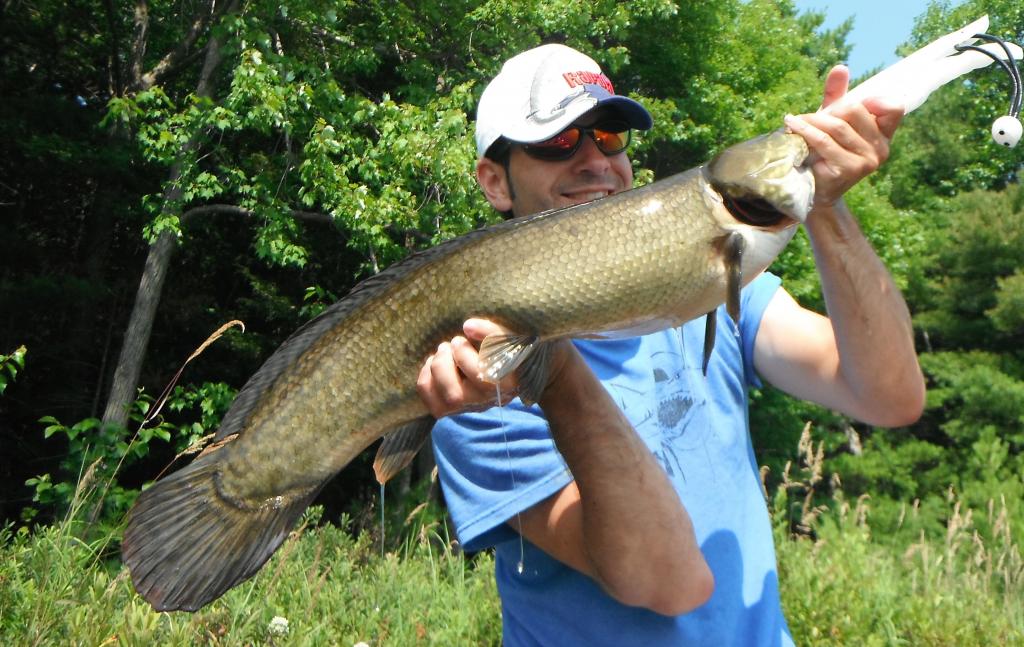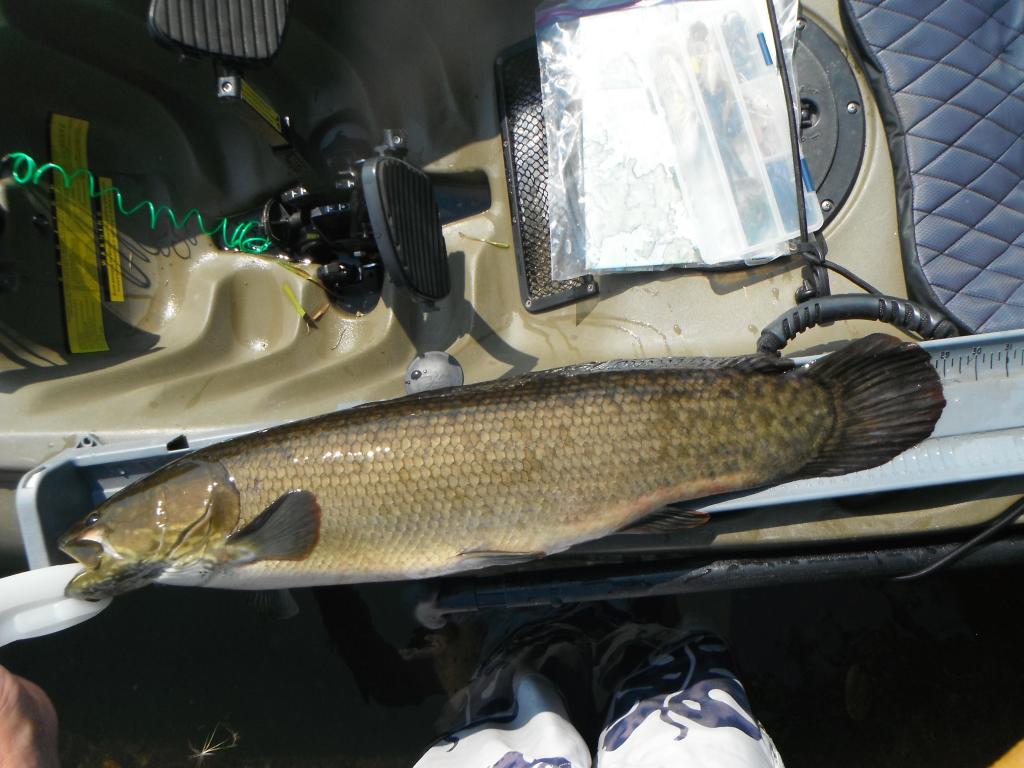 After releasing the bowfin I saw a bowfin gulping air by a felled tree. It was likely the same one. I pitched nearby but got picked up on the drop by a 4lb bass.
Finally it was one of the bass I was looking for!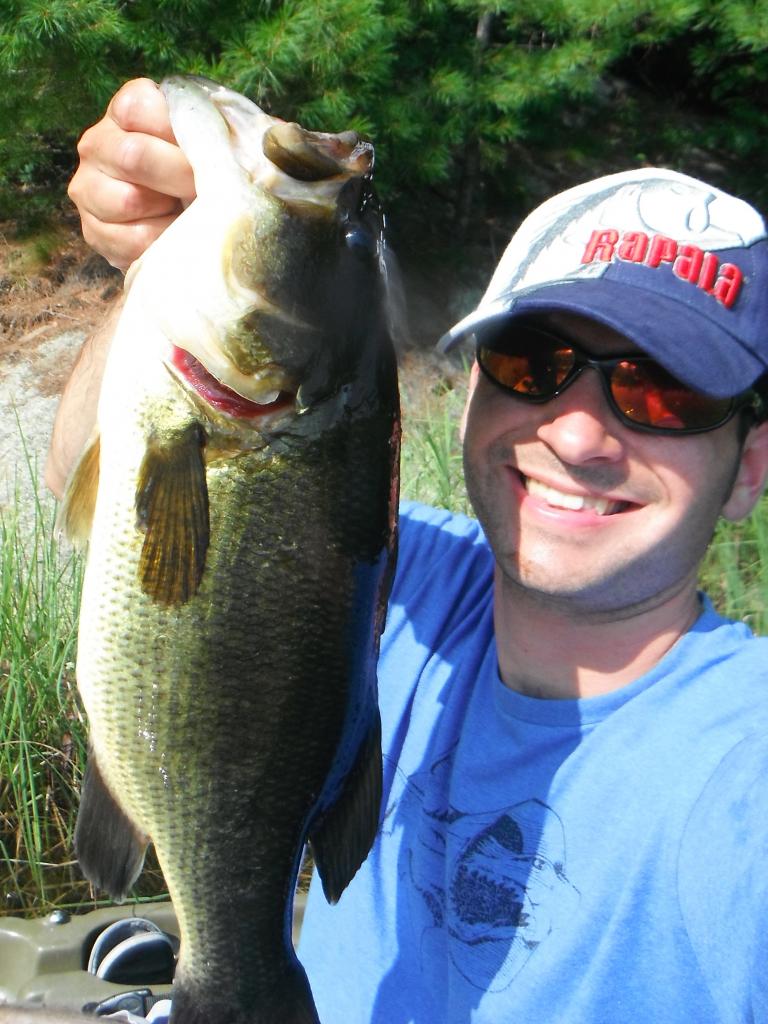 19.5″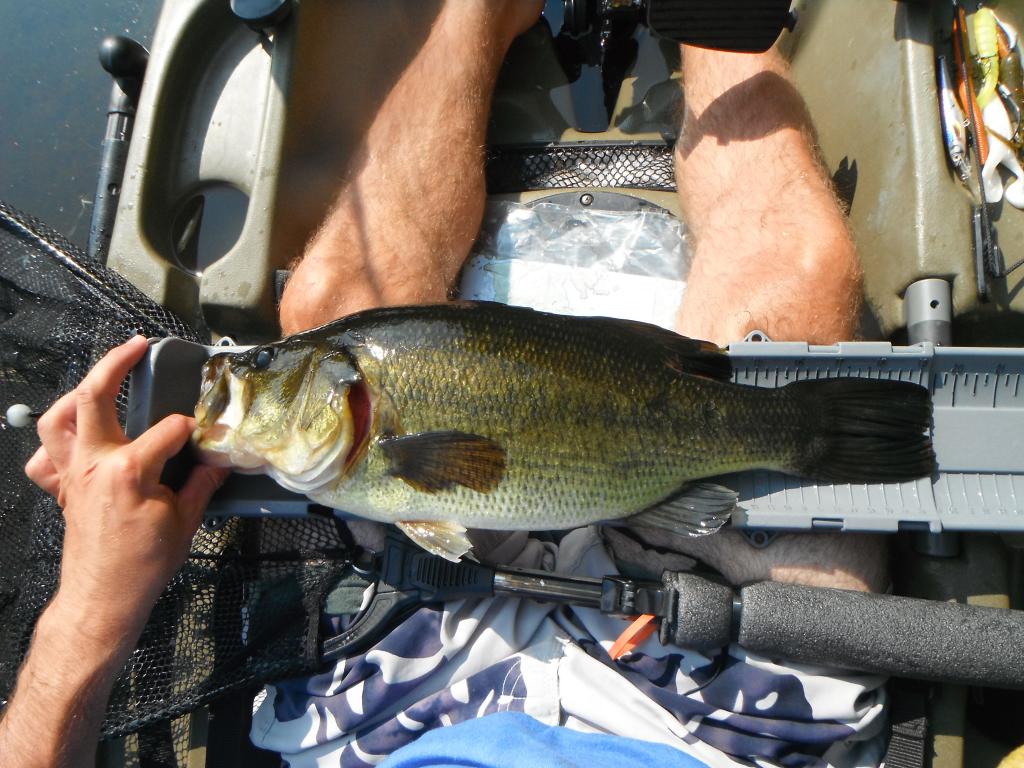 Then my mind went one-track and I spent the rest of the afternoon looking for lily pads. Perhaps it wasn't the best strategy because, even though I found plenty of lily pads, even pads adjacent to deep water, I had only a few small bass to show for it.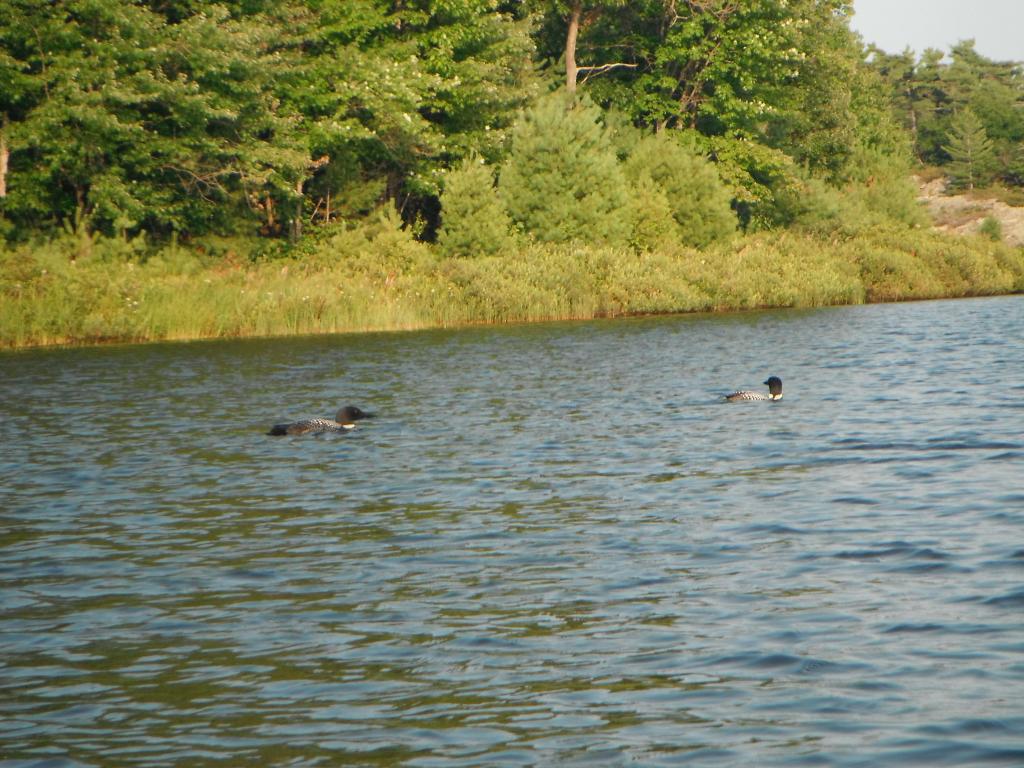 Later in the evening, I began exploring the rocky drop where I had caught the smallmouth the previous night. A few dinks in, I hooked into a really heavy bass that threw the tube at the surface. It was a good lesson in remembering to keep the rod DOWN when the fish is coming UP.
Shortly after, I spoke to two seasoned anglers in boat that were fishing the area. They said they were having success working finesse baits alone anything that looked fishy to them. Pads, rocks, wood, drops… whatever. I would have to re-think to lily pad-oriented strategy.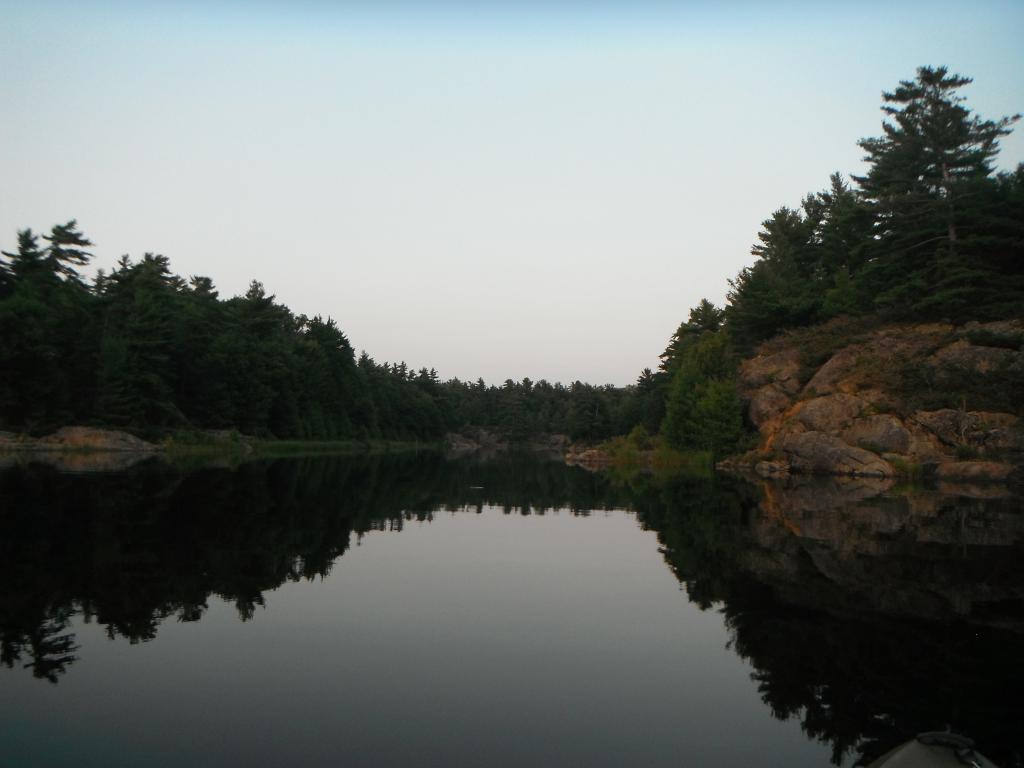 A few rock drops later, I hooked into another heavy bass that gave me the somersault farewell when I couldn't get my rod down fast enough!
It would seem that this was a numbers game of moving and casting to new areas, in search of the dispersed fish. Perhaps I've gotten it wrong, but this is what I gathered.
I returned to the lily pad refuge to try it with some topwater, but action was non-existent. Not even a nibble for me that night.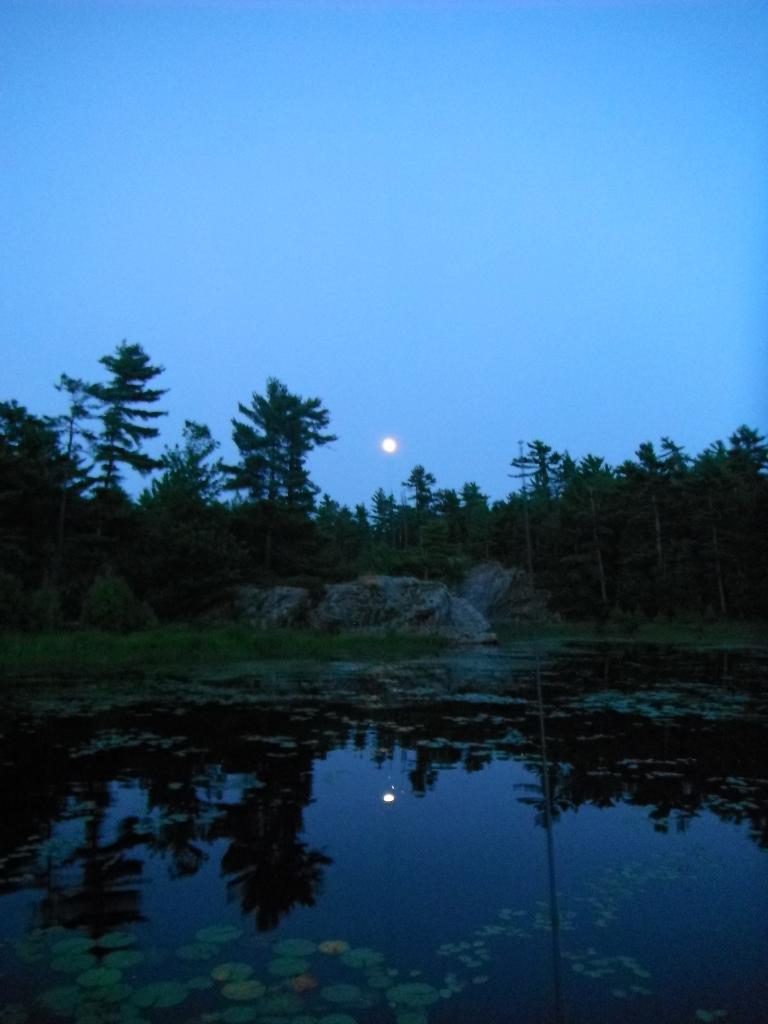 The next morning's plan was simple. I'd stick with the tube since I knew that it was getting bit. I would cover as much shoreline as I could.
Along the way, I spotted some interesting minnows. I caught one to see if I could add a species to my lifelist. Getting some ID help from Ken, we're still not sure whether to call this one as mimic shiner or sand shiner, but we're working on it! Either way, it's a new one for my lifelist.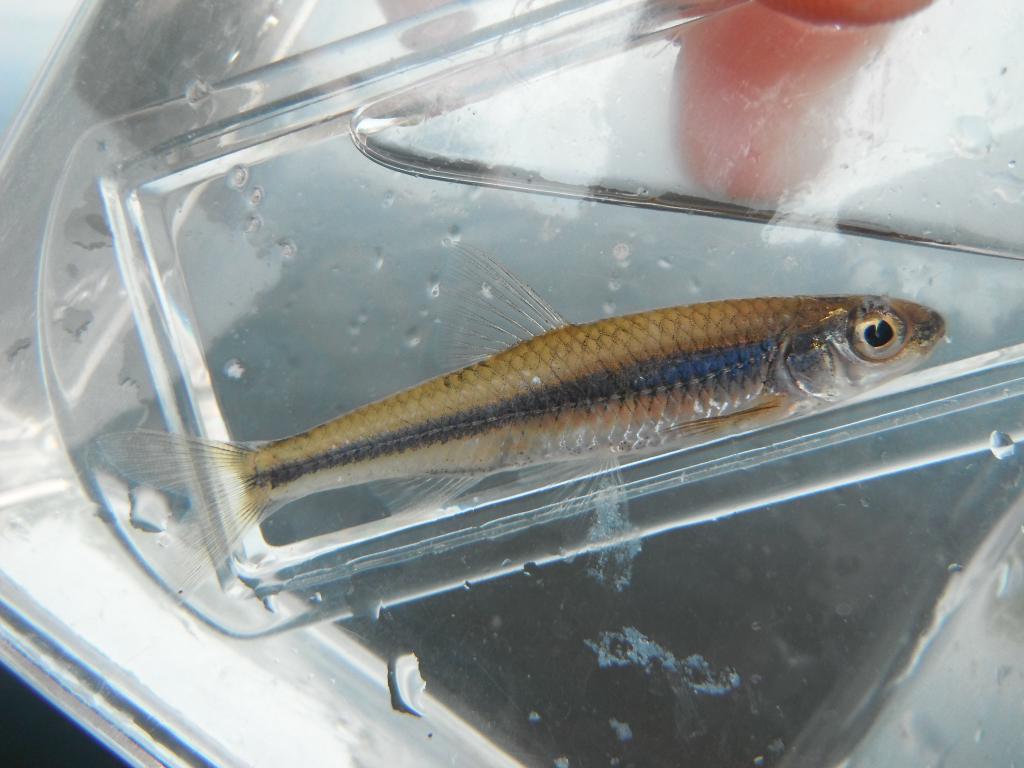 Edit August 4, 2015: Based on a count of 8 anal fin ray rays and a light dorsal stripe, the fish above has been identified to be a mimic shiner. Sand shiners typically have 7 anal fin rays and a more darkly pigmented dorsal stripe. In the future I'll have to pay more attention to the black pigment on the ventral surface of the fish, as this is a more definite way to differentiate these two similar species. I'm adding mimic shiner to my lifelist for now.
I spotted some bass cruising a thick weed bed so I focused on it for a bit with a senko, a swimbait, and then the tube again. Nothing to show for it.
It was Sunday afternoon and time to start heading home, but I wasn't satisfied so I left my rods unpacked and accessible in case I crossed some fishy waters on the way back.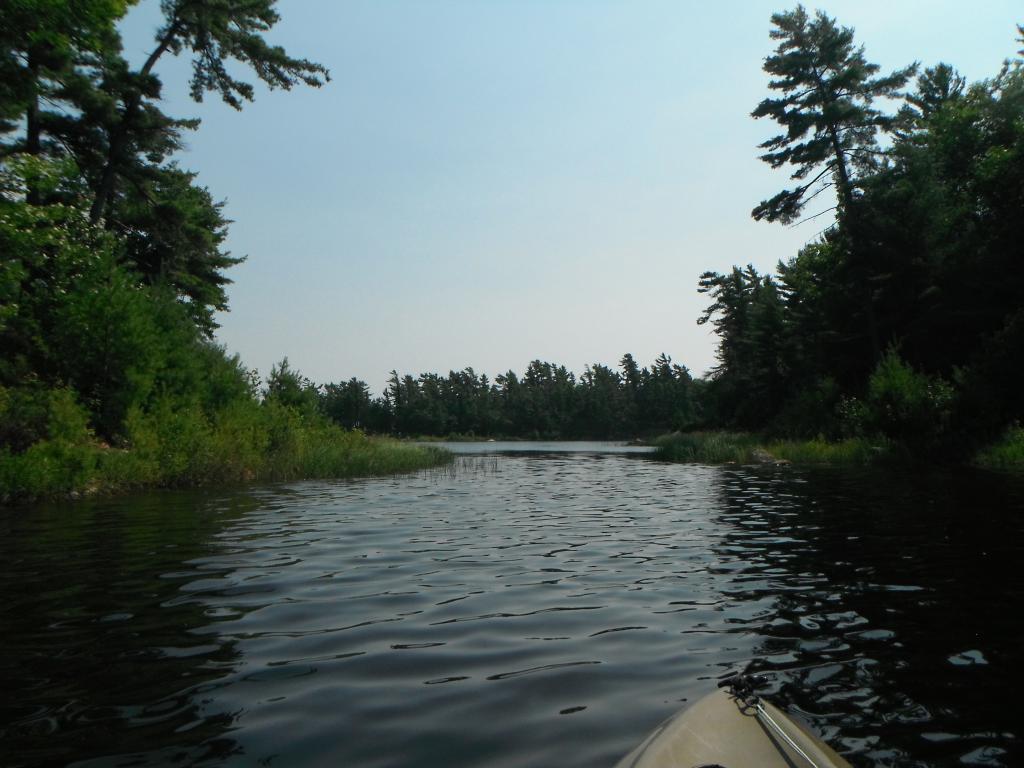 This water snake was a real treat to behold: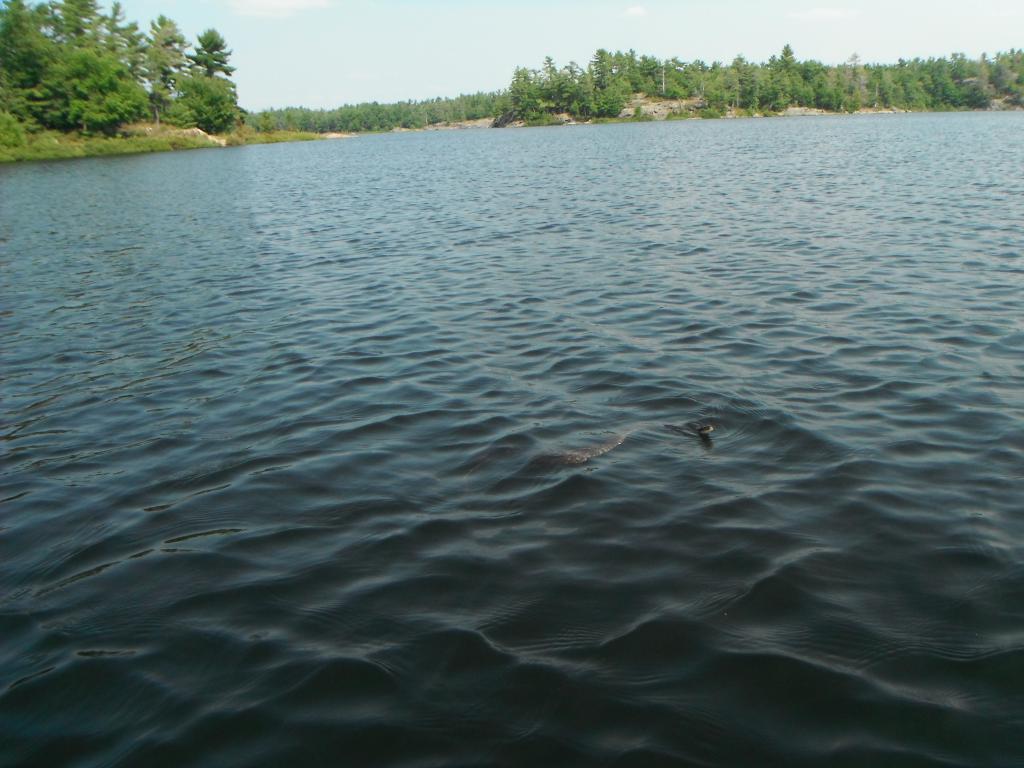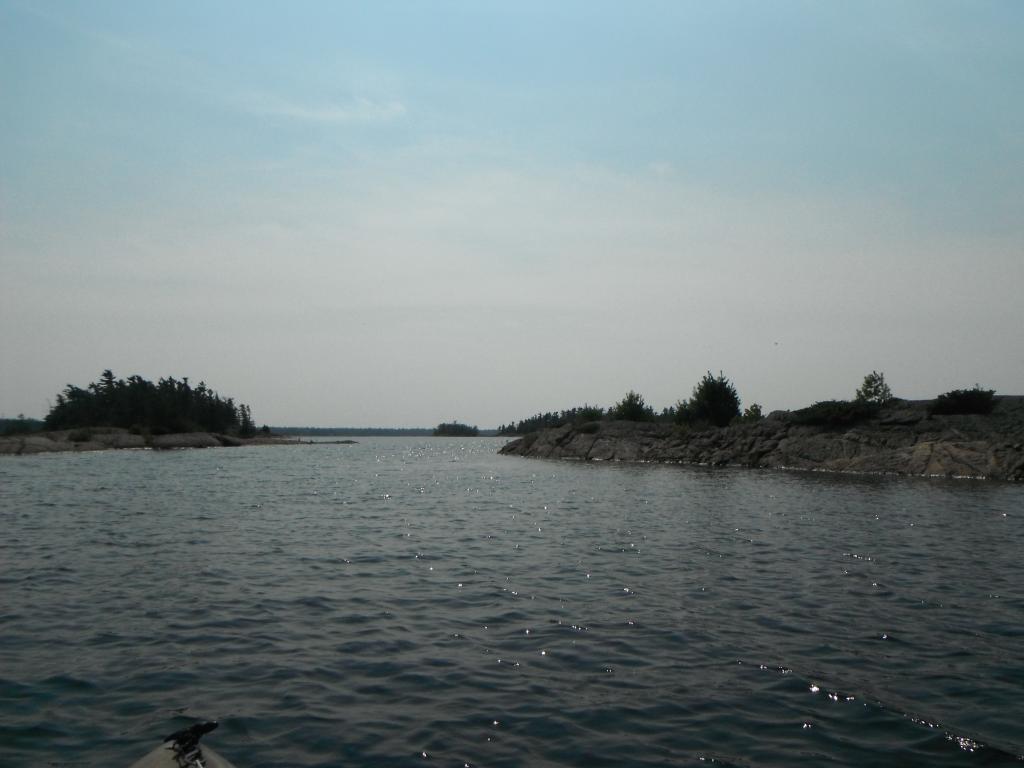 I was casting that tube like crazy. Almost every pad, weed bed, rocky area, and drop-off got some attention. Finally, just finally, on the last narrows back to the access point, I was picked up in a rock corner rimmed by weeds, yielding a 3lb class smallmouth.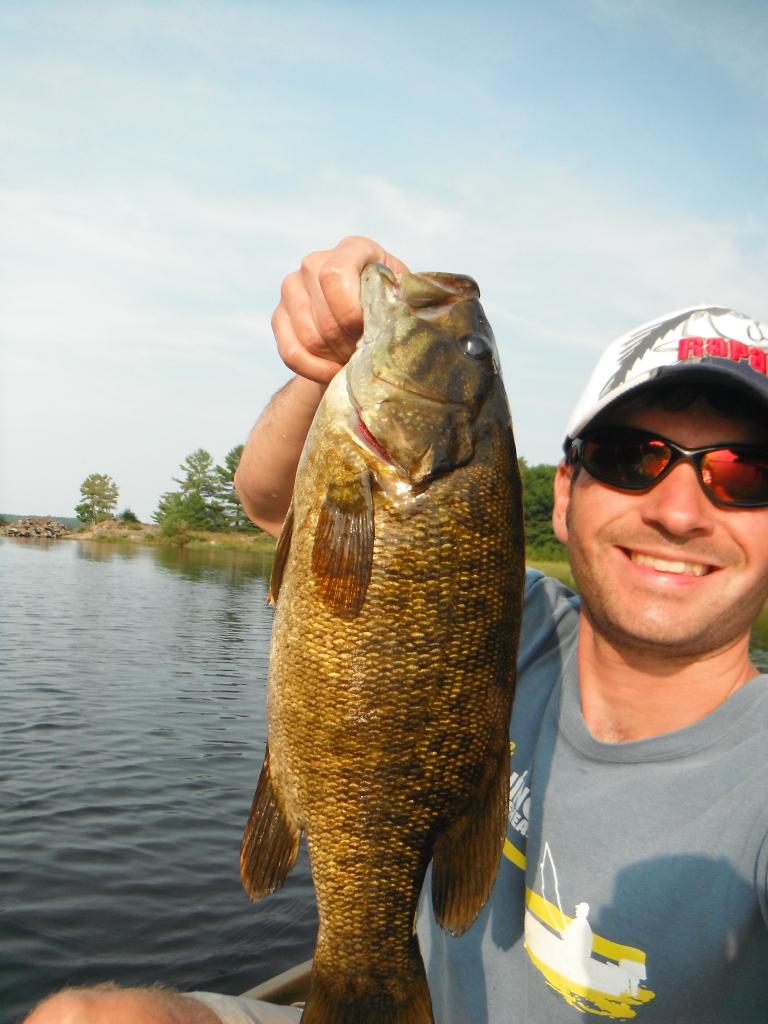 18.5″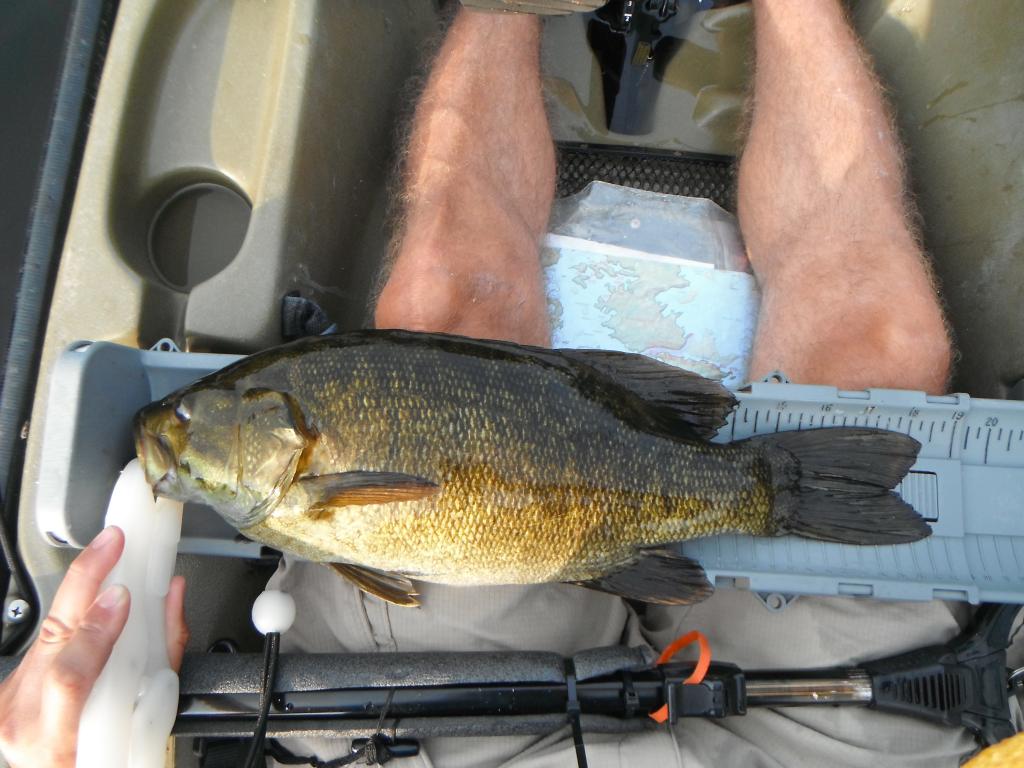 I checked out the nearby back-bay that was rimmed with pads and even featured a beaver lodge at the very end. As I crawled the tube alone some pads, this 17.8″'er picked me up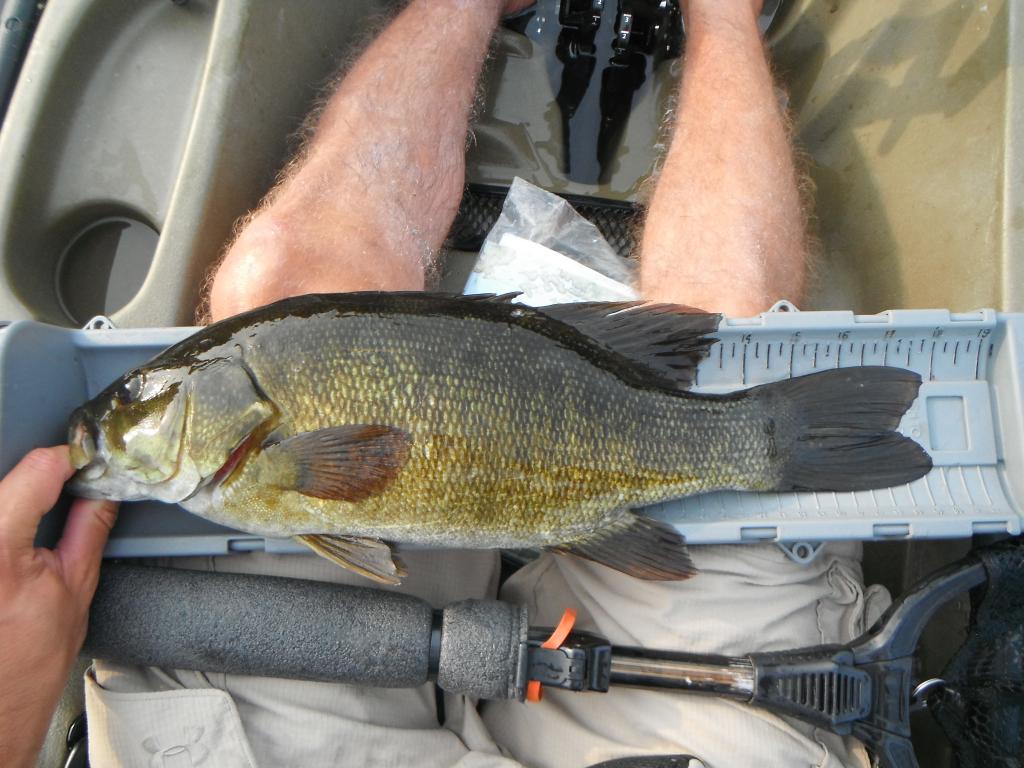 By the beaver lodge, I saw two largies cruising just a few feet away from the yak. I threw to them and of course the smaller one picked up the tube. I shook him free and threw my mis-rigged tube back to the larger one, who was starting to move away. I somehow piqued his interest and watched him gobble up the tube! Fun times!
16.75″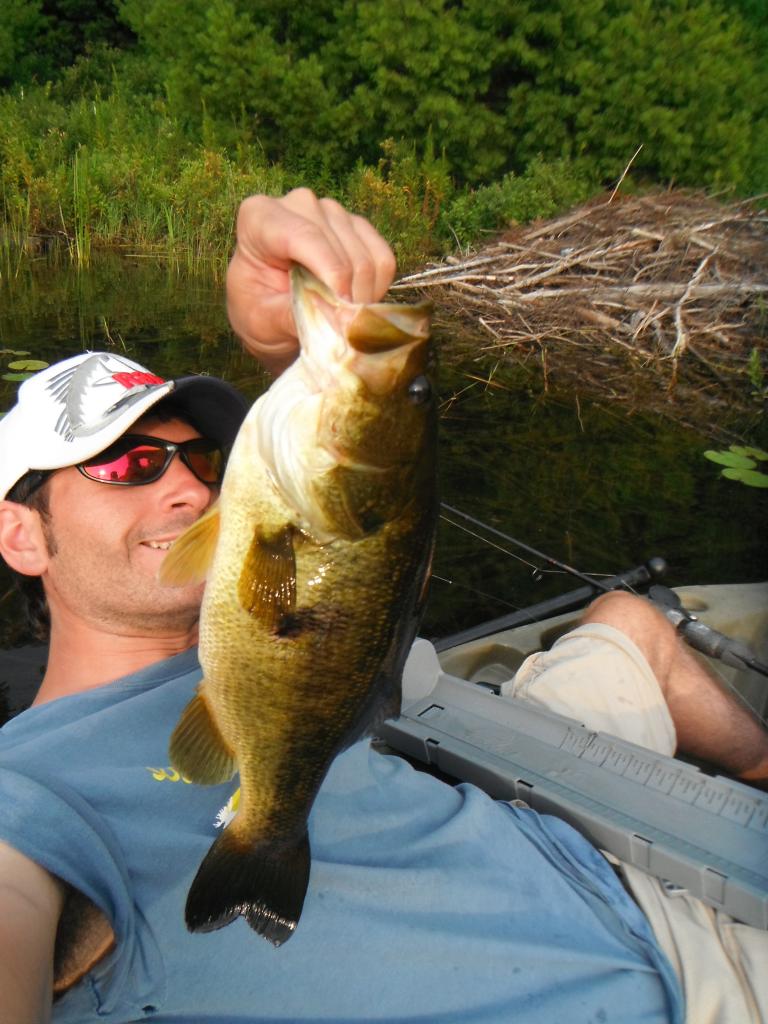 So I had caught nearly as many pounds of bass in the last two hours of the trip than the rest of the weekend combined. Go figure that one!
The cherry on top was getting checked out by a small bowfin. He crept up to the yak, and began waving his dorsal fin around in excitement. He wasn't afraid, but rather seemed intrigued by the massive turd floating above him (I'm referring to the kayak haha). He wasn't interested in the rage toad I had tied on at the time.
A bit more satisfied with the fishing, I pedaled back to where I had begun on Friday.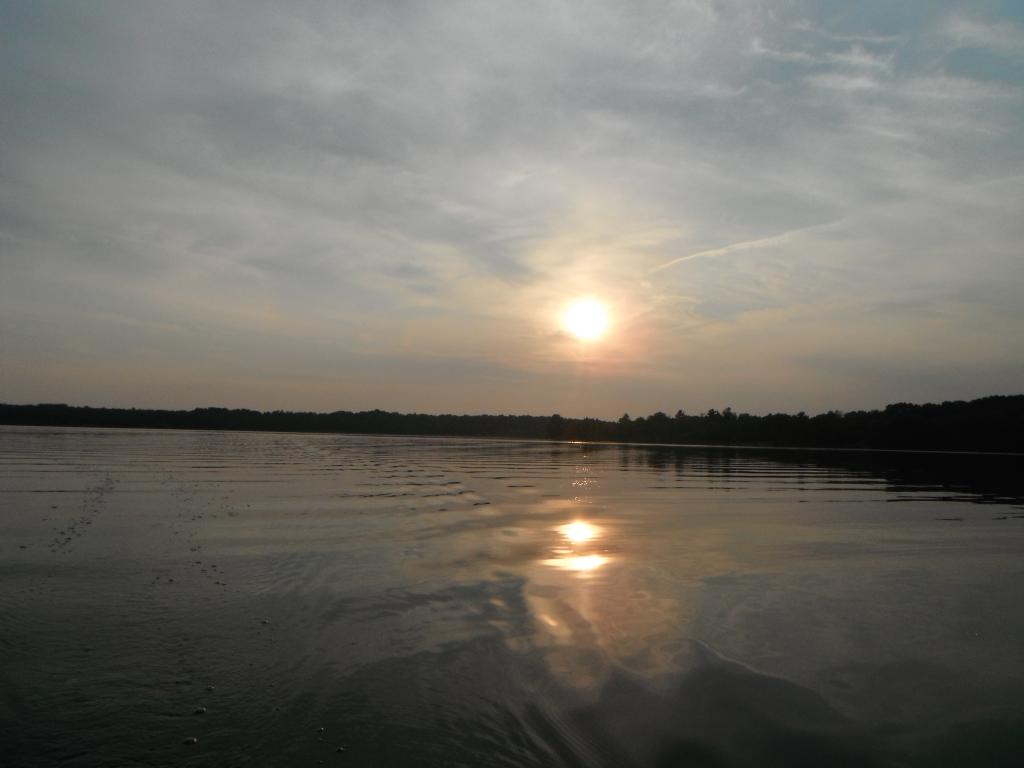 Thanks for the read!