Went back out this weekend for another Simcoe Saturday. Bright and early I found myself peddling to my spot in near-perfect conditions.
I made a quick pass around the area, in search of last Saturday's fish. To my dismay, my screen was quite blank. This started to conjure up memories of my ice season this past winter. Well, I looked at the bright side: at least if I was going to be staring at a blank screen today, it would be in some darn fine weather.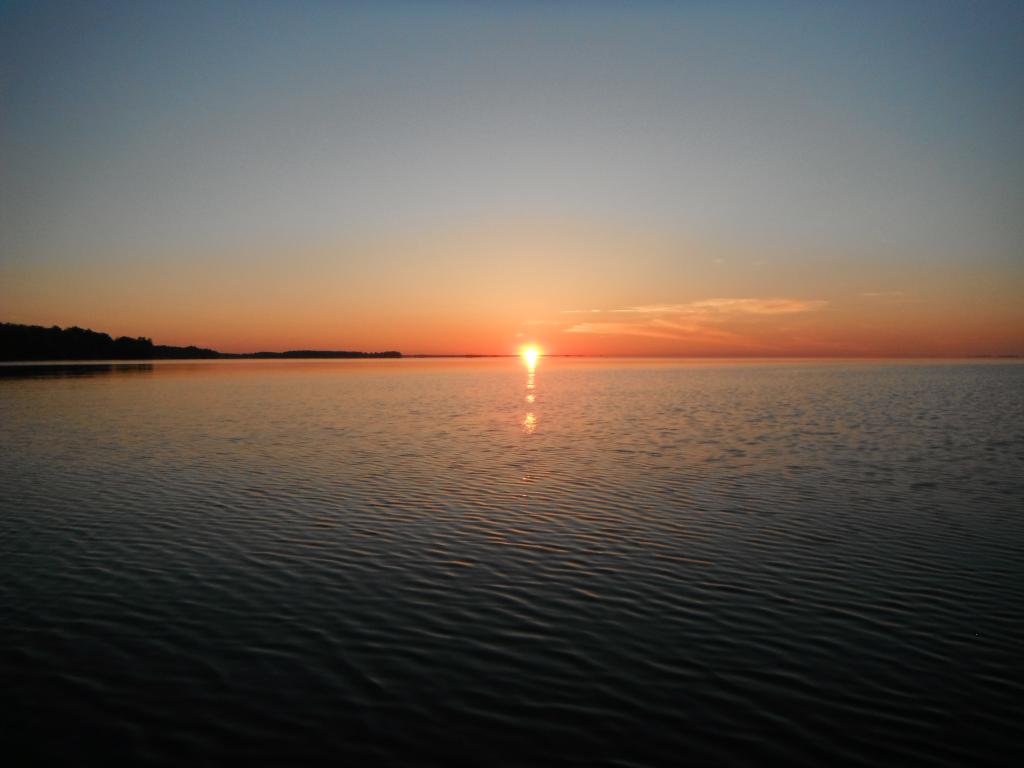 Last weekend's fish were congregated under a flock of birds, but there were no birds in sight this time.
Perhaps 30 minutes into the blank screen stare-a-thon I saw a boat heading my way. I was glad to meet Will whom recognized me from another fishing board. We started chatting and decided to move around in search of fish. I headed deeper and Will headed shallower.
In the deeper water I wasn't having any more luck. As I was packing up to leave, I spotted a high cruiser about 20 ft down that responded favourably to my bad boys jig as I dropped it back down. If there's an argument to glue your eyes to your sonar screen, and set to split-zoom mode, this is it. What a memorable fish, the longest laker I've had the pleasure of measuring so far coming in just shy of 32″ at about 31.9″.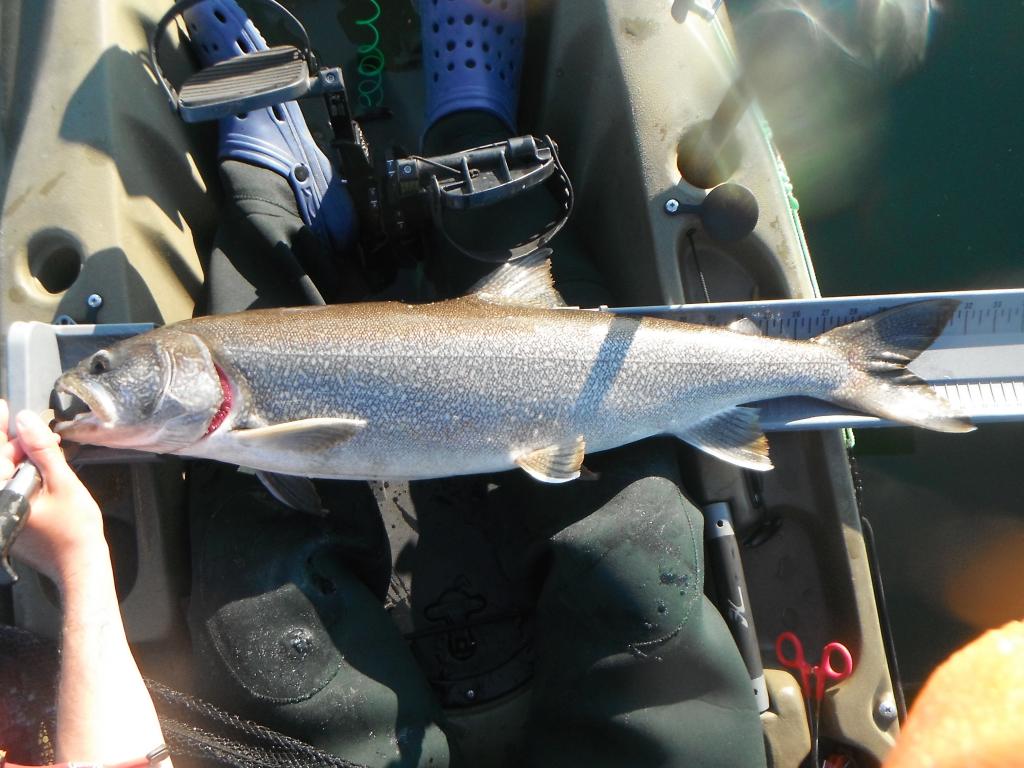 Hooray!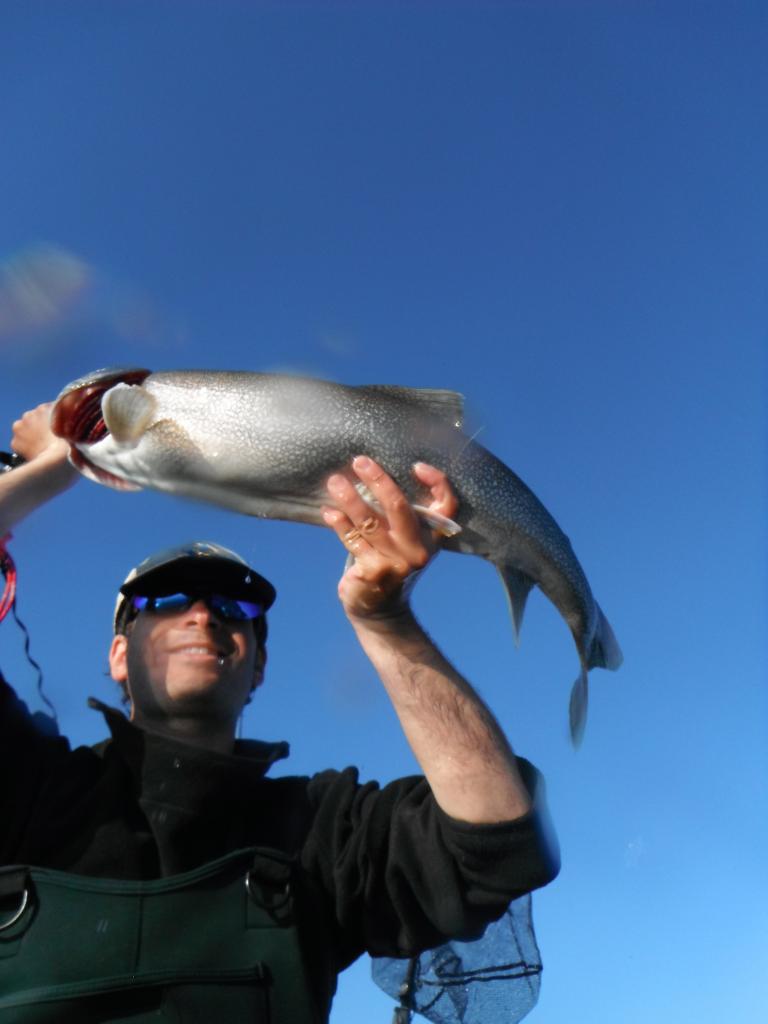 With that I peddled back to get an update from Will. Just a minute after pulling up alongside Will, he had a chaser smash his Vibrado. We joked about good luck coming in the form of a turd-coloured floating hunk of plastic! The fish ended up jumping out of the net, but he proceeded to put on an absoulte clinic, getting fish to chase him up and down every few minutes. Meanwhile, I was looking at a blank screen. I had a few questions for Will, but I still couldn't replicate his success. He quickly hooked another fish and lost it halfway up. I was scratching my head!
Things died down so we drifted apart to find the fish again. After a while, Will came over to join me and my blank screen. Just minutes after joining me the fish were chasing his lure around and clearly I was just chasing them away with my blank screen. He hooked up immediately and landed an abosolutely gorgeous laker. Congrats Will! A bit more jigging and Will got a few more follows while I got zippo. I asked more questions, but could not bring the fish over from the Will's spot 20 feet south of me.
As things slowed down, Will bid farewell and I buckled into a long day of searching and jigging. No pattern came of it. It appeared fish were scattered all over the map with no place of concentration that I could find. No birds came to my rescue. The odd mark would be a tough customer. I ended up losing some fish too, going 4 for 9 by sunset, and on a grind day like this losing a fish was tougher to swollow.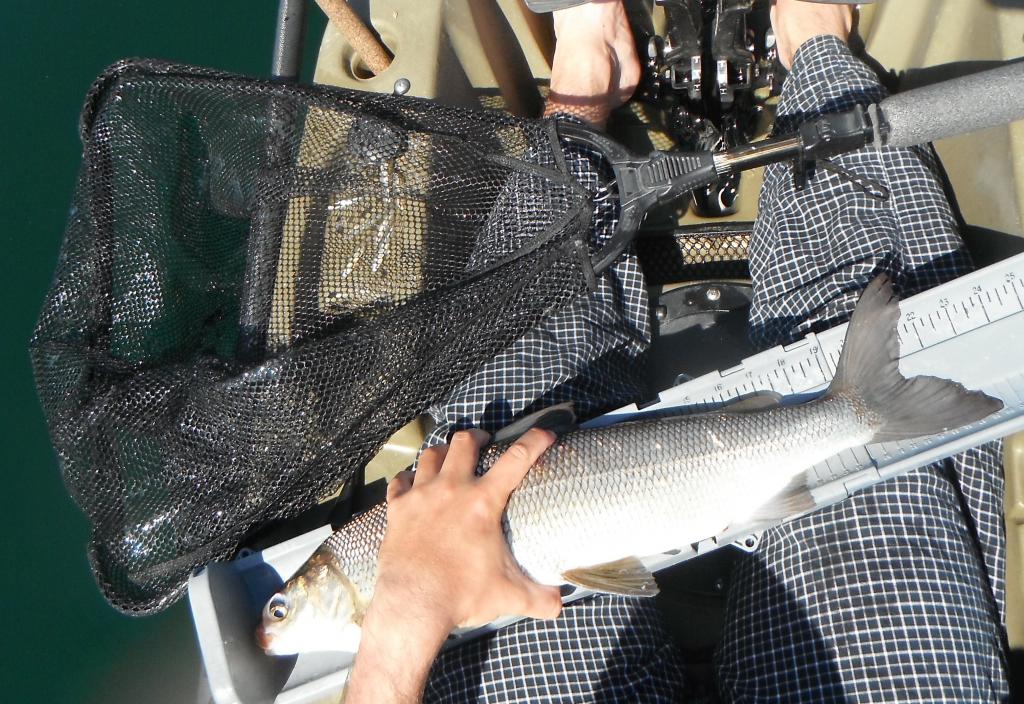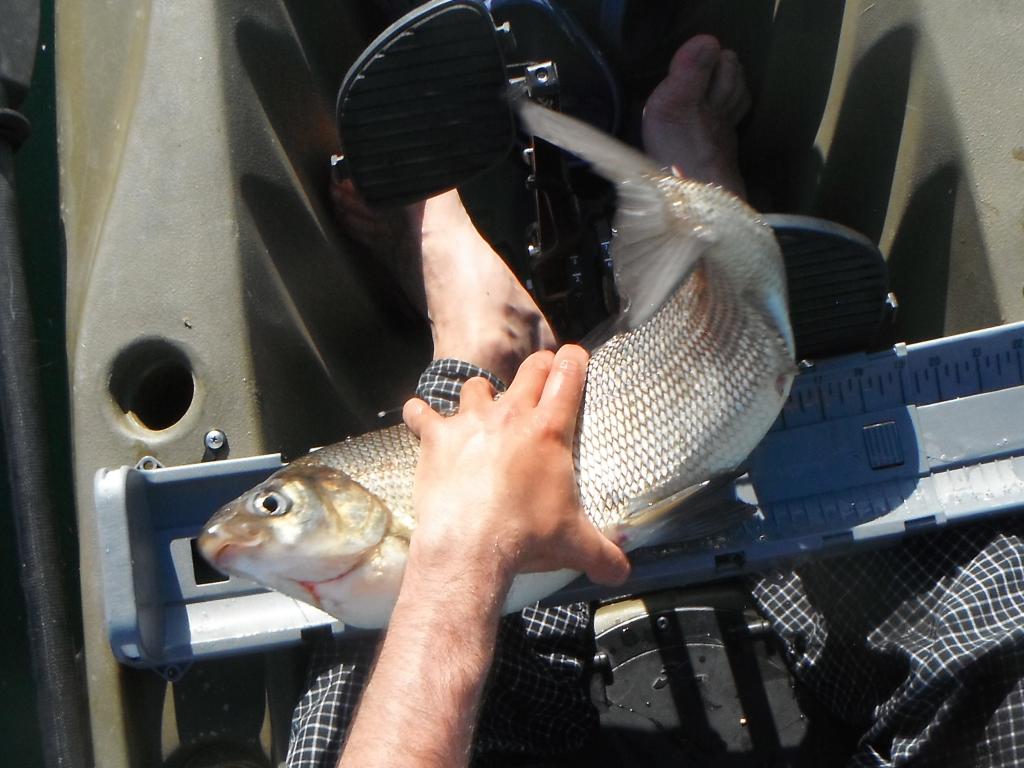 I did manage to end the day with this fine 28.5″ laker. After tussling with the whitefish in May, these lakers put on a refreshing kind of show.