My legs were burning today!
Fighting current for 14 hours does take its toll. Fortunately, I do have some exhilarating fish and tales to show for it.
On Friday evening after work, I arrived at the spot, a grassy point shown to me by a friend. In the fading light, I didn't take much time to survey the area, I simply anchored up around 13 fow where it felt right and tried to entice a fish. Nothing happened, but there were fish surfacing all around. As night fell, I was covered in a blanket of caddis flies!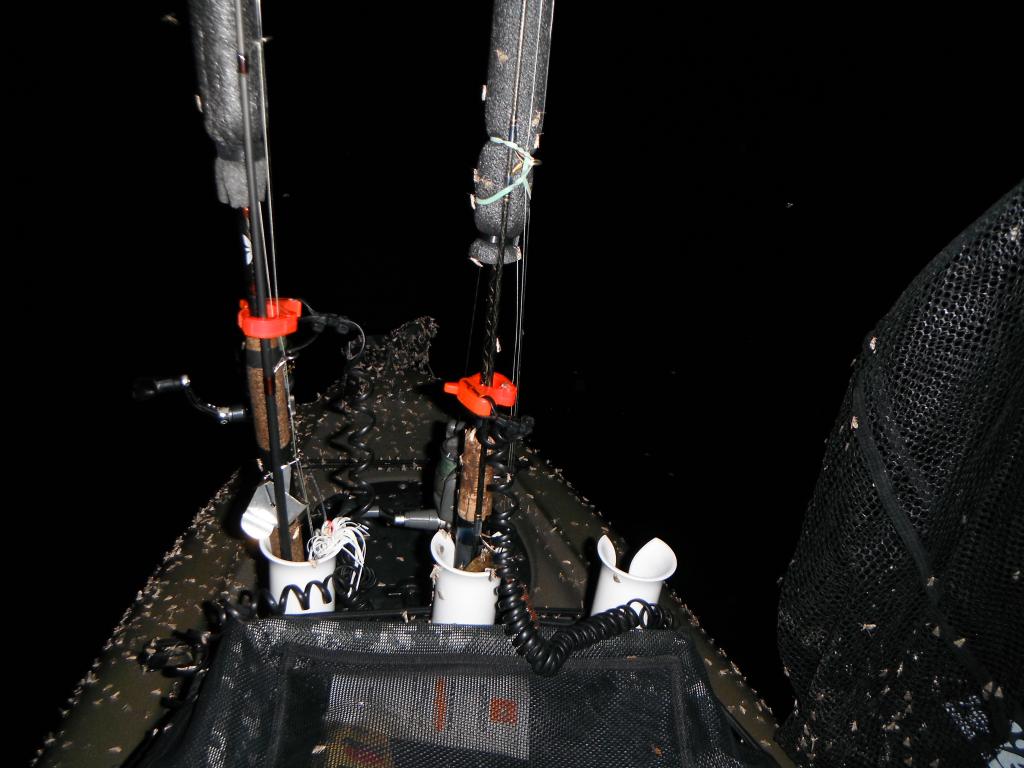 I wasn't too excited about the next day, so I was slow to start. To my surprise, the morning was quite unlike anything I've ever experienced. I pedaled back up to the grassy point, and stood up to take a look. Some smallmouth were still on their beds and there were even more on the cruise.
A boat drifted past me and I asked them how things were unfolding. They told me to start throwing jerkbaits and look for follows. I decided to start standing in the Outback to get a better understanding of what was going on around me. Fishing standing in a yak was new to me, and I am now converted.
I made a few casts with a swimbait on a weedless football jig and, right on cue, was followed by a sizable bass. The bass inhaled the bait, I gave a set, and pulled the weed-guarded hook right out of its mouth. The start of a new pattern. I had a few more follows after that by bass both big and small.
I lost a good one after being too lazy to grab the net. Nothing like getting a great fish boatside and then watching it casually swim away.
Then I switched to a suspending crank. Jerk, pause, jerk, pause SLAM. This was the first time I've gotten a bass on a jerkbait… unforgettable! The fish was airborne in an instant. What a display. Suddenly I'm craving smallmouth.
17.6ish "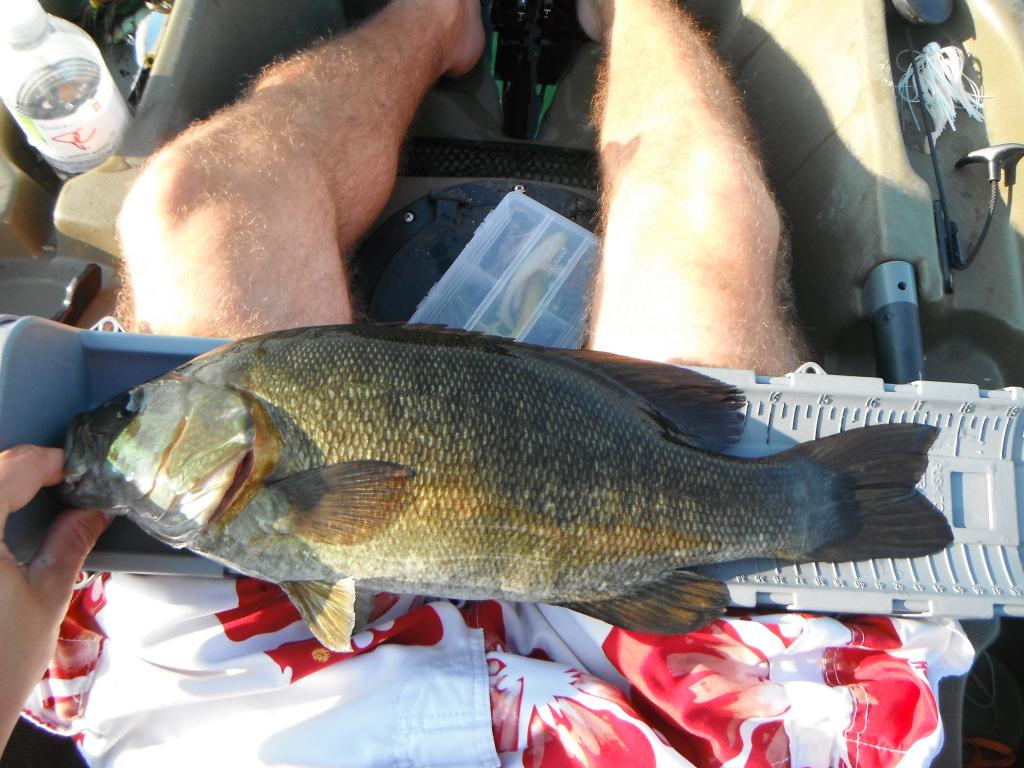 Poorly-lit-smudgy-background-selfie time!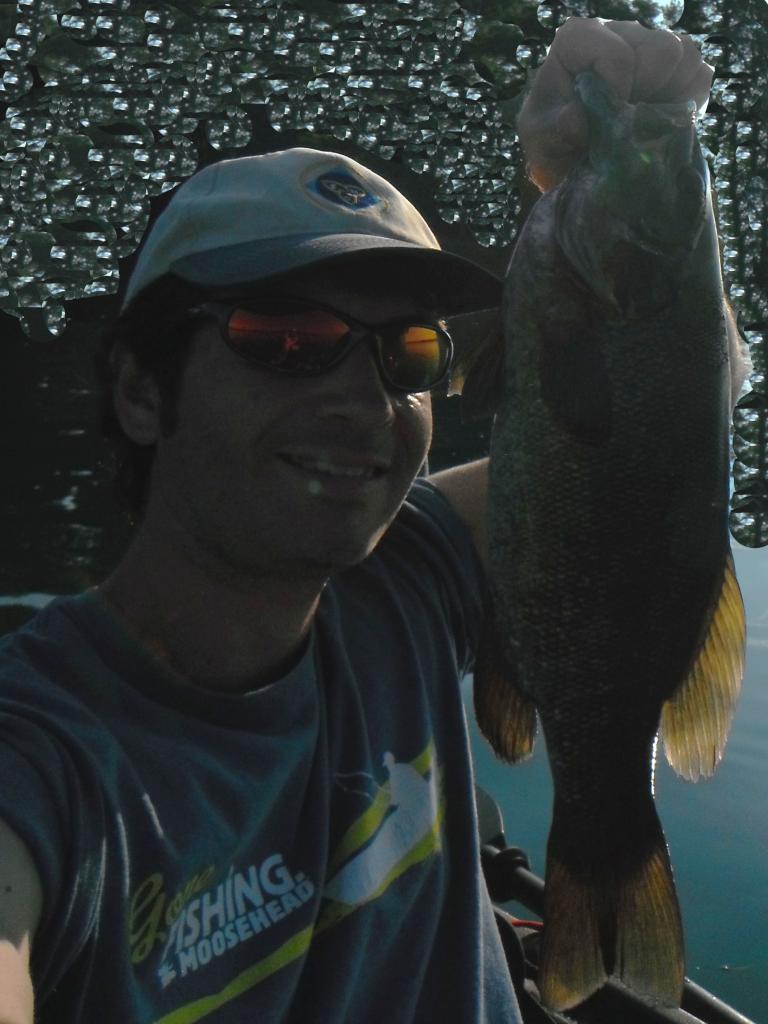 I worked various depths from 10 ft. to 6 ft. switching to a shallower running suspending crank to work the weed tips.
17.25″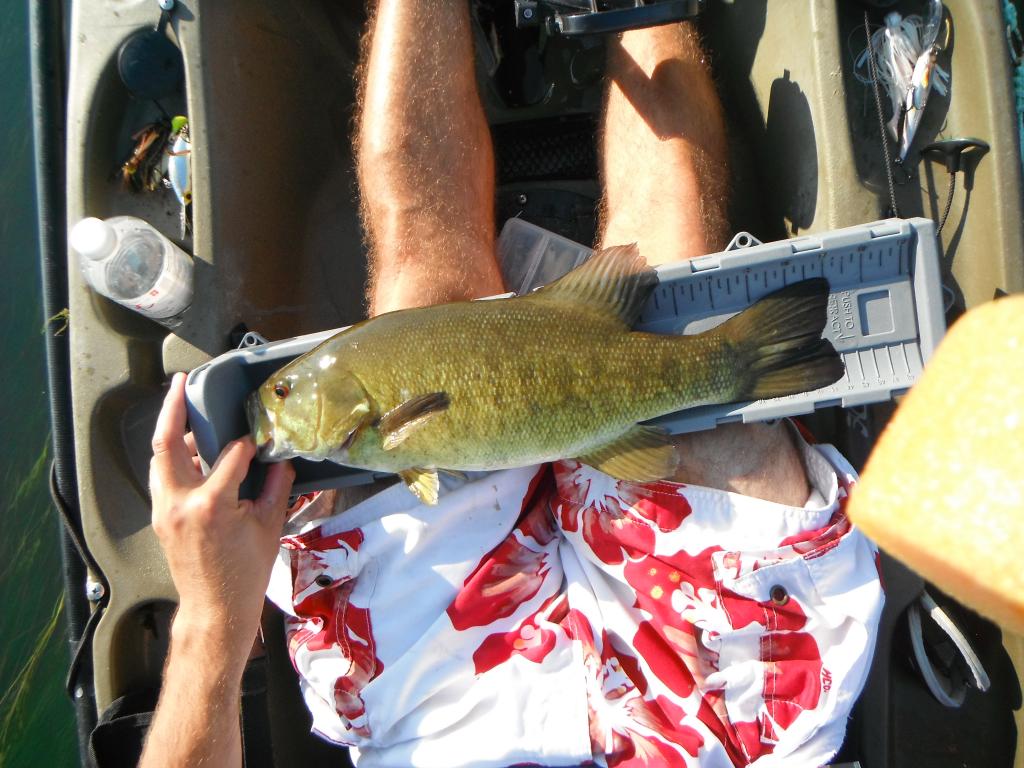 17.7ish"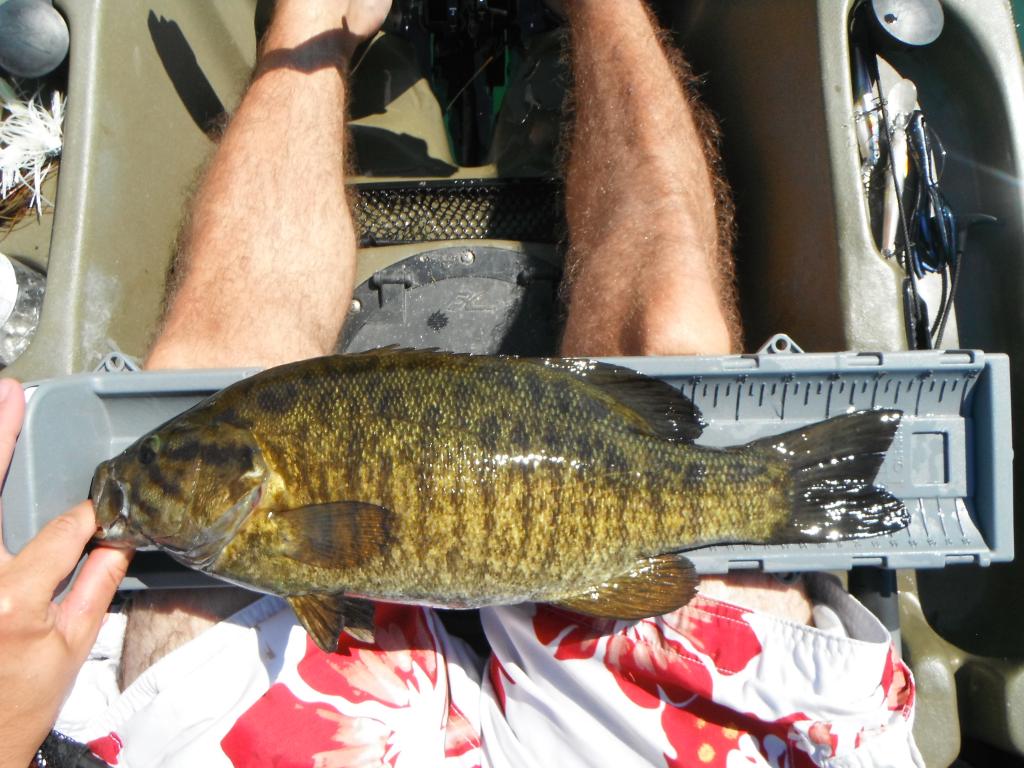 The fish would just love to follow, but were quite hesitant to actually strike. The fights were unforgettable.
Around 10am they stopped showing interest in my jerkbait and swimbait. I lost another good fish, but the fish interest had diminished. Bounced a tube around the weeds without success.
I tried working deeper, but just didn't have enough experience or know-how to catch anything. I tried bottom-bouncing tubes and working a deep crankbait with no success. I wanted to slowly crawl a jig along bottom like I had done last year, but I couldn't figure out how I had held bottom with only 1/4 oz. Perhaps the current was stronger this year as anything I threw down would be swept away.
I really was at a loss for what to do next. I wanted to wait for the evening bite, so I had many, many hours to kill.
I was chucking a chartreuse swammer on a ball jig and it had become covered with weeds. I haphazardly chucked it out over a weedy 1 fow and ripped it to get the weeds off. My drag started going and I received one mangled swammer in return. Something had grabbed the tail. I threw another cast out over the weedy shallows and literally two cranks later got this 3lb'der!
18.1ish"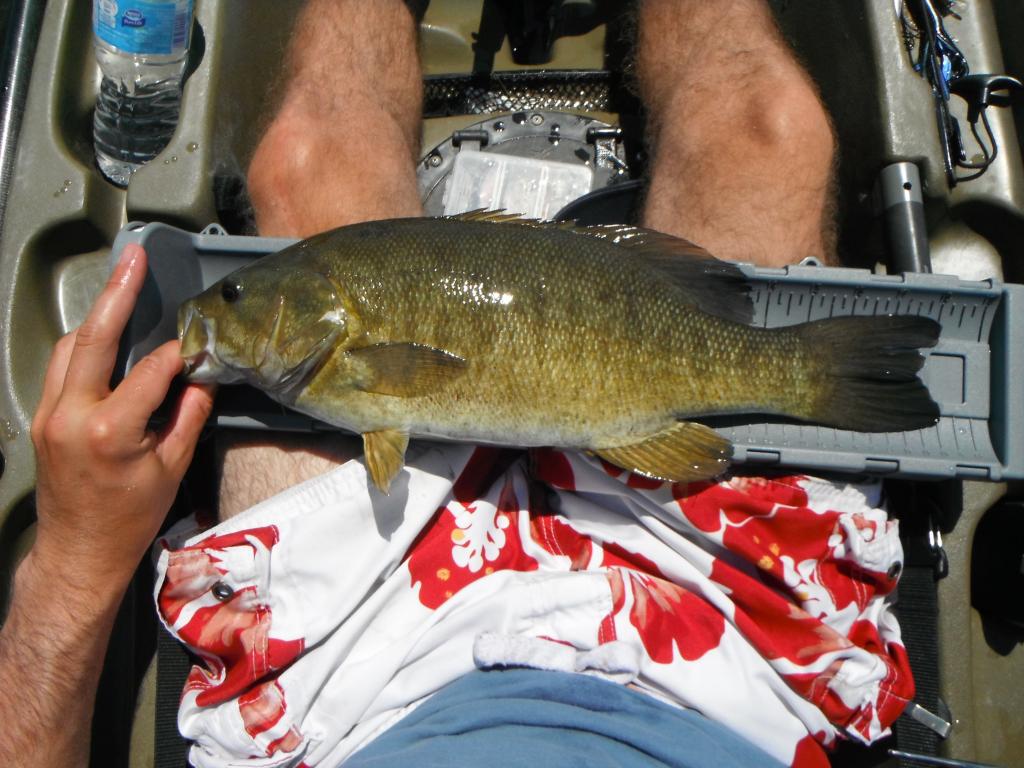 It was so very strange finding at least two smallies sitting in 1 fow on a hot summer day. I thought I had found a new pattern, two fish in two casts! I kept at it with nothing more to show.
There was quite a bit of drifting algae/plants in the water, so trolling upstream wasn't an option. I was able to troll downstream a bit before the process of resetting the drift became too daunting. I managed two scrappy fish around 15″ by trolling a crankbait downstream on/near bottom.
I toured around the area and witnessed a huge school of rudd swim about a weedline. The rudd were massive, some looking around 5lbs! I never thought rudd could grow so big. They weren't interested in my worms, likely because they had already spooked. Other sightings included massive redhorse and, of course, plenty of carp.
As the sun rose higher, some nice chop developed that I thought would improve the bite. This it did not.
The sun began setting and the chop subsided. The bass began following again, and I lost another good fish and only managed one 15″er.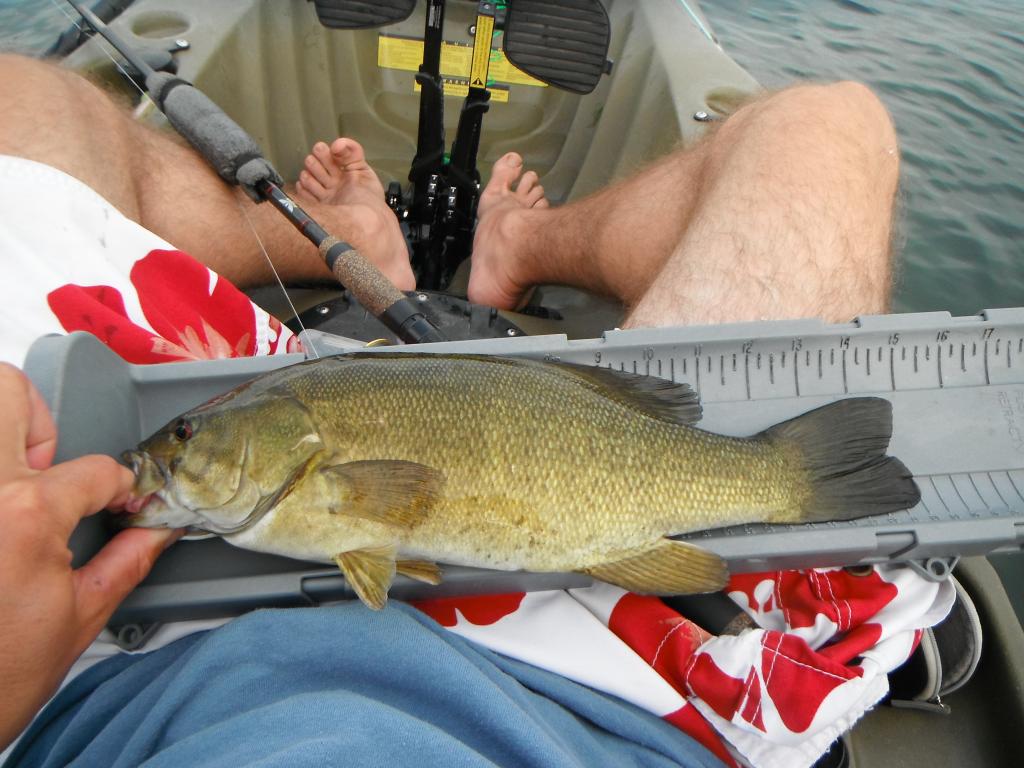 I dropped my jig in front of a big bass holding behind a clump of weeds, watched him swipe up and inhale it, and watched my weedless jig once again pop out of his mouth when I set. Advice? Perhaps I should stick to texas rigging.
I spotted something breathtakingly massive on the bottom. My mind started considering the options: muskie? sturgeon? The fish turned and gave itself away as a huge freshwater drum, bigger than any of the ones I've caught in Pickering. I dropped my jig in front of it and, surprisingly, it turned and started nosing my jig. I thought I had him when I lost sight of the jig, but I set into nothing and watched him swim away. Perhaps he hadn't picked it up, or, more likely, my weedguard had failed me yet again!
After some exhilarating morning action and a handful of missed fish, I left without a sense of closure. I planned on fishing Sunday morning, but forecasted thunderstorms kept me off the water. I guess this is the feeling that keeps me coming back for more!
***
An aside:
I started using a 7′ Fenwick HMG series spinning rod this season and aside from loving it, I have found one major flaw with the design of the reel seat. The screw knob is positioned on the butt-end of the reel seat, exactly where the base of my palm rotates when bombing casts. My palm would unscrew the reel seat on enough casts for it to become a serious issue. Wondering if anyone else has had similar experiences on the same rod, or other rods?