Day 1
My friend and I left Markham for Algonquin park at 4am sharp. The drive north, in the morning twilight, was nothing short of spectacular. When we arrived in Muskoka, all of the lakes were sporting a nice layer of fog.
We were staying on Ragged Lake, just one paddle and a short portage away from the Smoke Lake access point. The plan was for us to arrive early and secure a nice campsite, with two other friends meeting us later.
While my friend adjusted his rod at the launch point, I spotted some small fish I had never seen before. They had bright orange tails, like guppies. Out went the #24 hooks and a bit of worm… and I quickly learned what a baby smallmouth bass looked like.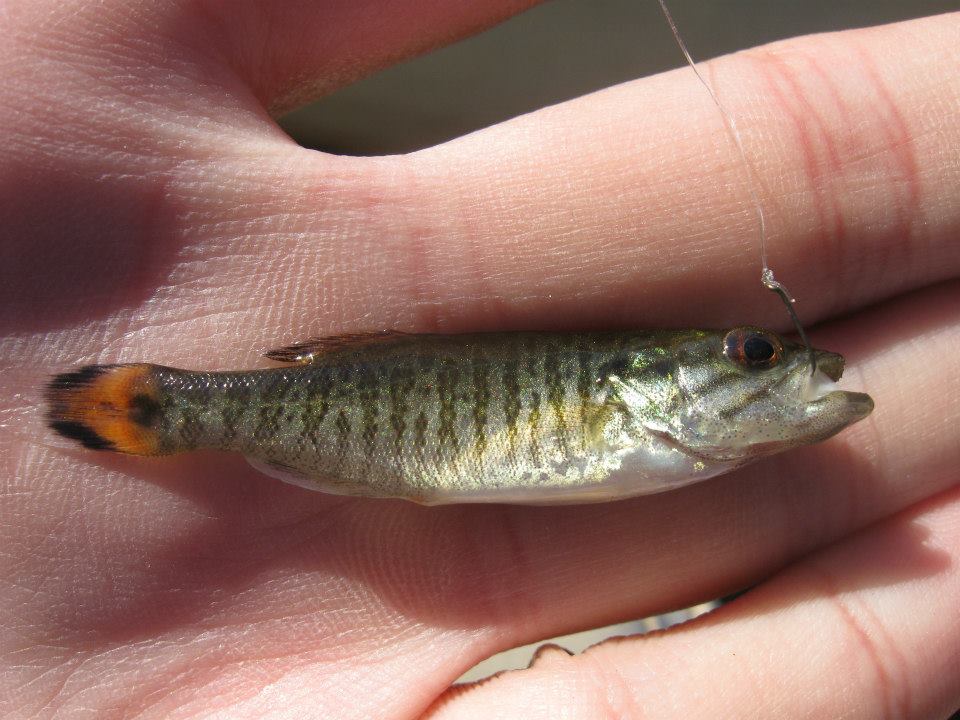 We began our voyage across Smoke Lake at 8am, the wind in our faces (this would be the norm). We decided to make the most of the travel time and troll something along behind us. I was trolling a dropshotted white grub, and my friend was trolling a small spoon on a 3-way rig. Alas, our paddling was too quick for our lures to hug the bottom and we either needed to slow down, or use more lead.
It quickly occured to me that I had underestimated how much lead I needed to keep my lure on the bottom, especially in wind that ensures a swift drift. We decided to forego the trolling until after we had arrived at our site.
Immediately after crossing the portage to Ragged Lake, we noted prime bass habitat. A narrow corridor of fallen treas, a shallow bay just upstream of the Smoke Lake Dam, and sunked rocks all around. No time for fishing though, we had to find that campsite!
We journeyed onwards to Parkside Bay and set-up camp. Skies were clear and the sun was out in full force. I took the canoe for a solo trip around while my friend took a nap. I busted out the new fishfinder (Humminbird Piranhamax 150). Not having any experience with fishfinders, I set it to automatically ID anything it thought was a fish and then beep. I paddled around in 20-30ft of water, rocky bottom, and not a single fish was found! In hindsight, cranking up the "Sensitivity" setting to max might have been wise.
There were no signs of weed growth. I later read that Algonquin rock does not have essential nutrients to support the growth of many weedbeds.
At roughly 4pm, I dropshotted white grubs and my friend cast plastic worms along the timber-ridden, rocky shorelines. Not a single sign of fish life.  We made it back to the narrow corridor of prime bass habitat at around 6 or 7pm.
While my friend crossed the portage to meet the rest of the group, I decided to try the spot out.  Glass-calm, 4-5ft of water in the evening… hmmmmm… out went my buzzbait!
On the second cast across the shallow bay, I got a nice hit! And that hit was followed by a second hit. No hook-ups! I kept casting to that spot and I eventually attracted a nice 1 or 2 lb smallmouth bass to immediately below where I was standing. He clearly was not interested in the buzzbait anymore… he wanted a new toy to chase.
I ran back to our canoe to grab my rod that I had rigged with a live worm and the fish sucked it up immediately. Awesome! We had finally caught a fish: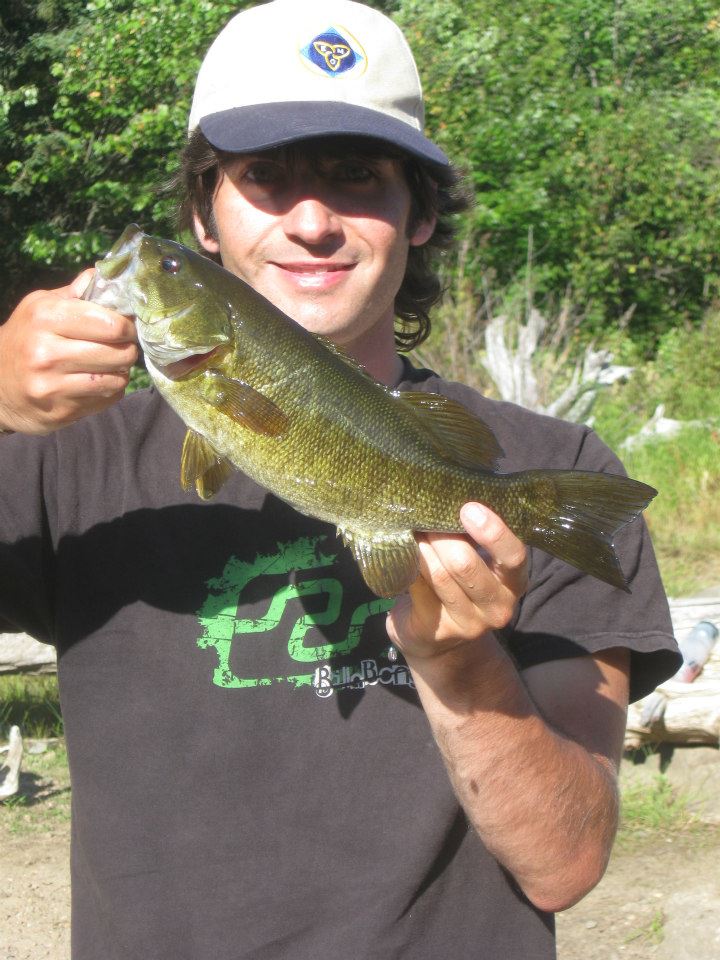 On the way back to camp, I annoyed my friend by casting into all of the pockets of timber on our way out of the bay. A handful of good hits on the buzzbait, and another nice fish avoiding my hook even though he had already put it in his mouth!  I made note to buy trailer hooks.
Back at the campsite I cast my buzzbait off shore and managed to attract a pair of 3lb smallmouth to shore. I yelled out to my friend to bring his rod and the worms, but it was too late. They had already left. My friend did catch another nice 2lb fish on a live worm.
Day 2
I woke up late around 9am and journeyed across the bay to check out a stream that was marked on the map. No dice, it was but a trickle nestled among rocks.
On the way back, I identified a deep spot of 100-120 feet of water on the far side of the bay.
The past night, I had a dream of our permits being checked by the park ranger. So when a motorboat with two rangers arrived to remind us of the fire ban, I was fairly amused. I asked one of the rangers about Lake Trout and he pointed us to the same deep water I had found earlier.
After a late breakfast, my friend and I set out for our full-day fishing adventure. The plan was to first try for Lake Trout in the deep part of the bay, and then make our way to a 350m portage and try a small, unnamed lake just North of Ragged.
We tried the Lake Trout for two hours before calling it quits. The wind was very strong and our lures were not hitting the bottom. I was dropshotting a white grub and live worm combo, and my friend was trying all sorts of different things. I had a grotesque frankenstein of various lead bits growing on my dropshot rig!  We decided to come back in the evening after the wind had calmed. I noticed fish markings hugging the bottom, but wasn't sure if they were actual fish or just artifacts.
After the 350m portage, I layed my eyes on the most promising piece of water I've ever seen. It was a small lake, connected to a river, rimmed with lilly pads and woodfalls. The shallow water was thick with minnows. And it was around 6 or 7 pm. Everything was perfect!  I wish I had taken a picture to demonstrate just how prime this body of water appeared to be (and to avoid it at all costs in the future… I'll get to that!)
I started off by trying to catch and identify the small minnows in the shallows. I caught a few small sunfish and perch as well as a Northern Redbelly Dace as a new addition to the lifelist!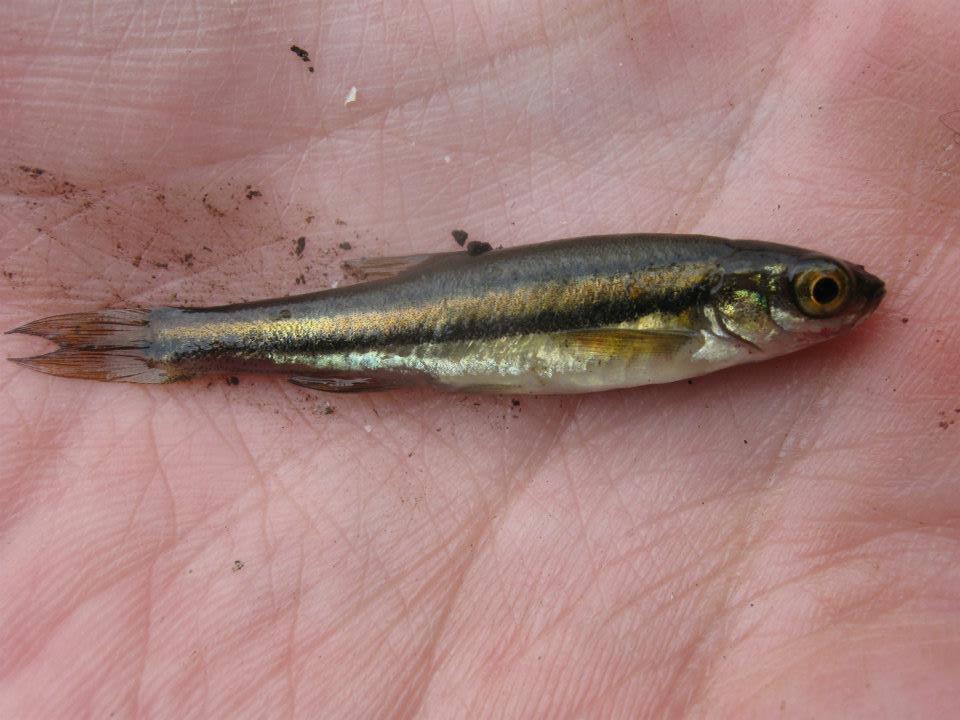 After fun with minnows, I tied on a 3/8 oz white spinnerbait and my friend rigged up a plastic worm. We worked the shoreline, and worked the shoreline, and worked the lilly pads, and worked the shoreline….
… and worked…. and worked….
Nothing!  We were both so mystified by the fact that this ostenisbly perfect fishing oasis didn't hold a single game fish! My fish-killing white grub on the dropshot failed to produce even the slightest nibble.
Then it begin to rain… hard.. and we were reminded of our hunger for dinner. We set on back to camp dumbfounded. We settled on the conclusion that there was but one 60 inch muskellunge in the lake and it ate anything that grew larger than 4 inches. That's why we hadn't found any fish.
After the rain, we worked shorelines on our way back to camp. I pulled out two nice fish on the white spinnerbait, including my new PB smallmouth: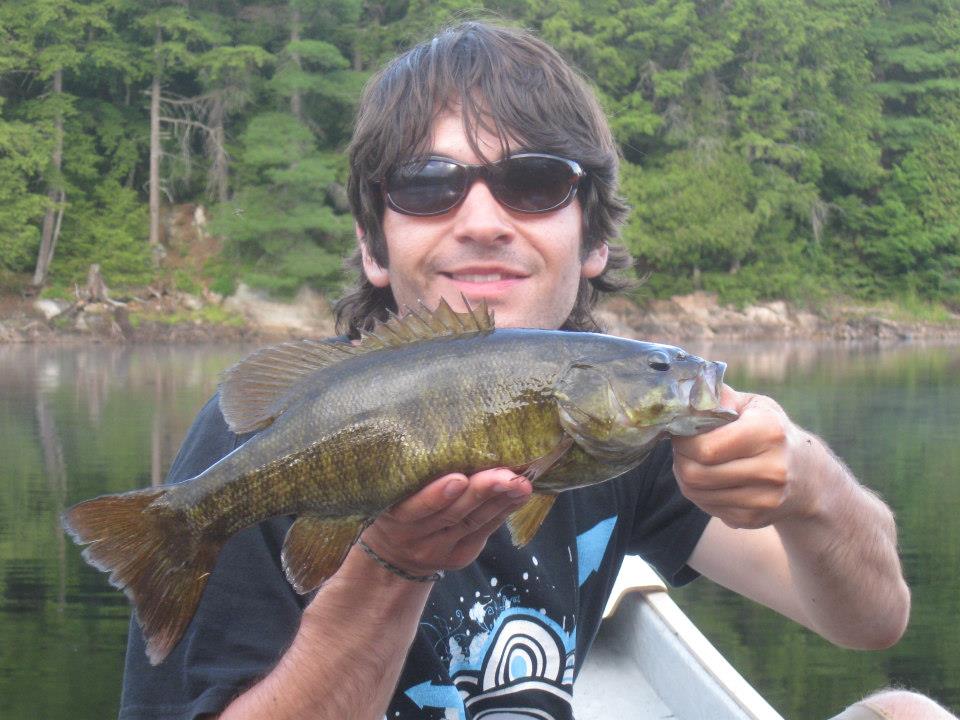 As soon as our canoe landed on site I was itching to head back out. The water was dead-calm and the sun was setting. Now was my chance for a Lake Trout.
Dinner took longer than expected and this magical fishing window disappeared. My friend and I headed on out to the deep in the dimming light and tried for another 2 hours… nothing. We did see fish markings along the bottom and at 90 feet.
Day 3
Started fishing the deep again from 8am to 11am. I stuck to my white grub and worm combo on the dropshot, 1-3 feet above bottom. My friend tried a a few different spoons and swimbaits. Fish markings occasionally popped up along the bottom, at 90 feet, and at 40 feet. I used my gps to try and keep us on top of the fish, but it prooved very difficult in the wind. We saw two nice-sized fish splashing on the surface, it seemed like spawning behaviour. We wonder what they could have been!
A little more microfishing after our Smoke Lake portage, and that was the trip :). Phew!