There was a lot of surface activity yesterday morning. Just as in spring, the gizzard shad were making splashes. A species that had disappeared for the summer had returned in numbers to the outflow.
I haven't been able to catch one fairly, until today. Ken had suggested a few things to me such as small spinners and flies. In the spring I tried jigging flies and also trolling flies behind crankbaits.
I have caught snagged ones in the spring. One thing I noticed about these snaggings was that they had all occurred in the early morning. This now leads me to believe that these fish are at least coming in for a look when they are actively surfacing in the morning.
Yesterday, just as first light was emerging, I was casting a big and heavy spoon for drum. I felt a fish on that revealed itself as a gizzard shad snagged in the gill plate.
A few casts later I had another gizzard shad next to the yak, but I didn't think much of it. I just flipped it into the boat to unhook it. When I went to do that, I was stunned! This fish had clearly hit one of the prongs of the treble hook such that it was hooked in the mouth and out the jaw in the fair direction!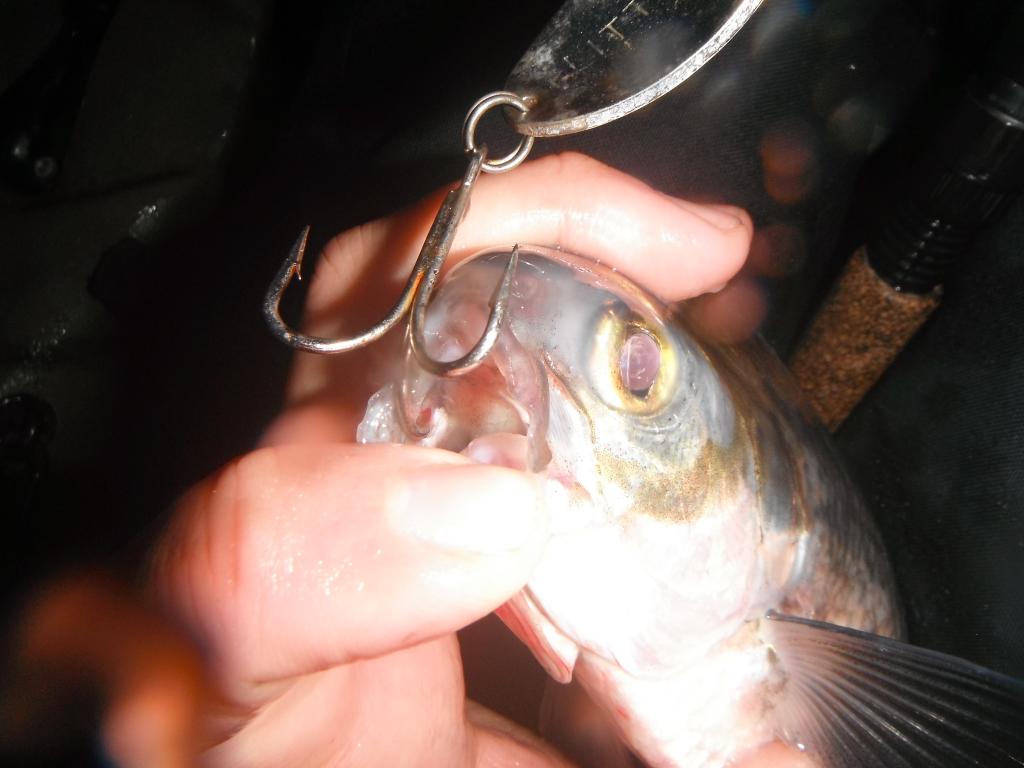 And there it was, a fair gizzard shad for the lifelist.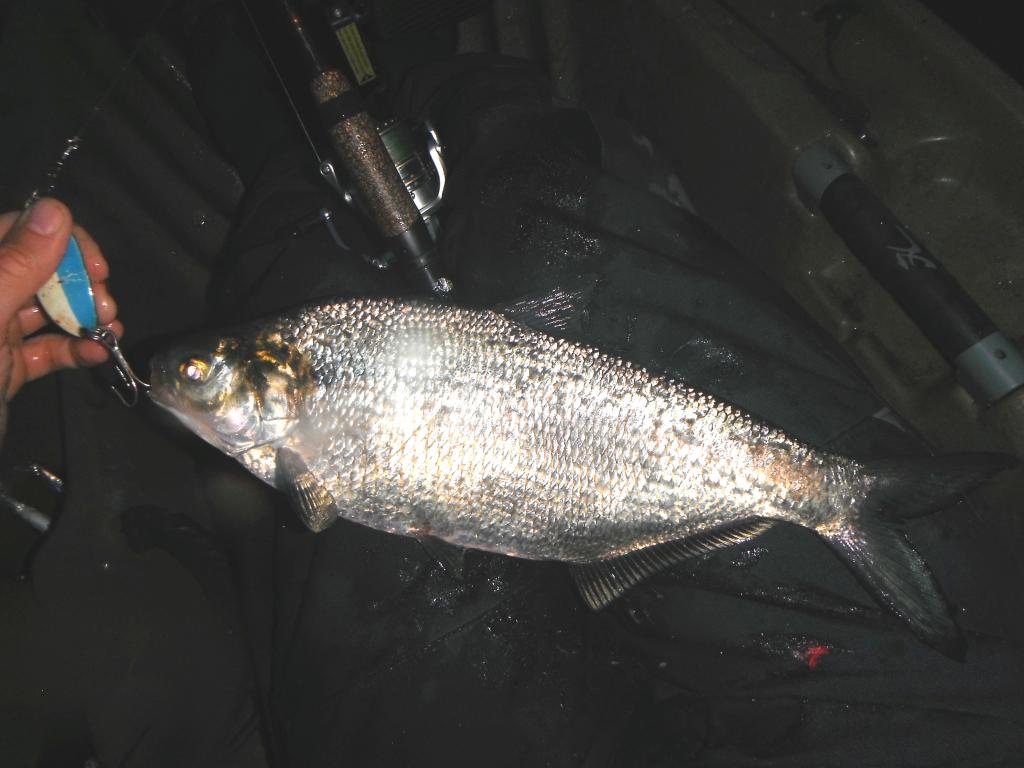 Ecstatic, I rumaged through the box for a smaller spoon and tried that without success. Then I tried a smaller spinner also without success. Perhaps I couldn't get deep enough with the smaller offerings.
I also didn't snag any more of the countless gizzard shad, even after switching back to the heavier spoon. They had also stopped surfacing. This supports my theory that they're only interested in the early morning.
I switched the heavy spoon out for a firetiger blade bait that had gotten me drum over the summer. I could see the drum down there, but I just couldn't get them to hit. I found one a bit shallower and swung the blade bait over its head. Nothing. Then I let the lure hit bottom and it came over to investigate. I bounced the green hunk of metal on bottom and watched the drum eat it up!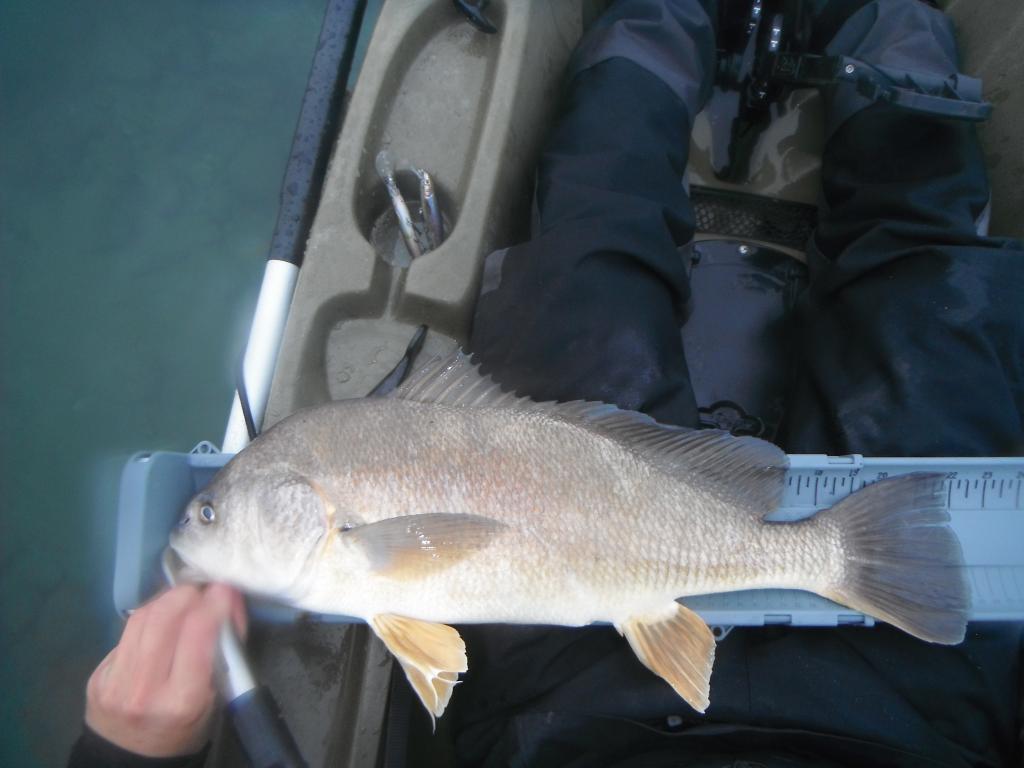 And that explained why I wasn't catching any of the drum. They just weren't interested in chasing anything above bottom.
Then I tried bouncing the blade bait along bottom. Figures I would catch a white sucker right? What a freak day! A gizzard shad on a massive spoon and a white sucker on a massive green hunk of metal!?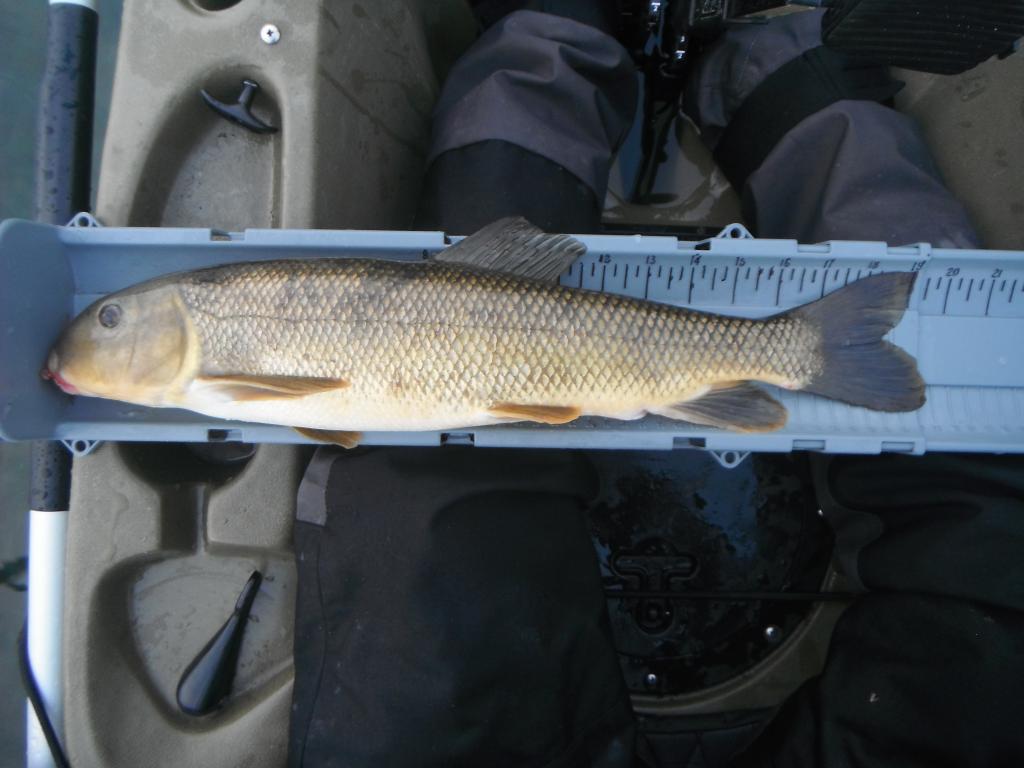 I then switched to bottom bouncing some bait, but that didn't get me anything. By that time the sun was up and it was time to head back.