Aside from catching my first gizzard shad, I wanted to share some other highlights of my fall-time fishing.
While most of my hours were spent in the kayak, I did spend a few sessions chasing steelhead in the open sections of Lake Ontario's tributaries.  With increasing angling pressure, I thought it would pay off to throw something different for the poor fish who have been watching the never-ending barrage of spawn sacs since they entered the system.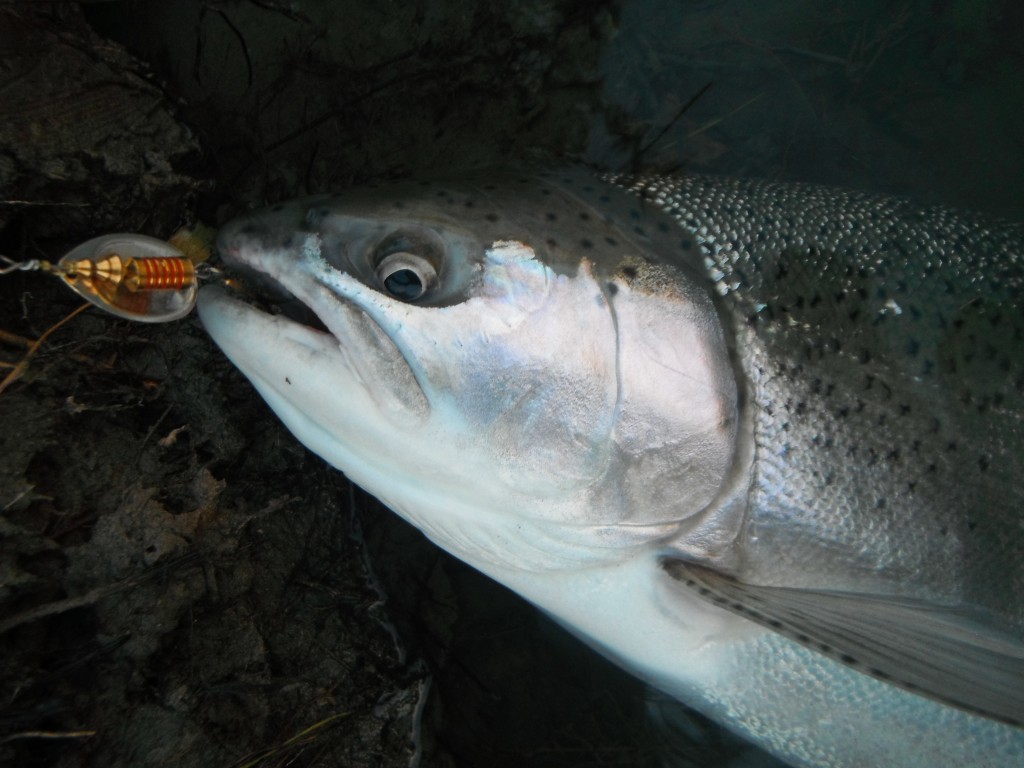 In the kayak, mid-October was spent on Lake Ontario.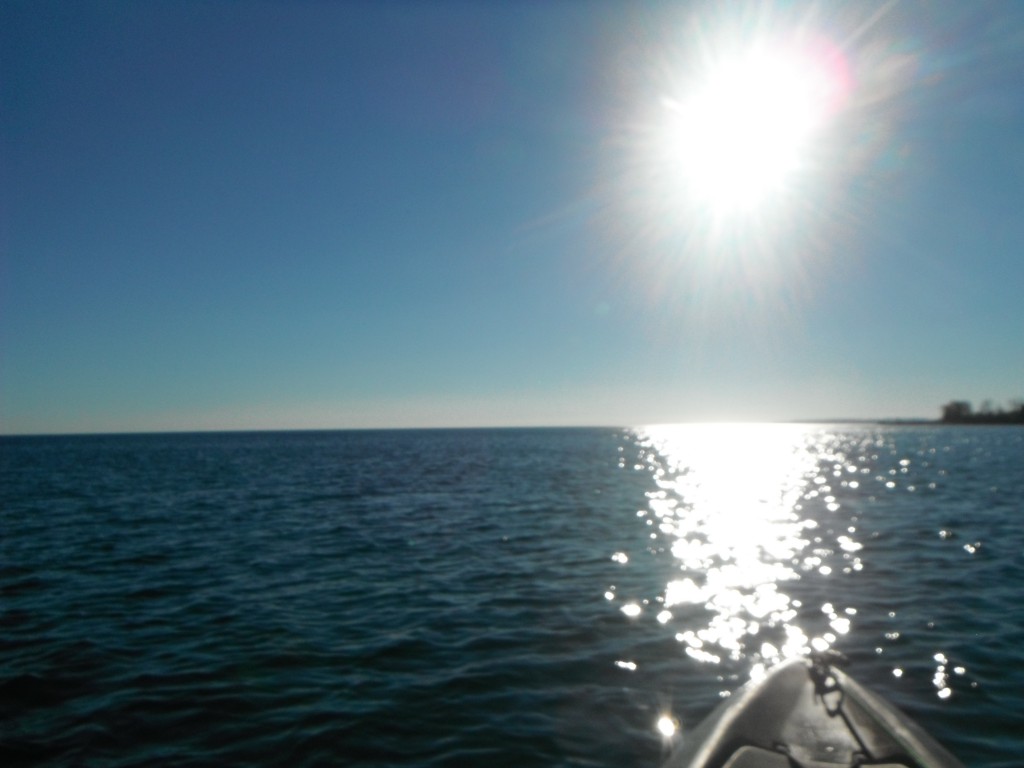 Water clarity on each of my three trips was superb.  Unfortunately, I have found in the past that this impressive clarity leaves me with mostly spooked and inactive fish.
However, one of these trips produced some peculiar finds in the fall darkness.  Just as the sun was setting, a 20″ walleye hit a spoon dangling in the current as I untangled a nasty bird's nest.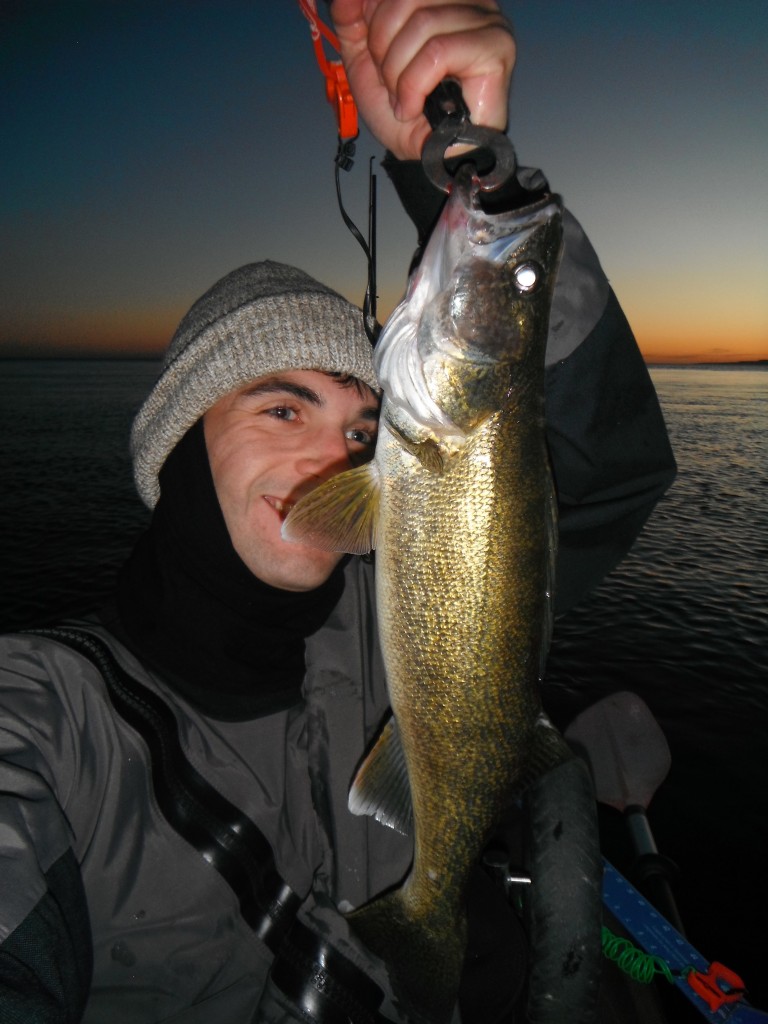 More casts to the same area failed to produce, so I switched my focus to the rocky shallows.  A few casts in, I connected with 25 inches of a hard-fighting brown trout.
Thinking I was on to a pattern, I stayed later into the night, but no more fish were caught.
I made two more late evening trips, but had only one white bass to show for them and was out-fished by the local black-crowned night heron.  I decided to take a break from the outflow to chase the hot November smallmouth bite I had been hearing about on Lake Simcoe.
My first attempt was quite the learning experience.  My friend and I were coincidentally fishing the same area as a few tournament anglers.  We watched them pluck trophy smallmouth after trophy smallmouth from the depths all day long.  I stayed until dark, awe-struck by the disparity between their success and my skunk.
I returned with a vengeance and a few pointers from friends.  Long, light lines seemed to make a difference.  What surprised me the most was the lack of fight in these fish.  Perhaps it was the cold water or the barotrauma, but I expected a bit more out of these mighty bass.
The two largest were 20.5 and 20.25″, massive bass on any lake other than the smallmouth factory that is Simcoe.  While I wasn't able to find anything north of 6 lbs, I was content with my new personal best smallies at 5 lbs and change.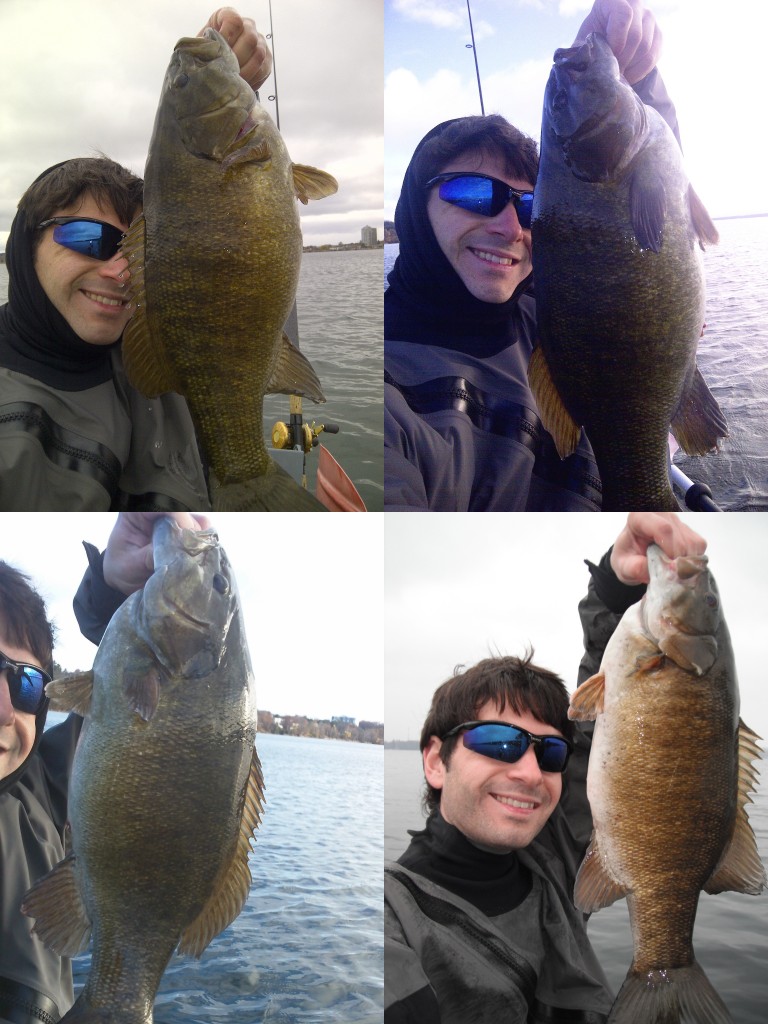 As December rolled around, I made a few more trips to the outflow.  Crystal clear water conditions on each of the trips didn't help the slow fishing.  Even though I fished this spot extensively over the past year or so, I had yet to land a northern pike there.  Finally, I connected with a 32.75″ one and in December of all months.  Perhaps it was preparing for the spring spawn nearby.