It all began with the idea to add Round Whitefish to my fishing lifelist. What began with the unknown ended with the familiar.
I quickly realized that I was quite alone in my hunt for a round whitefish through the ice. There are a few lakes "nearby" that have recorded populations of round whitefish, so that was a start. I knew nothing of depths, structures, or techniques to target them. I do know that they like to eat insects off the bottom, so I guess I was looking for bottom structures that held… insects? I still have work to do on this one.
Day one was spent on a small lake near my friend's cottage that is listed as holding round whitefish. Unfortunately, I could not locate any sort of depth contour map for it, so I was fishing based off of land contours.
After so many long days on Simcoe, it feels amazing to be the only person ice fishing a teeny tiny lake. A tiny spoon tipped with a freeze-died maggot was my go-to for the day. The little lake trout that inhabited the lake ended up loving it. Most were quite small, but this guy was the highlight who took forever to land on my light tackle.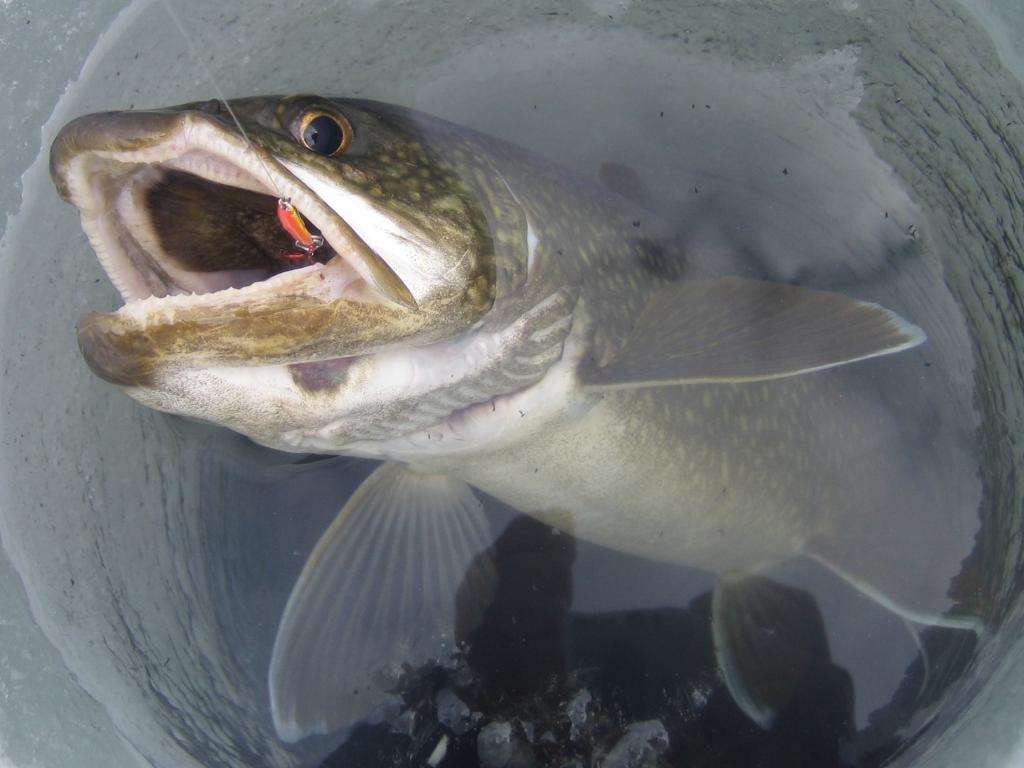 He was sporting something special. I "relieved" him of his carriage: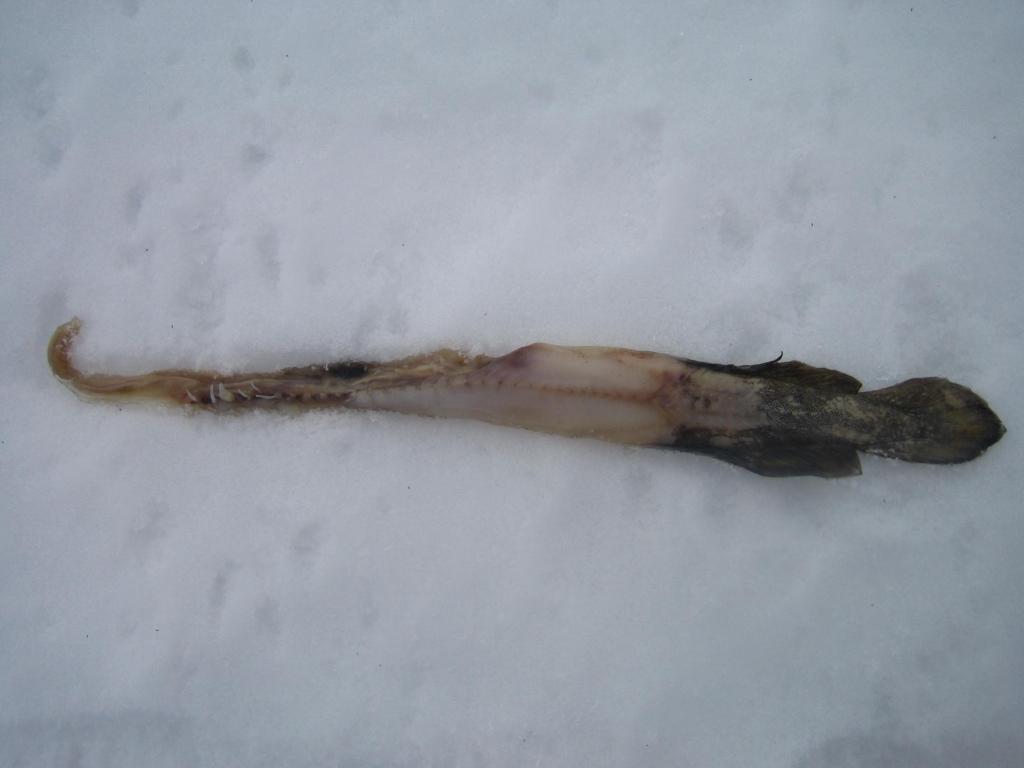 Yes this lake was also known to hold Burbot and I was hoping to intercept some of their spawning rituals, but this I did not.
No sign of round whitefish.
Day two was spent on a much larger lake that I actually had a rough depth contour map for. I felt a little more confident knowing that I'd be fishing specific structures. After gunning around the lake and drilling plenty of holes, I had iced only one tiny lake trout in 40 feet of water off a point.
Disheartened, I threw in the towel (for now), packed up, and headed to a lake that did not have any round whitefish, but was one that I had enjoyed myself on in the past.
I fished for a couple of hours in the evening, but was occupied by a cluster of little fish that kept chasing my lures around the screen. Occasionally they nipped, but I failed at hooking them. Reminds me of the ciscos from Lake Simcoe. Perhaps they were smelt. I have not yet added Rainbow Smelt to my lifelist, so I kept on trying for them until it began to get dark.
On Day three, I returned to the same spot and fruitlessly tried to catch one of the "smelt". I figured if I couldn't catch them, I may as well get away from them. That I did and quickly iced this little whitefish in 35 fow who chased me up on a jigging rap.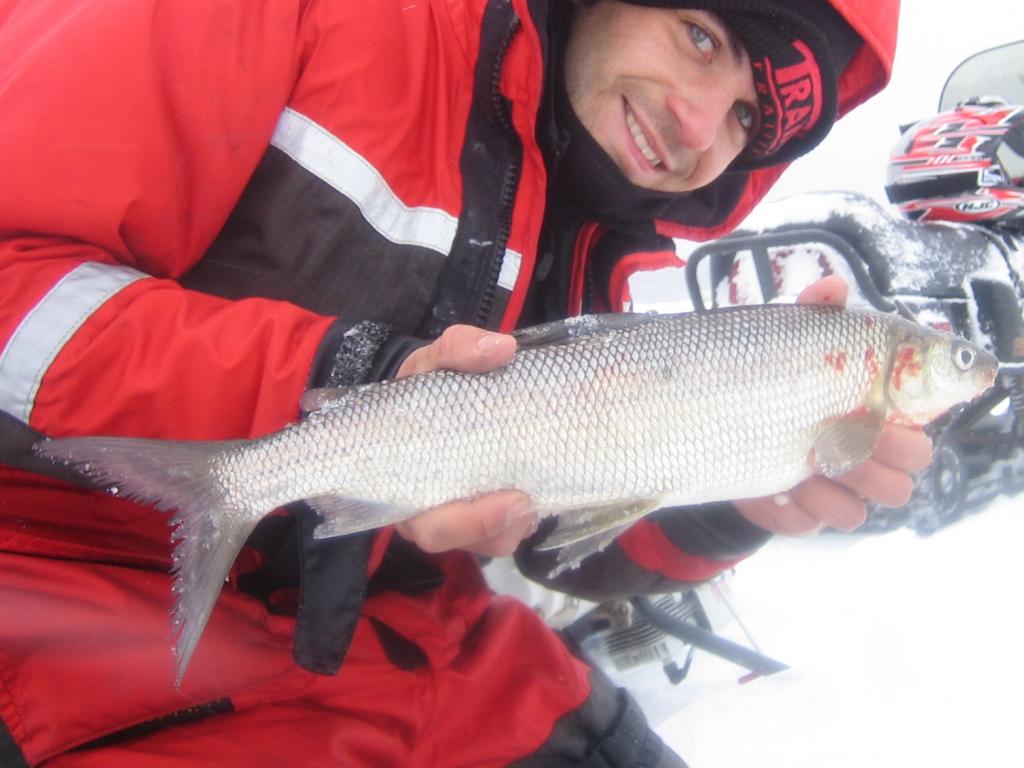 Then came this laker who also chased the jigging rap up ten or so feet. Thank goodness I wasn't using the light rod on this lake.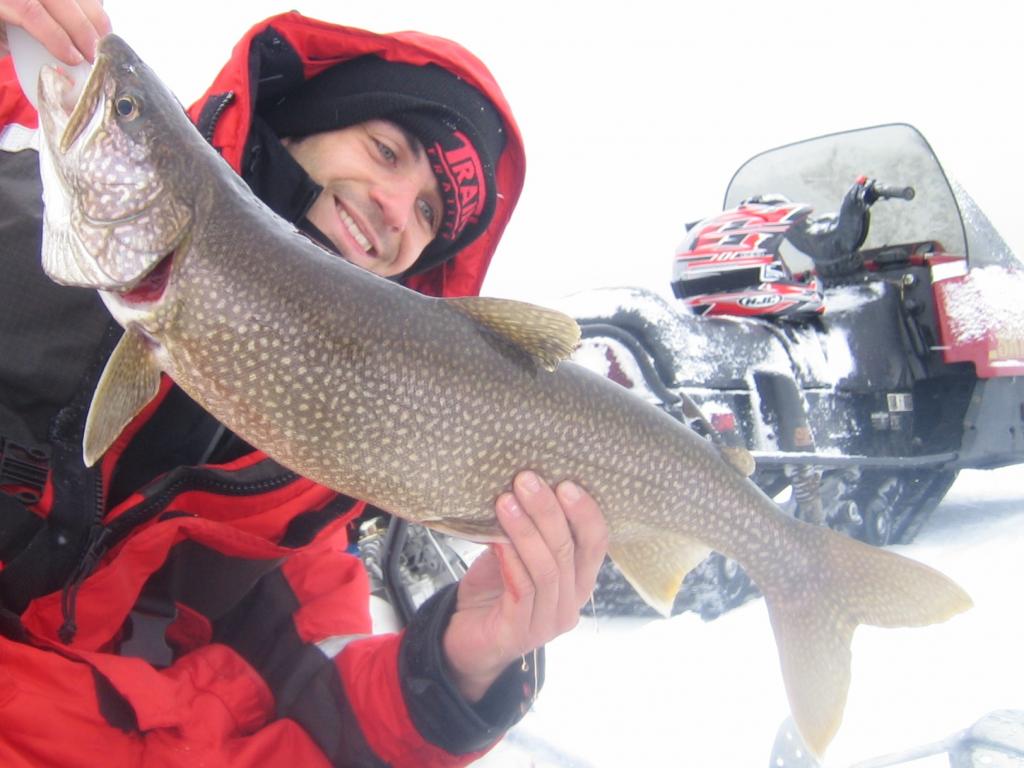 Ten minutes later I changed holes to 40 fow and iced another laker who ran up 20 feet to chase my deadsticked jigging rap. Like clockwork, I set the rod still and, while I was doing something else, the streak began rising.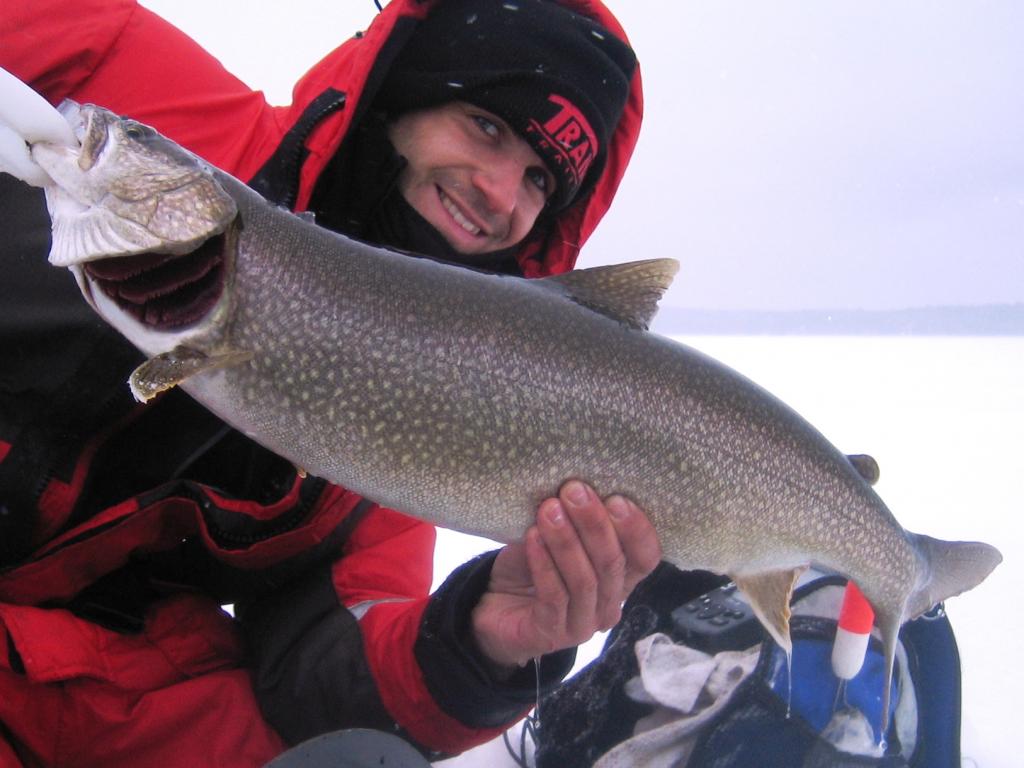 Then the bight died off. I spent most of the day running around in search of fish. I marked no shortage of fish in 60+ fow, but they were quite inactive.
In the late afternoon, I returned to my original holes to find blank screens. Finally, I went back to the hole I had started with that held the "smelt". To my relief, the "smelt" were gone, but something else was causing some disturbance in the bottom return. Time to bounce around on the bottom.
After a few minutes of wiggling the jigging rap on bottom, it got stuck and I lifted the rod to set the hook. Shortly thereafter there was another whitefish in the hole, skirting around. As I went to grab it, it stuck me with the jigging rap and used the leverage to free itself. These whities are much smaller than Simcoe whitefish, so they have no issues turning around in the hole. Farewell whitefish.
It seemed I had found a new pattern. The whitefish were hugging close to bottom and so that's where my lure stayed. Ten minutes later I hooked another but it came off at the hole. Then the "smelt" moved back in and the solid marks disappeared. Seems like I have to get away from these "smelt" to catch anything on this lake.
All in all, I'm glad I ditched the original plan and hit a familiar location. I had had enough with experimenting and just wanted to catch some slimy fish :).