On route to Monterey
Leaving Visalia, we followed the Pacific Coast Highway on route to Monterey. The vistas from the highway were spectacular. Never did I ever want to go back to Toronto.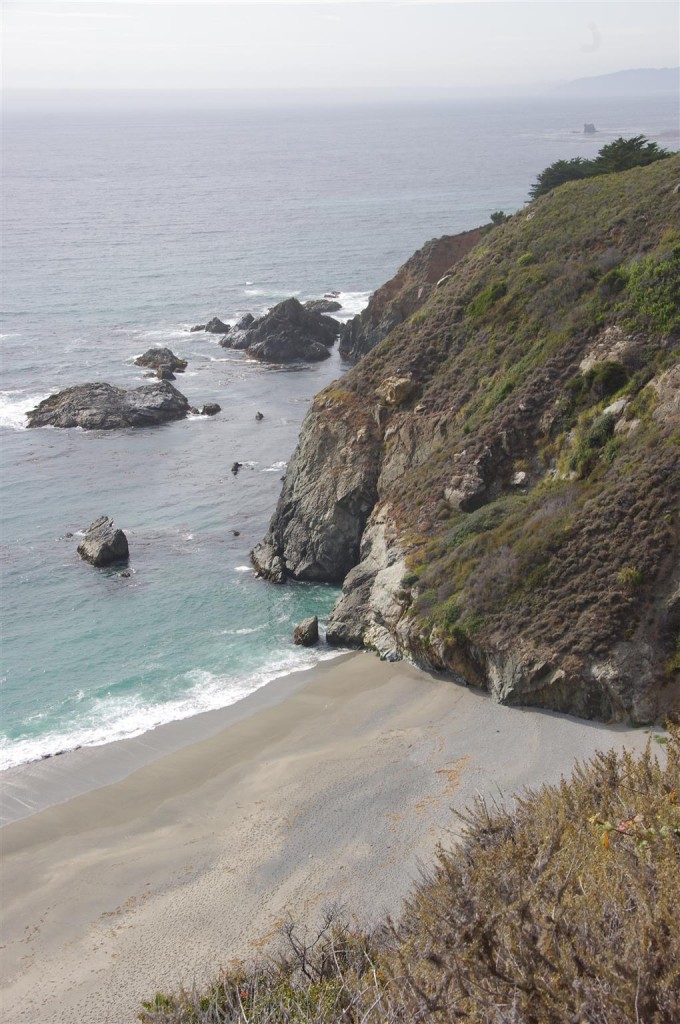 Lotus Elise, my dream car, sighting 1 of 2: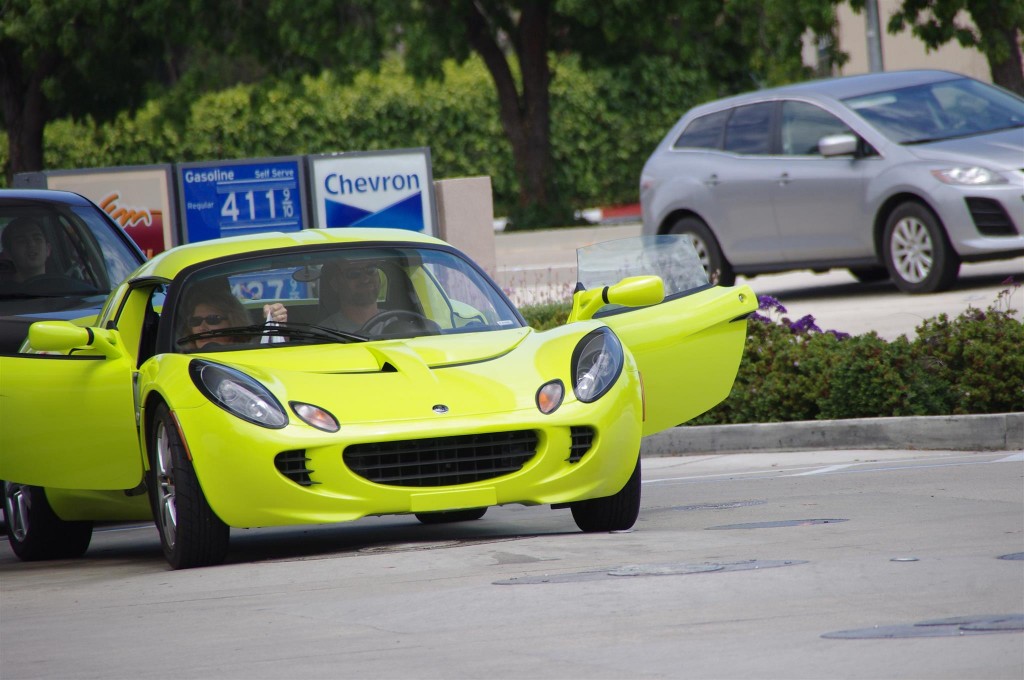 Fishing a pier on route to Monterey, no takes. My parents reported that the water was much muddier than it had been on their last visit two years prior. They also reported seeing more kelp this time around. Something was up with the water this summer, lots of dying kelp!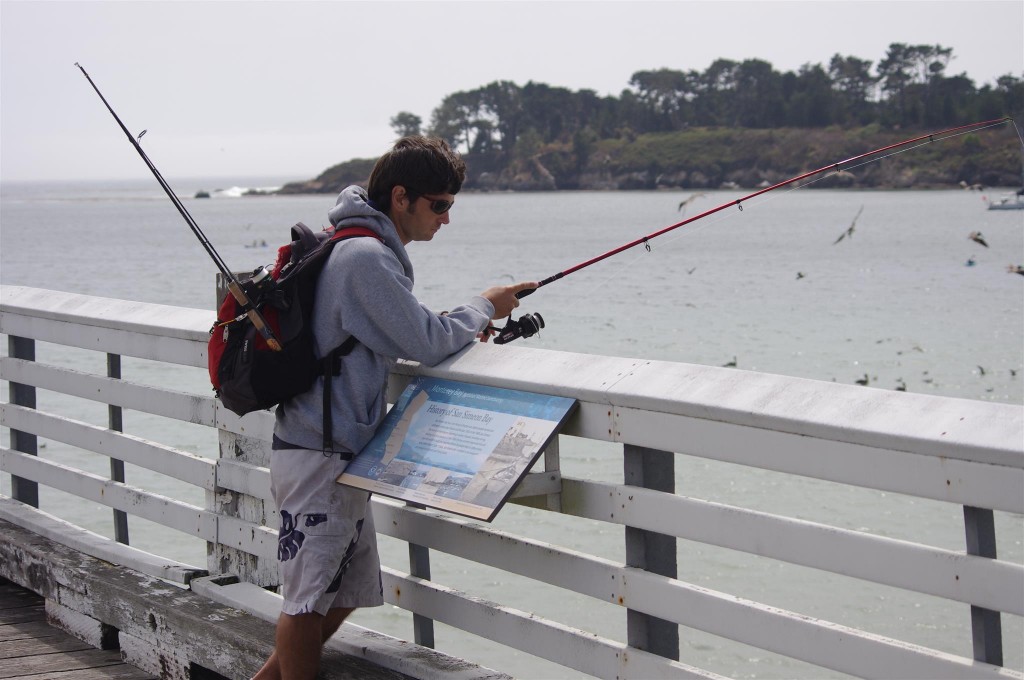 Elephant seals: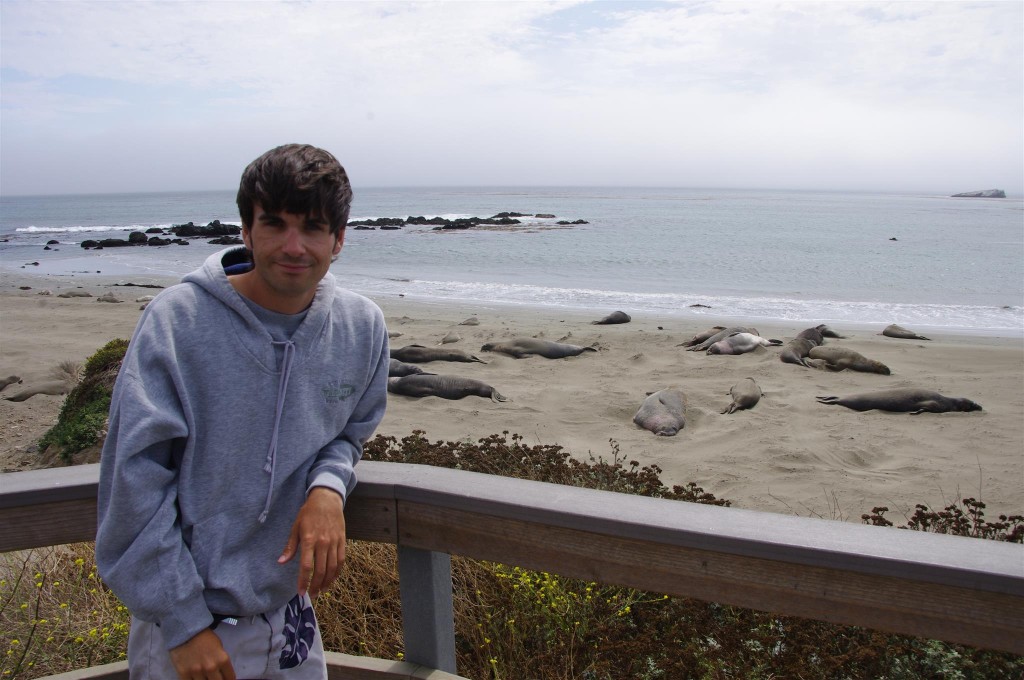 On a brief stop, I noticed a small mountain stream leading to a rocky beach. I walked down and found a few trout I was unable to identify.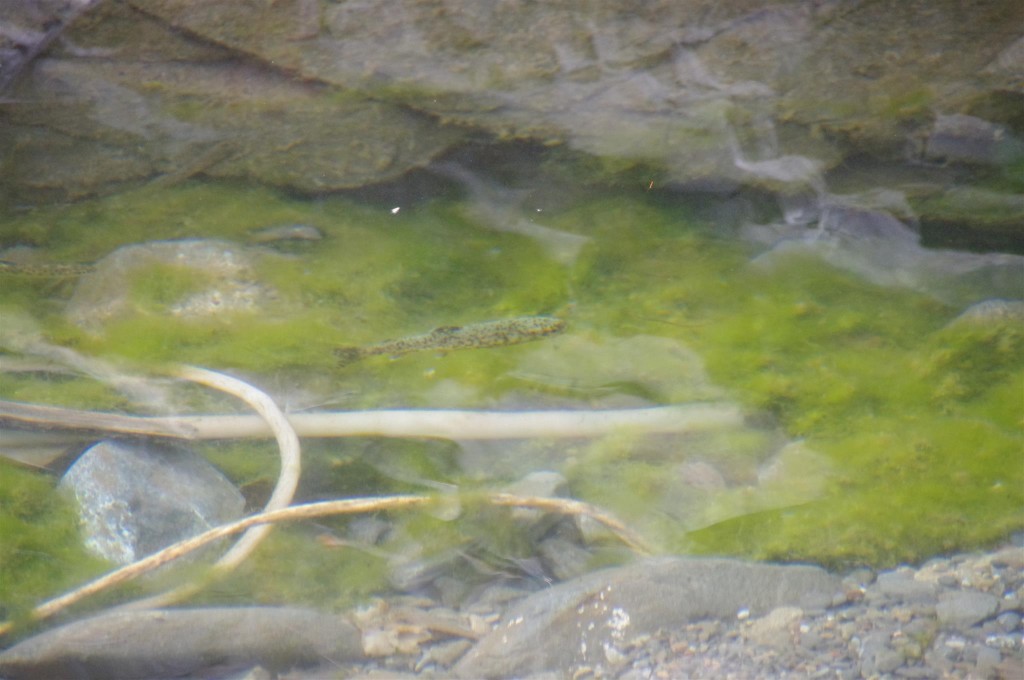 So I fished for them to find out what they were!  (I would have loved to fish the surf in the background, but there was no time!)
More rainbows on the dry fly!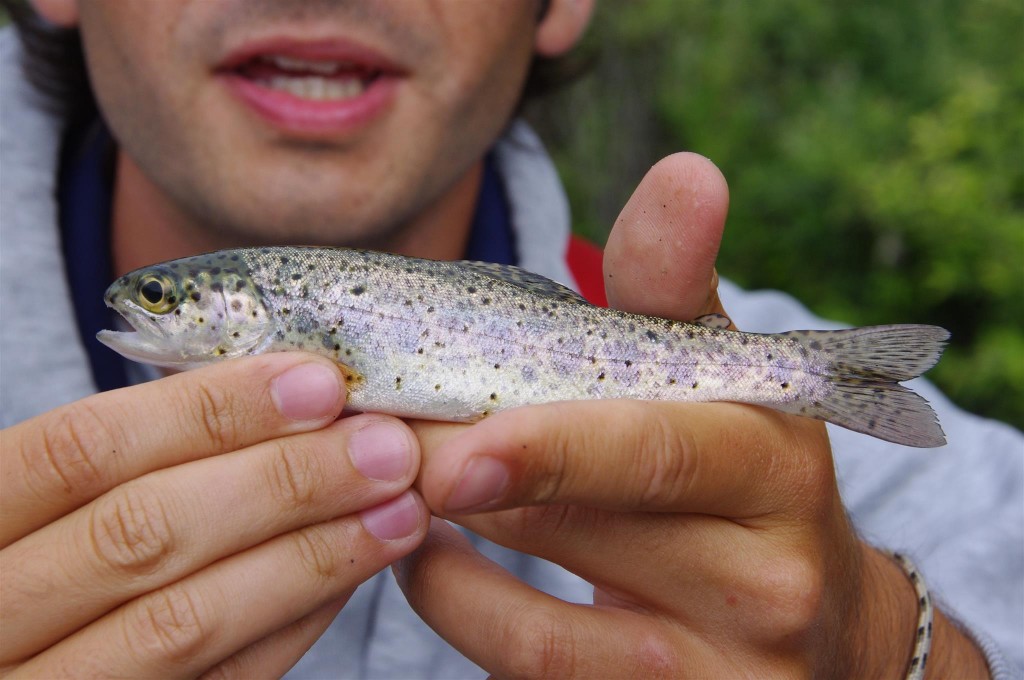 Monterey
Our timing in Monterey couldn't have been worse. There was an exotic car show going on the weekend of our stay. Hotel rates were astronomical and everything was crowded. Offshore, there was a system of ongoing high winds that would limit my planned party boat fishing options.
The presence of the exotic car show wasn't all that bad… I had my first chance up-close-and-personal with a dream car of mine, sighting #2 of 2 for the trip.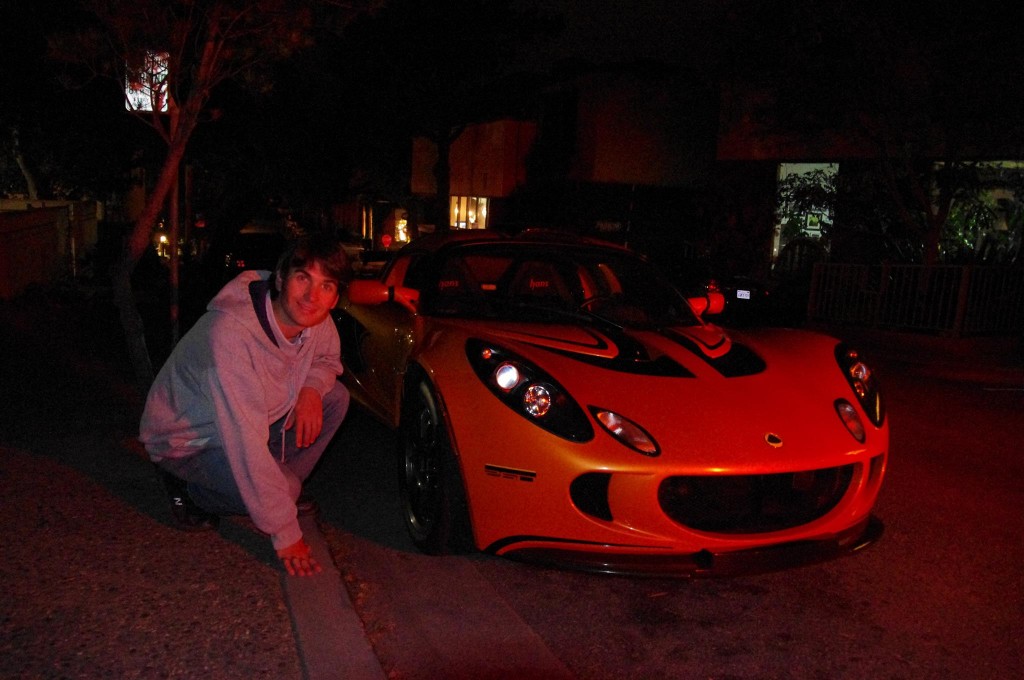 I checked out the pier and found out that the mackerel were in. I spent my three nights in Monterey at this pier trying to catch a mackerel while soaking bigger bait for a shark or ray. The first night on the pier, I left one rod soaking on the bottom with a small piece of squid and ended up with a this cool critter.
Pacific staghorn sculpin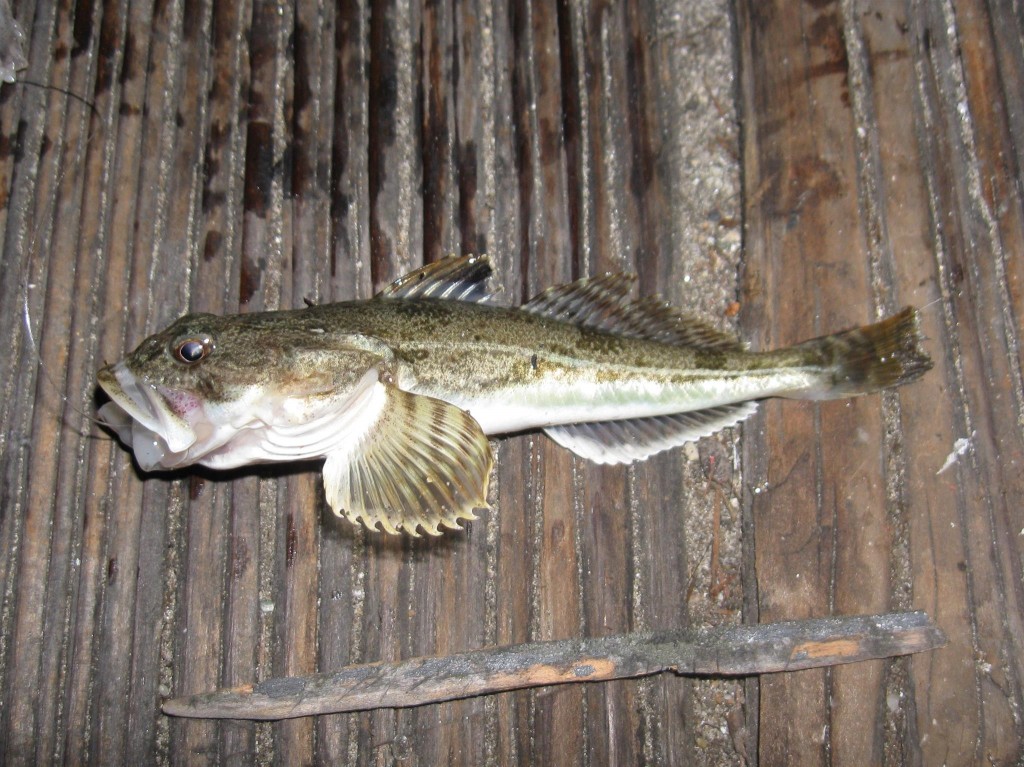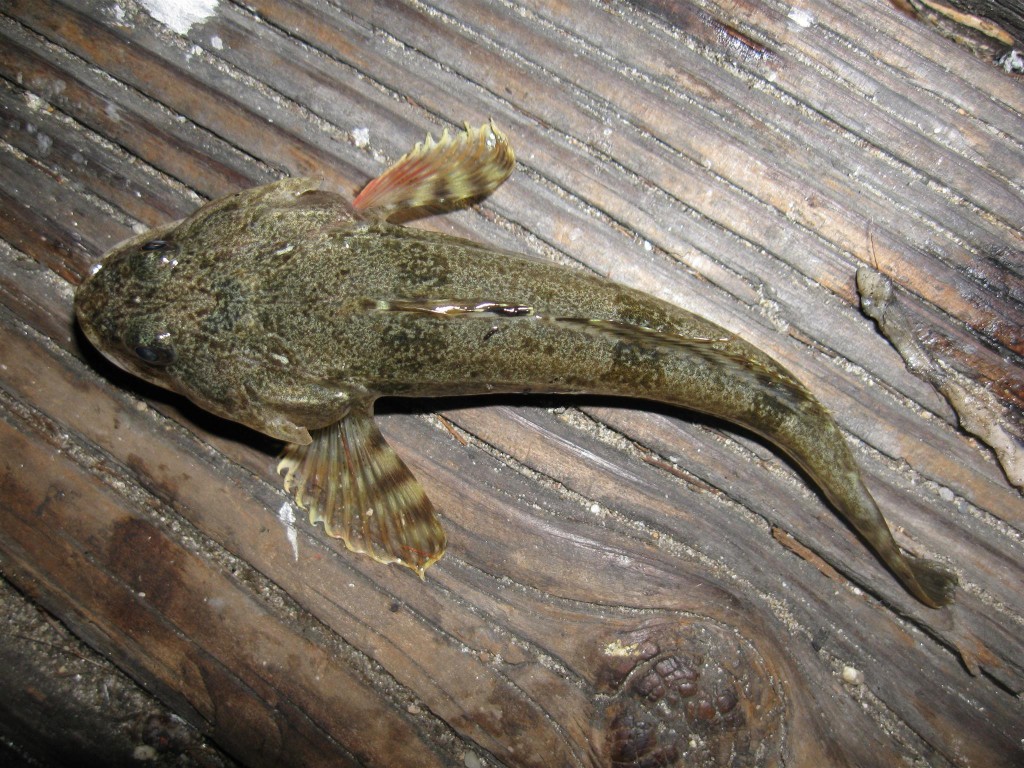 My make-shift mackerel bobber, then upgraded with a glow stick!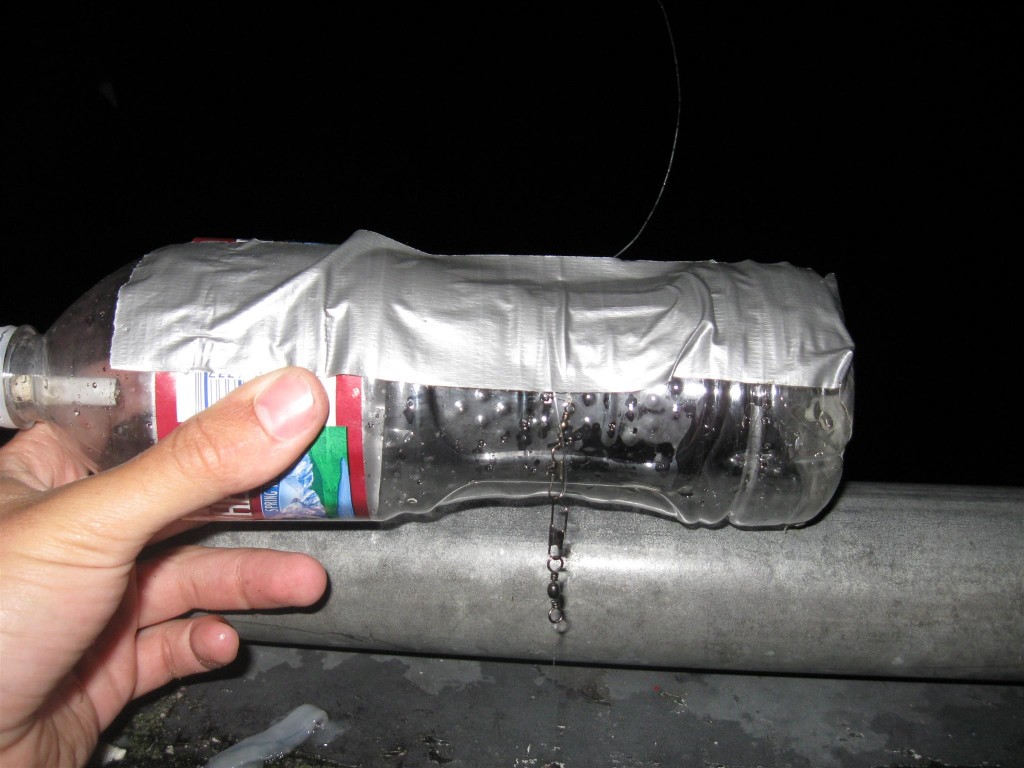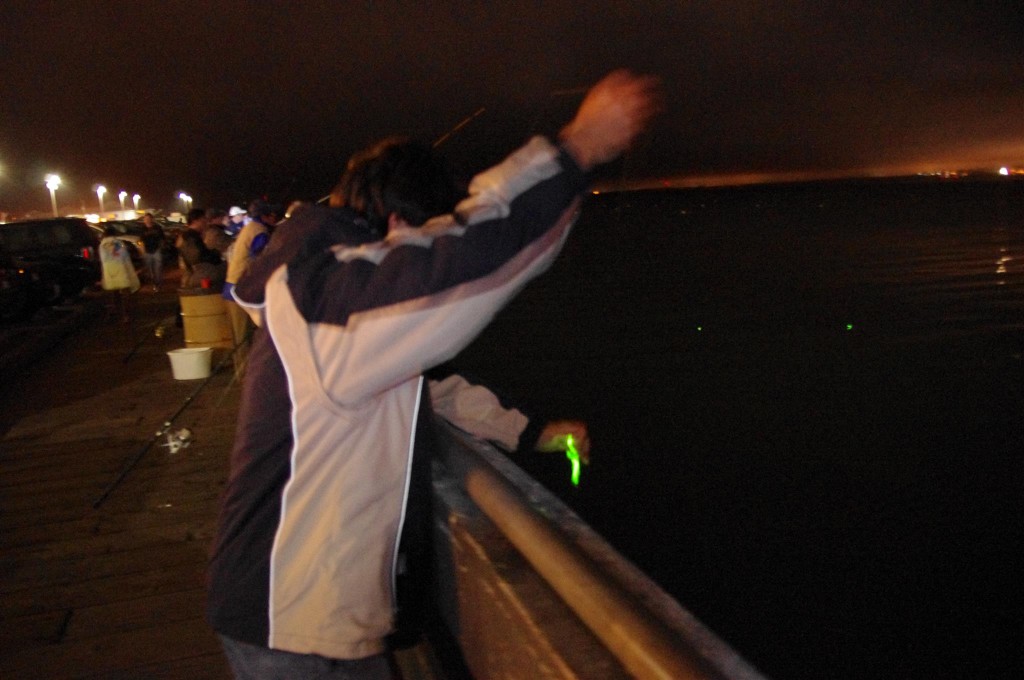 Pebble beach. Yup I fished there very briefly! I tried soaking squid during nightfall. Unfortunately, I didn't get any bites… more about this at the end of the report.  Nonetheless, the scenery was breathtaking: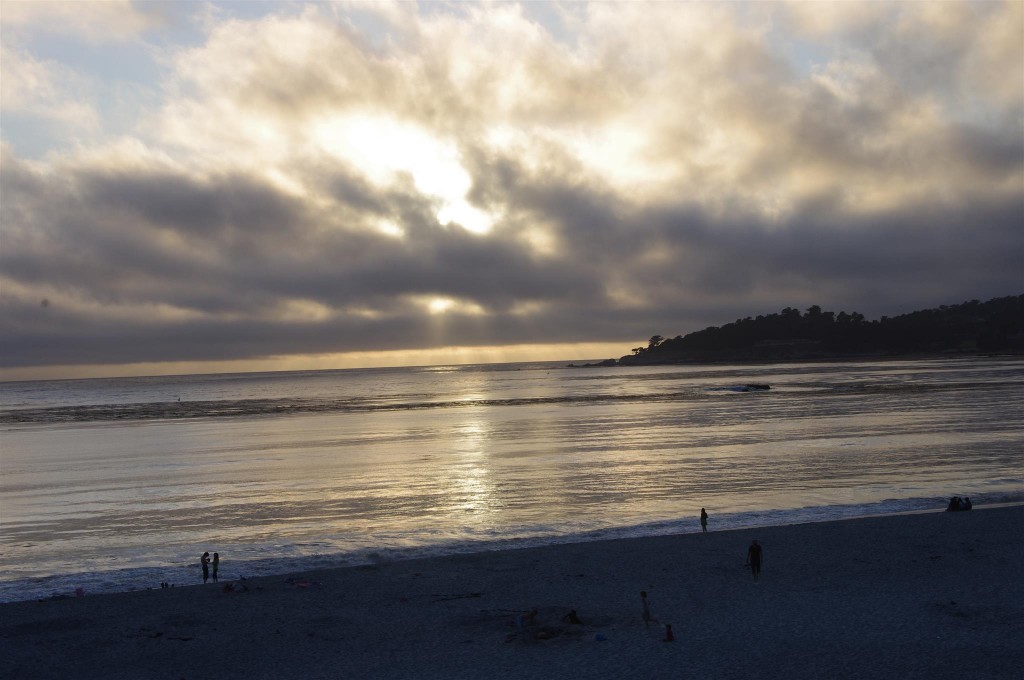 The second-last day in Monterey, I placed a whimsical booking with the Bamboo Reef dive shop. Finally a chance to put my PADI certification to use! Amazingly, the site for the dive was the small pier right behind our hotel room!
Fishing recon in order to find a better spot: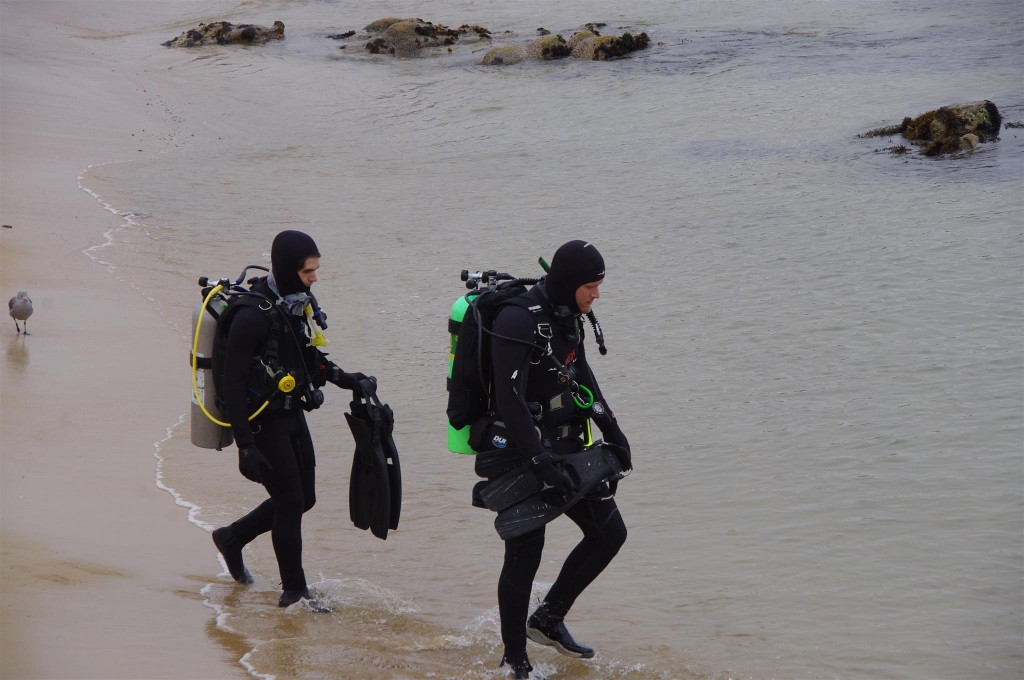 The dive was nothing short of fantastic. Beams of sunlight poked through lush kelp forest with schools of rockfish overhead. The rock shelf of the pier was loaded with fish of all different sorts! I crept up beside what I would later learn was a big lingcod and attempted to feed it a crab. Man, I really wanted to catch a lingcod! I also had the opportunity to swim over a massive halibut, biggest one I'll ever likely see. The guide found two small octopi for me and placed them in my hands. Truly, a dream come true.
As Ken would later call it, I had performed fishing recon. As soon as I was checked out of the dive shop, I was racing back to fish that exact spot! And right behind my hotel room… all this time… had been the most diverse and productive fishery in Monterey! And I had wasted all this time on the pier chasing mackerel!
The most productive fishing hours of the California trip were at hand. I had a blast on this particular jetty casting over a row of sea lions to reach between the rock wall and kelp forest. I tipped my Sabiki rigs with small bits of squid and left-over shrimp from the pier in order to pull out a whole slew of colourful critters. Quite a few other anglers were fishing here, but none seemed to be catching anything. Examining their tackle, I noticed they were all using hooks of at least 6 in size. A young child came up to me and had a look at the fish I was catching and said "Hey! You're so good at this!". I told him "I'm not good at this, I'm just using small hooks!". I gave him some smaller hooks and sent him back to start catching fish!
Fishing recon was successful!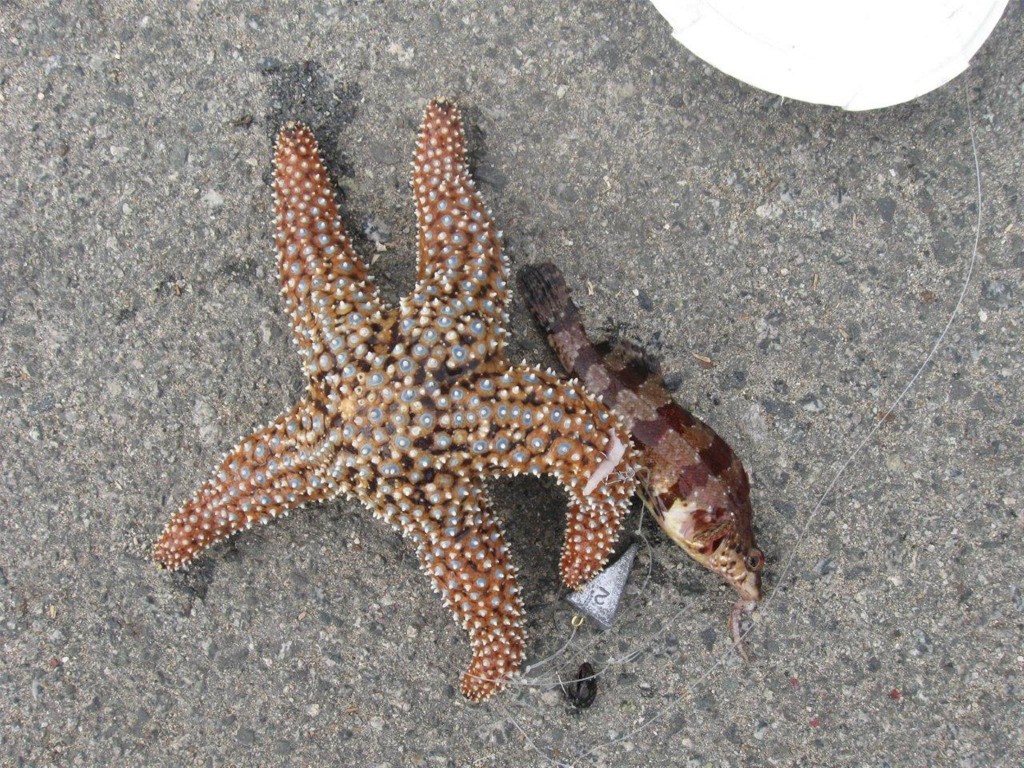 Painted greenling: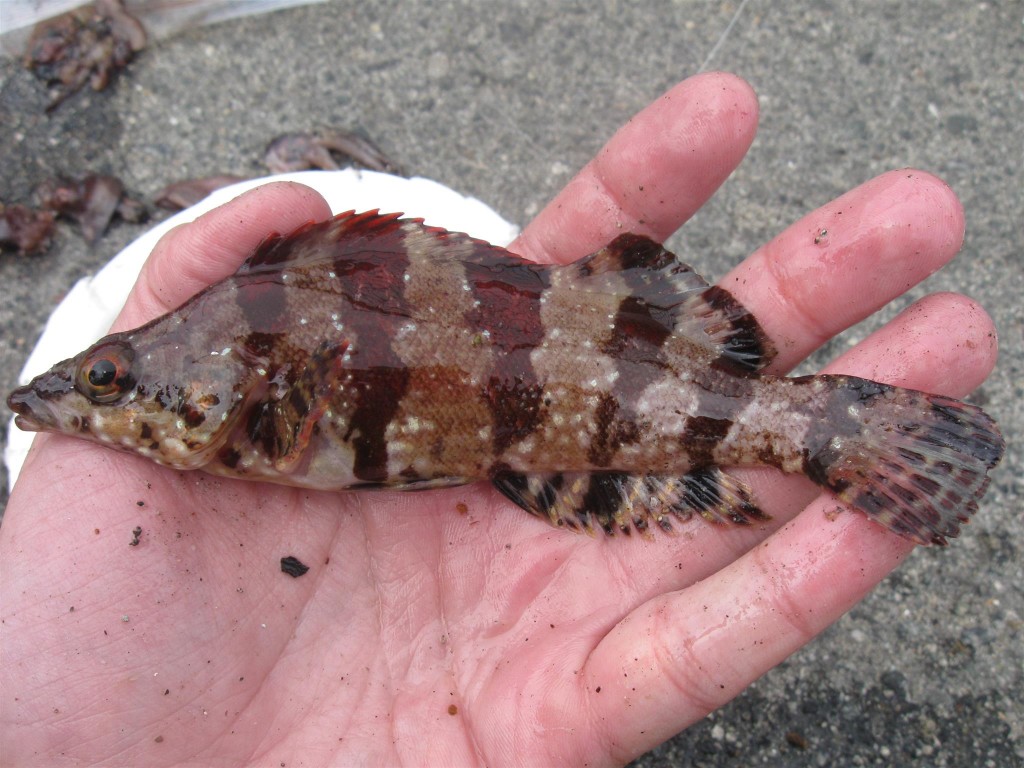 A kelpfish of sorts. Perhaps it is a crevice kelpfish, I've asked Steve Wozniak for help on this one (http://1000fish.wordpress.com/2010/06/27/countdown-to-1000-miracle-at-aquatic-park/ ):
Edit May 11, 2016:  I will call this fish as a crevice kelpfish based on the dorsal fin ray spacing, colouration, and location caught.
Crevice kelpfish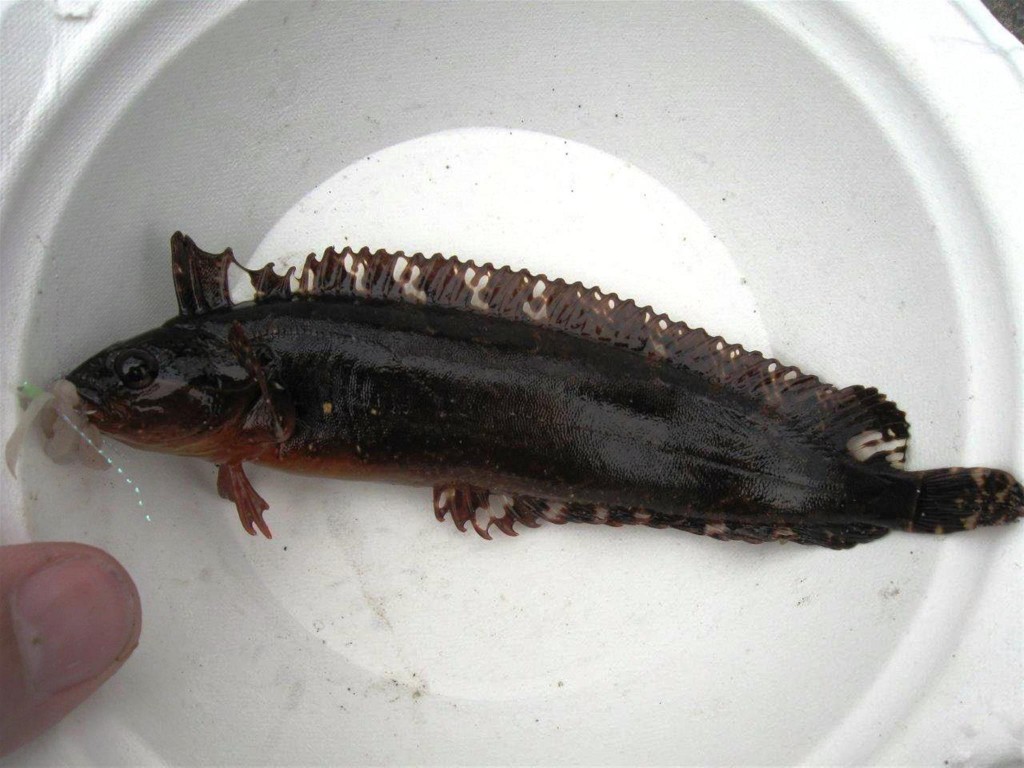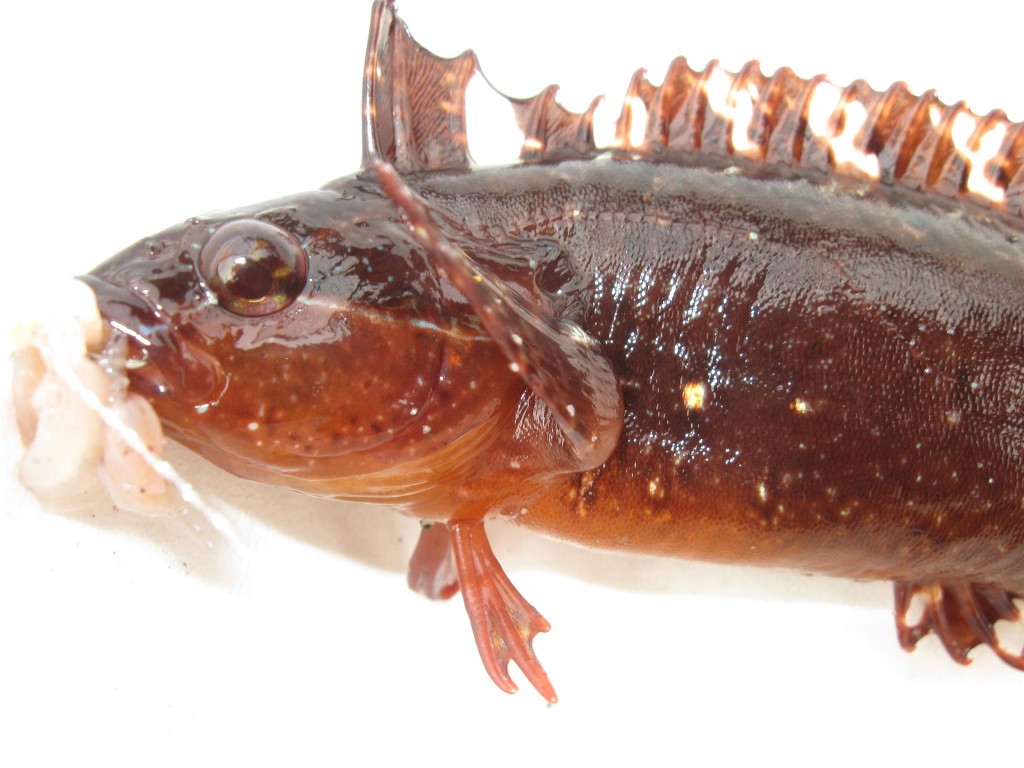 Juvenile blue rockfish: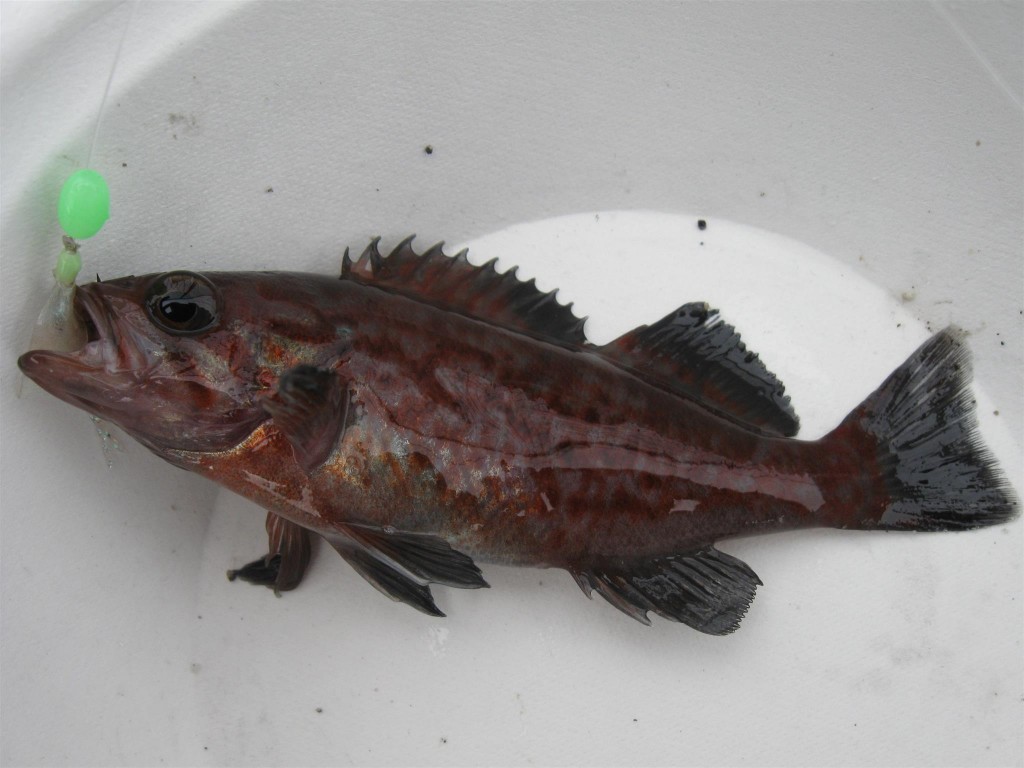 Adult blue rockfish: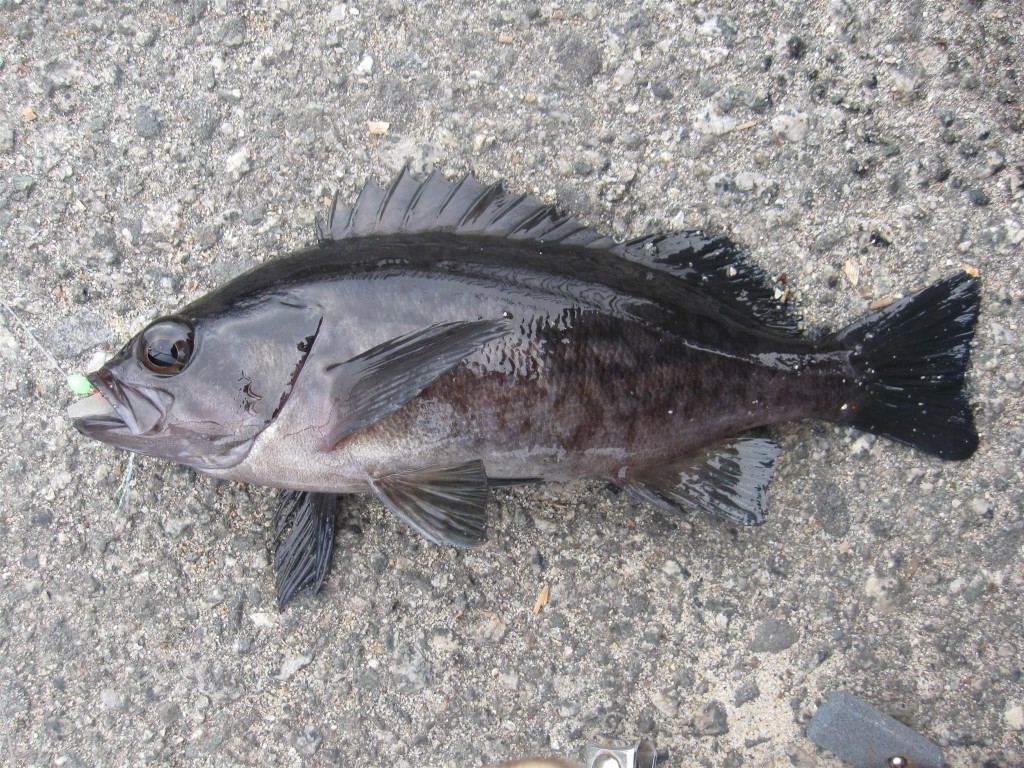 I had wished to continue fishing this productive and diverse spot, but it was time to pack it up and re-join the family.
For the last day in Monterey, I had booked a half day of rockfishing with Randy's Fishing. I was originally booked for an Albacore ¾ day trip, but this was switched to a rockfishing trip due to a persistent system of high winds off-shore. When I had phoned other companies looking for an alternative Albacore trip, they all reported cancelling all their trips for the day I wanted. I should have taken the hint…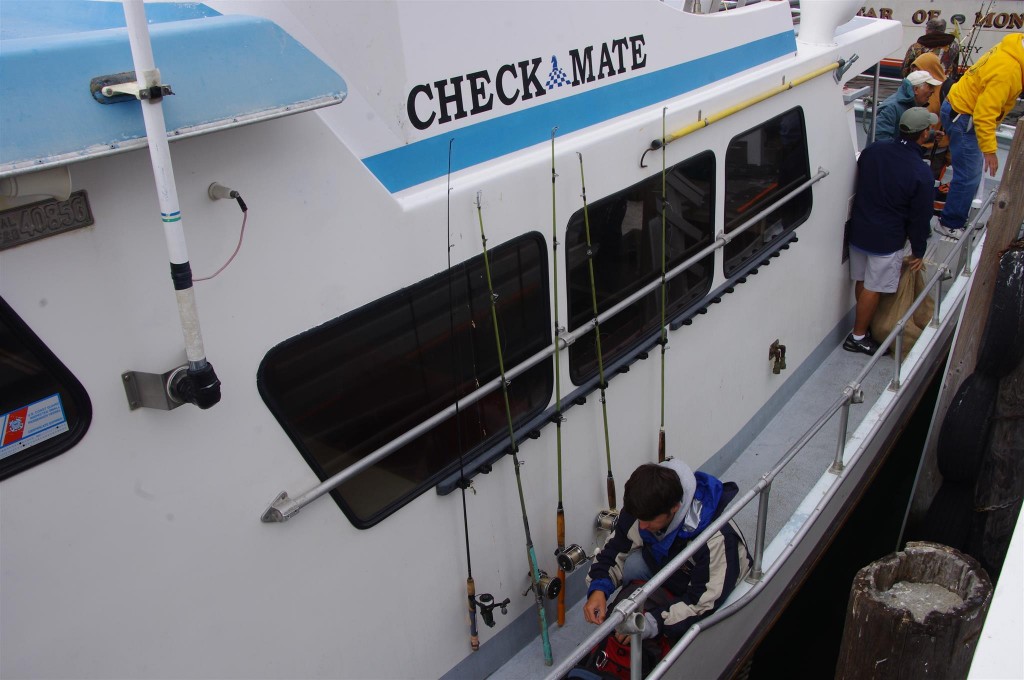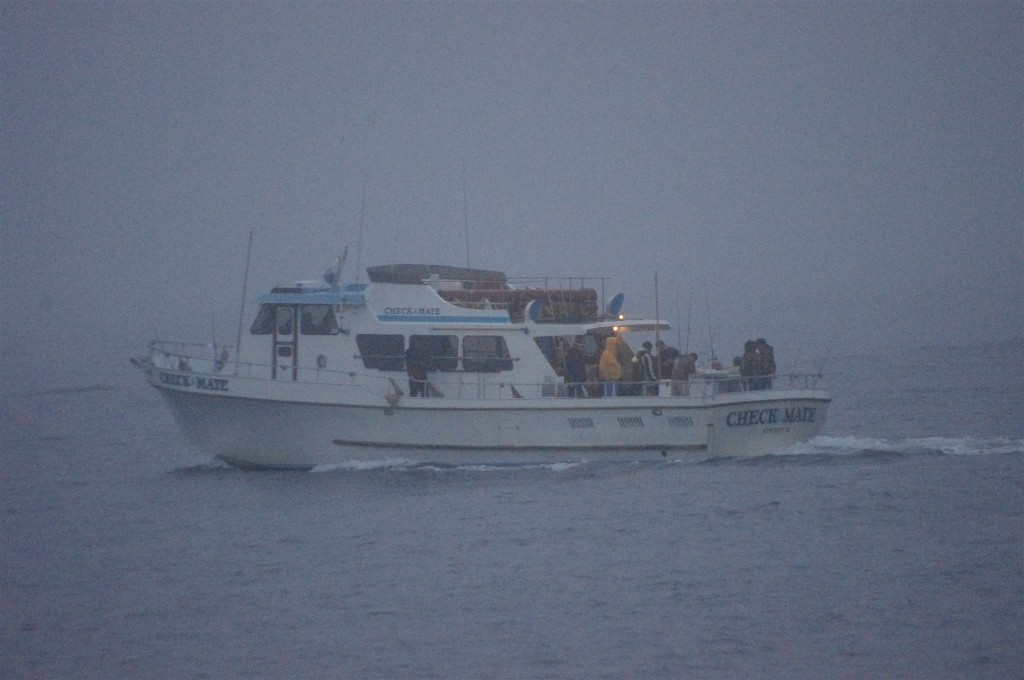 The boat was rocked wildly for the duration of the rockfishing. It made fishing quite difficult, as our rods were jigging up and down almost 5 feet due to the high waves. Half of the customers, including me, were quite sea-sick. Many were too sick to fish.
Nevertheless, I accomplished my goal of catching lingcod! I had been mesmerized by a large specimen of this gorgeous fish up-close yesterday during my dive. I ended up with 2 lingcod, one of which was not hooked, but held on to the 10oz sinker all the way up from 300 ft down!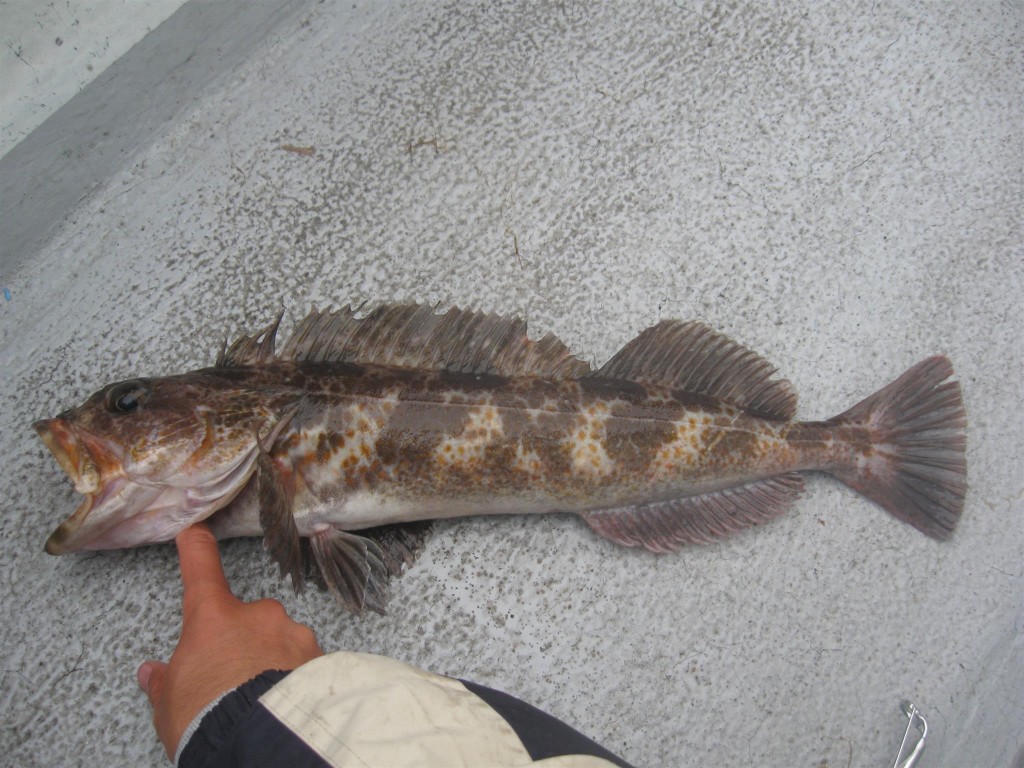 I caught exclusively yellowtail and olive rockfish. Most of the rockfish I caught were either olive or yellowtail rockfish (not sure which are which yet).  (Edit May 11, 2016:  Based on an anal ray count and location of capture the rockfish were yellowtails). Speaking with Ken later, I learned that this was likely because my bait was not hitting bottom, but was suspended. It was difficult to keep the bait on bottom with such big waves.
Yellowtail rockfish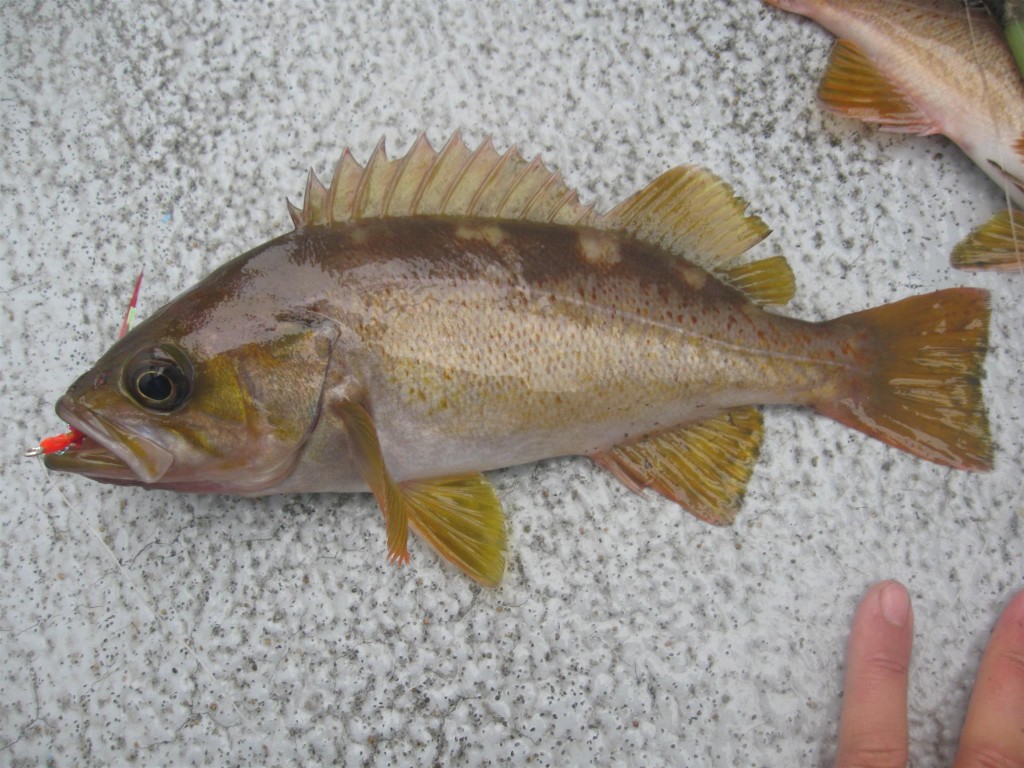 I have one major complaint with Randy's Fishing. Randy's had no sign of deep-water release clips on board, so every endangered Canary rockfish that was caught was quickly gobbled up by trailing pelicans. Thumbs down! =(
Pacifica
After the half day of rockfishing, it was time for us to begin our drive towards our departure point of San Francisco. We arrived in Pacifica after dark, where we spent our final night of the trip at an ocean-side motel. I attempted to fish behind the hotel, but a strong surge and cold wind made it difficult to do so. I ended up getting my feet soaked and didn't want to risk my gear so I called it a night. On my computer back in the hotel, I pleasantly stumbed upon the Pacifica Municipal Pier and decided to wake up early the next day for my final California fishing attempt.
Pier fishing the finial morning of the trip begin with non-stop crab action. Locals informed me that crabs were out of season, but they would constantly pick up my bait after no more than 5 minutes of soaking each and every time. Frustration at crabs ensued.
Finally, a few more anglers arrived at the pier and I watched them catch walleye surfperch from the pilings using sabiki rigs baited with fresh shrimp. I made friends with one angler and he let me dip my rig in the exact spot he was pulling walleye surfperch out of, but nothing bit my bait!
This is where I learned I lesson I had wished I had learned sooner in the trip… bait has to be FRESH!! He kindly let me use some of his shrimp and I soon hooked up with both barred surfperch and surf smelt.
Surf smelt: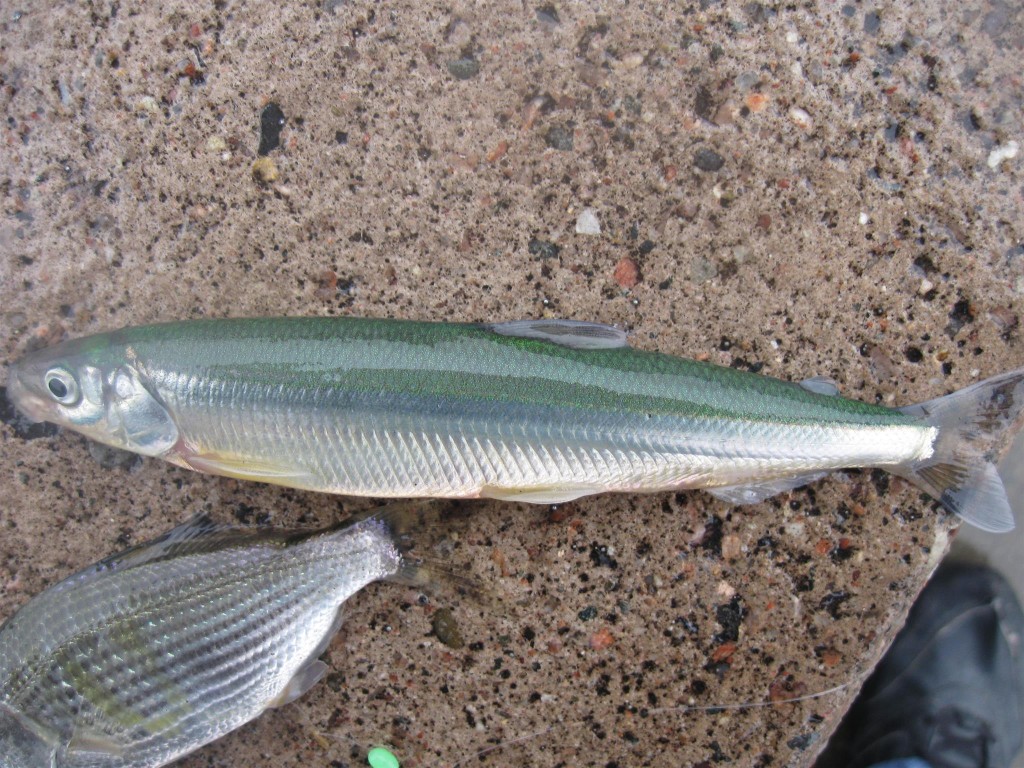 Shiner surfperch: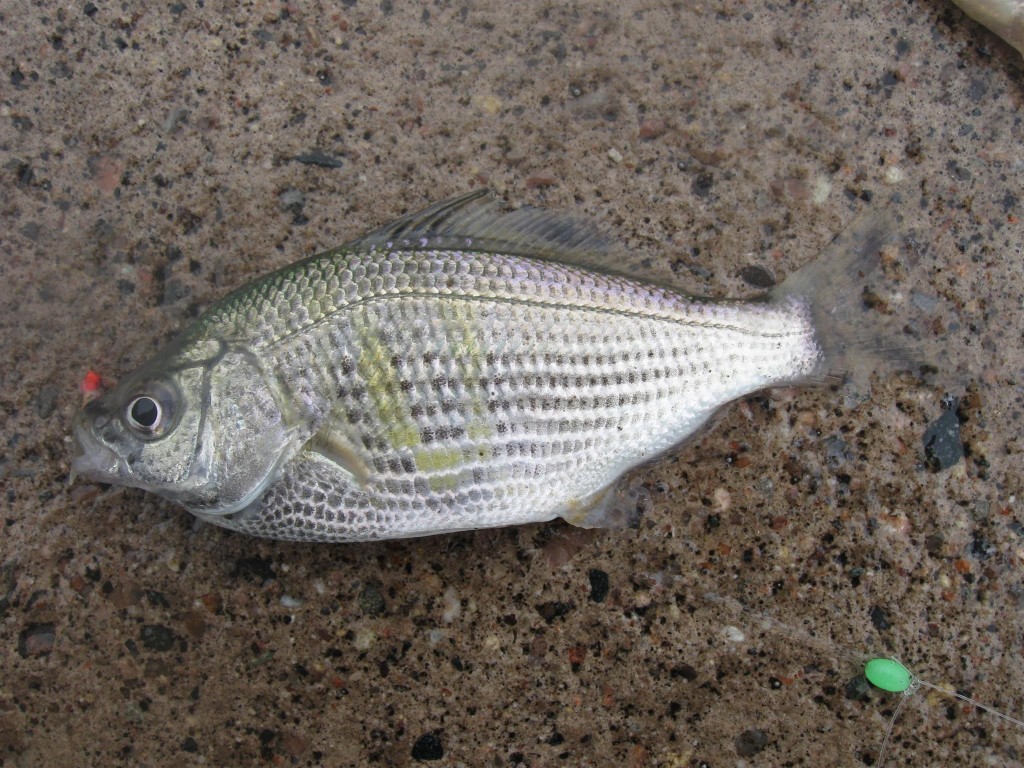 Sadly, by this time, the walleye surfperch had vacated the area. But that's OK because surf smelt was a fairly unique catch!
In retrospect, I now understand a few factors that may have led to my unproductive outings. Firstly, the weather on the days I had for fishing usually produced strong surges in the surf that would shut fish down. Secondly, and very importantly, I was frequently fishing with old, somewhat rotten, bait. Every free hour I had went towards fishing, and not buying fresh squid and shrimp. I had not understood the importance of FRESH bait until this very last day! Lessons learned to make my next trips even more productive!
A view from behind our hotel: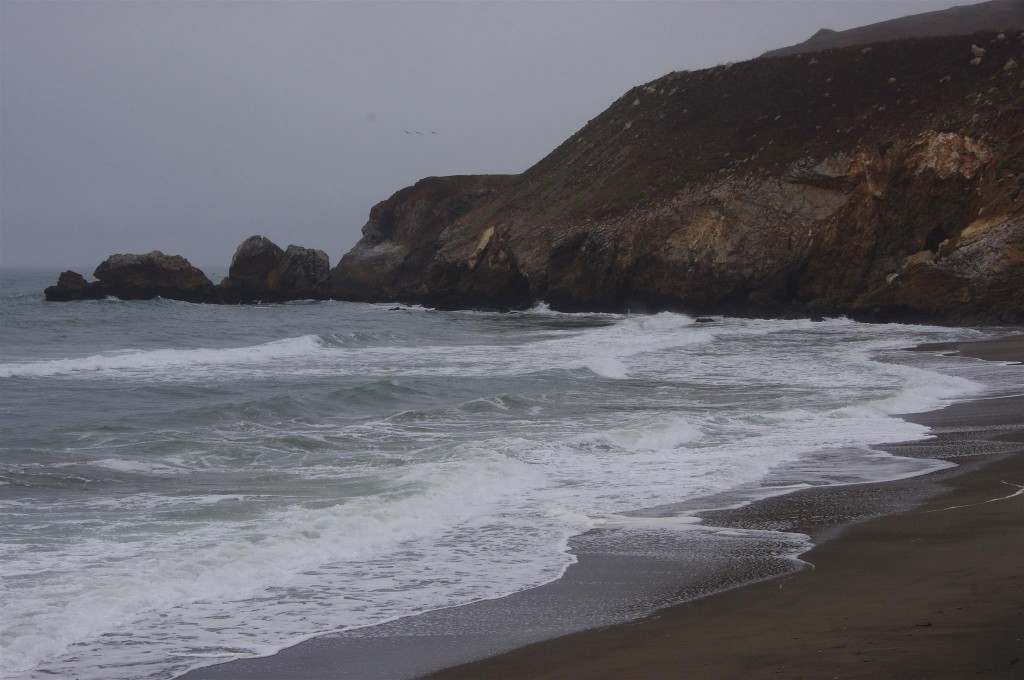 And with that, we headed north in a rush to catch our flight from San Francisco. Fog was thick in San Francisco, so I failed to capture the scenery… next time!
Dear California,
I'll be back for you!!!
-Michael