Early Saturday morning Ken, his friend Andrea, and I headed out to get some fishing done! Ken had mentioned to me the possibility of Freshwater Drum and Mooneye at this spot, neither of which I had caught before. I was prepared to add to my lifelist!
What resulted was, for me at least, an all-you-can-catch species buffet!
Upon our arrival, we stocked up on split shots and worms – both of which we lost a lot of on the river.
It was a sunny Saturday morning and the river was getting busy with people arriving from all directions. I was the first to walk down to the water to claim our spot. I took one look at the water and saw what I thought were mooneye cruising around weeds in 1 foot of water.
Ken had a look and confirmed that those fish were in fact Gizzard Shad!
Neither of us had caught one of those before so we busted out the size 20 hooks and light lines. We floated worms, then pieces of algea for the skittish, picky fish. Nothing, the fish would have none of it! A school swam right around my small hook and worm without even a glance.
In the meantime, Andrea was busy landing 2 or 3 gorgeous, silvery Mooneye. Yes! The Mooneye were there. While Ken continued to coax the Gizzard Shad, I switched my tackle over to bottom-bounce for the Mooneye.
Then came the first new species of the day, logperch: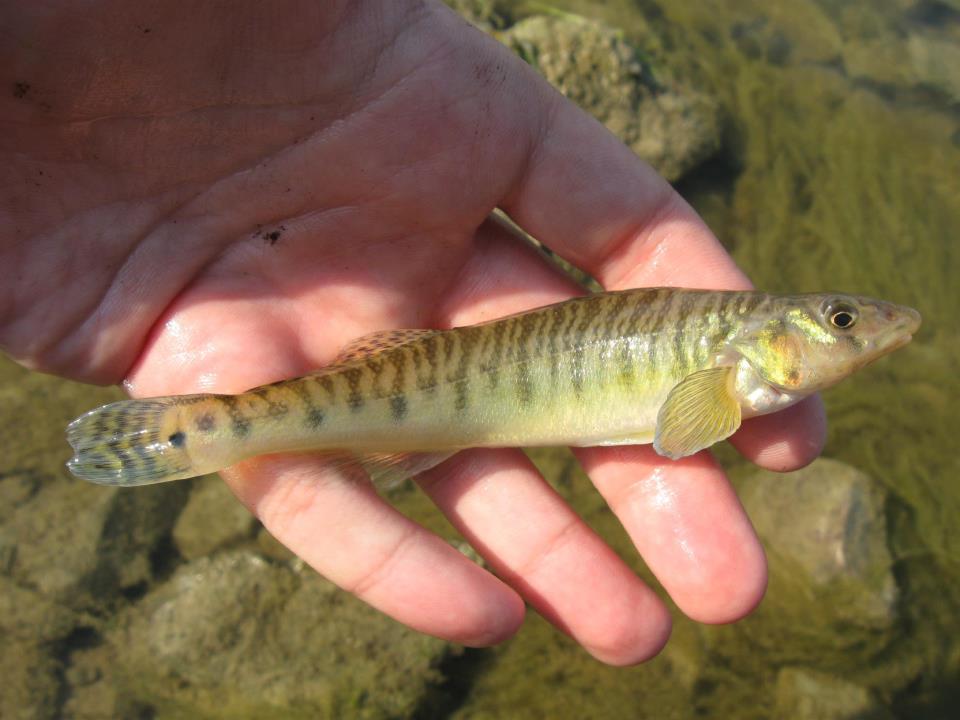 I had caught 2 logperch, and then Ken decided to call it quits on the insanely hard-to-catch Gizzard Shad and switch over to bottom-bouncing.
We hooked into some strangely pigmented gobies that we considered looking up later. Turns out they are just the run-of-the-mill round gobies: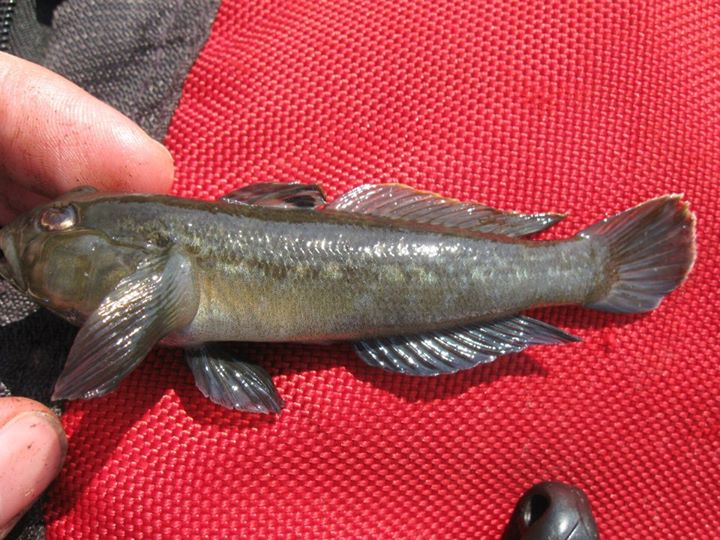 (the other ones were a deep purple/black in colour with yellow fin edges… quite striking)
I then proceeded to catch my first Striped Shiner! A good look at its back revealed the tell-tale V-shaped markings. It also lacked the scale crowding and solid black dorsal stripe of the common shiner.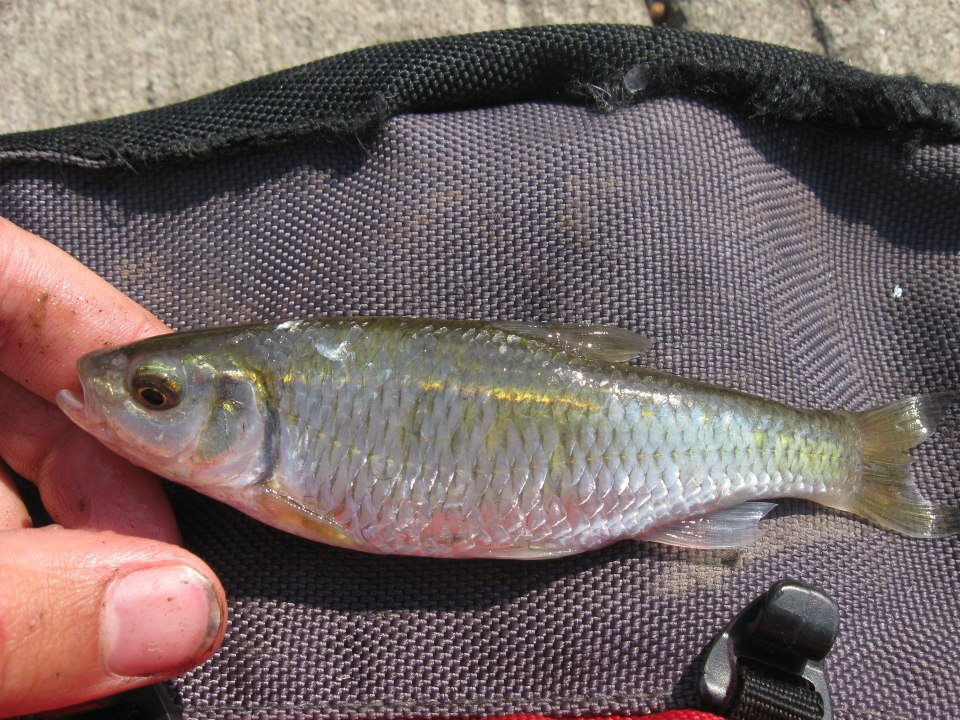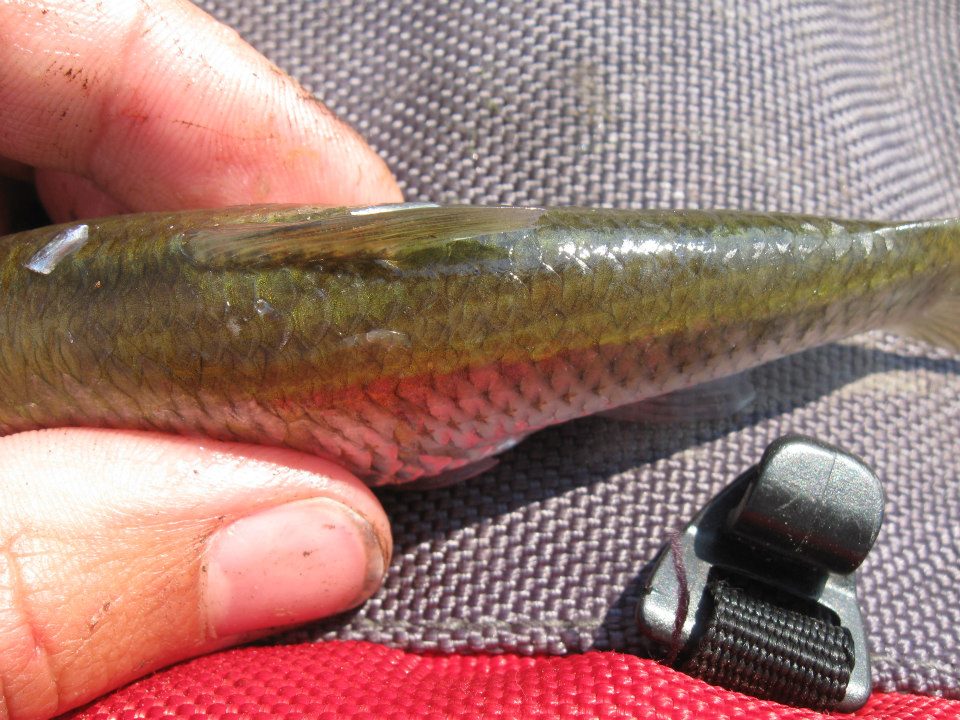 Species 2 of the day =).
I guess it was just my luck, because I somehow failed to hook into a single Mooneye after Ken and Andrea had already landed about 6 of them! The school was there… I guess they just didnt' like me =P. I switched spots with Ken and still failed to produce even a single one of these silver slabs…
But then my luck took a sharp turn….
On the rhythmic bounce, flow, bounce, flow of the bottom bounce my presentation stopped dead. I instinctively set the hook and was quickly slapped in the face by a strong tug and screaming drag….
The fight lasted a good amount of time. The fish was big – whatever it was. We finally caught a glimpse of what we thought was a big carp. Another run. We saw it surface again…. that was no carp. It was a redhorse… a very, very big one at that.
The tension grew, I was dying to land this fish. It would be my biggest redhorse I would probrably ever get the chance to catch. With some productive coaching from Ken we had the fish into the net!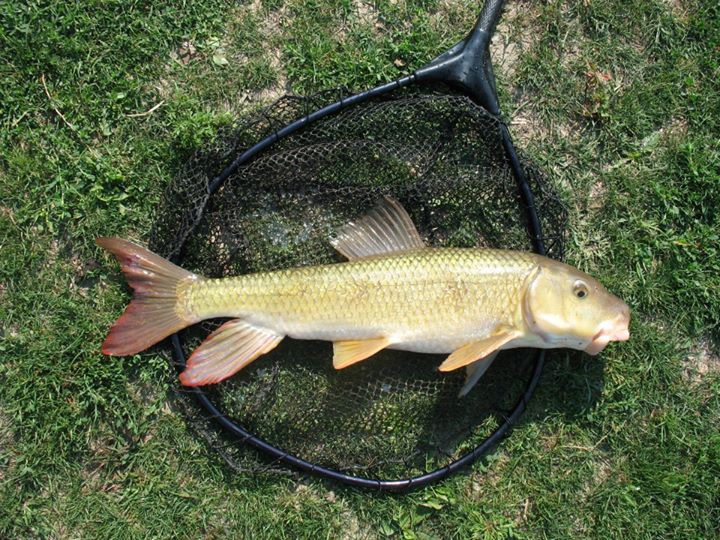 New species 3 of the day!
Some net research and pros at Roughfish later, the fish was revealed to be the elusive River Redhorse.  Here I am getting one on blind luck. Thank-you Ken!!!
Back to the Mooneye – but it seems the school had moved on or were no longer feeding. It was heating up and the fishing was slowing down.
We wet-waded over to another pool and caught bass after bass. Like Ken said, bass are quite annoying when species hunting because they'll bite almost anything. If you want to catch a lot of bass, just try catching something else and you'll get all the bass you ever wanted.
In the late afternoon Ken decided it was time to try the other side of the river. I was getting antsy… had I missed my chance at my Mooneye?
A few more worms were purchased and a quick drive was made to get us to the other side of the river. Well it turns out that moving had been a great idea!
Three drifts from shore later, I hooked into a good fish and Ken saw the tell-tale bright silver flash from 10 yards away!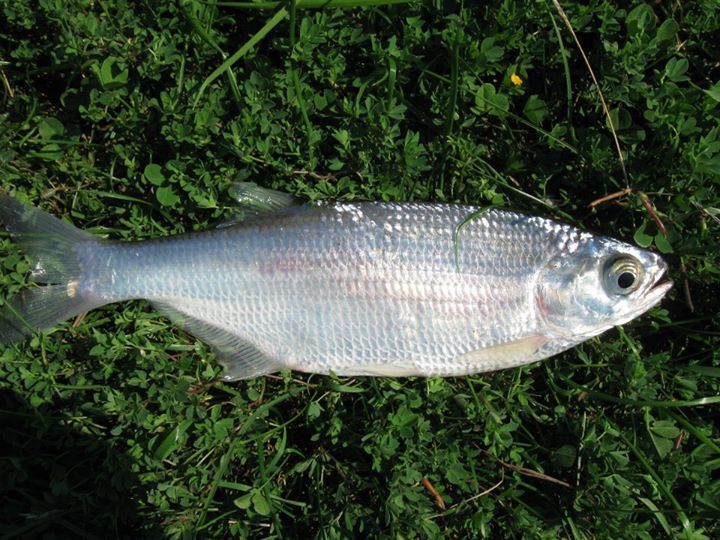 Species 4 of the day… the fishing gods were on my side today! I was STOKED and also really lucky, because that was the last one we would catch that day.
Next pool and about an hour later, l felt small taps set the hook and reeled in a snagged Gizzard Shad. What are the odds… there must have been a lot of them! It was snagged on the top of the head!
A small while later, I was getting my lunch from my bag while resting my rod on a rock. Like I had just said, it never hurts to leave your bait in the water while you do other things! And that's how I got my first channel catfish!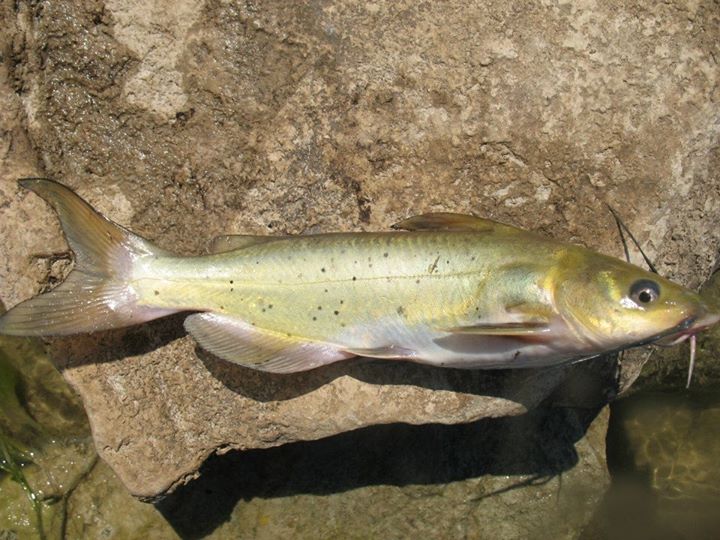 New species number 5 of the day! Time to head for home.
Upon arrival we realized we had forgotten Ken's net on a rock in the middle of the river. R.I.P. Ken's net, it went out with a bang. The net had a burial at sea… errr… river =).
There lay one of the finest landing nets to ever grace fin.