Last year, I experienced a Burbot disaster, this year I experienced the Burbageddon. Uncertain if last year's burbot spawning ground would close to ice fishing forever, I was exceptionally fortunately to be able to spend three nights there in this 2014 ice season.
It will be three nights that I will never forget. Three nights spent alone under the cold stars, enveloped in the absolute windless silence I have grown to covet. Three nights of Burbostrophic Burbostrophe. Burbageddon.
I arrived at the spot on the evening of March 24 and set up my shelter for the night. I popped two holes, one for my line and one for my transducer. I didn't mark anything until it got completely dark. Then the burbot appeared on schedule. It wasn't the sheer insanity I had experienced last year, but it was consistent action for an hour before the group moved on.
I fished one line and the burbot responded to jigging. On this first night, I mostly relied on a small, glowing jigging rap tipped with salted minnow. I was amazed at how many fish were able to spit the hook. Through the course of this trip, I lost almost 50% of the fish I hooked.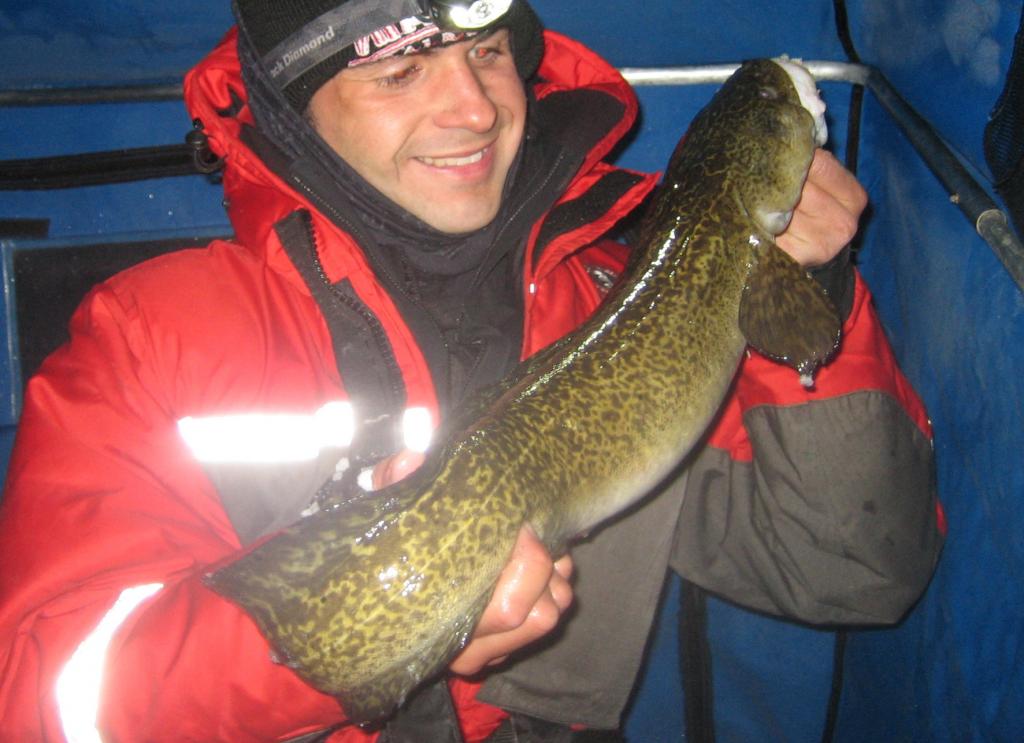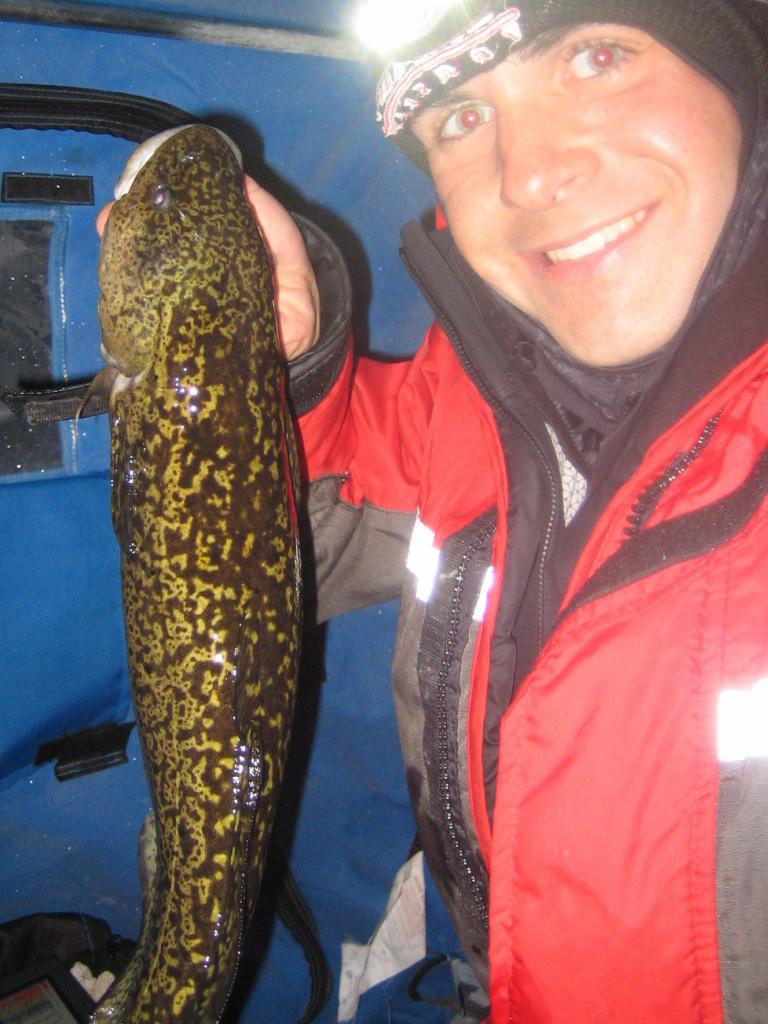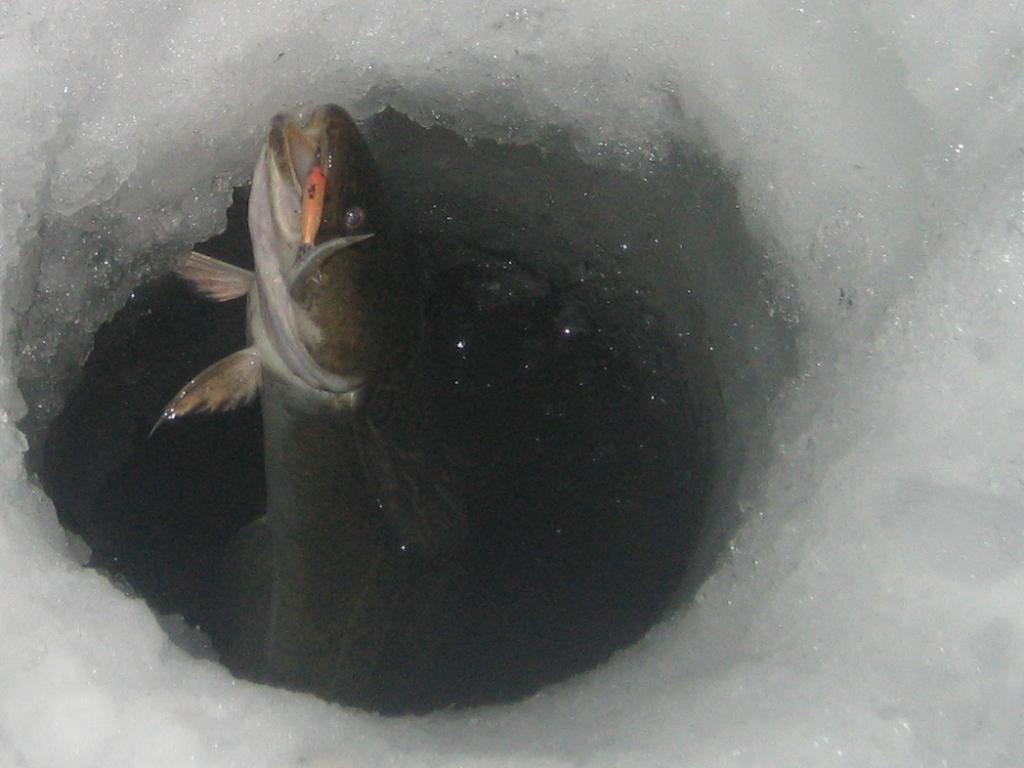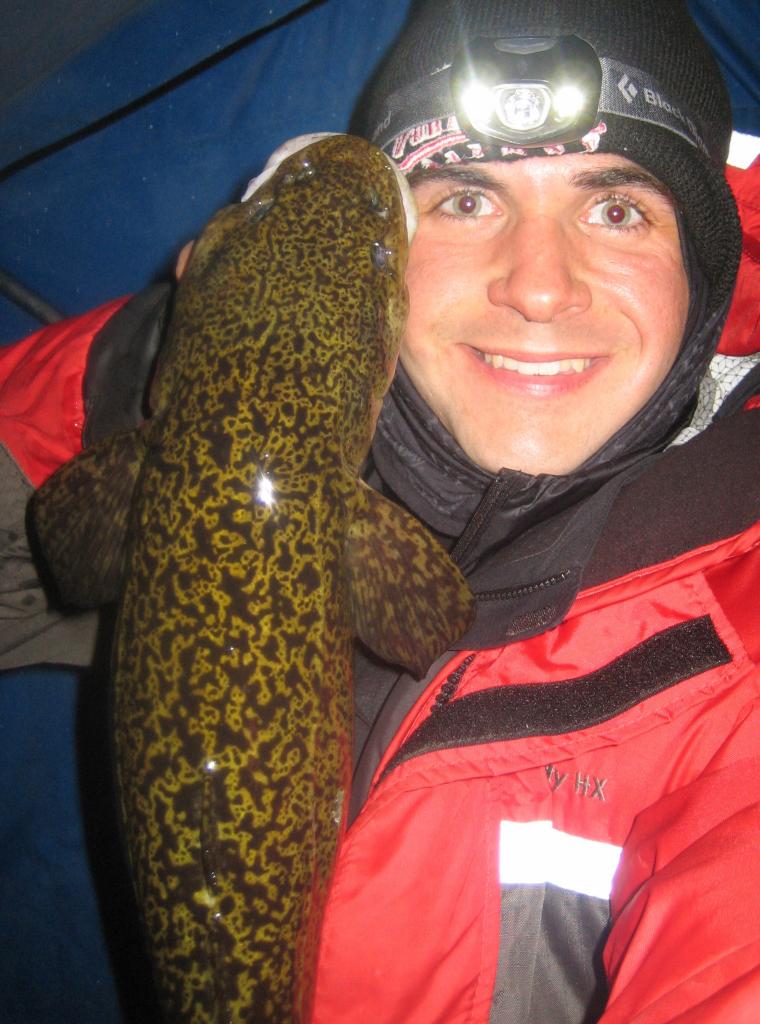 The few fish came within an hour and then I stopped marking fish. I decided to call it an early night and headed off the ice to the car for some sleep.
The next morning I decided to put in a set line flag on the spot. I jigged for a few hours and, as per usual, lost two suspect burbot. When burbot fight you can feel their undulating tail hitting against your line and this is why I suspect they were burbot. Not much was going on so I decided to do a little tour of the lake and explore potential new locations.
Well, I had travelled a few kilometers when I realized I had forgotten my set line. I did a quick 180 and returned to a raised flag. The fish was heavy and it was in some rocks. After long, patient battle with ginger fingers, the fish was finally free and on its way up. Unfortunately, the rocks must have nicked the line because the 8lb mono snapped like sewing thread at the hole before I could get a look. The weight and lazy nature of the fish on the other end indicated a big burbot.
I decided to stick around the spot and jig. Not too long after, this big ling picked up my minnow-tipped back boys. At about 5.5 lbs, it was the "big burbot" of the trip. There's room for improvement .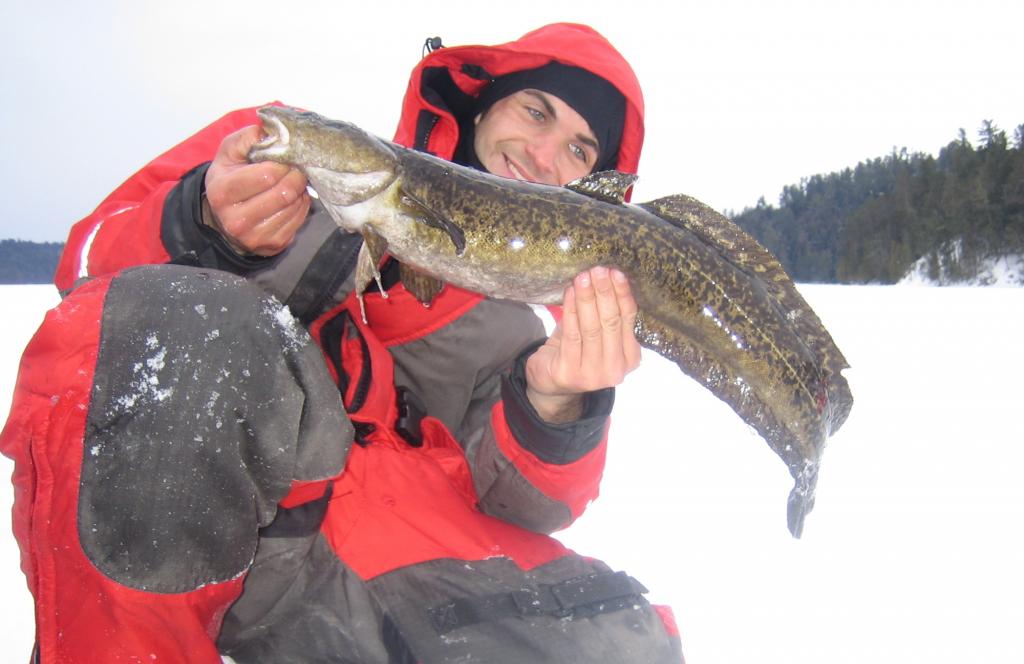 Same lure just minutes later produced a fiesty, albiet bleeding, surprise! My favourite icy companion, the lake whitefish.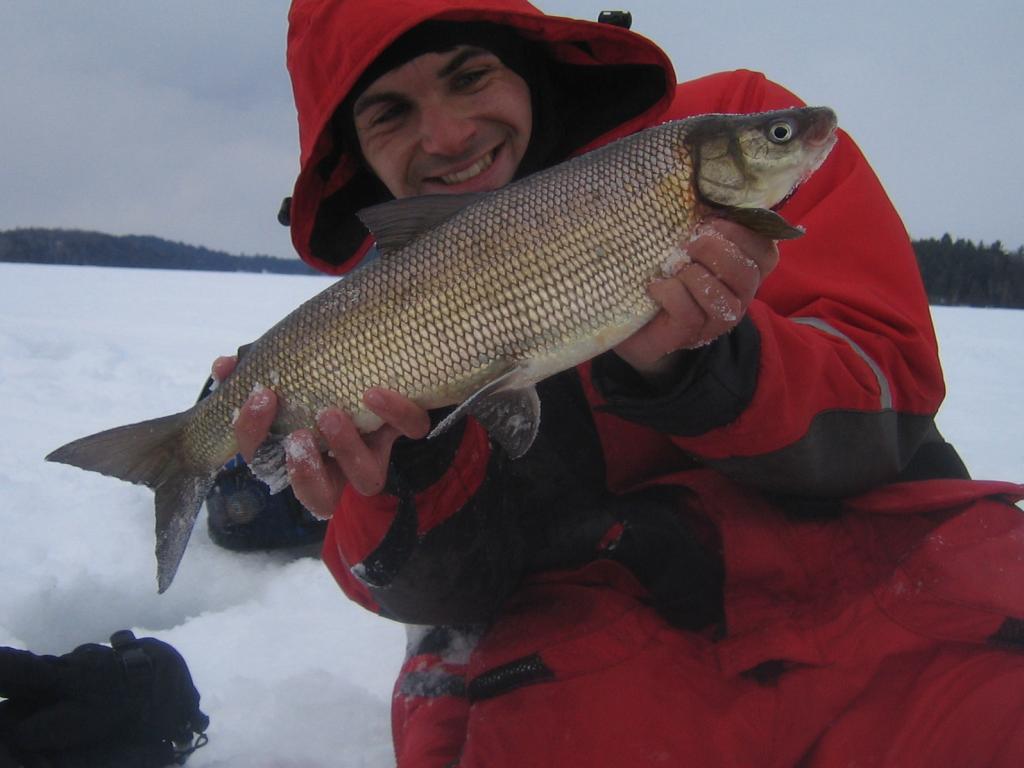 I set up my hut for the night, but was dissapointed when I didn't mark anything for the first hour after nightfall. What had become of the burbot? I spent many dark hours mvoing around the spot to stay on top of some burbot.
I began to notice that burbot aren't really all that responsive to jigging. They seemed to prefer my lures to be still. For a while I was having good success jigging a glow spoon aggressively for attention and then deadsticking for the bite. I even had a burbot rise up five feet to grab my minnow-tipped bad boy while I was checking sonar history. Quite the pleasant surprise.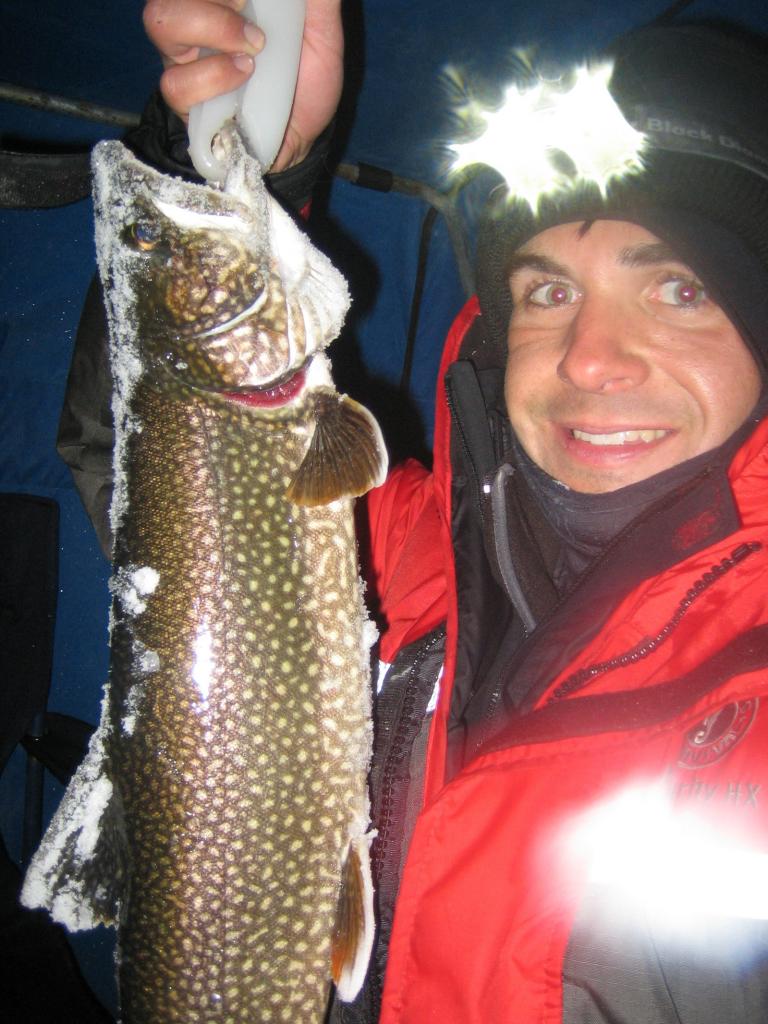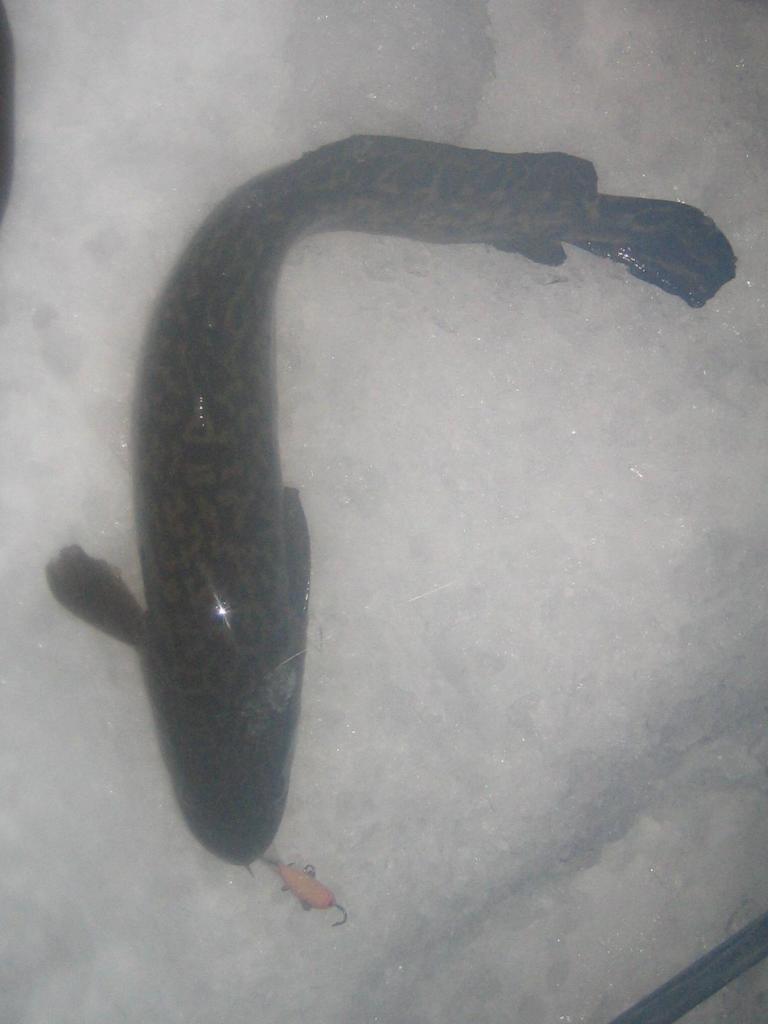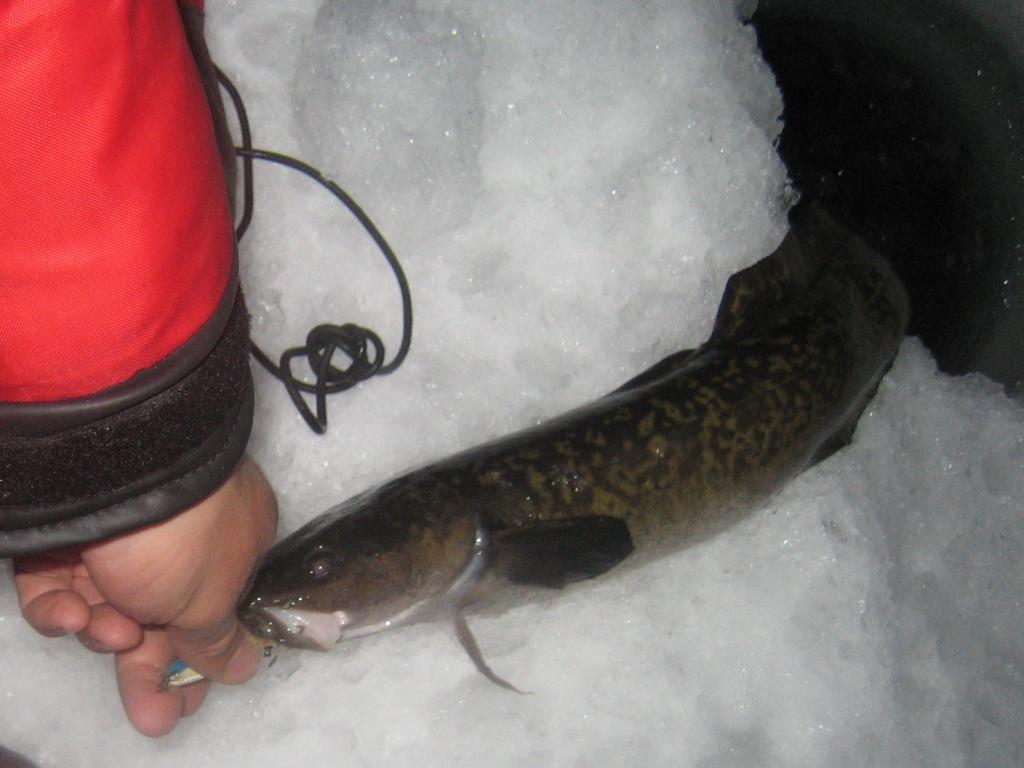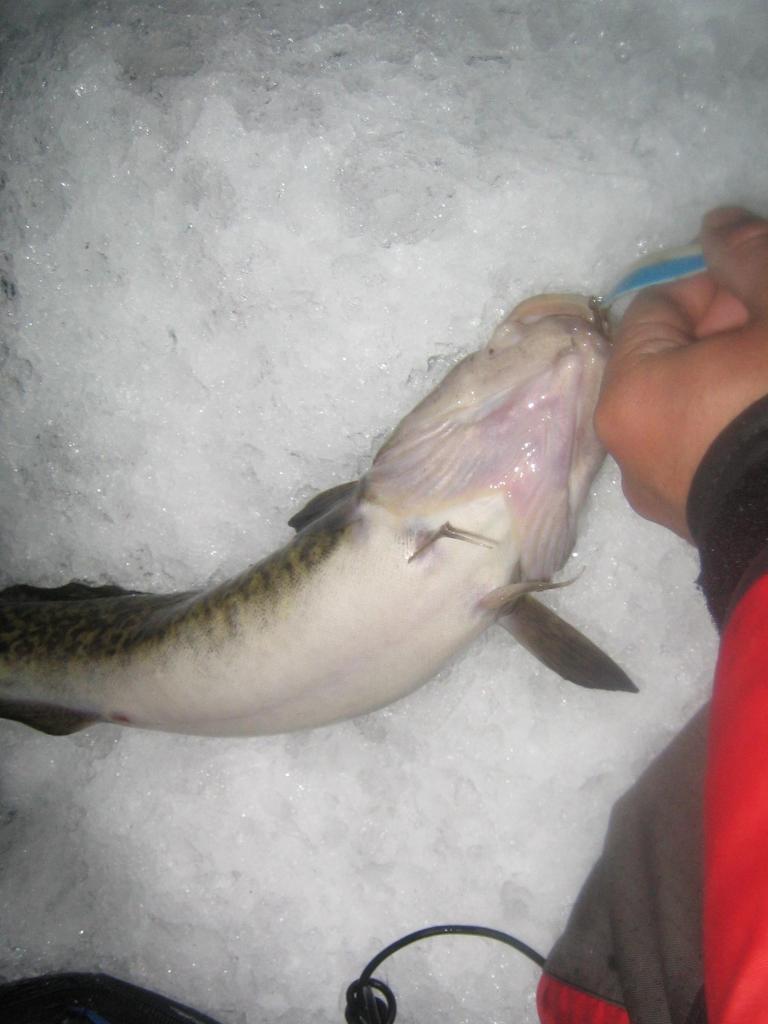 The night dragged on and I returned to my orginally dead spot to find some more active fish. I lost quite a few of them but finally landed this guy.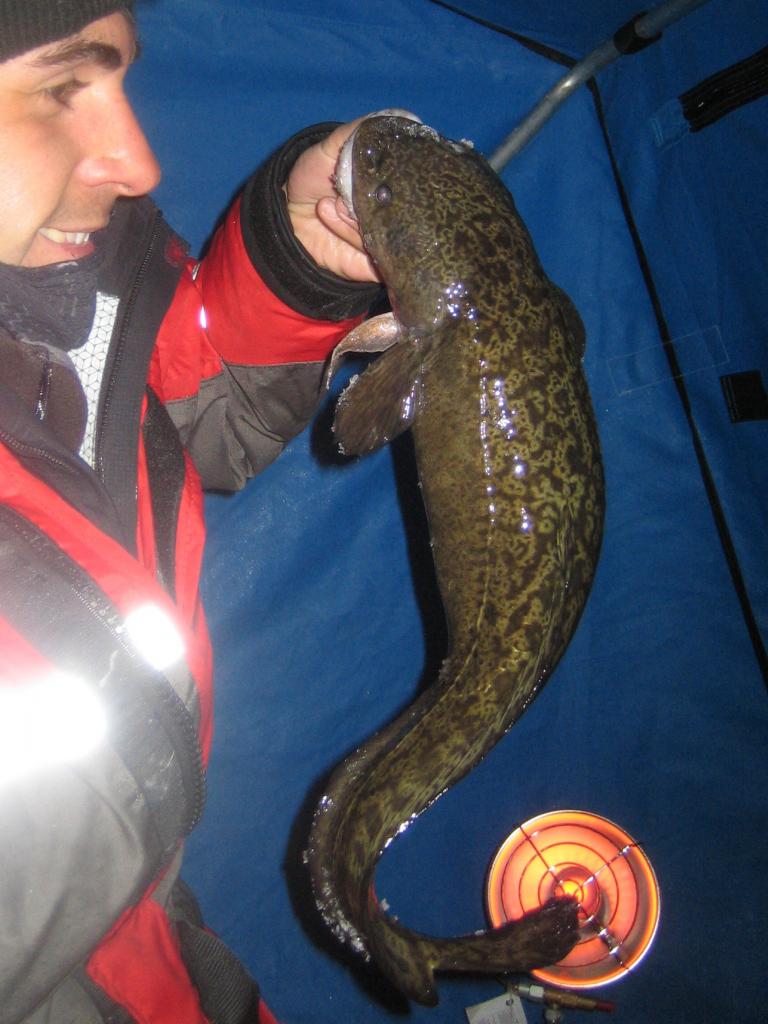 At some crazy hour, 3am in the morning, I was awoken from my half-slumber by a blinding downward streak on the graph. This fish had charged my bottom-hugging glow spoon from above. What a fight at 3am in the morning. Took about 10-15 minutes to land this 9lb laker, by far the largest I've ever caught on this lake. Perhaps the big ones roam at night.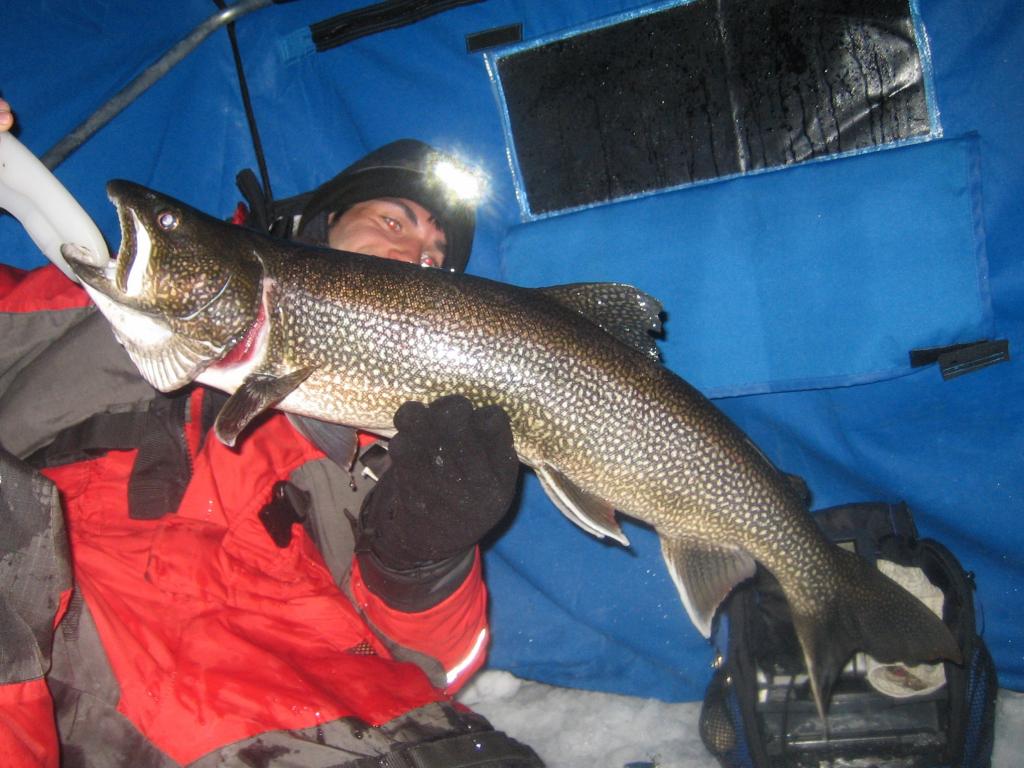 After that I wasn't marking much and was falling asleap so I headed back to the car for a proper rest.
The next morning I once again set up a flag. Then, I went on a mission to map out the area's depth contours and hopefully discover the burbot's daytime holding ground. At one hole over about 100 fow, I closed the bail and felt something on the line. I reeled up a little lake herring that I kept, and cut up for bait. The burbot absolutely loved this bait on the flag.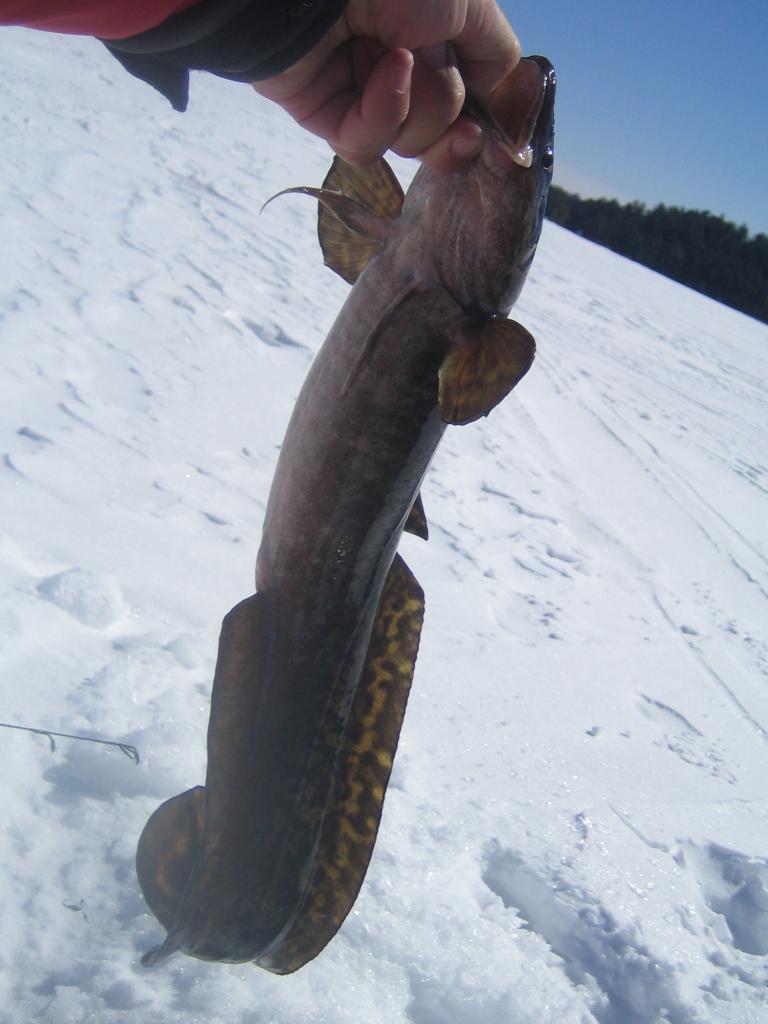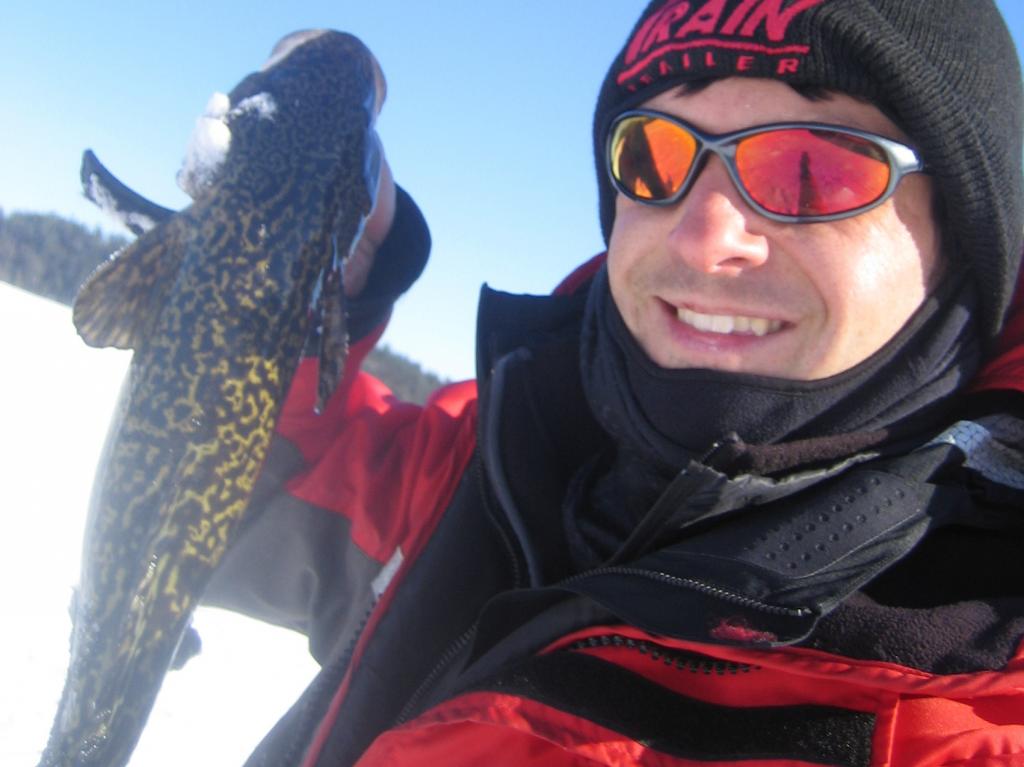 Then it was time to set up for the third, and final night. This time, I pre-drilled a long circuit of holes so I could move around without spooking the fish later on.
I hope this picture can convey the sheer tranquile dead silence that I was so fortunately to experience for three consecutive days… minus the snowmobile and power auger of course haha.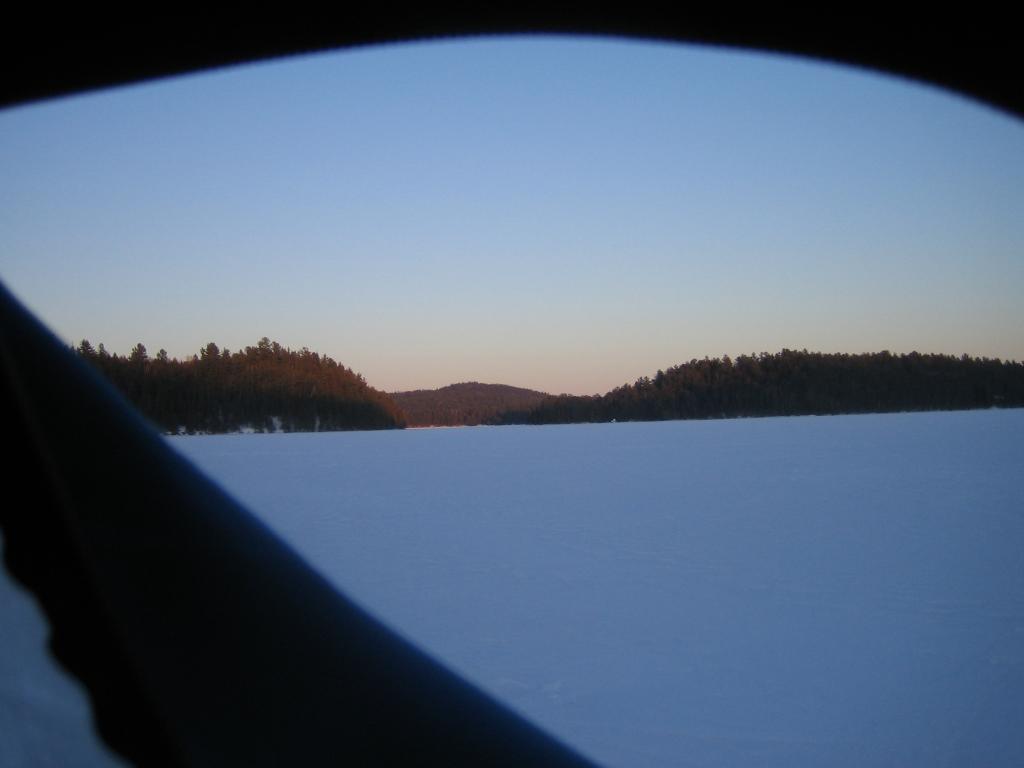 The burbot performed for me on the final night. I jigged very slowly and kept my lure still and was rewarded with more bites. I still lost a lot of fish. I now am aware that burbot have very bony mouths and, even though my hooks were kept sticky-sharp, I may have been setting the hook too early. Most of the burbot I landed were hooked at the edge of the lips. Accustomed to setting the hook at the slightest "difference" while targetting whitefish, this same technique may have been hurting my odds at the burbot. More experience will tell.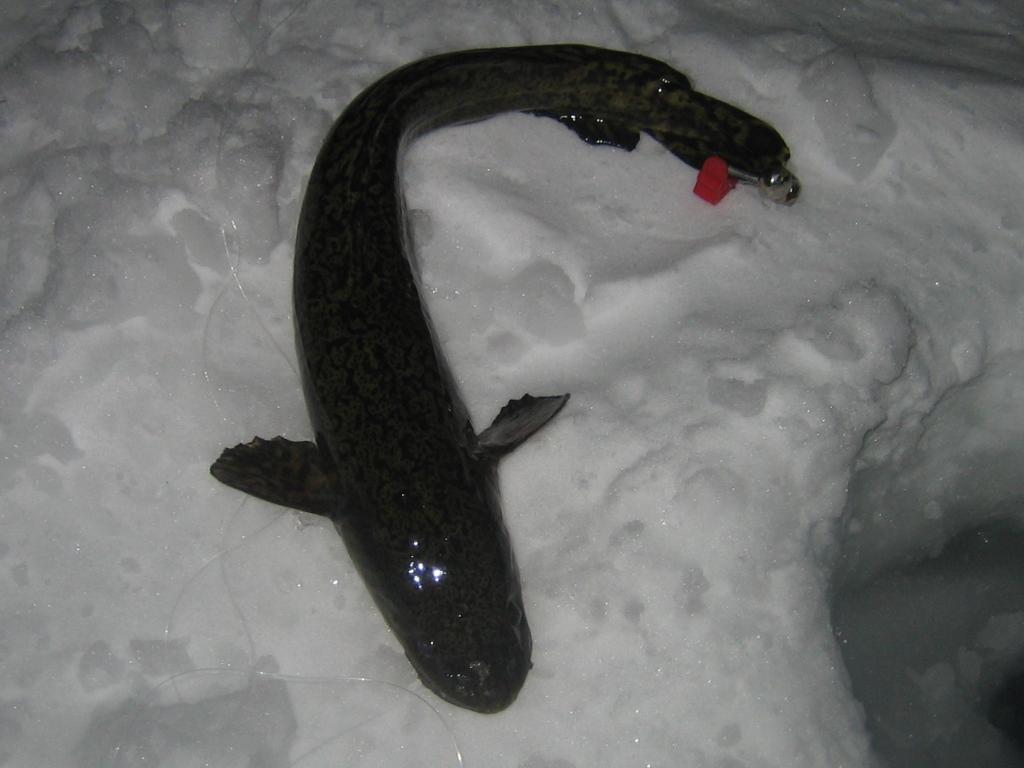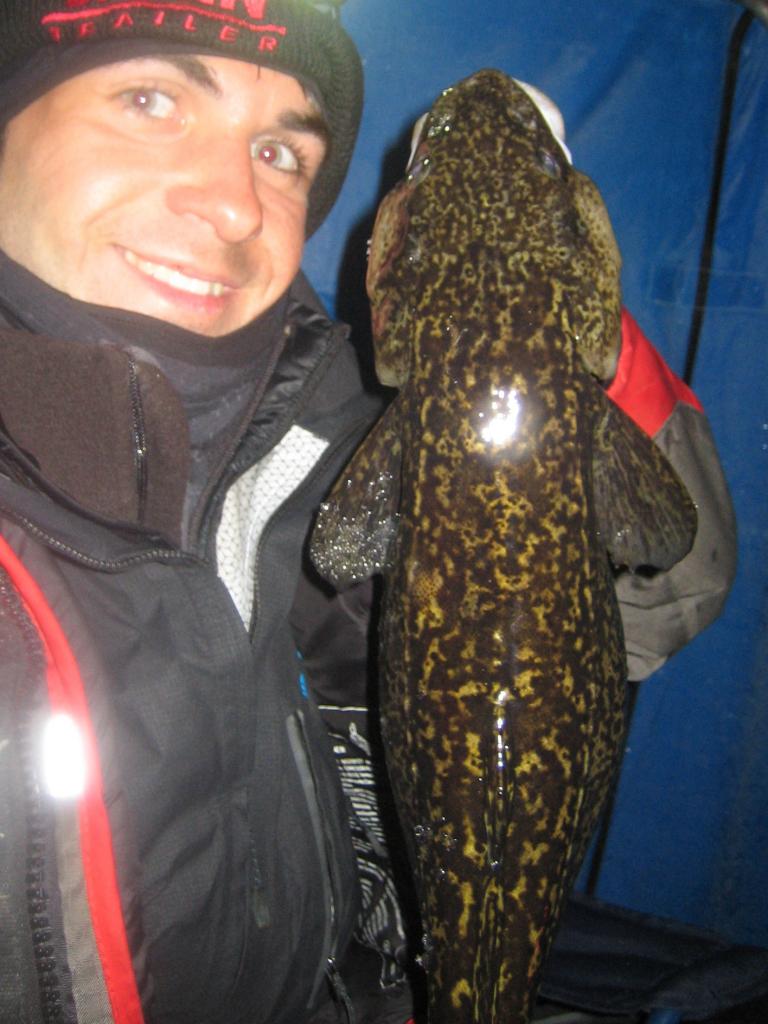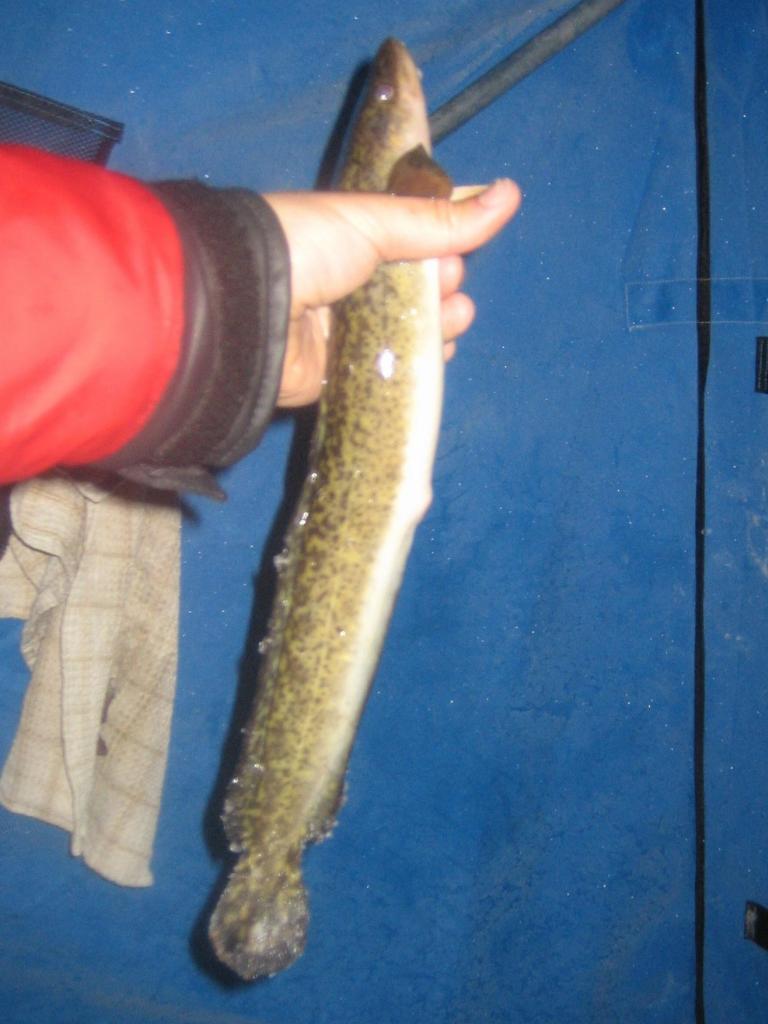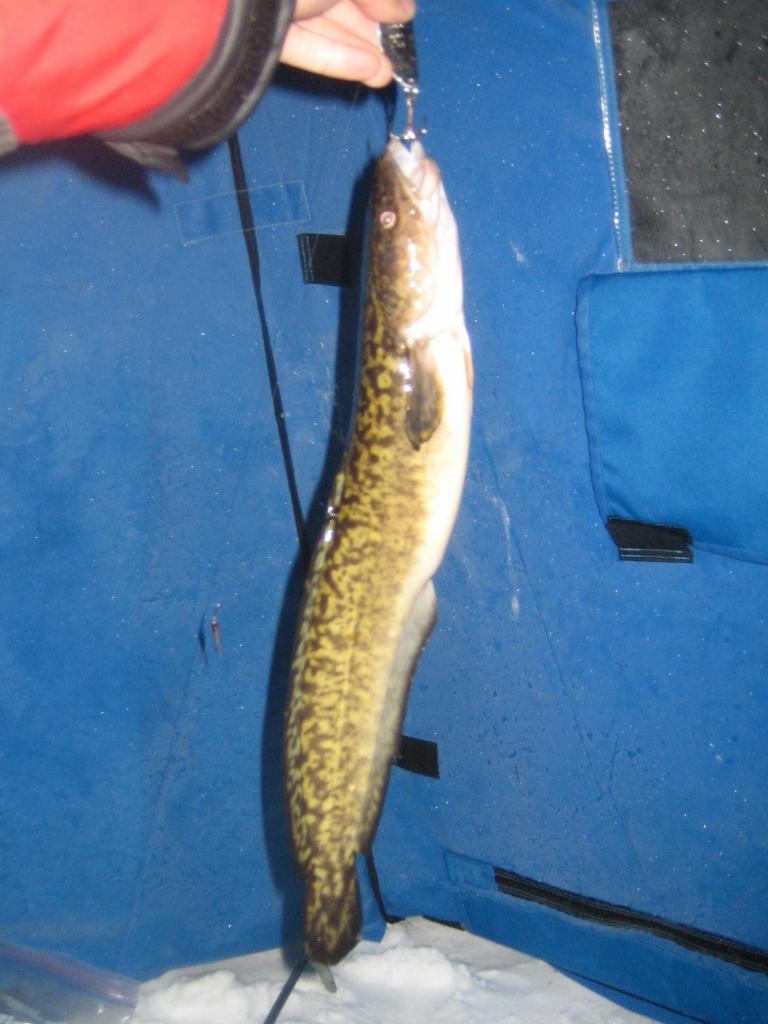 I am left clueless as to why burbot are considered a "trash fish". Their mottled, contrasting patterning is breathtaking and none less handsome than a laker's.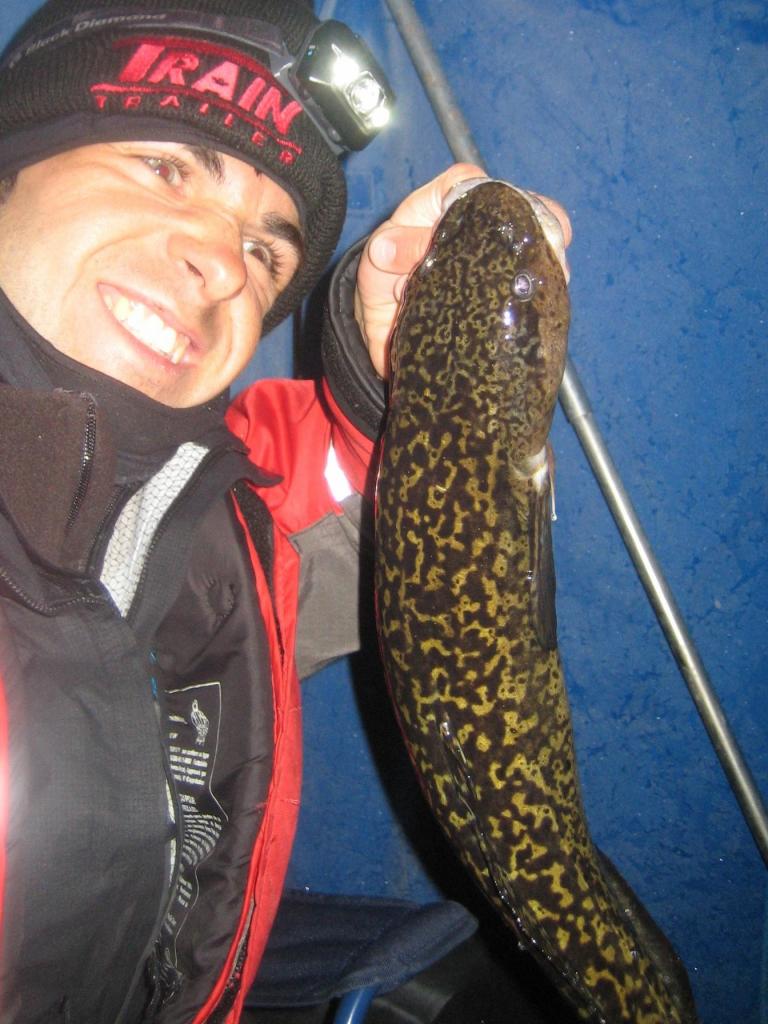 After a few fish on the set line flag, I opted to put it away. There really was no need for another line, the burbot were quite consitent and I really get a kick out of jigging for them. I chummed my holes and had a group of fish move in that completely ignored my jig. Picky burbot perhaps. I would have the same experience on a later ice fishing venture.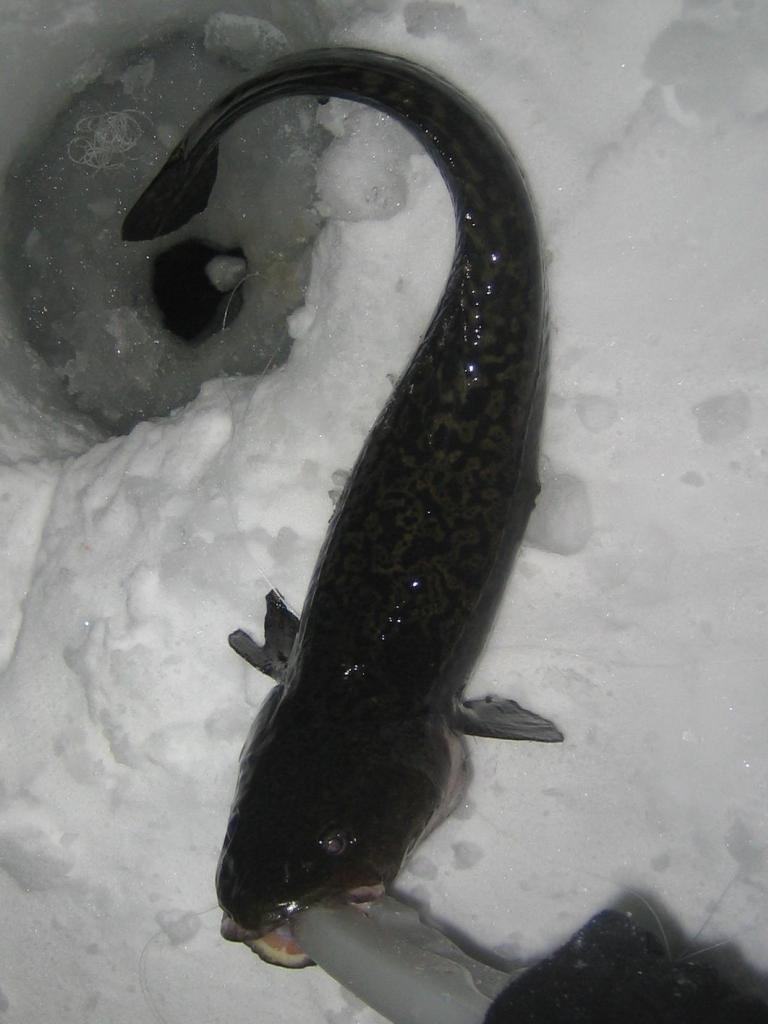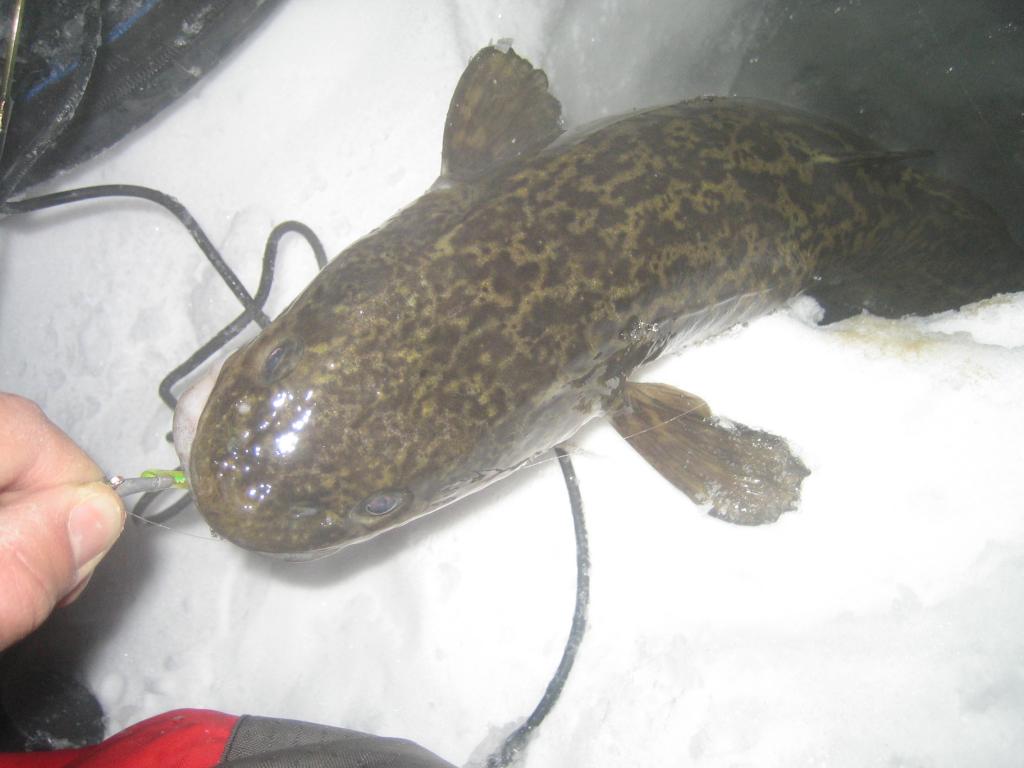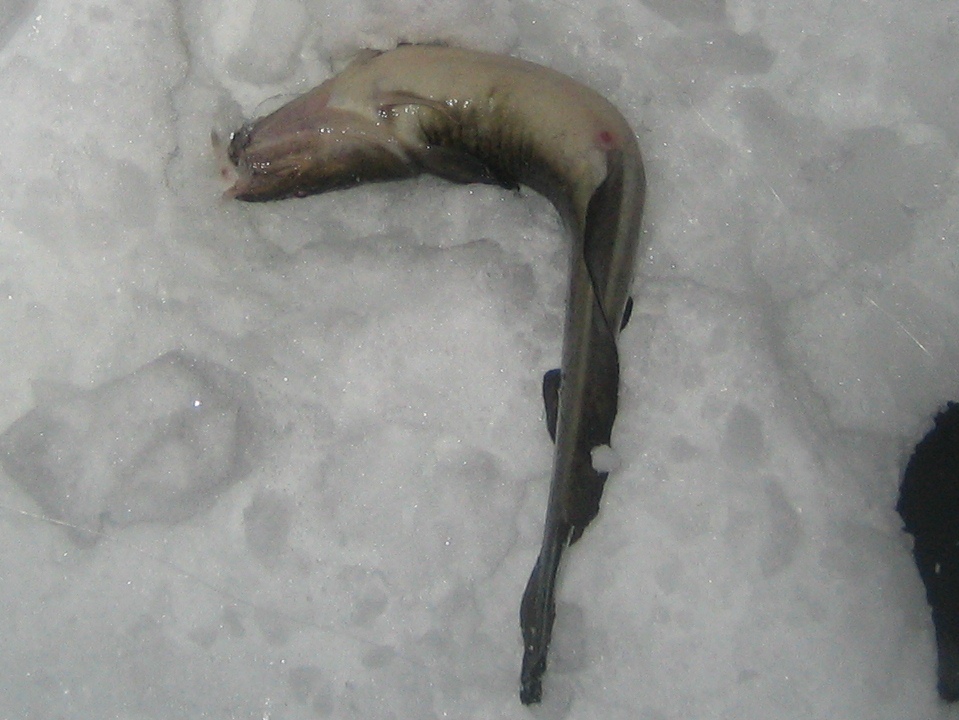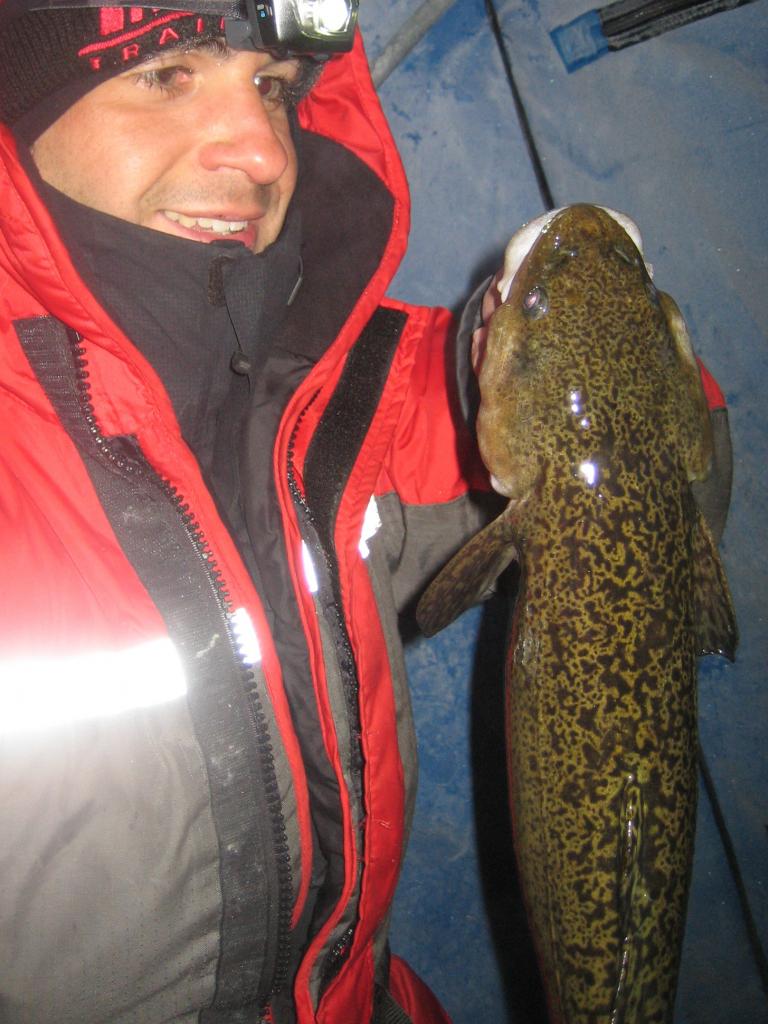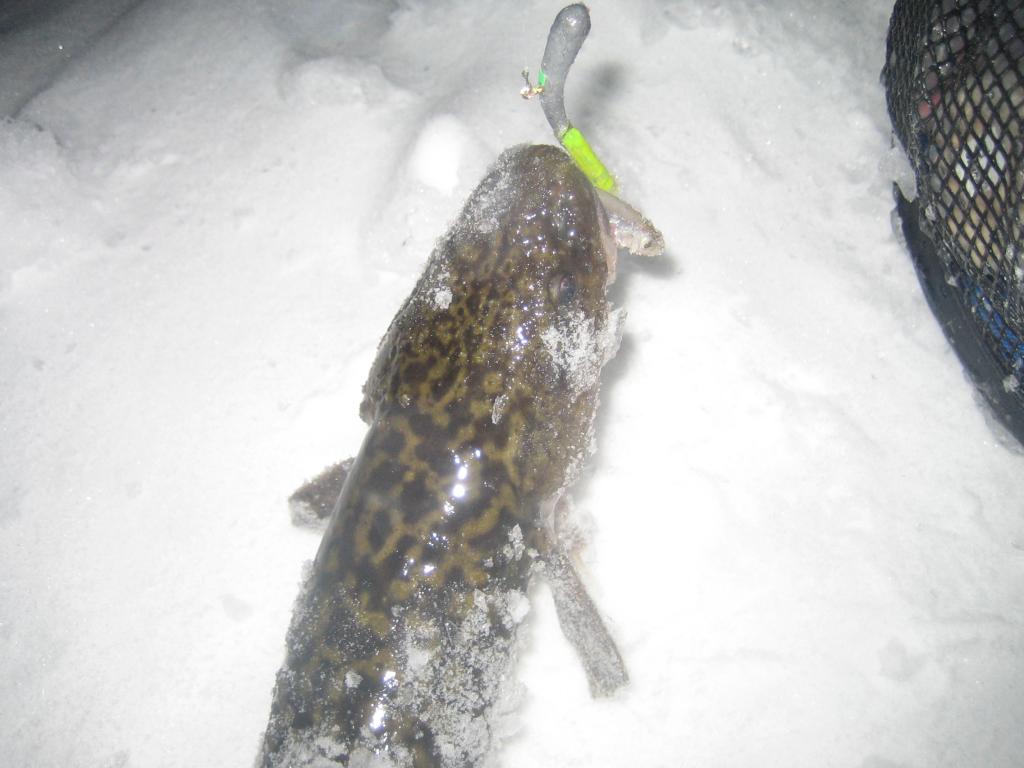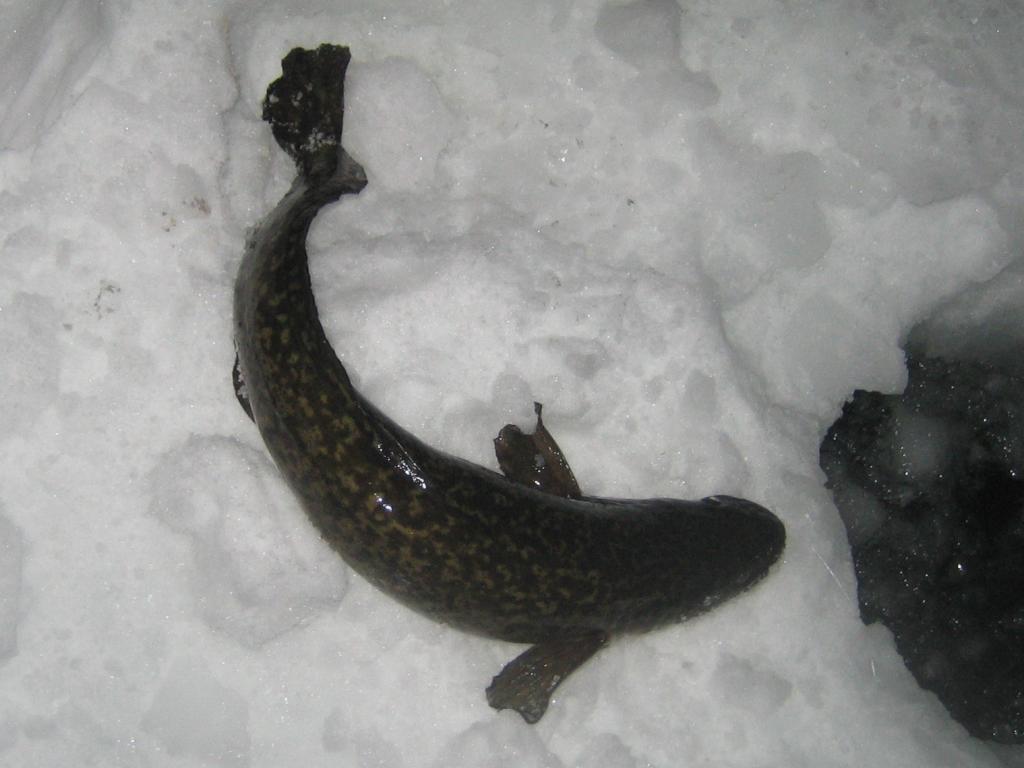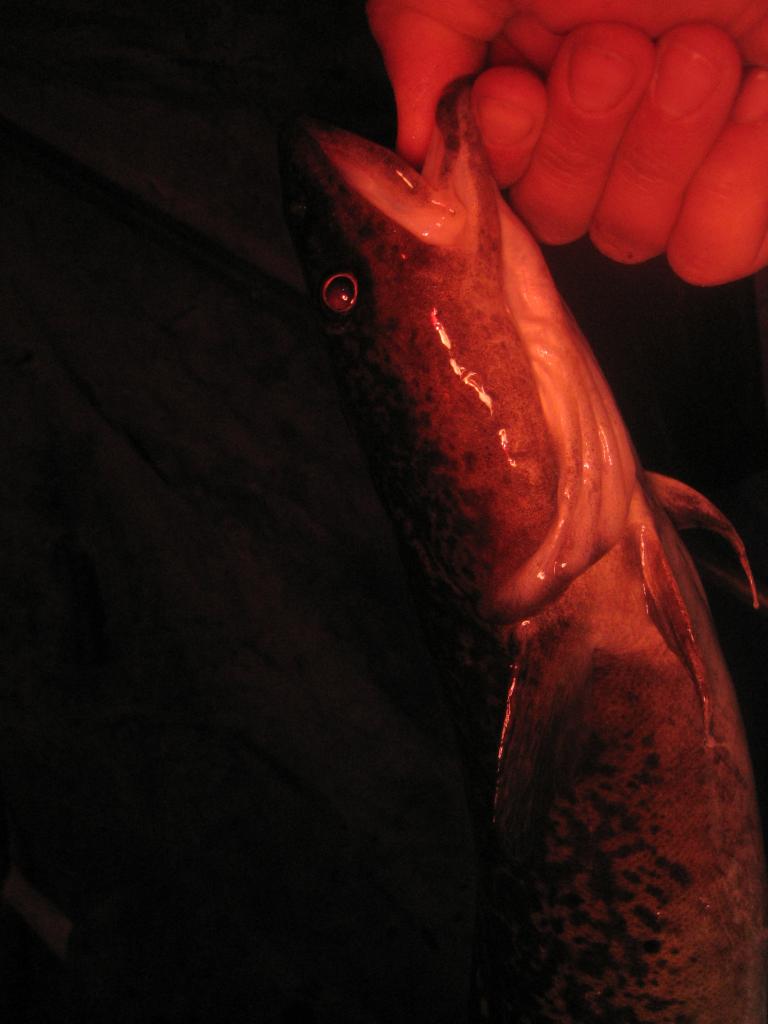 Somewhere around 3am that night, my fishfinder battery died. I fished on for about half an hour, caught my final burbot, and then headed back to the car. My slumber was threatening to drop my rod down the hole. Also, as you can see from my frosty hut walls, it was quite cold.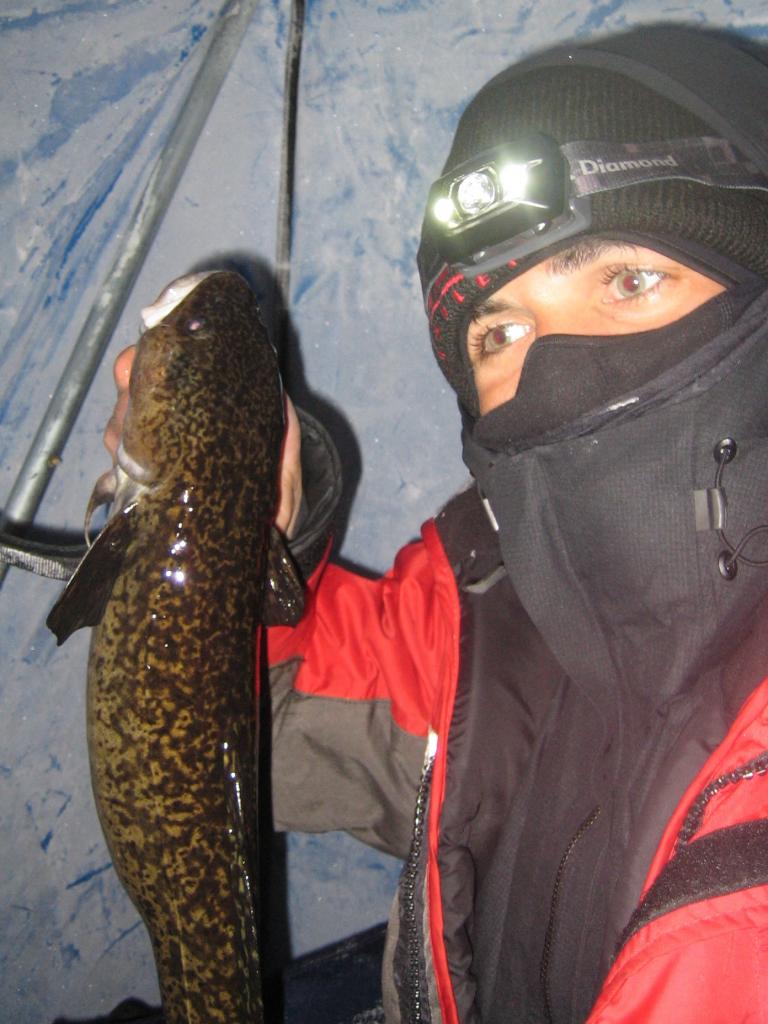 I did keep four of the burbot. Upon gutting I noticed that the two females sported empty skeins. They had finished their spawn. I also took note that none of the males had milked, as they had done last year. I had fished the spot late, missing the spawn. However, it is good to know that they still stick around the location after the spawn. Next year I will try to improve my timing.
And so concluded the Burbageddon. The total was 24 for something like 35 on burbot. Two days and three nights of fishing where I found more than just one hot mess of burbot. I found a lifelong memory.