There I was floating alone on my kayak, in the dark, and in the middle of nowhere as meteors pierced the sky overhead.  Things were perfect.
Rewinding to earlier that day, I had left work on a Friday afternoon and pondered the six hour drive and two hour paddle in the dark I had ahead of me.  For two nights in my favourite corner of Georgian Bay, I did not hesitate for a second.
This was the last chance I had to paddle back to my personal sacred land before salmon fever would sweep my attention away in September.  From a summer of navigating my route in the daylight, I had marked every rocky hazard on my GPS.  I was fairly confident in my ability to do it in the pitch black.
What ensued was a slightly harrowing experience, one I will not soon forget.  While I had packed all my rain gear, the last thing I wanted was to get caught in a thunderstorm in the middle of the night.  While the forecast told me I'd be in the clear, watching lighting flash in the distance and feeling the wind blow on a pitch black night was not comforting.
Not only was that on my mind, but because it isn't possible to book specific campsites, I was unsure if my destination would even be vacant.
I paddled along, uneasy, watching the flashing clouds looming in the distance.  You could imagine my relief when I passed the final bend into my favourite place in the world and the sky cleared.
I was one day past the peak of the Perseids meteor shower and the odd fireball streaked across the sky.  Before even checking my campsite, I parked myself in a small weedy bay and began throwing a topwater while admiring the odd meteor that would streak across the sky.  After pounding the area for about ten minutes, I had a sizable bass on, but he shook the hook.
I moved on to check my campsite.  As I approached, what I worried to be someone else's canoe turned out to be a newly installed picnic table.  Seems like the park had done some housekeeping while I was away.  A quick look around also revealed that all the blueberries that had been plentiful a few weeks ago were either eaten or dried up.  Before long, the crayfish traps and tent were set and I crawled into my trusty tent for some much needed sleep.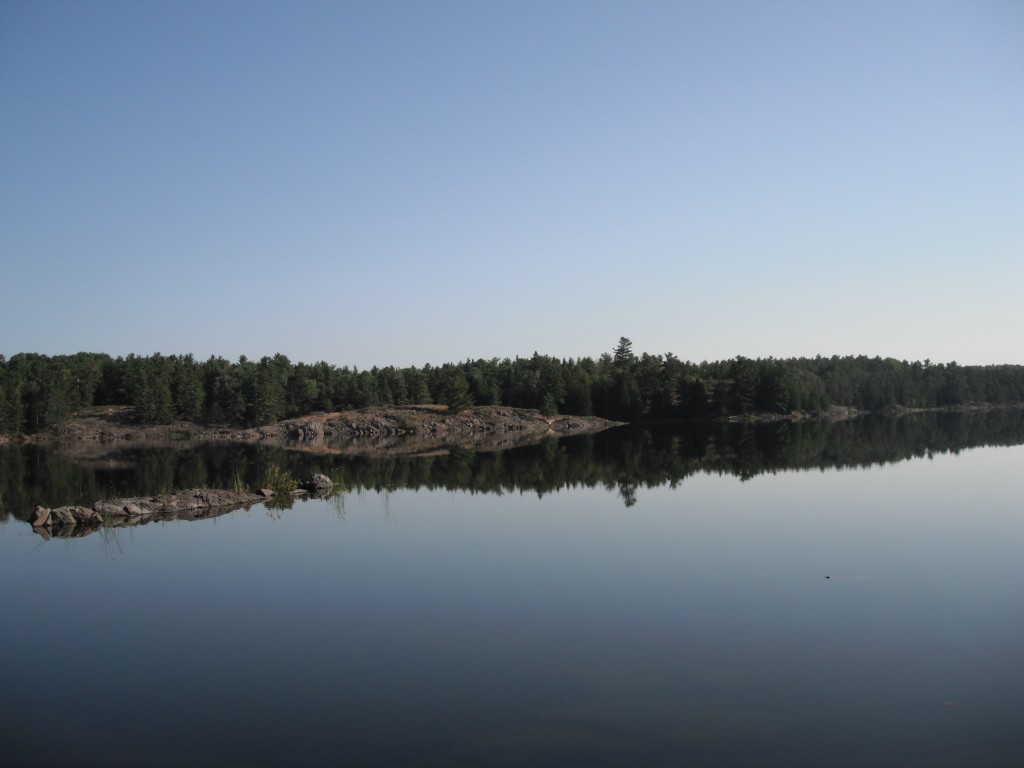 The next morning I set off to continue fishing.  I opted for a different set of spots than usual.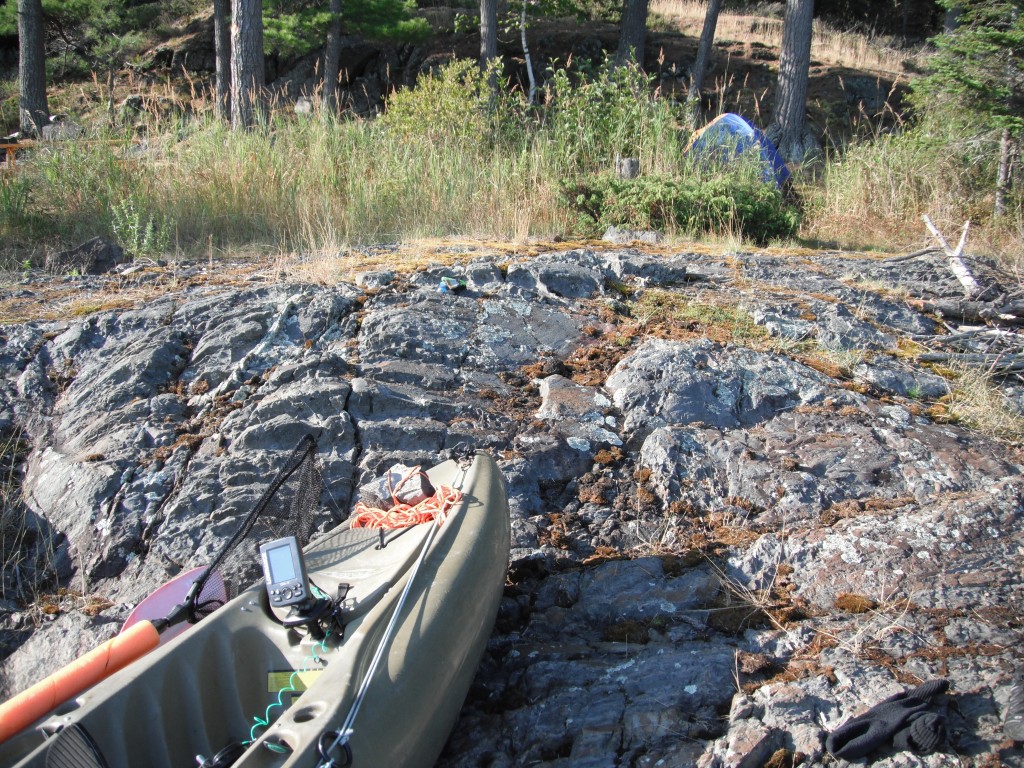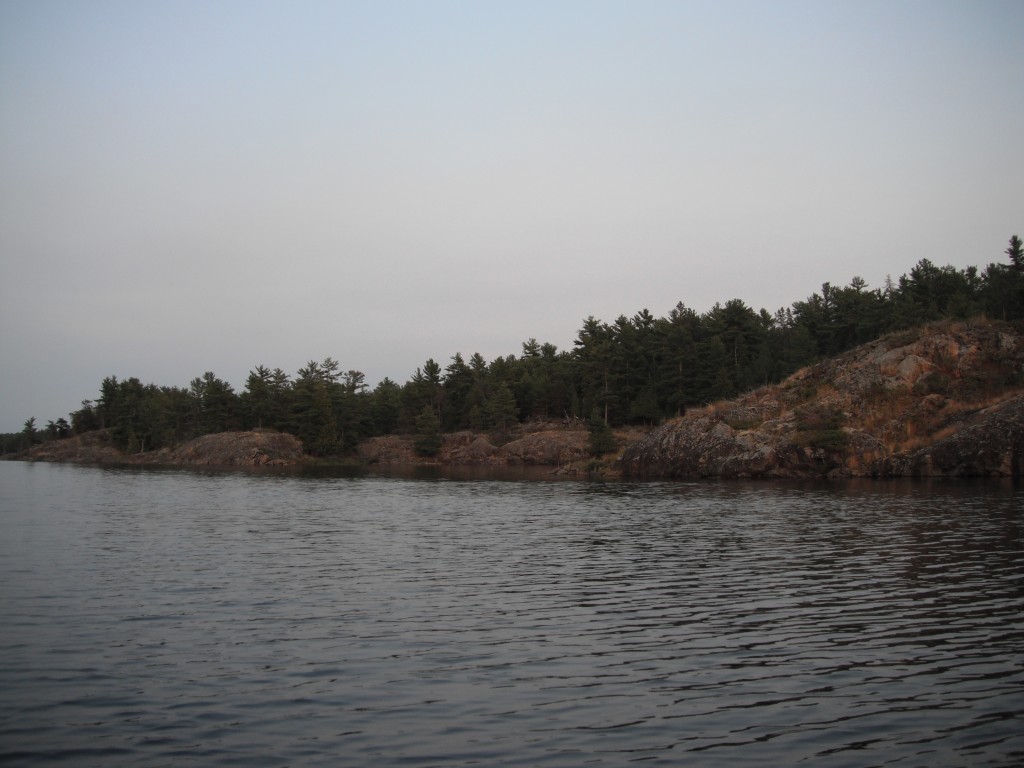 Things started off with the standard size pike that frequents this area.  On this trip these small pike broke me off a few times.  The sheer speed they'd smack my lures would clip the line before I even felt at thing.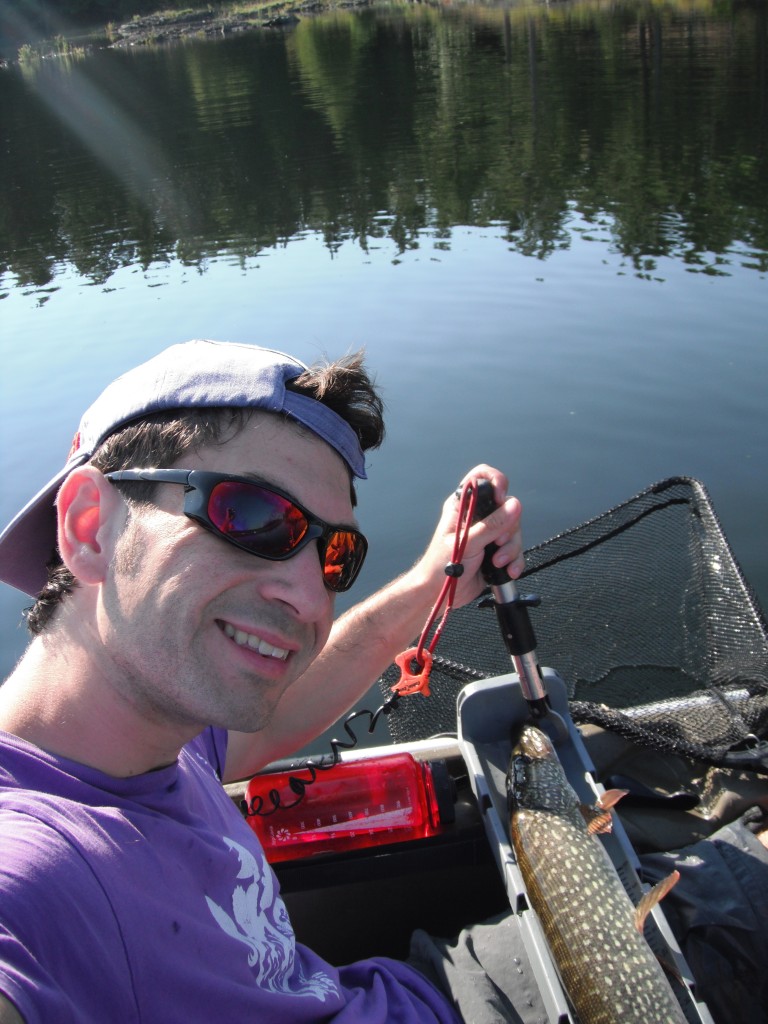 In hopes of better understanding fishing patterns in this area, I was measuring water temperatures this time around.  Throughout the weekend, I measured from the mid to high 60s, a far cry from spring temperatures.  Perhaps this was why I wasn't experiencing the same bass fishing action I had experienced last year.  I also paid a bit more attention to the state of the submerged weeds, but had a hard time distinguishing dying from healthy ones.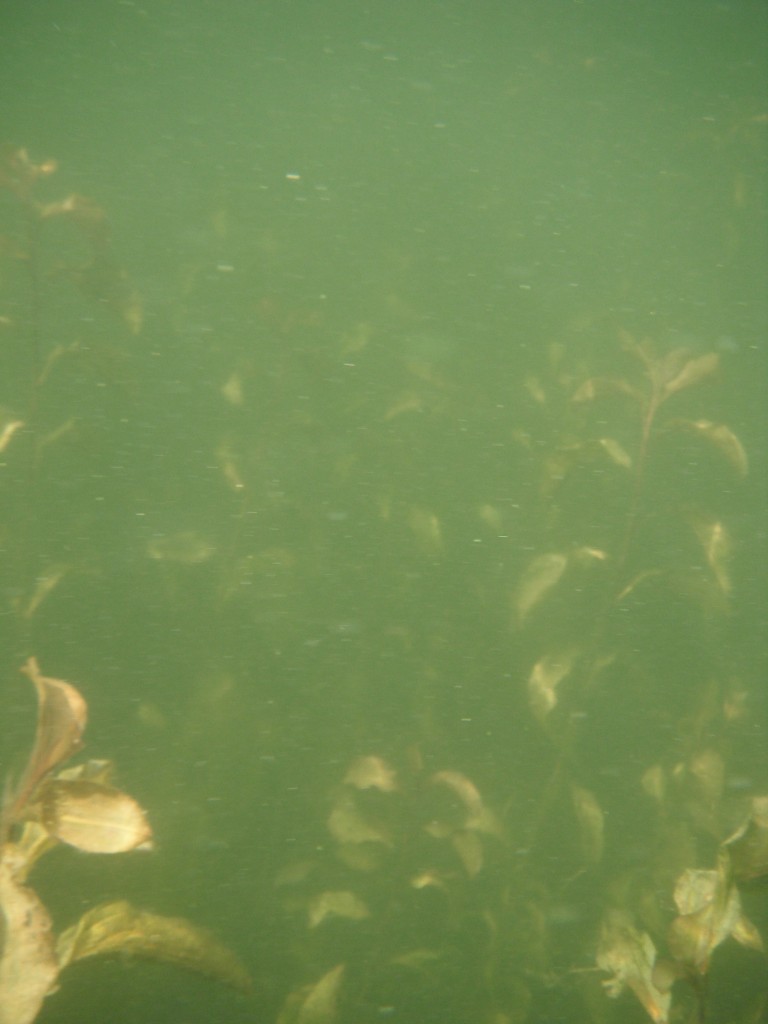 In a shallow, weedy bay I crawled a swimbait along to have it picked up by a nice bass.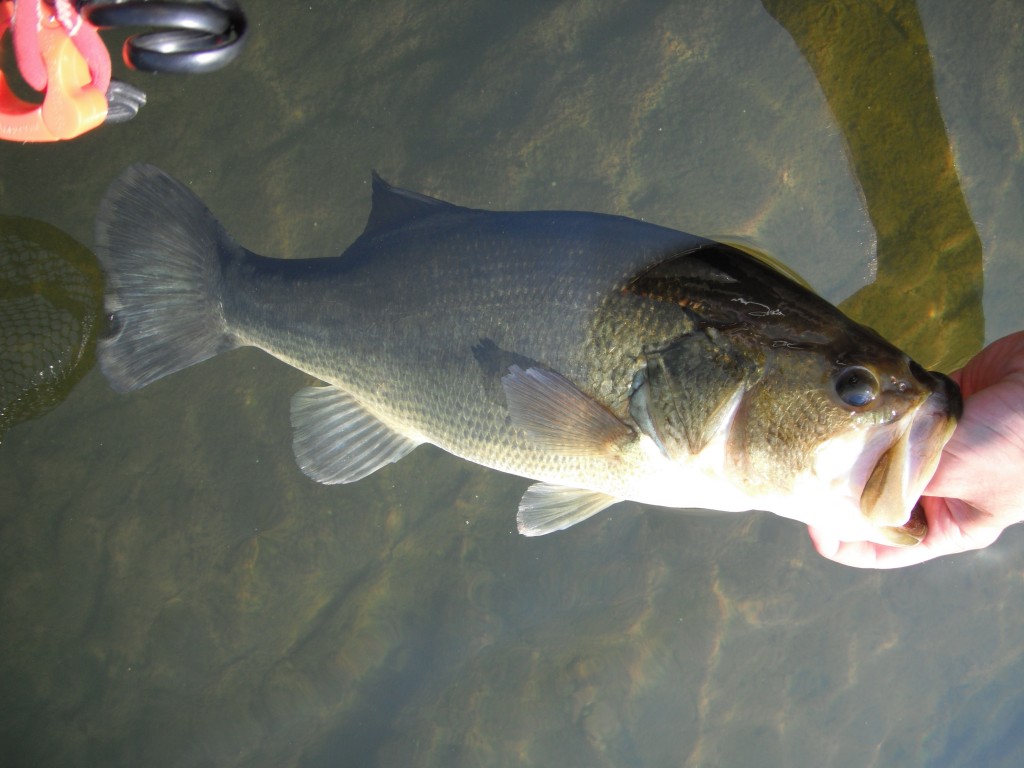 Across the bay I attracted the attention of a sizable smallmouth but, after stalking him for twenty minutes, couldn't find any commitment even after trying live crayfish.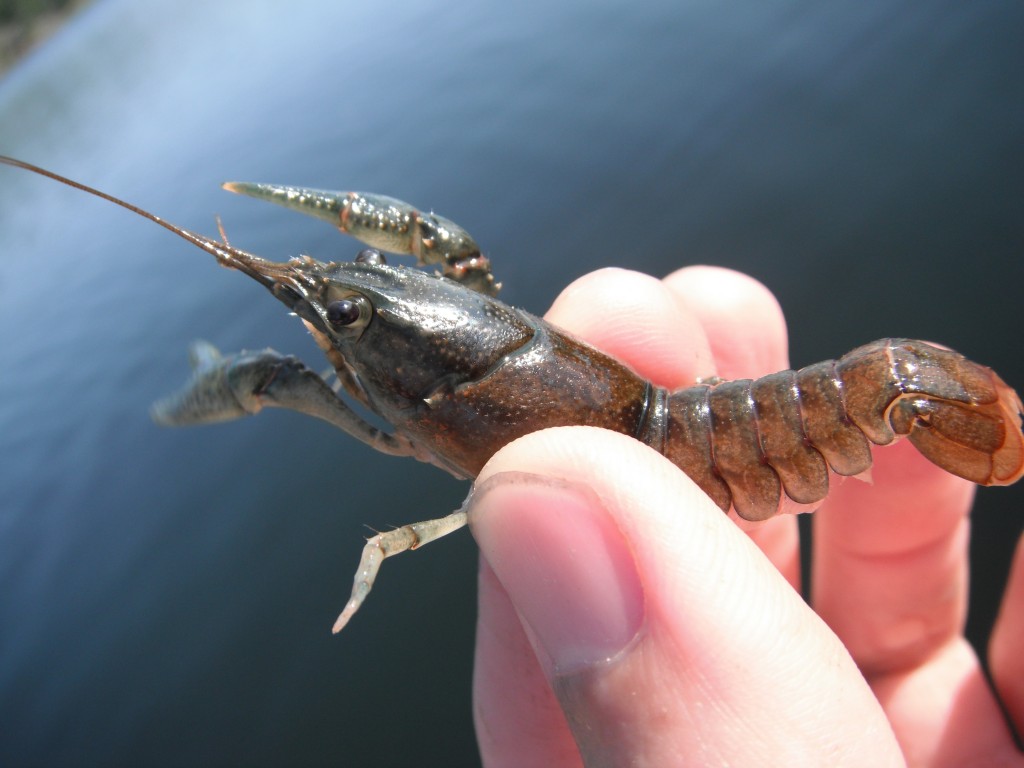 I took  a short break from the sun to nap on a bed of moss I found up on the rocks.  Then I fished my way along to a new area and stopped at a bunch of small pads.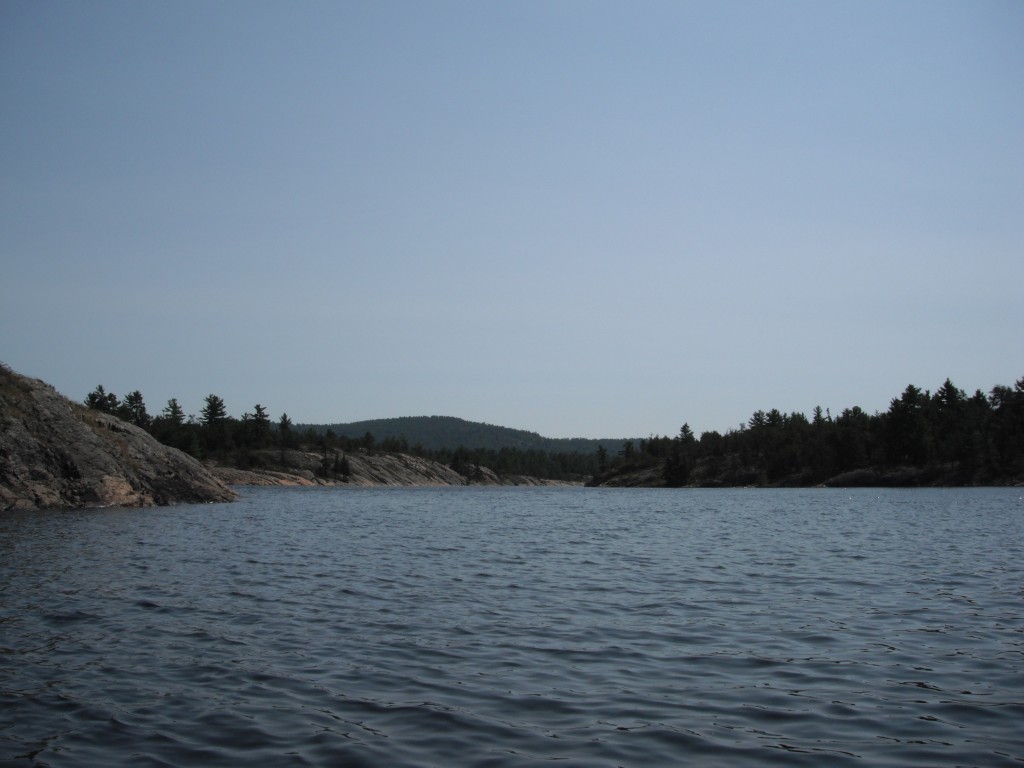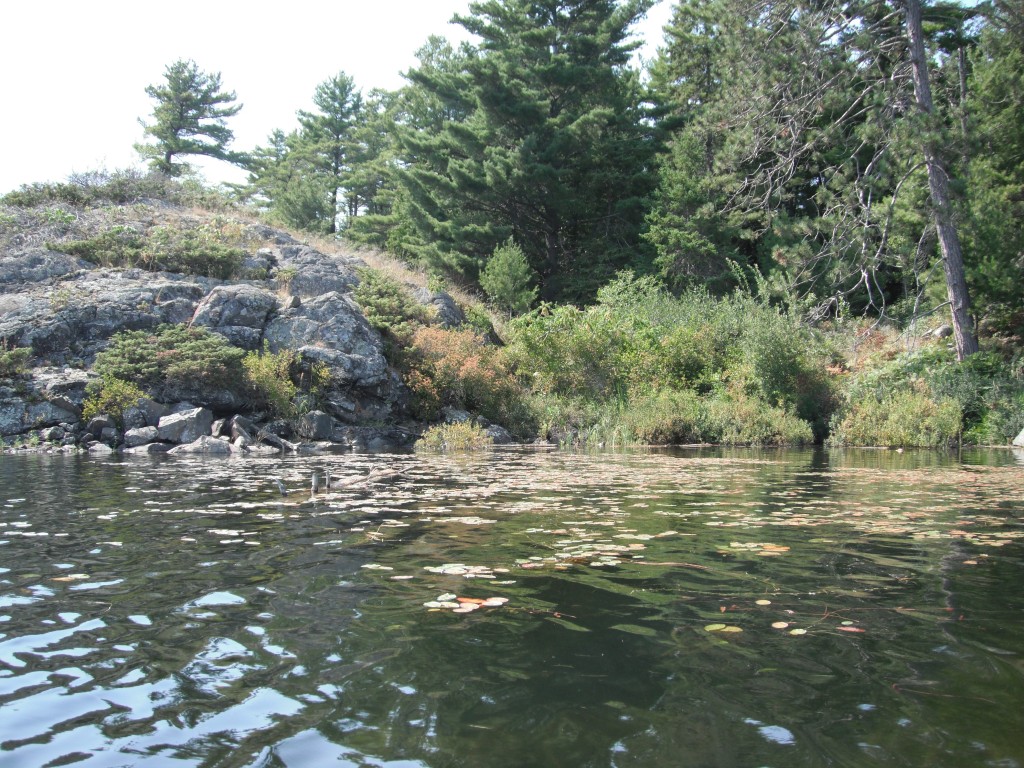 As I crawled my swimbait along their edges, it was picked up by a nice bass, but as has happened before, the even bigger bass was following it in.  I released the smaller bass quickly and set my sights on the biggun'.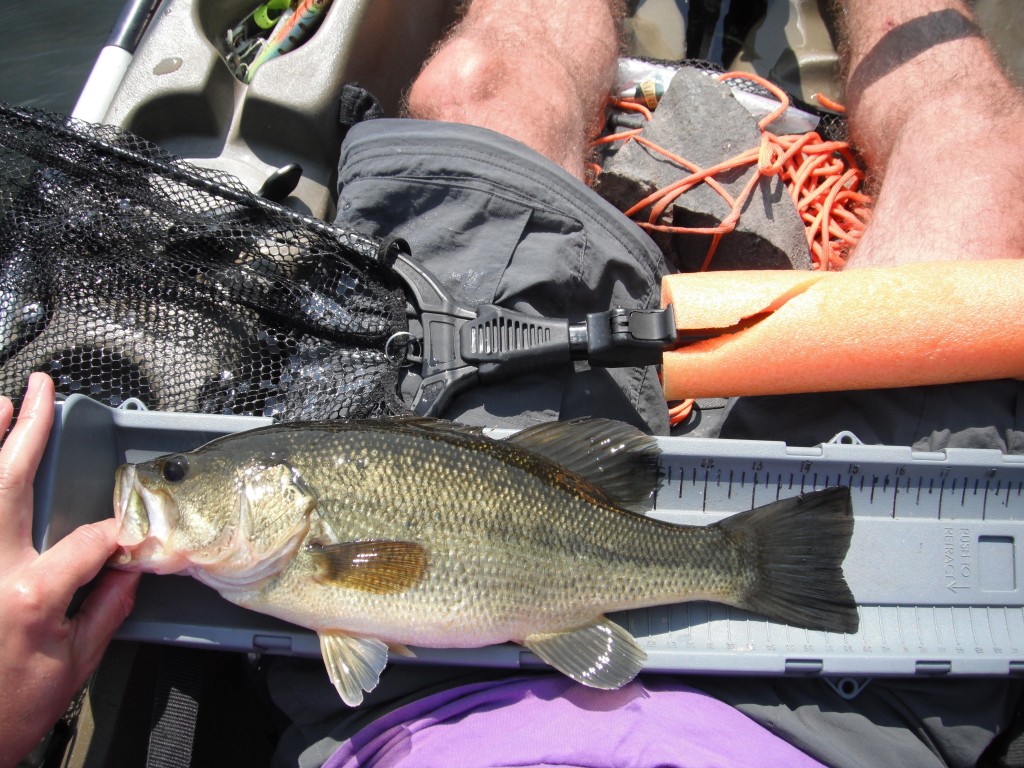 Eventually, he fell for the swimbait and pulled with a vengeance all the way in.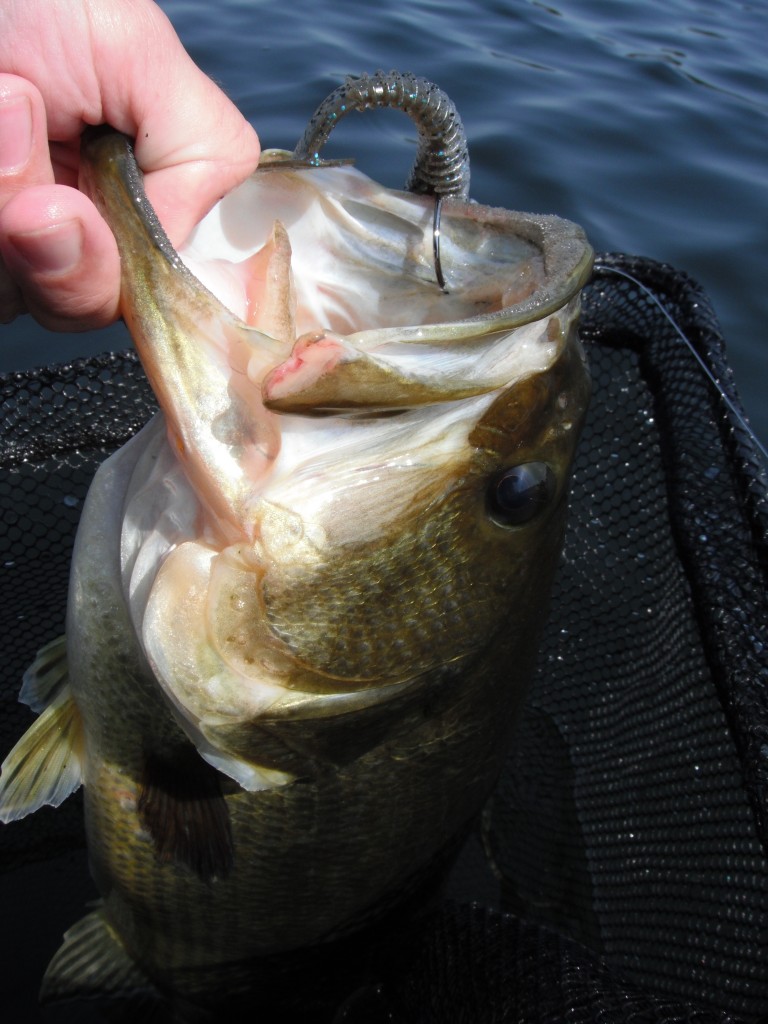 This is the kind of bass I come here for!  19″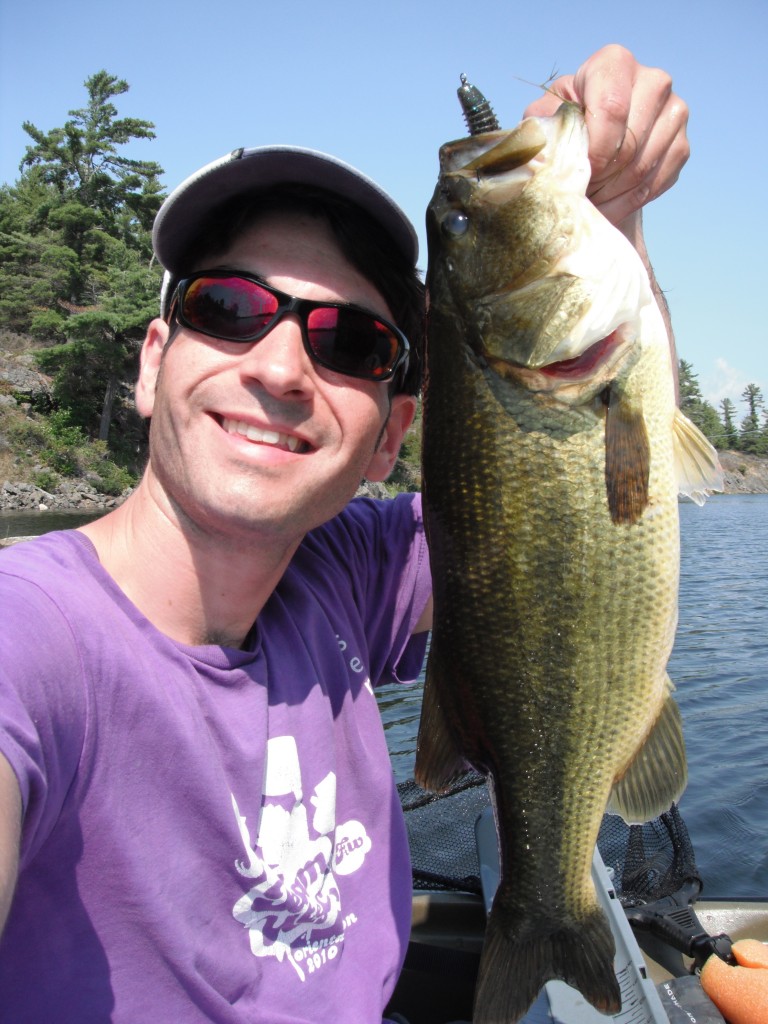 As I explored the bay I came across a small rocky ledge that held an almost completely isolated body of water.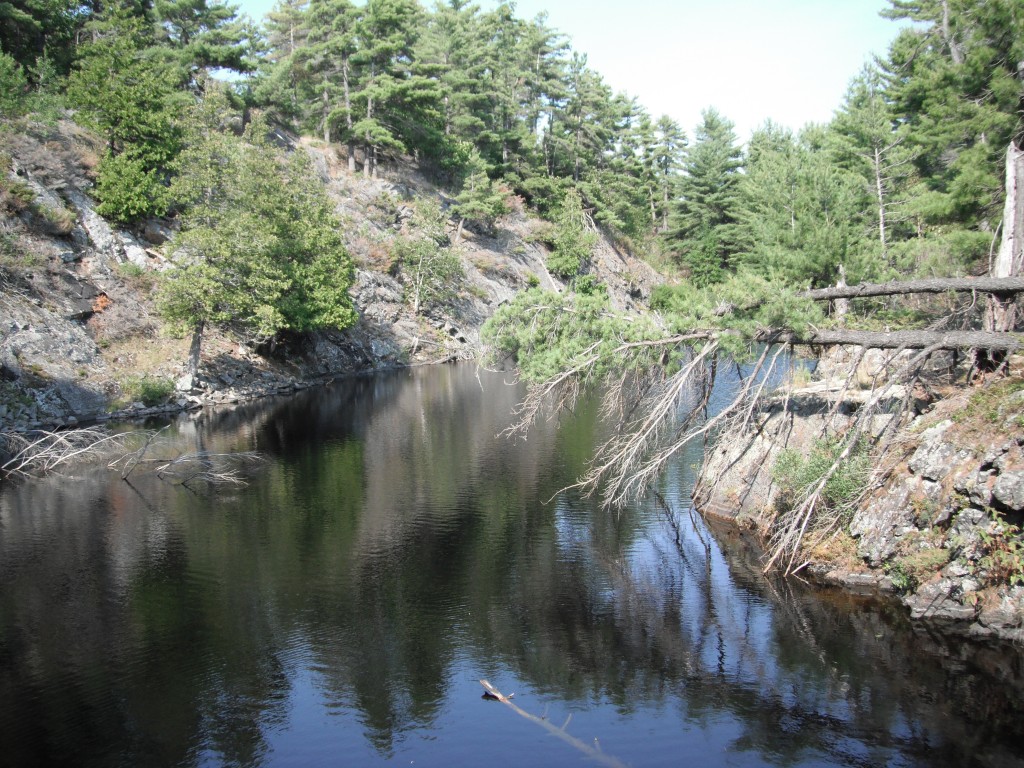 I got out to take a closer look and was able to micro fish some beautiful pearl dace.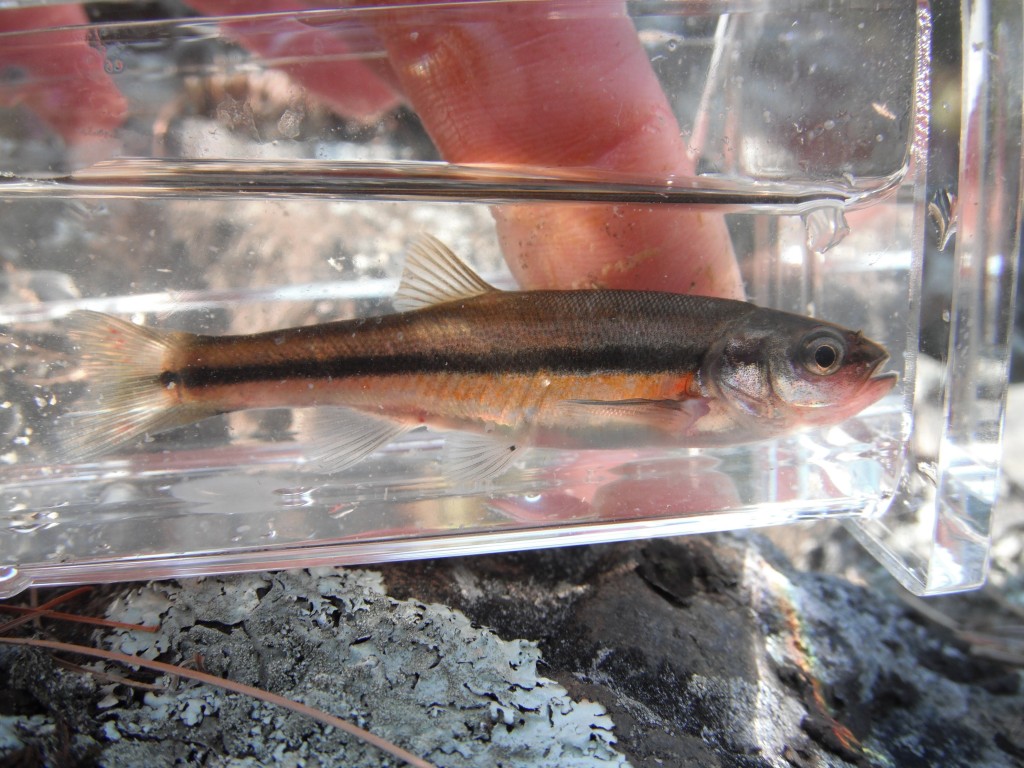 What appeared to be a stickleback hovering around and picking away at detritus ended up being a central mudminnow.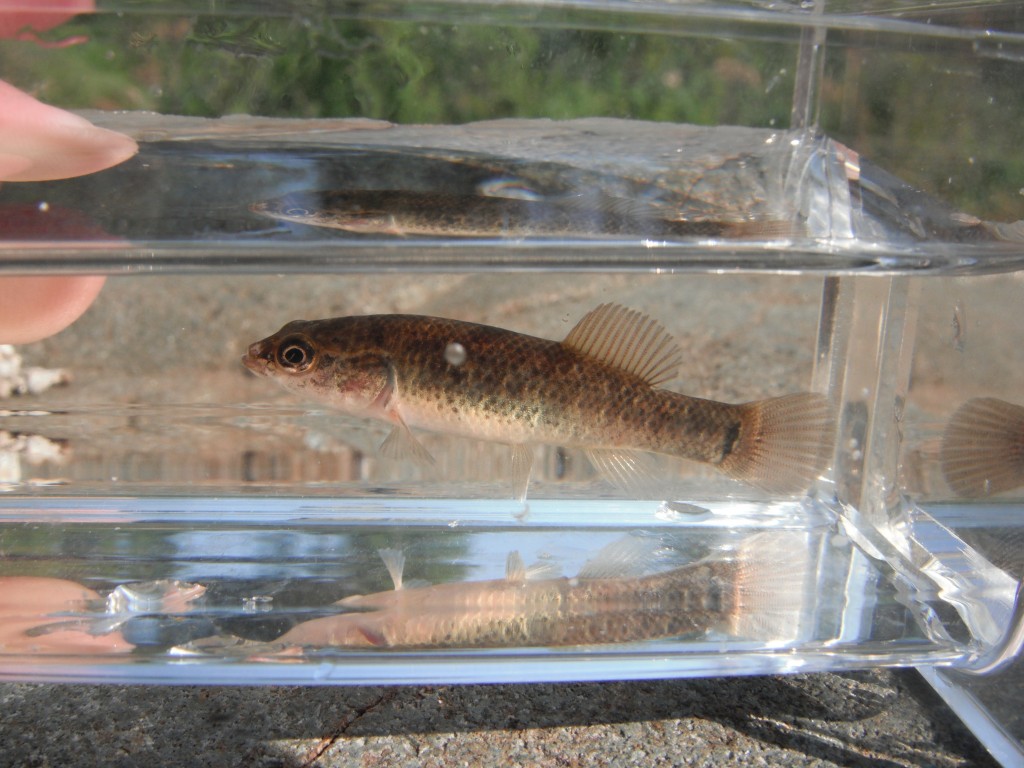 I returned to the kayak and continued to work the back of the bay with a swimbait but no fish were around so I moved on to another bay that has worked for me before.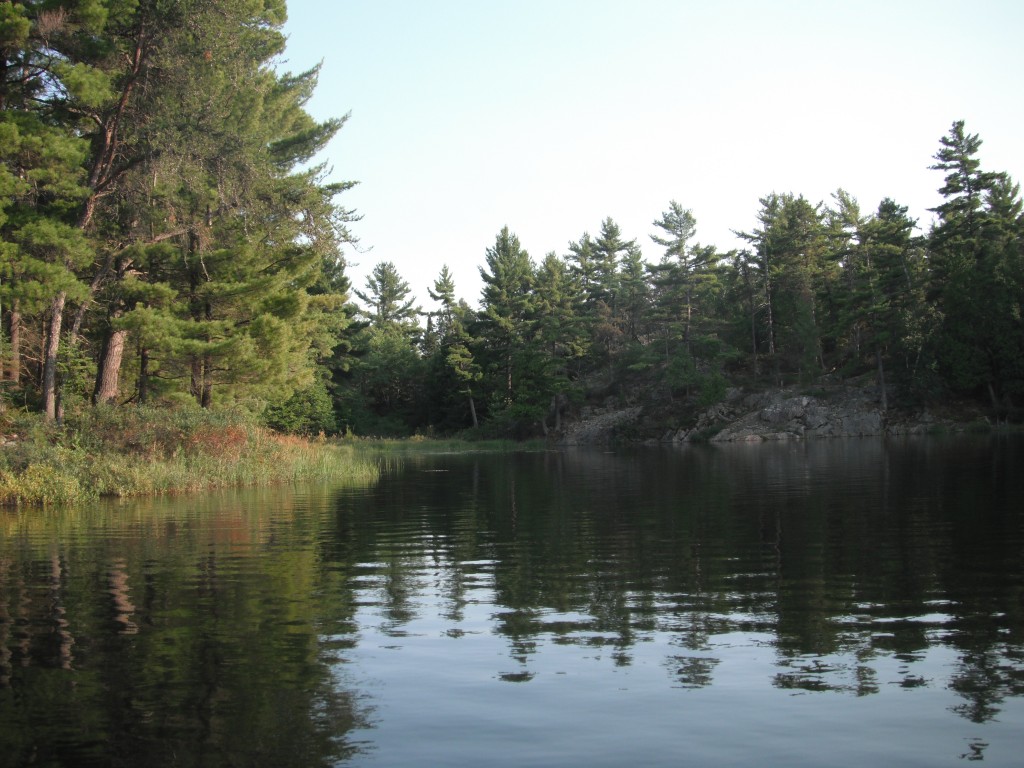 Here I was quickly distracted by schooling micros that revealed themselves to be blackchin shiners.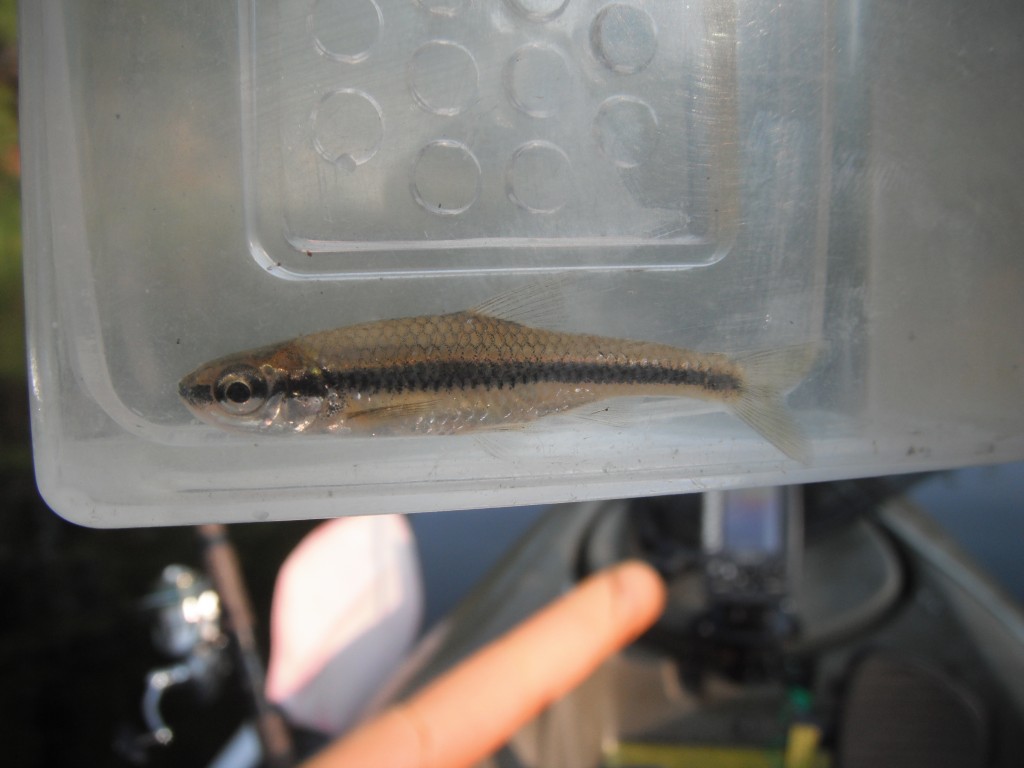 A decent largemouth was the first to fall, followed by a small pike and finally a smallmouth from the deeper waters of the bay.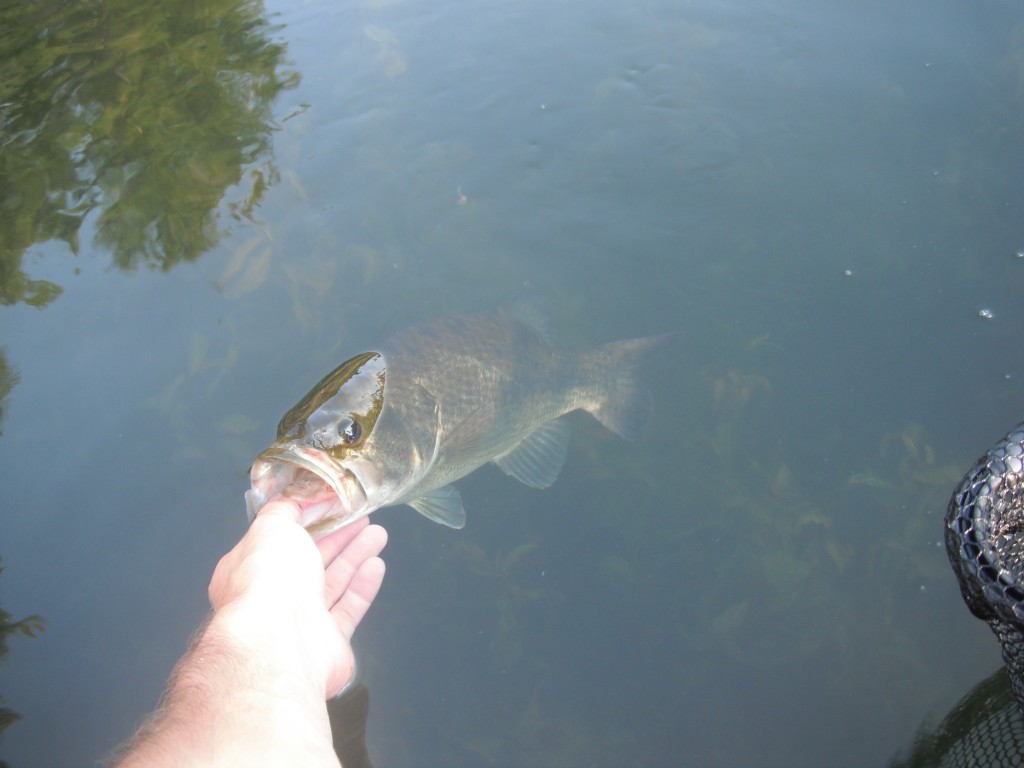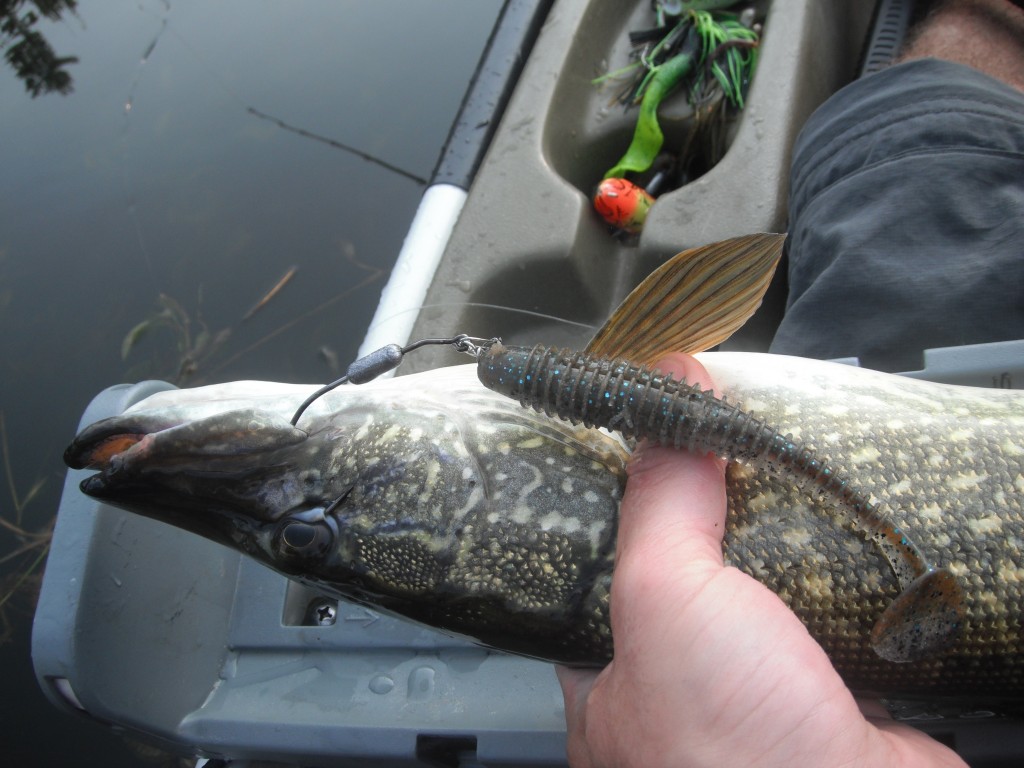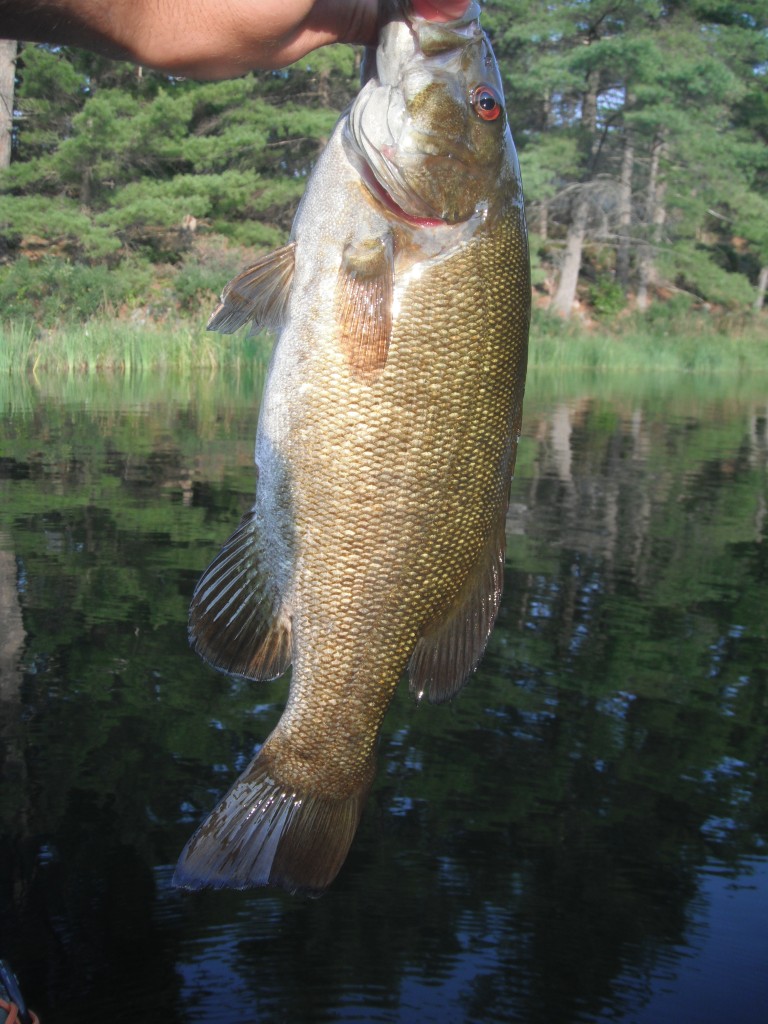 With the sun setting I returned to my campsite to fish off the rocks into the surrounding weed beds.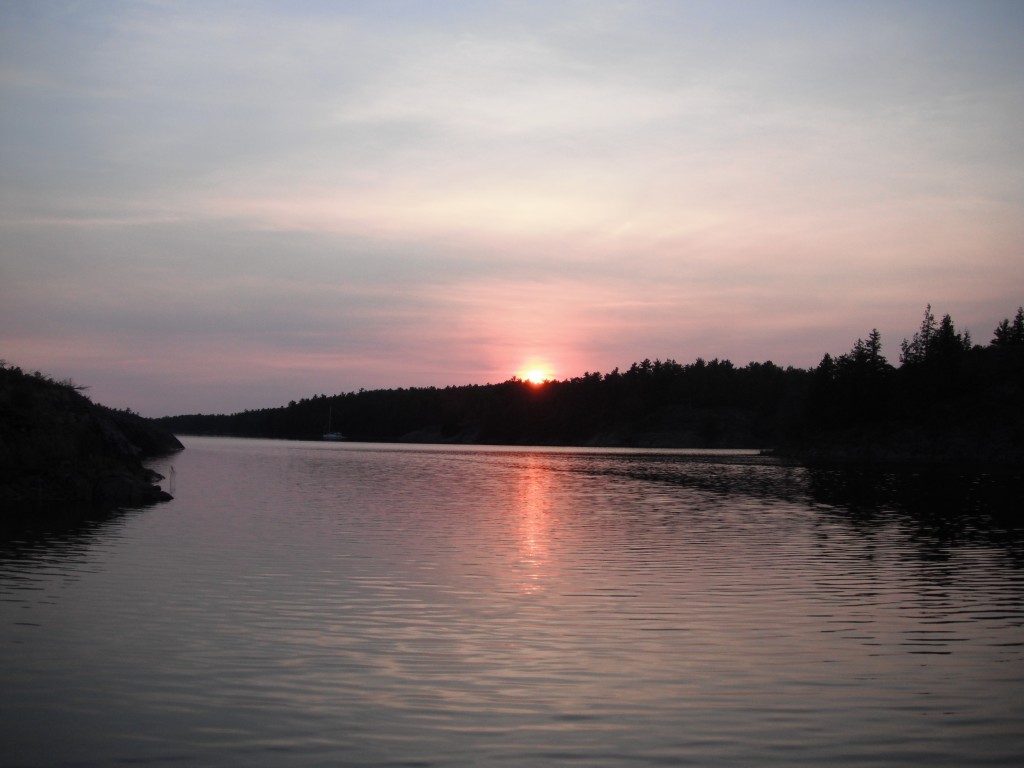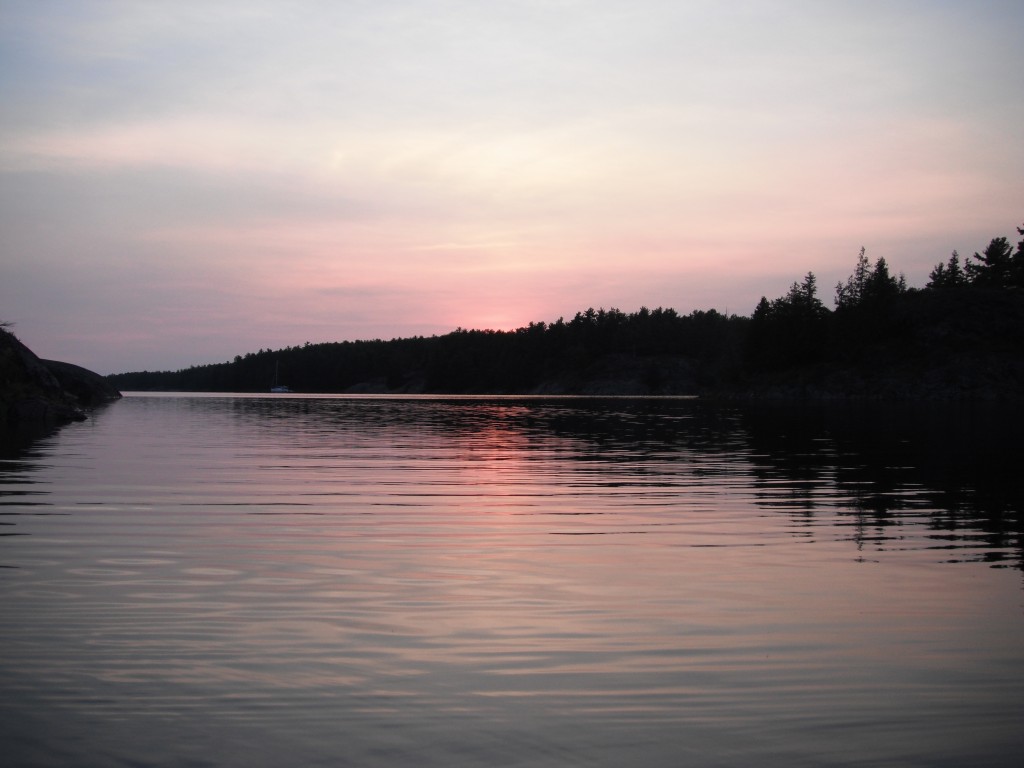 The twilight faded into darkness and nothing was biting.  I had some dinner and resumed fishing.
Suddenly and seemingly out of nowhere, the entire sky ahead of me shimmered.  I dropped my rod in disbelief and a genuine "whoa" dropped from my mouth.  White beams rippled high into the sky and it quickly came to be me that I was once again enjoying another show of the northern lights.
The northern lights would come and go for the next ten minutes or so, before clouds moved in and obscured the northern edge of the sky.  After the show, I became attuned to a particular scratching and wheezing sound coming from the rocks next to me.  I crouched down and shone my headlamp in to reveal a mink who had been feeding on crayfish.  I dropped him one from my bucket so he could continue his feast and packed it in for the night.
The next morning I woke early to throw a topwater around the campsite. A small bass came of it.  The plan for the day was to fish my way back to the car, stopping at a small bog to try for some micros along the way.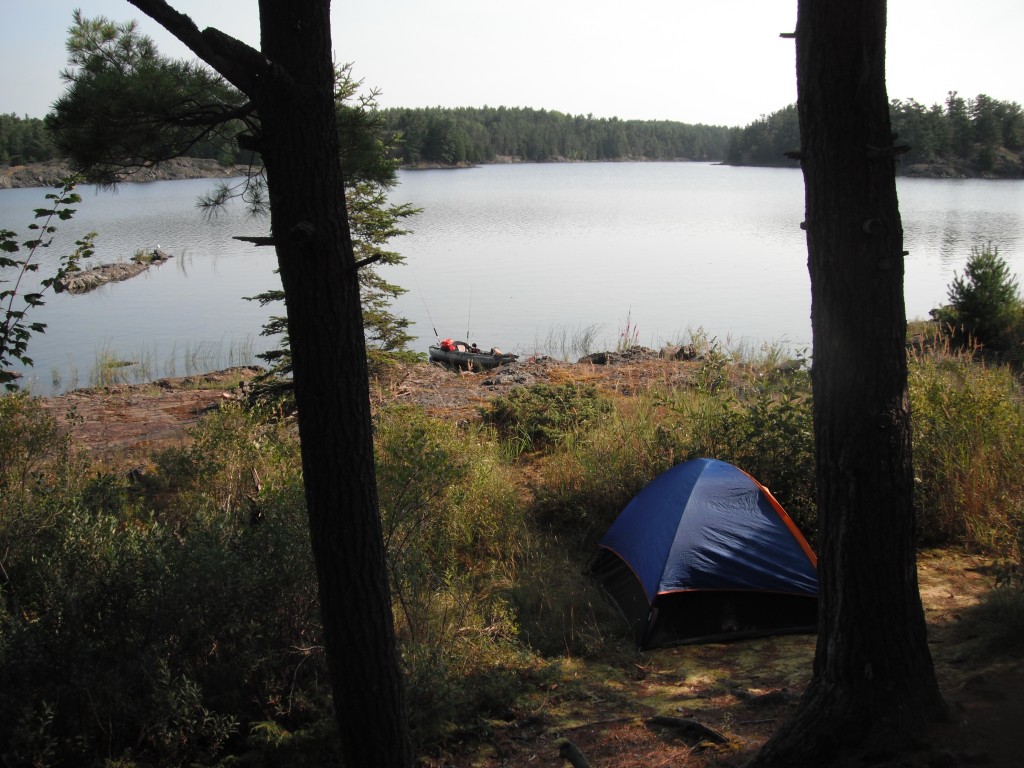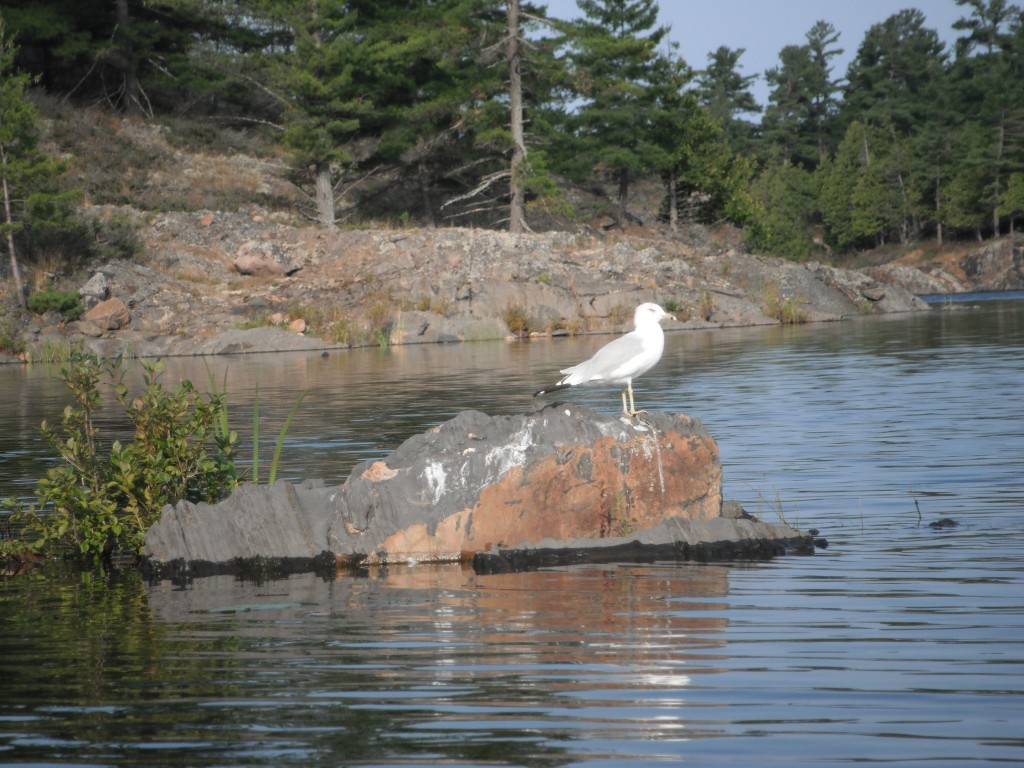 On my way back I missed a solid blow up on my topwater as I worked it along a shallow beach.  Another pike also stole a chatterbait of mine. Before I left the bay I was given a farewell by a pair of mink who were investigating my presence.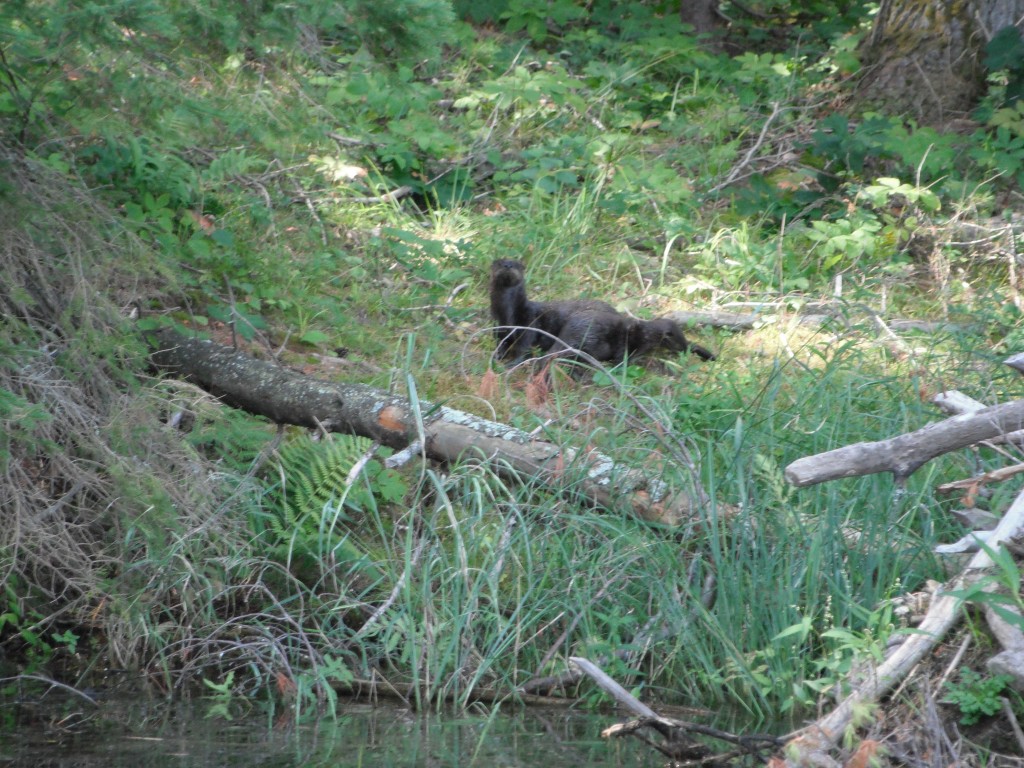 On my way to the bog I came across a boat with some anglers who claimed to have spent many of their years fishing this same area.  I chatted with them and they told me that the water's been a lot warmer this year compared to last and fishing has been slower.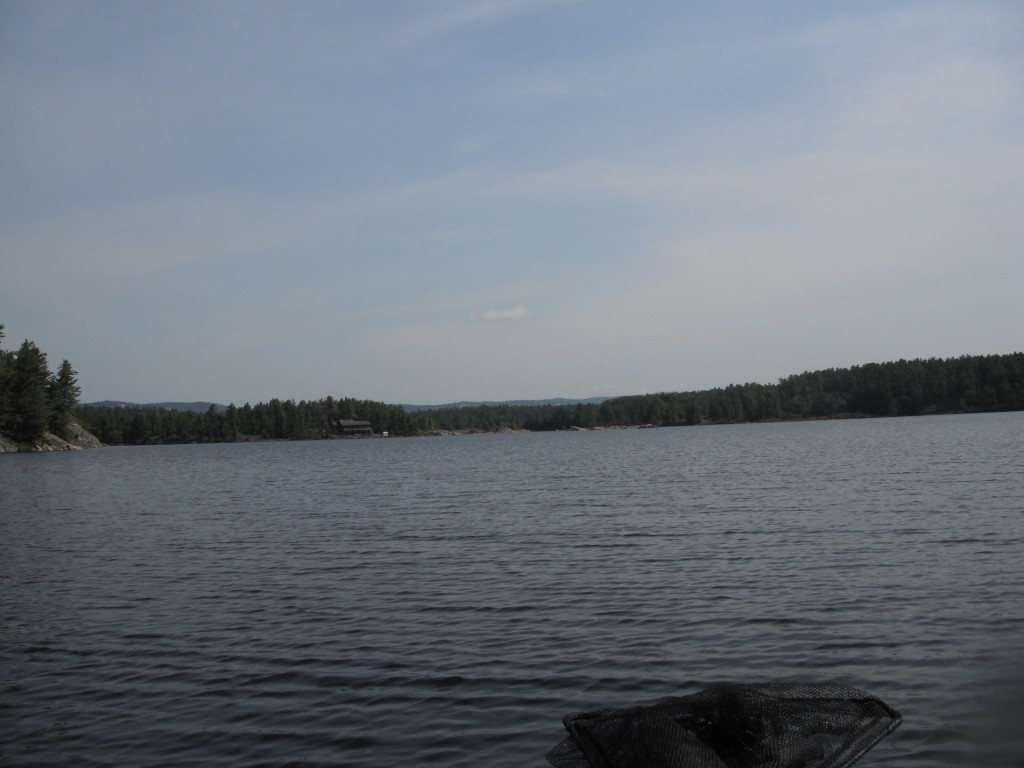 At the bog I finally connected with the small darters I had been eyeing last time.  A closer look revealed them to be Iowa darters.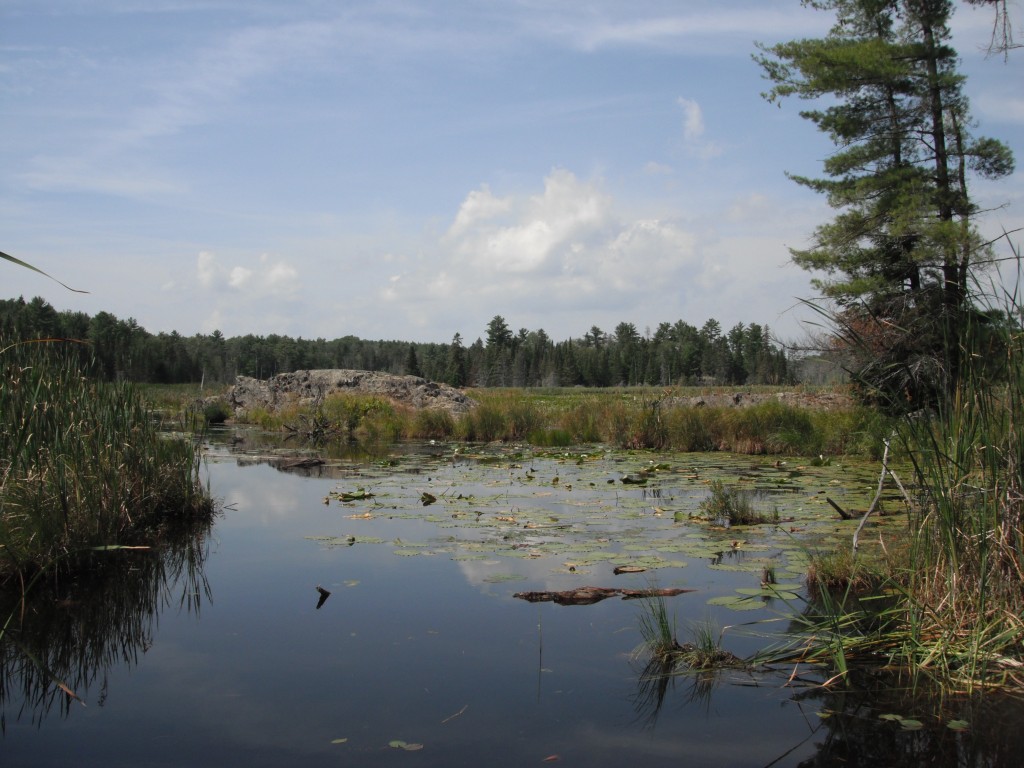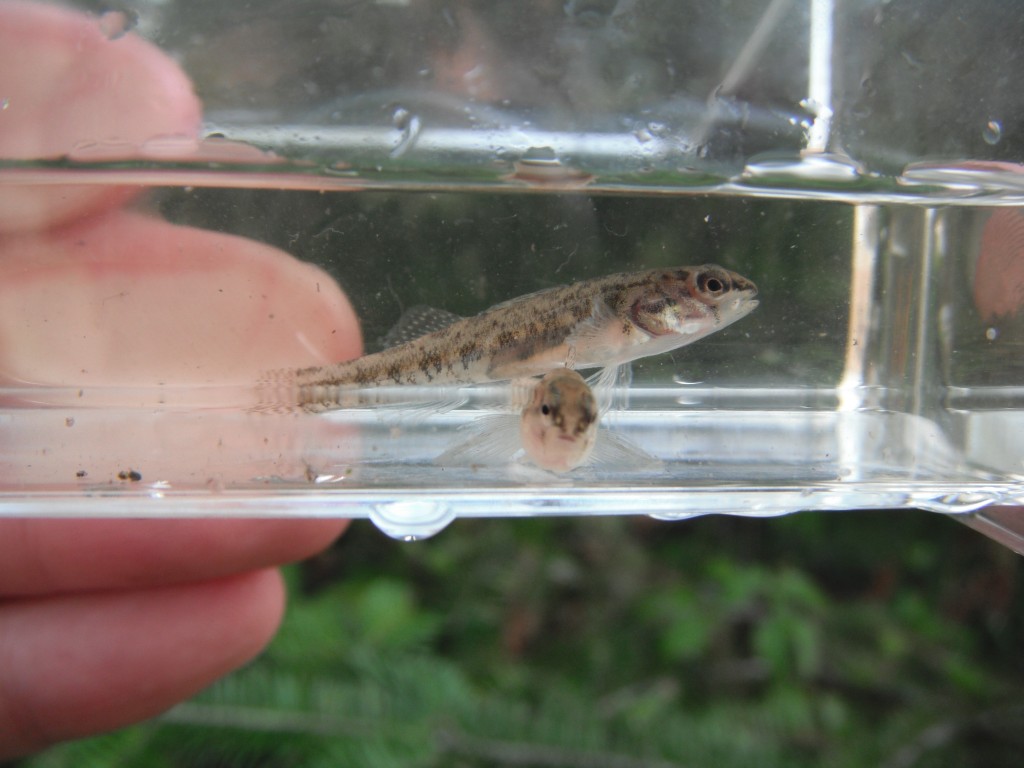 After catching a few darters, I moved away from the sandy shore to focus on some thick shoreline vegetation.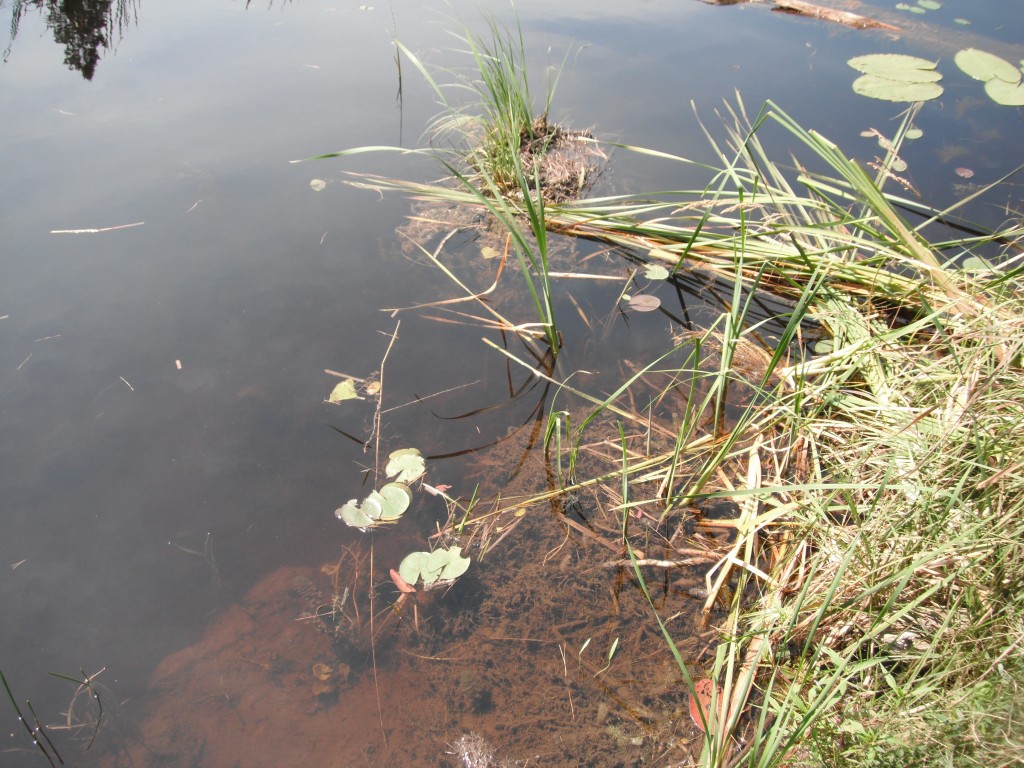 There I had my bait demolished by, much to my amusement, what I would think to be a trophy-sized central mudminnow!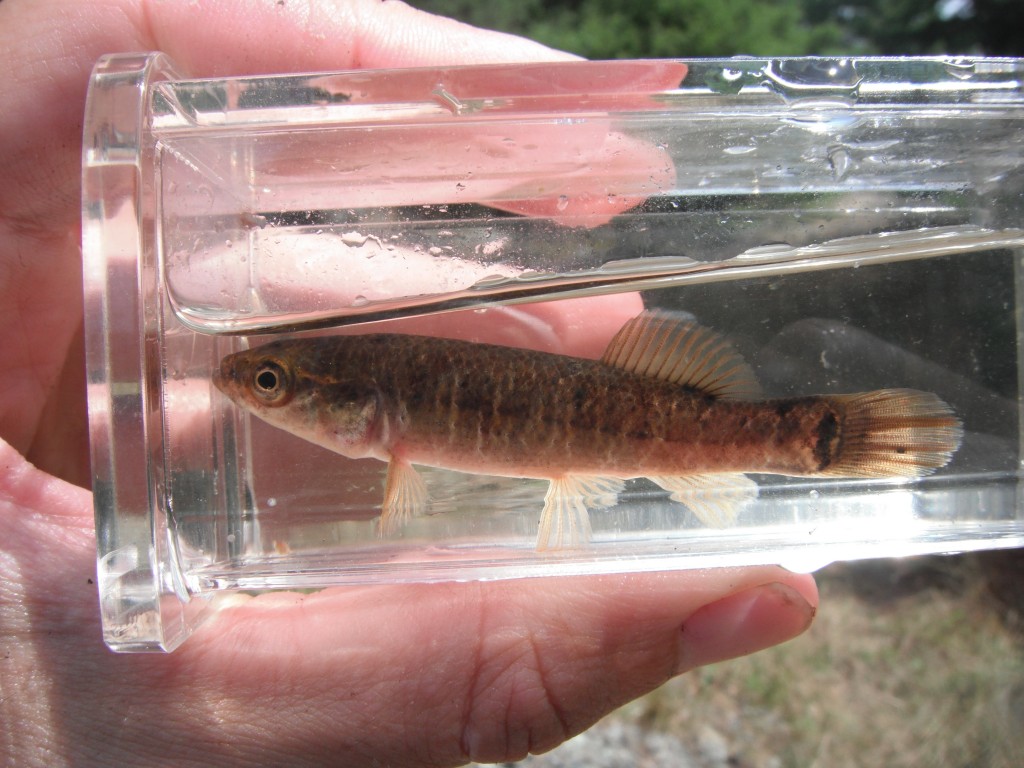 Nearing the car, I made a few casts in another small bay to draw yet another pike up to my kayak.  They really are pretty much everywhere in this area of Georgian Bay.
Wrapping up my last backcountry adventure for the year, I couldn't help but feel a bit overwhelmed by the connection I had formed to this locale.  From the wild berries that lined my campsite in July, to the sizeable bass and obscure mudminnows, to the skyward treats of meteors and northern lights, this destination will always hold a special place in my heart.